Abstract
Purpose
To assess skull bone thickness from birth to skeletal maturity at different sites to provide a reference for the correct selection of pin type and pin placement according to age.
Methods
270 children and adolescents (age: 0–17 years) with a normal CT scan obtained at Emergency Department for other medical reasons were included. Skull thickness was measured on the axial plane CT scans at eight different sites of the vault: midline anterior (A) and posterior (P), right and left lateral (L), antero-lateral (AL), postero-lateral (PL).
Results
From birth to skeletal maturity, L thickness was increased significantly less (+ 58%) compared with AL (+ 205%), P (+ 233%), PL (+ 247%), and A (+ 269%) thickness (P < 0.01). At the end of growth, the thickest and thinnest points of the vault (absolute value) were found at the P and L measurement sites, respectively (P < 0.01). Children aged < 4 years exhibited the highest variability in AL and PL skull bone thickness, with thickness < 3 mm observed in 85% (64/75 patients) and 92% (69/75 patients) of cases, respectively.
Conclusion
We recommend that the tip of the pin should not exceed 2–3 mm in children aged < 4, and 4 mm in children aged 4–6 years, to decrease the risk of inner table perforation. After the age of 7 years and 13 years, standard-sized pin tips (5 and 6 mm, respectively) may be safely used. Children aged < 4 years show significant variability in skull thickness, and therefore a CT scan may be required for this particular age group.
Graphic abstract

Access options
Buy single article
Instant access to the full article PDF.
US$ 39.95
Tax calculation will be finalised during checkout.
Subscribe to journal
Immediate online access to all issues from 2019. Subscription will auto renew annually.
US$ 119
Tax calculation will be finalised during checkout.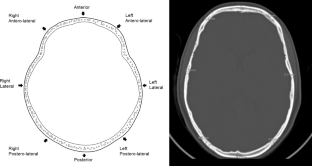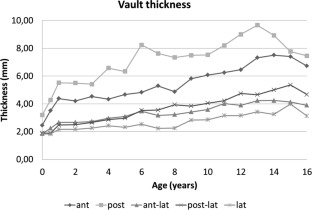 References
1.

Perry J, Nickel VL (1959) Total cervical-spine fusion for neck paralysis. J Bone Joint Surg Am 41:37–60

2.

Bono CM (2007) The halo fixator. J Am Acd Orthop Surg 15(12):728–737

3.

Bogunovic L, Lenke LG, Bridwell KH, Luhmann SJ (2013) Pre-operative halo-gravity traction for severe pediatric spinal deformity: complications, radiographic correction and changes in pulmonary function. Spine Deform 1:33–39

4.

Sponseller PD, Takenage RK, Newton P et al (2008) The use of traction in the treatment of severe spinal deformity. Spine 33:2305–2309

5.

Botte MJ, Byrne TP, Abrams RA, Garfin SR (1996) Halo skeletal fixation: techniques of application and prevention of complications. J Am Acad Orthop Surg 4(1):44–53

6.

Caird M, Hesinger RN, Weiss N, Farley FA (2006) Complications and problems in halo treatment of toddlers: limited ambulation is recommended. J Pediatr Orthop 26(6):750–752

7.

Arkader A, Hosalkar HS, Drummond DS, Dormans JP (2007) Analysis of halo-orthoses application in children less than three years old. J Child Orthop 1(6):337–344

8.

Hayes VM, Silber JS, Siddiqi FN, Kondrachov D, Lipetz JS, Lonner B (2005) Complications of halo fixation of the cervical spine. Am J Orthop 34(6):271–276

9.

Dormans JP, Criscitiello AA, Drummond DS et al (1995) Complications in children managed with immobilization in a halo vest. J Bone Joint Surg Am 77:1370–1373

10.

Garfin SR, Butt MJ, Waters RL, Nickel VL (1986) Complications in the use of the halo fixation device. J Bone Joint Surg Am 68:320–325

11.

Saeed MU, Dacuycuy MA, Kennedy DJ (2007) Halo pin insertion-associated bran abscess: case report and review of literature. Spine 32(8):E271–274

12.

Goodman ML, Nelson PB (1987) Brain abscess complicating the use of halo orthosis. Neurosurgery 20:27–30

13.

Tindall GT, Flanagan JF, Nashold BS (1959) Brain abscess and osteomyelitis following skull traction. Arch Surg 79:638–641

14.

Garfin SR, Botte MI, Centeno RS, Nickel VL (1985) Osteology of the skull as it affects halo pin placement. Spine 10:696–698

15.

Gregory BA, Snow RD, Brogdon BG, Williams JP (1997) Value of bone window images in routine brain CT: EXAMINATION beyond trauma. Appl Radiol 26:26–42

16.

Pillai P, Sammet S, Ammirati M (2008) Application accuracy of computed tomography-based, image-guided navigation of temporal bone. Neurosurgery 63:326–332

17.

Moreira-Gonzalez A, Papai FE, Zins JE (2006) Calvarial thickness and its relation to cranial bone harvest. Plast Reconstr Surg 117:1964–1971

18.

Adeloye A, Katten KR, Silverman FN (1976) Thickness of the normal skull in the American blacks and whites. Am J Phys Anthropol 43:23–30

19.

Ross MD, Lee KA, Castle WM (1976) Skull thickness of Black and White races. S Afr Med J 50:635–638

20.

Blyth BJ, Bazarian JJ (2010) Traumatic alterations in consciousness: traumatic brain injury. Emerg Med Clin North Am 28(3):571–594

21.

Mubarak SJ, Camp JF, Vuletich W, Wenger D, Garfin SR (1989) Halo application in the infant. J Pediatr Orthop 9(5):612–614

22.

Garfin SR, Roux R, Botte MJ, Centeno R, Woo SL (1986) Skull osteology as it affects halo pin placement in children. J Pediatr Orthop 6(4):434–436

23.

Letts M, Kaylor D, Gouw G (1988) A biomechanical analysis of halo fixation in children. J Bone Joint Surg Br 70:277–279

24.

Loder RT (1996) Skull thickness and halo-pin placement in children: the effects of race, gender, and laterality. J Pediatr Orthop 16(3):340–343

25.

Haas LL (1952) Roentgenological skull measurements and their diagnostic application. AJR 67:197–209

26.

Stone JL, Gulabani A, Gorelick G, Vennemreddy S, Vannemreddy P (2013) Frontolateral pins for halo ring placement: reassessment of a common neurosurgical procedure with CT scan measurements of skull bone thickness. J Neurosurg Spine 19:744–749
Ethics declarations
Conflict of interest
The authors declare that there is no conflict of interest.
Additional information
Publisher's Note
Springer Nature remains neutral with regard to jurisdictional claims in published maps and institutional affiliations.
Electronic supplementary material
Below is the link to the electronic supplementary material.
About this article
Cite this article
Domenech-Fernandez, P., Yamane, J., Domenech, J. et al. Analysis of skull bone thickness during growth: an anatomical guide for safe pin placement in halo fixation. Eur Spine J 30, 410–415 (2021). https://doi.org/10.1007/s00586-020-06367-x
Received:

Accepted:

Published:

Issue Date:
Keywords
Spine surgery

Halo

Cranial thickness

Bone growth

Children spine

Skull development