Abstract
Background
Cauda equina syndrome following transforaminal lumbar interbody fusion (TLIF) is very rare, and the causes implicated include inadequate decompression, retained disc fragments, epidural haematoma, gel foams, fat pad grafts, retained sponges, intradural masses and ischaemia of conus. This is a rare case report of pseudoaneurysm of dorsal branch of lumbar artery presenting with delayed onset incomplete cauda equina syndrome following TLIF.
Objective
To describe the very rare case of lumbar artery pseudoaneurysm causing delayed onset incomplete cauda equina syndrome following TLIF and its management with endovascular embolisation.
Method
An 80-year-old female presented with incomplete cauda equina syndrome on 14th post-operative day following TLIF. On evaluation, computed tomography (CT) scan and magnetic resonance imaging (MRI) revealed haematoma with heterogeneous signal intensity, which was pulsatile in ultrasonogram. Doppler and contrast-enhanced CT revealed pseudoaneurysm from posterior branch of left lumbar L4 artery, which was managed with endovascular embolisation.
Result
After endovascular embolisation, the patient had immediate relief from radiating pain in left lower limb and regained full motor power and perianal sensation at the end of 3 weeks. Post-procedure ultrasonography done on the tenth day revealed complete resolution of the pseudoaneurysm.
Conclusion
This case presentation shows the necessity of diagnosing epidural haematomas due to vascular aneurysm in patients with post-operative radiculopathy and neurodeficit and the effectiveness of endovascular embolisation in treating such a threatening condition.
Access options
Buy single article
Instant access to the full article PDF.
US$ 39.95
Tax calculation will be finalised during checkout.
Subscribe to journal
Immediate online access to all issues from 2019. Subscription will auto renew annually.
US$ 119
Tax calculation will be finalised during checkout.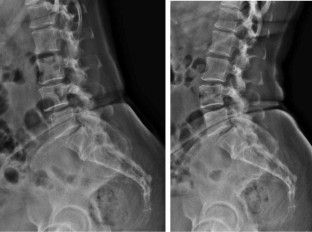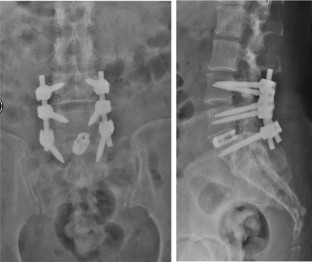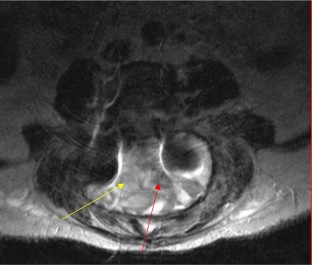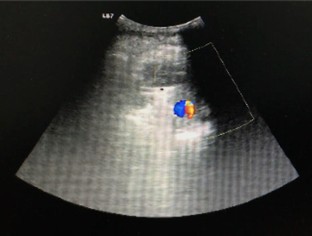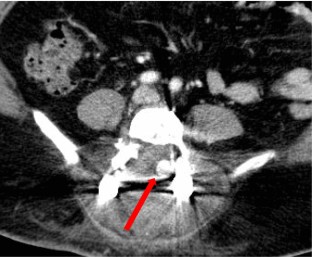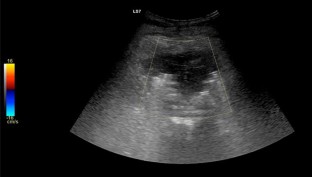 References
1.

Rihn JA, Patel R, Makda J, Hong J, Anderson DG, Vaccaro AR et al (2009) Complications associated with single-level transforaminal lumbar interbody fusion. Spine J Off J North Am Spine Soc 9:623–629. https://doi.org/10.1016/j.spinee.2009.04.004

2.

Duncan JW, Bailey RA (2011) Cauda equina syndrome following decompression for spinal stenosis. Glob Spine J 1:15–18. https://doi.org/10.1055/s-0031-1296051

3.

Lupattelli T (2006) The Yin-Yang Sign. Radiology 238:1070–1071. https://doi.org/10.1148/radiol.2383031884

4.

Daniell JR, Osti OL (2018) Failed back surgery syndrome: a review article. Asian Spine J 12:372–379. https://doi.org/10.4184/asj.2018.12.2.372

5.

Lee KH, Park JH, Chung JW, Han JK, Shin SJ, Kang HS (2000) Vascular complications in lumbar spinal surgery: Percutaneous endovascular treatment. Cardiovasc Intervent Radiol 23:65–69. https://doi.org/10.1007/s002709910012

6.

Counihan M, Pontell ME, Selvan B, Trebelev A, Nunez A. Delayed presentation of a lumbar artery pseudoaneurysm resulting from isolated penetrating trauma. J Surg Case Rep 2015;2015. doi:10.1093/jscr/rjv083.

7.

Oh YM, Choi HY, Eun JP (2013) Delayed Retroperitoneal Hemorrhage due to Lumbar Artery Pseudoaneurysm after Lumbar Posterolateral Fusion. J Korean Neurosurg Soc 54:344–346. https://doi.org/10.3340/jkns.2013.54.4.344

8.

Puri AS, Colen RR, Reddy AS, Groff MW, DiNobile D, Killoran T et al (2011) Lumbar artery pseudoaneurysm after percutaneous vertebroplasty: a unique vascular complication: Report of 2 cases. J Neurosurg Spine 14:296–299. https://doi.org/10.3171/2010.10.SPINE1082

9.

Geldof K, Maleux G, Heye S, Van Cleynenbreugel B, Oyen R (2008) Transcatheter embolization of an isolated lumbar arterial bleeding complicating radical nephrectomy for renal infarction with infected perirenal haematoma. JBR-BTR Organe Soc R Belge Radiol SRBR Orgaan Van K Belg Ver Voor Radiol KBVR 91:203–205

10.

Ratcliffe JF (1982) The anatomy of the fourth and fifth lumbar arteries in humans: an arteriographic study in one hundred live subjects. J Anat 135:753–761

11.

Beveridge TS, Power A, Johnson M, Power NE, Allman BL (2015) The lumbar arteries and veins: Quantification of variable anatomical positioning with application to retroperitoneal surgery: Variation in the Lumbar Arteries and Veins. Clin Anat 28:649–660. https://doi.org/10.1002/ca.22504

12.

Liu P, Chiu T-F, Li C-H (2012) Spontaneous lumbar artery pseudoaneurysm bleeding: a case report. J Emerg Med 42:299–300. https://doi.org/10.1016/j.jemermed.2009.08.065

13.

Espahbodi S, Humphries KN, Doré CJ, McCarthy ID, Standfield NJ, Cosgrove DO et al (2006) Colour doppler ultrasound of the lumbar arteries: a novel application and reproducibility study in healthy subjects. Ultrasound Med Biol 32:171–182. https://doi.org/10.1016/j.ultrasmedbio.2005.11.006

14.

Hulnick DH, Naidich DP, Balthazar EJ, Megibow AJ, Bosniak MA (1984) Lumbar artery pseudoaneurysm: CT demonstration. J Comput Assist Tomogr 8:570–572

15.

Todd NV, Dickson RA (2016) Standards of care in cauda equina syndrome. Br J Neurosurg 30:518–522. https://doi.org/10.1080/02688697.2016.1187254
Acknowledgements
Grants/Research support—Ganga Orthopaedic Education and Research Foundation (GOERF).
Ethics declarations
Conflict of interest
All authors disclose that there is no conflict of interest.
Ethical approval
Institutional review board approved this study with waiver of patient consent.
Additional information
Publisher's Note
Springer Nature remains neutral with regard to jurisdictional claims in published maps and institutional affiliations.
About this article
Cite this article
Keerthivasan, P., Anupama, N.V., Kanna, R.M. et al. Lumbar artery pseudoaneurysm: a rare case of delayed onset incomplete cauda equina syndrome following transforaminal lumbar interbody fusion. Eur Spine J 29, 156–161 (2020). https://doi.org/10.1007/s00586-020-06325-7
Received:

Revised:

Accepted:

Published:

Issue Date:
Keywords
Post-operative radiculopathy

Lumbar artery pseudoaneurysm

Cauda equina syndrome

Endovascular embolisation