Abstract
Purpose
To report the indications, presurgical planning, operative techniques, complications for making decisions in cervical revision surgery (CRS).
Methods
Hundred and two patients underwent CRS over a four-year period. Epidemiological data, the type of first surgery, CRS surgical techniques and complications were retrospectively evaluated. Pain and neurological symptoms were assessed according to the validated Odom criteria. CRS indications were classified into five categories: adjacent segment disease (ASD), infection (INF), implant failure–pseudarthrosis (IFP), non-infectious complication, and deformity. Patients were classified into three groups, according to the approach of the index procedure: anterior, posterior, or 360°.
Results
The mean patient age was 63 years (59% males). ASD (40%), INF (23%), and IFP (22%) were observed in 85% of patients. CRS was performed with the same approach that was used in the index procedure in 64% of the anterior group and in 83% of the posterior group. In the 360° group, 64% of CRSs was performed with a posterior access. The early complication rate was 4.9%. The outcome was excellent in 19 patients (19%), good in 37 patients (36%), satisfactory in 27 patients (26%), and poor in six patients (6%). Thirteen patients (13%) were lost to follow-up. No implants failed radiologically or required surgical revision.
Conclusions
CRS required painstaking planning and mastery of a variety of surgical techniques. The results were rewarding in half and satisfactory in a quarter of the patients. The complication rate was lower than expected. In the most complex cases, referral to a specialized center is recommended.
Graphic abstract
These slides can be retrieved under Electronic Supplementary Material.

Access options
Buy single article
Instant access to the full article PDF.
USD 39.95
Price includes VAT (USA)
Tax calculation will be finalised during checkout.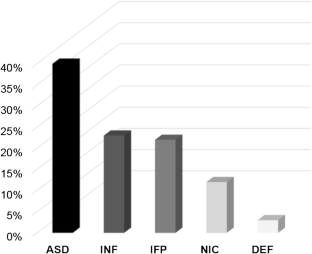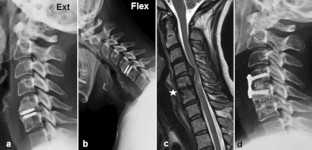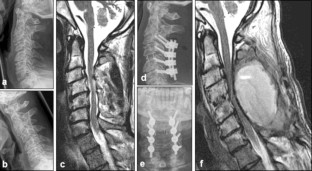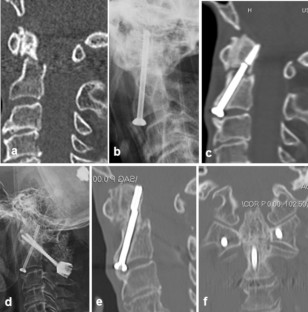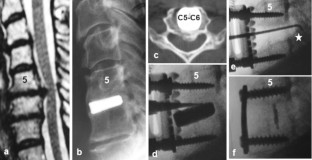 References
1.

Wu WJ, Jiang LS, Liang Y, LY Dai (2012) Cage subsidence does not, but cervical lordosis improvement does affect the long-term results of anterior cervical fusion with stand-alone cage for degenerative cervical disc disease: a retrospective study. Eur Spine J 21(7):1374–1382. https://doi.org/10.1007/s00586-011-2131-9

2.

Lee YS, Kim YB, Park SW (2014) Risk factors for postoperative subsidence of single-level anterior cervical discectomy and fusion. Spine 39(16):1280–1287. https://doi.org/10.1097/BRS.0000000000000400

3.

Hartig D, Batke J, Dea N, Kelly A, Fisher C, Street J (2015) Adverse events in surgically treated cervical spondylotic myelopathy. Spine 40(5):292–298. https://doi.org/10.1097/BRS.0000000000000755

4.

Tetreault L, Ibrahim A, Cote P, Singh A, Fehlings MG (2016) A systematic review of clinical and surgical predictors of complications following surgery for degenerative cervical myelopathy. J Neurosurg Spine 24:77–99

5.

Koerner JD, Kepler CK, Albert TJ (2015) Revision surgery for failed cervical spine reconstruction. HSS Journal 11:2–8. https://doi.org/10.1007/s11420-014-9394-8

6.

Helgeson MD, Albert TJ (2012) Surgery for failed cervical reconstruction. Spine 37(5):E323–E327. https://doi.org/10.1097/BRS.0b013e31823ec9de

7.

Broekema AEH, Molenberg R, Kuijlen JMA, Groen RJM, Reneman MF, Soer R (2019) The Odom criteria: validated at last. A clinimetric evaluation in cervical spine surgery. J Bone Joint Surg Am 101:1301–1308. https://doi.org/10.2016/JBJS.18.00370

8.

Veeravagu A, Cole T, Jiang B, Ratliff JK (2014) Revision rates and complication incidence in single- and multilevel anterior cervical discectomy and fusion procedures: an administrative database study. Spine J 14:1125–1131. https://doi.org/10.1016/j.spinee.2013.07.474

9.

Sebastian A, Huddleston P, Kakar S, Habermann E, Wagie A, Nassr A (2016) Risk factors for surgical site infection after posterior cervical surgery: an analysis of 5441 patients from the ACS NSQIP 2005–2012. Spine J 16:504–509. https://doi.org/10.1016/j.spinee.2015.12.009

10.

Okamoto T, Neo M, Fujibayashi S, Ito H, Takemoto M, Nakamura T (2012) Mechanical implant failure in posterior cervical spine fusion. Eur Spine J 21:328–334. https://doi.org/10.1007/s00586-011-2043-8

11.

O´Neill KR, Neuman B, Peters C, Riew KD (2014) Risk factors for postoperative retropharyngeal hematoma after anterior cervical spine surgery. Spine 39(4):E246–E252

12.

Harman F, Kaptanoglu E, Hasturk AE (2016) Esophageal perforation after anterior cervical surgery: a review of the literature for over a half a century with a demonstrative case and a proposed novel algorithm. Eur Spine J 25:2027–2049. https://doi.org/10.1007/s00586-016-4394-7

13.

Halani SH, Baum GR, Riley JP, Pradilla G, Refai D, Rodts GE, Ahmad Fu (2016) Esophageal perforation after anterior cervical spine surgery: a systematic review of the literature. J Neurosurg Spine 25:285–291

14.

Syre P, Bohmann LE, Baltuch G, Le Roux P, Welch WC (2014) Cerebrospinal fluid leaks and their management after anterior cervical discectomy and fusion. Spine 39(16):E936–E943. https://doi.org/10.1097/BRS.0000000000000404

15.

O´Neill KR, Neumann BJ, Peters C, Riew KD (2014) Risk factors for dural tears in the cervical spine. Spine 39(17):E1015–E1020. https://doi.org/10.1097/BRS.0000000000000416

16.

Basaran R, Kaner T (2016) C5 nerve root palsy following decompression of cervical spine with anterior versus posterior types of procedures in patients with cervical myelopathy. Eur Spine J 25:2050–2059. https://doi.org/10.1007/s00586-016-4567-4

17.

Derakhshan A, Lubelski D, Steinmetz M et al (2017) Thoracic duct injury following cervical spine surgery: A multicenter retrospective review. Global spine J. 7(1 Suppl):115S–119S

18.

Hsiang J (2011) Wrong-level surgery: a unique problem in spine surgery. Surg Neurol Int. 2:47. https://doi.org/10.4013/2152-7806.79769

19.

Deinsberger R, Regatschnig R, Ungersböck K (2005) Intraoperative evaluation of bone decompression in anterior cervical spine surgery by three-dimensional fluoroscopy. Eur Spine J 14(7):671–676. https://doi.org/10.1007/s00586-004-0852-8

20.

Tan TP, Govindarajulu AP, Massicotte EM, Venkatraghavan L (2014) Vocal cord palsy after anterior cervical spine surgery: a qualitative systematic review. The Spine J 14:132–1342. https://doi.org/10.1016/j.spinee:2014.02.017

21.

Stumpe K, Zanetti M, Weishaupt D, Hodler J, Boos N, Schulthess GK (2002) FDG positron emission tomography for differentiation of degenerative and infectious endplate abnormalities in the lumbar spine detected on MR imaging. AJR 179(5):1151–1157. https://doi.org/10.2214/ajr.179.5.1791151

22.

Papavero L, Schmeiser G, Boszczyk B, Kawaguchi Y, Mayer M, Olerud C, Pitzen T, Richter M, Riew KD, Yau YH, Kothe R (2019) Degenerative cervical myelopathy: A seven-letter coding system that supports decision making for the surgical approach. Neurospine. https://doi.org/10.14245/ns.1938010.005 [Accepted]
Ethics declarations
Conflict of interest
The authors declare that they have no conflict of interest.
Ethical approval
All procedures were performed in accordance with the ethical standards of the Institutional Research Committee and with the 1964 Helsinki Declaration and its later amendments or comparable ethical standards.
Additional information
Publisher's Note
Springer Nature remains neutral with regard to jurisdictional claims in published maps and institutional affiliations.
Electronic supplementary material
Below is the link to the electronic supplementary material.
About this article
Cite this article
Papavero, L., Lepori, P. & Schmeiser, G. Revision surgery in cervical spine. Eur Spine J 29, 47–56 (2020). https://doi.org/10.1007/s00586-019-06281-x
Received:

Revised:

Accepted:

Published:

Issue Date:
Keywords
Cervical anterior surgery

Complications cervical surgery

Implant failure cervical surgery

Malalignment cervical spine

Cervical revision surgery