Abstract
Introduction
The Gait Deviation Index (GDI) is a composite measure of gait abnormality derived from lower-limb joint range-of-motion which is increasingly being reported for clinical gait analysis among neurologic and orthopedic patients. A GDI score of 100 is representative of healthy individuals and decreasing scores represent a greater abnormality. Preliminary data is needed to help assess the utility of GDI as a measure of compromised gait among spine patients and to provide reference values for commonly treated pathologies.
Methods
GDI scores were obtained from healthy adults and four symptomatic degeneration groups: cervical spondylotic myelopathy (CSM), adult degenerative scoliosis (ADS), and single-level lumbar degeneration (LD). Clinical gait analysis was done using a three-dimensional motion tracking system. Evaluations were done 1 week prior to surgical intervention for degeneration groups. Two-sample t-tests were used to compare degenerative cohorts to healthy controls and for inter-cohort comparisons. Pearson correlations were used to test for significant relationships between GDI and walking speed.
Results
Degenerative cohorts all showed significantly lower (worse) GDI scores compared to healthy (all p < 0.001). CSM patients showed the best GDI scores with an average of 90, and LD patients showed the worst GDI scores with an average of 86. Worsening GDI significantly correlated with decreased walking speed among ADS patients.
Conclusion
Composite metrics like GDI provide a tempting means to summarize nuanced and complex gait characteristics into a single, comparable value among cohorts. The results of this study provide preliminary GDI scores for common degenerative spine pathologies.
Graphic abstract
These slides can be retrieved under Electronic Supplementary Material.

Access options
Buy single article
Instant access to the full article PDF.
US$ 39.95
Tax calculation will be finalised during checkout.
Subscribe to journal
Immediate online access to all issues from 2019. Subscription will auto renew annually.
US$ 119
Tax calculation will be finalised during checkout.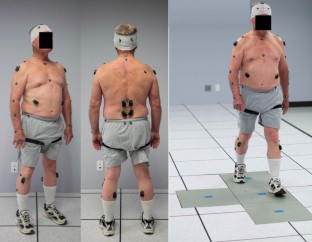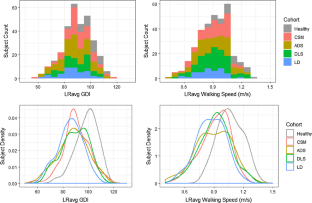 References
1.

Vos T, Bell BR (2015) Global, regional, and national incidence, prevalence, and years lived with disability for 301 acute and chronic diseases and injuries in 188 countries, 1990–2013: a systematic analysis for the Global Burden of Disease Study 2013. Lancet 386(9995):743–800

2.

Buser Z et al (2018) Spine degenerative conditions and their treatments: National Trends in the United States of America. Global Spine J 8(1):57–67

3.

Zygourakis CC et al (2017) Geographic and hospital variation in cost of lumbar laminectomy and lumbar fusion for degenerative conditions. Neurosurgery 81(2):331–340

4.

Weinstein JN et al (2006) United States' trends and regional variations in lumbar spine surgery: 1992–2003. Spine (Phila Pa 1976) 31(23):2707–2714

5.

Liu CY et al (2017) Trends in utilization and cost of cervical spine surgery using the national inpatient sample database, 2001 to 2013. Spine (Phila Pa 1976) 42(15):e906–e913

6.

Martin BI et al (2008) Expenditures and health status among adults with back and neck problems. JAMA 299(6):656–664

7.

Devin CJ et al (2015) A cost-utility analysis of lumbar decompression with and without fusion for degenerative spine disease in the elderly. Neurosurgery 77(Suppl 4):S116–S124

8.

Diebo BG et al (2019) Adult spinal deformity. Lancet 394(10193):160–172

9.

Haddas R et al (2018) The use of gait analysis in the assessment of patients afflicted with spinal disorders. Eur Spine J 27:1712

10.

Lenke LG et al (2001) Prospective dynamic functional evaluation of gait and spinal balance following spinal fusion in adolescent idiopathic scoliosis. Spine (Phila Pa 1976) 26(14):E330–7

11.

Malone A, Meldrum D, Bolger C (2015) Three-dimensional gait analysis outcomes at 1 year following decompressive surgery for cervical spondylotic myelopathy. Eur Spine J 24(1):48–56

12.

Yagi M et al (2017) Walking balance and compensatory gait mechanisms in surgically treated patients with adult spinal deformity. Spine J 17(3):409–417

13.

Nishimura H et al (2015) Gait analysis in cervical spondylotic myelopathy. Asian Spine J 9(3):321–326

14.

Siasios ID et al (2017) The role of gait analysis in the evaluation of patients with cervical myelopathy: a literature review study. World Neurosurg 101:275–282

15.

Paul JC et al (2015) Feasibility of a cost-effective, video analysis software-based mobility protocol for objective spine kinematics and gait metrics: a proof of concept study. PM & R 7(3):336–339

16.

Cimolin V, Galli M (2014) Summary measures for clinical gait analysis: a literature review. Gait Posture 39:1005–1010. https://doi.org/10.1016/j.gaitpost.2014.02.001

17.

Hillman SJ et al (2007) Correlation of the Edinburgh Gait Score with the Gillette Gait Index, the Gillette Functional Assessment Questionnaire, and dimensionless speed. J Pediatr Orthop 27(1):7–11

18.

Novacheck TF, Stout JL, Tervo R (2000) Reliability and validity of the Gillette Functional Assessment Questionnaire as an outcome measure in children with walking disabilities. J Pediatr Orthop 20(1):75–81

19.

Schwartz MH, Rozumalski A (2008) The Gait Deviation Index: a new comprehensive index of gait pathology. Gait Posture 28(3):351–357

20.

Jensen C et al (2015) The use of the Gait Deviation Index for the evaluation of participants following total hip arthroplasty: an explorative randomized trial. Gait Posture 42(1):36–41

21.

Rosenlund S et al (2016) The Gait Deviation Index Is associated with hip muscle strength and patient-reported outcome in patients with severe hip osteoarthritis: a cross-sectional study. PLoS ONE 11(4):e0153177

22.

Esbjornsson AC et al (2014) Quantifying gait deviations in individuals with rheumatoid arthritis using the Gait Deviation Index. Scand J Rheumatol 43(2):124–131

23.

Correa KP et al (2017) Reliability and Minimum Detectable Change of the Gait Deviation Index (GDI) in post-stroke patients. Gait Posture 53:29–34

24.

Protopsaltis T et al (2014) The t1 pelvic angle, a novel radiographic measure of global sagittal deformity, accounts for both spinal inclination and pelvic tilt and correlates with health-related quality of life. J Bone Joint Surg Am 96(19):1631–1640

25.

Iyer S et al (2018) Sagittal spinal alignment in adult spinal deformity: an overview of current concepts and a critical analysis review. JBJS Rev 6:e2

26.

Kim HJ et al (2013) Differential diagnosis for cervical spondylotic myelopathy: literature review. Spine (Phila Pa 1976) 38(22 Suppl 1):S78–S88

27.

Ailon T et al (2015) Degenerative spinal deformity. Neurosurgery 77(Suppl 4):S75–S91

28.

Schwab F et al (2012) Scoliosis Research Society-Schwab adult spinal deformity classification: a validation study. Spine (Phila Pa 1976) 37(12):1077–1082

29.

Matz PG et al (2016) Guideline summary review: an evidence-based clinical guideline for the diagnosis and treatment of degenerative lumbar spondylolisthesis. Spine J 16(3):439–448

30.

Meyers LL et al (1999) Mechanical instability as a cause of gait disturbance in high-grade spondylolisthesis: a pre- and postoperative three-dimensional gait analysis. J Pediatr Orthop 19(5):672–676

31.

Yagi M et al (2018) Effect of the upper instrumented vertebral level (upper vs. lower thoracic spine) on gait ability after corrective surgery for adult spinal deformity. Spine J 18(1):130–138

32.

Haddas R et al (2018) Spine and lower extremity kinematics during gait in patients with cervical spondylotic myelopathy. Spine J 18(9):1645–1652

33.

Haddas R et al (2019) Characterizing gait abnormalities in patients with cervical spondylotic myelopathy: a neuromuscular analysis. Spine J 19:11

34.

Rozumalski A, Schwartz M (2012) A method to reference the Gait Deviation Index to a speed-matched control. Gait Posture 36:S51–S52

35.

Podsiadlo D, Richardson S (1991) The timed "Up & Go": a test of basic functional mobility for frail elderly persons. J Am Geriatr Soc 39(2):142–148
Acknowledgements
We acknowledge the Viscoliogsi family for their support of the Texas Back Institute Spine Biomechanics Laboratory.
IRB Approval
The study was approved by the Western Institutional Review Board (IRB#: 20152881).
Ethics declarations
Conflict of interest
The authors declare that they have no competing interests.
Additional information
Publisher's Note
Springer Nature remains neutral with regard to jurisdictional claims in published maps and institutional affiliations.
Electronic supplementary material
Below is the link to the electronic supplementary material.
About this article
Cite this article
Mar, D., Lieberman, I. & Haddas, R. The Gait Deviation Index as an indicator of gait abnormality among degenerative spinal pathologies. Eur Spine J 29, 2591–2599 (2020). https://doi.org/10.1007/s00586-019-06252-2
Received:

Revised:

Accepted:

Published:

Issue Date:
Keywords
Gait Deviation Index

Adult spinal degeneration

Gait analysis