Abstract
Introduction
While the clinical impact of coronal and sagittal alignment in adult spinal deformity (ASD) patients (pts) is established, there is a paucity of data in terms of axial plane deformity and potential association between muscle degeneration and 3D deformity. The purpose of this study was to analyze spinopelvic muscles characteristics in association with the 3D deformity of ASD patients.
Methods
This is a prospective cohort study; primary lumbar scoliosis patients (Cobb > 20°) were enrolled and sustained a low-dose X-rays with 3D spinal reconstructions and a fat/water separation MRI (from C7 to the knee). Volumetric 3D reconstructions and fat infiltration (FI) of 6 muscles groups were performed. Relationships between muscular data, radiographic parameters and health-related quality of life were investigated. Patients were stratified and compared based on the SRS classification, the odontoid-hip axis (ODHA) angle (> or < 6.1°) and occurrence of rotatory subluxation.
Results and discussion
Twenty-eight patients were enrolled with a mean age of 60 ± 16yo and mean body mass index of 26 ± 4 kg/m2 without differences between groups. There were a moderate sagittal malalignment and a Cobb angle of 45 ± 11° (table). Muscular volume was smaller in patients with more severe deformity (p > 0.05). Pts with ODHA > 6.1° or pelvic incidence minus lumbar lordosis  > 10° had significantly higher FI for the 6 muscular groups, patients with pelvic tilt  > 20° had significantly higher FI for erector spinae, hip flexors and extensors (p < 0.05). SF36-PCS significantly correlated with the muscular volume; SRS and Oswestry disability index correlated with the erectors spinae volume (p < 0.05).
Conclusion
This study analyzed for the first time the relationship between 3D radiographic parameters and muscular characteristics in ASD. Sagittal malalignment is associated with increased FI and decreased muscle volumes with poor outcomes.
Graphic abstract
These slides can be retrieved under Electronic Supplementary Material.

Access options
Buy single article
Instant access to the full article PDF.
USD 39.95
Price includes VAT (USA)
Tax calculation will be finalised during checkout.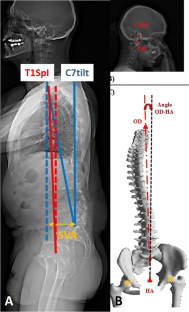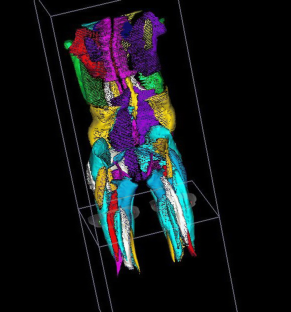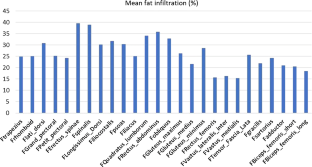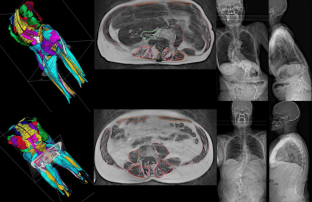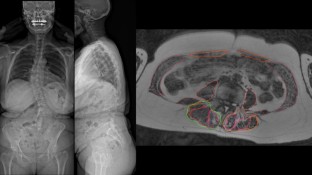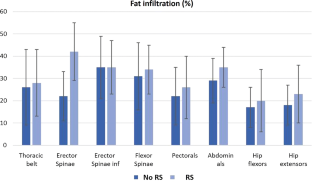 References
1.

Kebaish KM, Neubauer PR, Voros GD, Khoshnevisan MA, Skolasky RL (2011) Scoliosis in adults aged forty years and older: prevalence and relationship to age, race, and gender. Spine 36(9):731–736

2.

Bess S, Line B, Fu K-M, McCarthy I, Lafage V, Schwab F et al (2016) The health impact of symptomatic adult spinal deformity: comparison of deformity types to United States population norms and chronic diseases. Spine 41(3):224–233

3.

Pellisé F, Casademunta A, Ferrer M, Sàbat M, Bagó J, FJS et al (2015) Impact on health related quality of life of adult spinal deformity (ASD) compared with other chronic conditions. Eur Spine J Off Publ Eur Spine Soc Eur Spinal Deform Soc Eur Sect Cerv Spine Res Soc 24(1):3–11

4.

Diebo BG, Varghese JJ, Lafage R, Schwab FJ, Lafage V (2015) Sagittal alignment of the spine: What do you need to know? Clin Neurol Neurosurg 139:295–301

5.

Ferrero E, Liabaud B, Challier V, Lafage R, Diebo BG, Vira S et al (2016) Role of pelvic translation and lower-extremity compensation to maintain gravity line position in spinal deformity. J Neurosurg Spine 24(3):436–446

6.

Diebo BG, Ferrero E, Lafage R, Challier V, Liabaud B, Liu S et al (2015) Recruitment of compensatory mechanisms in sagittal spinal malalignment is age and regional deformity dependent: a full-standing axis analysis of key radiographical parameters. Spine 40(9):642–649

7.

Meakin JR, Fulford J, Seymour R, Welsman JR, Knapp KM (2013) The relationship between sagittal curvature and extensor muscle volume in the lumbar spine. J Anat 222(6):608–614

8.

Kang CH, Shin MJ, Kim SM, Lee SH, Lee C-S (2007) MRI of paraspinal muscles in lumbar degenerative kyphosis patients and control patients with chronic low back pain. Clin Radiol 62(5):479–486

9.

Teichtahl AJ, Urquhart DM, Wang Y, Wluka AE, Wijethilake P, O'Sullivan R et al (2015) Fat infiltration of paraspinal muscles is associated with low back pain, disability, and structural abnormalities in community-based adults. Spine J Off J North Am Spine Soc 15(7):1593–1601

10.

Amabile C, Moal B, Chtara OA, Pillet H, Raya JG, Iannessi A et al (2017) Estimation of spinopelvic muscles' volumes in young asymptomatic subjects: a quantitative analysis. Surg Radiol Anat SRA 39(4):393–403

11.

Zhang C, Moal B, Dubois G, Raya J, Lafage V, Skalli W (2014) Comparison of two MRI sequences for subject-specific 3D thigh muscle reconstruction. Comput Methods Biomech Biomed Eng 17(1):136–137

12.

Gille O, Jolivet E, Dousset V, Degrise C, Obeid I, Vital J-M et al (2007) Erector spinae muscle changes on magnetic resonance imaging following lumbar surgery through a posterior approach. Spine 32(11):1236–1241

13.

McHorney CA, Ware JE, Rogers W, Raczek AE, Lu JF (1992) The validity and relative precision of MOS short- and long-form health status scales and Dartmouth COOP charts. Results from the Medical Outcomes Study. Med Care 30(Suppl):MS253–MS265

14.

Asher M, Min Lai S, Burton D, Manna B (2003) The reliability and concurrent validity of the scoliosis research society-22 patient questionnaire for idiopathic scoliosis. Spine 28(1):63–69

15.

Lonjon G, Ilharreborde B, Odent T, Moreau S, Glorion C, Mazda K (2014) Reliability and validity of the French–Canadian version of the scoliosis research society 22 questionnaire in France. Spine 39(1):E26–34

16.

Vogler D, Paillex R, Norberg M, de Goumoëns P, Cabri J (2008) Cross-cultural validation of the Oswestry disability index in French. Ann Readaptation Med Phys Rev Sci Soc Francaise Reeducation Fonct Readaptation Med Phys 51(5):379–385

17.

Grönblad M, Hupli M, Wennerstrand P, Järvinen E, Lukinmaa A, Kouri JP et al (1993) Intercorrelation and test-retest reliability of the Pain Disability Index (PDI) and the Oswestry Disability Questionnaire (ODQ) and their correlation with pain intensity in low back pain patients. Clin J Pain 9(3):189–195

18.

Faro FD, Marks MC, Pawelek J, Newton PO (2004) Evaluation of a functional position for lateral radiograph acquisition in adolescent idiopathic scoliosis. Spine 29(20):2284–2289

19.

Humbert L, De Guise JA, Aubert B, Godbout B, Skalli W (2009) 3D reconstruction of the spine from biplanar X-rays using parametric models based on transversal and longitudinal inferences. Med Eng Phys 31(6):681–687

20.

Vialle R, Levassor N, Rillardon L, Templier A, Skalli W, Guigui P (2005) Radiographic analysis of the sagittal alignment and balance of the spine in asymptomatic subjects. J Bone Joint Surg Am 87(2):260-267

21.

Amabile C, Pillet H, Lafage V, Barrey C, Vital J-M, Skalli W (2016) A new quasi-invariant parameter characterizing the postural alignment of young asymptomatic adults. Eur Spine J Off Publ Eur Spine Soc Eur Spinal Deform Soc Eur Sect Cerv Spine Res Soc 25(11):3666–3674

22.

Ferrero E, Lafage R, Vira S, Rohan PY, Oren J, Delsole E, Guigui P, Schwab F, Lafage V, Skalli W (2017) Three-dimensional reconstruction using stereoradiography for evaluating adult spinal deformity: a reproducibility study. Eur Spine J 26(8):2112–2120

23.

Ilharreborde B, Steffen JS, Nectoux E, Vital JM, Mazda K, Skalli W et al (2011) Angle measurement reproducibility using EOS three-dimensional reconstructions in adolescent idiopathic scoliosis treated by posterior instrumentation. Spine 36(20):E1306–E1313

24.

Schwab F, Farcy J-P, Bridwell K, Berven S, Glassman S, Harrast J et al (2006) A clinical impact classification of scoliosis in the adult. Spine 31(18):2109–2114

25.

Moal B, Bronsard N, Raya JG, Vital JM, Schwab F, Skalli W et al (2015) Volume and fat infiltration of spino-pelvic musculature in adults with spinal deformity. World J Orthop 6(9):727–737

26.

Dixon WT (1984) Simple proton spectroscopic imaging. Radiology 153(1):189–194

27.

Ragan DK, Bankson JA (2010) Two-point Dixon technique provides robust fat suppression for multi-mouse imaging. J Magn Reson Imaging JMRI 31(2):510–514

28.

Hausselle J, Assi A, El Helou A, Jolivet E, Pillet H, Dion E et al (2014) Subject-specific musculoskeletal model of the lower limb in a lying and standing position. Comput Methods Biomech Biomed Eng 17(5):480–487

29.

Shafaq N, Suzuki A, Matsumura A, Terai H, Toyoda H, Yasuda H et al (2012) Asymmetric degeneration of paravertebral muscles in patients with degenerative lumbar scoliosis. Spine 37(16):1398–1406

30.

Yagi M, Hosogane N, Watanabe K, Asazuma T, Matsumoto M, Keio Spine Research Group (2016) The paravertebral muscle and psoas for the maintenance of global spinal alignment in patient with degenerative lumbar scoliosis. Spine J Off J North Am Spine Soc 16(4):451–458

31.

Hyun S-J, Kim YJ, Rhim S-C (2016) Patients with proximal junctional kyphosis after stopping at thoracolumbar junction have lower muscularity, fatty degeneration at the thoracolumbar area. Spine J Off J North Am Spine Soc 16(9):1095–1101

32.

Haig AJ (2002) Paraspinal denervation and the spinal degenerative cascade. Spine J Off J North Am Spine Soc 2(5):372–380

33.

Miyakoshi N, Kudo D, Hongo M, Kasukawa Y, Ishikawa Y, Shimada Y (2017) Comparison of spinal alignment, muscular strength, and quality of life between women with postmenopausal osteoporosis and healthy volunteers. Osteoporos Int J Establ Result Coop Eur Found Osteoporos Natl Osteoporos Found USA 28(11):3153–3160

34.

Miyakoshi N, Hongo M, Maekawa S, Ishikawa Y, Shimada Y, Itoi E (2007) Back extensor strength and lumbar spinal mobility are predictors of quality of life in patients with postmenopausal osteoporosis. Osteoporos Int J Establ Result Coop Eur Found Osteoporos Natl Osteoporos Found USA 18(10):1397–1403
Ethics declarations
Conflict of interest
We have no potential conflict of interest.
Additional information
Publisher's Note
Springer Nature remains neutral with regard to jurisdictional claims in published maps and institutional affiliations.
Electronic supplementary material
Below is the link to the electronic supplementary material.
About this article
Cite this article
Ferrero, E., Skalli, W., Lafage, V. et al. Relationships between radiographic parameters and spinopelvic muscles in adult spinal deformity patients. Eur Spine J 29, 1328–1339 (2020). https://doi.org/10.1007/s00586-019-06243-3
Received:

Revised:

Accepted:

Published:

Issue Date:
Keywords
Adult spinal deformity

Muscle degeneration

3D analysis

Scoliosis

Fat infiltration