Abstract
Purpose
Patients with various and indefinite symptoms in the whole body occasionally have coincident with stiffness or tenderness of the cervical muscles. This prospective case series examined the effect of local modulation of the cervical muscles in patients with cervical disorders reporting indefinite whole-body symptoms.
Methods
A total of 1863 hospitalized patients with cervical disorders accompanying three or more indefinite whole-body symptoms, who were resistant to outpatient care, were enrolled in this study for 12 years. All patients underwent daily physical therapies to the cervical muscles during hospitalization. Self-rated records on the medical interview sheets documenting 30 representative symptoms including cervical/shoulder pain or stiffness and 28 representative indefinite whole-body symptoms at admission and discharge were compared across the population.
Results
The number of symptoms decreased significantly with the local modulation of the cervical muscles during hospitalization. All of the 28 indefinite whole-body symptoms at admission showed recovery rates greater than 50% at discharge. The mean number of symptoms decreased significantly from 17.8 at admission to 7.4 at discharge (p < 0.0001). The percentages of patients reporting 10 or more symptoms were 91.1% and 29.3% at admission and discharge, respectively. Moreover, 8.2% of patients reported no residual symptoms at discharge.
Conclusion
Cervical muscle lesions may contribute to indefinite whole-body symptoms, possibly through dysfunction of the parasympathetic nervous system in the muscles. Local modulation of cervical muscles could lead to a breakthrough in the management of patients with indefinite whole-body symptoms.
Trial registration ID
UMIN000035445.
Graphic abstract
These slides can be retrieved under Electronic Supplementary Material.

This is a preview of subscription content, log in to check access.
Access options
Buy single article
Instant access to the full article PDF.
US$ 39.95
Price includes VAT for USA
Subscribe to journal
Immediate online access to all issues from 2019. Subscription will auto renew annually.
US$ 199
This is the net price. Taxes to be calculated in checkout.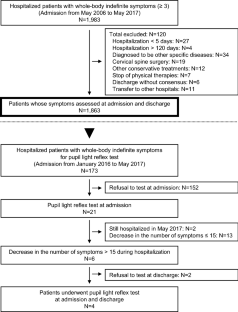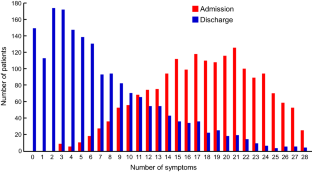 Availability of data and materials
The datasets used and/or analyzed during the current study are available from the corresponding author on reasonable request.
Acknowledgements
The authors thank Mrs. Hiroki Fujii, Tomohiko Kaneko, and Naoto Yanagi at our institutions for their invaluable technical assistance.
Funding
There was no funding associated with this study. The patients were hospitalized for intensive treatment and detailed examinations, but not for this study. The cost of treatment was borne partly by the patients and partly by the Japanese national insurance.
Ethics declarations
Conflict of interest
The authors declare that they have no conflict of interest.
Ethics approval and consent to participate
The study was conducted with the approval of the institutional review board of Tokyo Neurological Center and Matsui Hospital. All participants provided written consent to participate in the study. All rights of the patients were protected against any kind of disadvantage and individual matters.
Consent for publication
Not applicable. We are permitted to reproduce copyrighted materials.
Additional information
Publisher's Note
Springer Nature remains neutral with regard to jurisdictional claims in published maps and institutional affiliations.
Electronic supplementary material
Below is the link to the electronic supplementary material.
About this article
Cite this article
Matsui, T., Hara, K., Kayama, T. et al. Cervical muscle diseases are associated with indefinite and various symptoms in the whole body. Eur Spine J (2020). https://doi.org/10.1007/s00586-019-06233-5
Received:

Revised:

Accepted:

Published:
Keywords
Cervical disorder

Indefinite symptom

Treatment

Cervical muscle

Parasympathetic nerve