Abstract
Purpose
The objective of this study was to test the correlation between the apex of lumbar lordosis (LLA) and pelvic incidence (PI) in asymptomatic adults, and to establish predictive formulae based on the PI to obtain the reference values of lumbar sagittal parameters.
Methods
A cohort of 183 asymptomatic volunteers older than 18 years was enrolled in this study between April 2017 and May 2019. A full-spine, standing X-ray was taken for each subject. The following parameters in the sagittal plane were measured: the LLA, the distance between the plumb line of the lumbar apex (LAPL) and gravity plumb line, lumbar lordosis (LL), the upper arc of lumbar lordosis (LLUA), the lower arc of lumbar lordosis (LLLA) and the PI. The correlations between lumbar parameters and PI were analysed, and simple linear regressions were simultaneously constructed. The statistical significance level was P < 0.05.
Results
The PI was statistically correlated with the LLA (rs = − 0.595, P < 0.001), LAPL (rs = 0.503, P < 0.001), LL (rs = 0.605, P < 0.001), LLUA (r = 0.354, P < 0.001) and the LLLA (r = 0.658, P < 0.001). The corresponding regression formulae were as follows: LLA = − 0.042*PI + 6.134 (R2 = 0.306), LAPL = 0.448*PI + 26.570 (R2 = 0.279), LL = 0.888*PI − 2.667 (R2 = 0.370), LLUA = 0.272*PI − 2.297 (R2 = 0.126) and LLLA = 0.607*PI + 0.177 (R2 = 0.433).
Conclusion
The PI has strong correlations with the LLA, LAPL, LL, LLUA and LLLA, which demonstrates that the specific lumbar shape can be affected by the pelvic morphology. Moreover, predictive models for ideal lumbar sagittal parameters based on the PI have been developed, contributing to the design of precise and individualized preoperative plans.
Graphic abstract
These slides can be retrieved under Electronic Supplementary Material.

Access options
Buy single article
Instant access to the full article PDF.
US$ 39.95
Tax calculation will be finalised during checkout.
Subscribe to journal
Immediate online access to all issues from 2019. Subscription will auto renew annually.
US$ 119
Tax calculation will be finalised during checkout.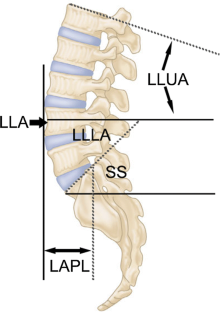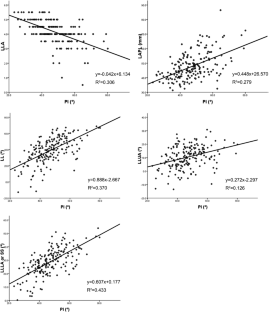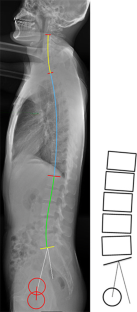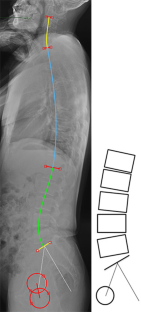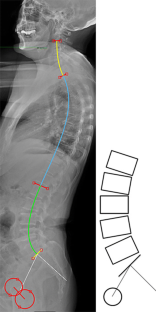 References
1.

Blondel B, Schwab F, Ungar B et al (2012) Impact of magnitude and percentage of global sagittal plane correction on health-related quality of life at 2-years follow-up. Neurosurgery 71(2):341–348

2.

Lafage V, Schwab F, Patel A et al (2009) Pelvic tilt and truncal inclination: two key radiographic parameters in the setting of adults with spinal deformity. Spine 34(17):E599–E606

3.

Boulay C, Tardieu C, Hecquet J et al (2006) Sagittal alignment of spine and pelvis regulated by pelvic incidence: standard values and prediction of lordosis. Eur Spine J 15(4):415–422

4.

Schwab F, Lafage V, Patel A et al (2009) Sagittal plane considerations and the pelvis in the adult patient. Spine 34(17):1828–1833

5.

Roussouly P, Pinheiro-Franco JL (2011) Biomechanical analysis of the spino-pelvic organization and adaptation in pathology. Eur Spine J 20(5 Supplement):609–618

6.

Duval-Beaupère G, Schmidt C, Cosson P (1992) A barycentremetric study of the sagittal shape of spine and pelvis: the conditions required for an economic standing position. Ann Biomed Eng 20(4):451–462

7.

Mac-Thiong JM, Berthonnaud E, Dimar JRI et al (2004) Sagittal alignment of the spine and pelvis during growth. Spine 29(15):1642–1647

8.

Rose PS, Bridwell KH, Lenke LG et al (2009) Role of pelvic incidence, thoracic kyphosis, and patient factors on sagittal plane correction following pedicle subtraction osteotomy. Spine 34(8):785–791

9.

Osamu T, Kazuhiro H, Masashi O et al (2018) Lumbar lordosis does not correlate with pelvic incidence in the cases with the lordosis apex located at L3 or above. Eur Spine J. https://doi.org/10.1007/s00586-018-5695-9

10.

Pesenti S, Lafage R, Stein D et al (2018) The amount of proximal lumbar lordosis is related to pelvic incidence. Clin Orthop Relat Res 476(8):1603–1611

11.

Berthonnaud E, Dimnet J, Roussouly P et al (2005) Analysis of the sagittal balance of the spine and pelvis using shape and orientation parameters. J Spinal Disord Tech 18(1):40–47

12.

Roussouly P, Gollogly S, Berthonnaud E et al (2005) Classification of the normal variation in the sagittal alignment of the human lumbar spine and pelvis in the standing position. Spine 30(3):346–353

13.

Barrett ST, Nikolas M, Reighard FG et al (2018) Relationship between lumbar lordosis and pelvic incidence in the adolescent patient: normal cohort analysis and literature comparison. Spine Deform 6(5):529–536

14.

Hyun SJ, Han S, Kim YB et al (2019) Predictive formula of ideal lumbar lordosis and lower lumbar lordosis determined by individual pelvic incidence in asymptomatic elderly population. Eur Spine J. https://doi.org/10.1007/s00586-019-05955-w

15.

Horton WC, Brown CW, Bridwell KH et al (2005) Is there an optimal patient stance for obtaining a lateral 36" radiograph? Spine 30(4):427–433

16.

Vialle R, Levassor N, Rillardon L et al (2005) Radiographic analysis of the sagittal alignment and balance of the spine in asymptomatic subjects. J Bone Jt Surg 87(2):260

17.

Glassman SD, Berven S, Bridwell K et al (2005) Correlation of radiographic parameters and clinical symptoms in adult scoliosis. Spine 30(6):682–688

18.

Schwab FJ, Blondel B, Bess S et al (2013) Radiographic spino-pelvic parameters and disability in the setting of adult spinal deformity: a prospective multicenter analysis. Spine 38(13):E803

19.

Hui L, Sibei L, Jiranru W et al (2014) An analysis of spinopelvic sagittal alignment after lumbar lordosis reconstruction for degenerative spinal diseases: how much balance can be obtained? Spine 39(26 Spec No.):B52–B59

20.

Glassman S, Bridwell K, Berven S et al (2005) The impact of positive sagittal balance in adult spinal deformity. Spine 30(18):2024–2029

21.

Legaye J, Duval-Beaupère G (2005) Sagittal plane alignment of the spine and gravity: a radiological and clinical evaluation. Acta Orthop Belg 71(2):213–220

22.

Kim YJ, Bridwell KH, Lenke LG et al (2006) An analysis of sagittal spinal alignment following long adult lumbar instrumentation and fusion to L5 or S1: can we predict ideal lumbar lordosis? Spine 31(20):2343–2352

23.

Cho JH, Joo YS, Lim C et al (2017) Effect of one- or two-level posterior lumbar interbody fusion on global sagittal balance. Spine J 17(12):1794–1802

24.

Lee CH, Chung CK, Jang JS et al (2017) Effectiveness of deformity-correction surgery for primary degenerative sagittal imbalance: a meta-analysis. J Neurosurg Spine 27(5):540–551

25.

Hasegawa K, Okamoto M, Hatsushikano S et al (2016) Normative values of spino-pelvic sagittal alignment, balance, age, and health-related quality of life in a cohort of healthy adult subjects. Eur Spine J 25(11):1–12
Acknowledgements
The authors thank the Department of Imaging in Shandong Provincial Hospital for providing the image data of patients.
Funding
This article did not receive any funding and grants.
Ethics declarations
Conflict of interest
The authors declare that they have no conflict of interest.
Informed consent
All the authors were consent to the author sequence.
Additional information
Publisher's Note
Springer Nature remains neutral with regard to jurisdictional claims in published maps and institutional affiliations.
Electronic supplementary material
Below is the link to the electronic supplementary material.
About this article
Cite this article
Pan, C., Wang, G. & Sun, J. Correlation between the apex of lumbar lordosis and pelvic incidence in asymptomatic adult. Eur Spine J 29, 420–427 (2020). https://doi.org/10.1007/s00586-019-06183-y
Received:

Revised:

Accepted:

Published:

Issue Date:
Keywords
Apex of lumbar lordosis

Pelvic incidence

Lumbar lordosis

Spino-pelvic sagittal balance

Asymptomatic adults