Abstract
Purpose
To investigate the quantity and quality of articles in the field of full-endoscopic spine surgery (FESS) from different countries and assess characteristics of worldwide research productivity.
Methods
Articles published from 1997 to July 23, 2018, were screened using the Web of Science database. All studies were assessed for the following parameters: the number of total publications, h-index, contribution of countries, authors, journals, and institutions.
Results
A total of 408 articles were identified between 1997 and 2018. Between 1997 and 2017, the number of published articles tended to increase by 41 times. The largest number of articles was from China (30.15%), followed by South Korea (28.68%), the USA (13.97%), Germany (9.31%), and Japan (4.90%). The highest h-index was found for articles from South Korea (23), followed by the USA (18), Germany (16), China (11), and Japan (7). The highest number of articles was published in World Neurosurgery (12.50%), followed by Pain Physician (10.29%), Spine (6.62%), European Spine Journal (4.66%), and Journal of Neurosurgery: Spine (4.17%). Wooridul Spine Hospital published the largest number of articles (10.29%), followed by Tongji University (5.88%), University of Witten/Herdecke (5.39%), Brown University (5.15%), and Third Military Medical University (3.43%).
Conclusions
The number of articles published in the field of FESS has increased rapidly in the past 20 years. In terms of quantity, China is the most contributive country based on the number of publications. High-quality papers as measured by h-index and the large quantity is from South Korea (second only to China).
Graphic abstract
These slides can be retrieved under Electronic Supplementary Material.

Access options
Buy single article
Instant access to the full article PDF.
USD 39.95
Price excludes VAT (USA)
Tax calculation will be finalised during checkout.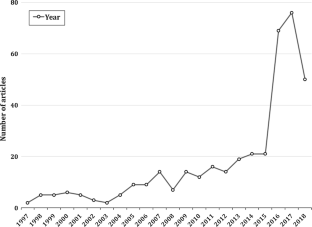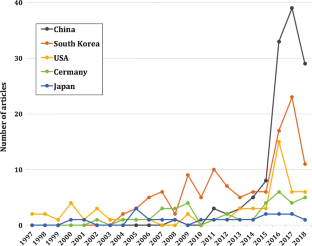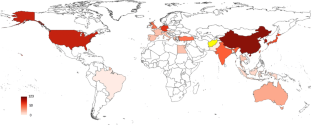 Similar content being viewed by others
References
Ruetten S, Komp M, Merk H, Godolias G (2008) Full-endoscopic interlaminar and transforaminal lumbar discectomy versus conventional microsurgical technique: a prospective, randomized, controlled study. Spine (Phila Pa 1976) 33(9):931–939

Choi KC, Shim HK, Kim JS, Cha KH, Lee DC, Kim ER, Kim MJ, Park CK (2019) Cost-effectiveness of microdiscectomy versus endoscopic discectomy for lumbar disc herniation. Spine J 19(7):1162–1169

Komp M, Hahn P, Oezdemir S, Giannakopoulos A, Heikenfeld R, Kasch R, Merk H, Godolias G, Ruetten S (2015) Bilateral spinal decompression of lumbar central stenosis with the full-endoscopic interlaminar versus microsurgical laminotomy technique: a prospective, randomized, controlled study. Pain Physician 18(1):61–70

Youn MS, Shin JK, Goh TS, Lee JS (2018) Full endoscopic lumbar interbody fusion (FELIF): technical note. Eur Spine J 27(8):1949–1955

Bakker IS, Wevers KP, Hoekstra HJ (2013) Geographical distribution of publications in the scientific field of surgical oncology. J Surg Oncol 108(8):505–507

Wei M, Wang W, Zhuang Y (2016) Worldwide research productivity in the field of spine surgery: a 10-year bibliometric analysis. Eur Spine J 25(4):976–982

Zhang WJ, Ding W, Jiang H, Zhang YF, Zhang JL (2013) National representation in the plastic and reconstructive surgery literature: a bibliometric analysis of highly cited journals. Ann Plast Surg 70(2):231–234

Liang Z, Luo X, Gong F, Bao H, Qian H, Jia Z, Li G (2015) Worldwide research productivity in the field of arthroscopy: a bibliometric analysis. Arthroscopy 31(8):1452–1457

Cheng T, Zhang G (2013) Worldwide research productivity in the field of rheumatology from 1996 to 2010: a bibliometric analysis. Rheumatology (Oxford) 52(9):1630–1634

Bould MD, Boet S, Riem N, Kasanda C, Sossou A, Bruppacher HR (2010) National representation in the anaesthesia literature: a bibliometric analysis of highly cited anaesthesia journals. Anaesthesia 65(8):799–804

Fan G, Han R, Zhang H, He S, Chen Z (2017) Worldwide research productivity in the field of minimally invasive spine surgery. Spine (Phila Pa 1976) 42(22):1717–1722

Zyoud SH, Al-Jabi SW, Sweileh WM (2014) Worldwide research productivity of paracetamol (acetaminophen) poisoning: a bibliometric analysis (2003–2012). Hum Exp Toxicol 34(1):12–23

Mei X, Zhu X, Zhang T, Jia Z, Wan C (2016) Worldwide productivity in the hand and wrist literature: a bibliometric analysis of four highly cited subspecialty journals. Int J Surg 28:8–12

Nie YX, Guo J, Knight DJ, Porter DE (2011) Orthopaedics in China. J Bone Joint Surg Br 93(9):1145–1148

Migaud H (2012) Why publish a survey of orthopaedic scientific production from China? Orthop Traumatol Surg Res 98(3):251–252

Cheng T (2012) Research in orthopaedics from China has thrived over the last decade: a bibliometric analysis of publication activity. Orthop Traumatol Surg Res 98(3):253–258

Jia Z, Ding F, Wu Y, He Q, Ruan D (2015) The 50 most-cited articles in orthopaedic surgery from Mainland China. Clin Orthop Relat Res 473(7):2423–2430

Leung KS, Ngai WK, Tian W (2011) Orthopaedic training in China: experiences from the promotion of orthopaedic specialist training in China. J Bone Joint Surg Br 93(9):1165–1168

Goh KL, Farrell GC (2008) Publications from China: the sleeping giant awakens. J Gastroenterol Hepatol 23(3):341–343

Wang C, Liu Q (2013) A turning point for clinical research in China? Lancet 382(9895):835–836

Jia ZW, Wu YH, Li H, Li HF, Zhao XY, Tang Y et al (2015) Growing trend of China's contribution to the field of spine: a 10-year survey of the literature[J]. Eur Spine J 24(8):1806–1812

Choi J, You JS, Joo YS, Kong T, Ko DR, Chung SP (2016) A bibliometric analysis of research productivity of emergency medicine researchers in South Korea. Clin Exp Emerg Med 3(4):245–251

Man H, Xin S, Bi W, Lv C, Mauro TM, Elias PM, Man MQ (2014) Comparison of publication trends in dermatology among Japan, South Korea and Mainland China. BMC Dermatol 14:1
Funding
No funding or grants related to this research
Ethics declarations
Conflict of interest
The authors declare that they have no conflict of interest.
Additional information
Publisher's Note
Springer Nature remains neutral with regard to jurisdictional claims in published maps and institutional affiliations.
Electronic supplementary material
Below is the link to the electronic supplementary material.
About this article
Cite this article
Lin, GX., Kotheeranurak, V., Mahatthanatrakul, A. et al. Worldwide research productivity in the field of full-endoscopic spine surgery: a bibliometric study. Eur Spine J 29, 153–160 (2020). https://doi.org/10.1007/s00586-019-06171-2
Received:

Revised:

Accepted:

Published:

Issue Date:

DOI: https://doi.org/10.1007/s00586-019-06171-2
Keywords