Abstract
Objective
To quantify the correlation between patients' psychopathological predisposition, disability and health-related quality of life (QOL) after surgery for degenerative lumbar spine disease.
Methods
We prospectively included patients undergoing decompression for degenerative lumbar spinal stenosis, spondylolisthesis or disc herniation with additional fusion of up to two segments. Patients completed a structured psychological assessment including the Center for Epidemiological Studies Depression Scale (ADS-K), Post-Traumatic Stress Scale–10 (PTSS-10), State Trait Anxiety Inventory–State Anxiety and State Trait Anxiety Inventory–Trait Anxiety (STAI-S and STAI-T) and Anxiety Sensitivity Index–3 (ASI-3) before surgery, after 3 and 12 months. Outcome measures included EuroQol 5D (EQ), Short Form-36 (SF-36) and Oswestry Disability Index (ODI) scores.
Results
In total, 245 patients between March 2013 and November 2017 received surgery, of which 180 (73.5%) fully completed follow-up after 3 months and 12 months. QOL scores significantly increased by 3 months (EQ: +0.2; p < 0.001; SF-36 PCS: +7.0; p < 0.001; SF-36 MCS: +3.3; p = 0.018), a benefit which was retained at 12 months, without statistically significant difference between fused and non-fused patients. Depressed patients exhibited impaired mean scores of EQ (0.58 vs. 0.36; p < 0.001) and ODI mean scores (35.5 vs. 51.9; p < 0.001) at baseline, which significantly improved and converged with scores of non-depressed patients after 12 months. Linear regression analysis identified statistically significant predictors in age, STAI-T and SF-36 MCS for post-operative QOL and disability.
Conclusion
Despite exhibiting pronounced psychological distress preoperatively, patients may significantly benefit from surgery with an outcome equal to psychologically healthy patients after 12 months.
Graphic abstract
These slides can be retrieved under Electronic Supplementary Material.

Access options
Buy single article
Instant access to the full article PDF.
US$ 39.95
Tax calculation will be finalised during checkout.
Subscribe to journal
Immediate online access to all issues from 2019. Subscription will auto renew annually.
US$ 119
Tax calculation will be finalised during checkout.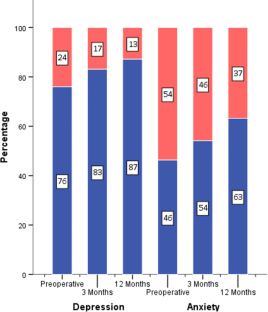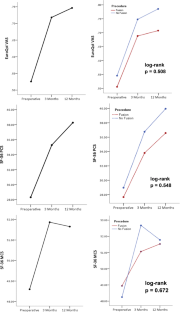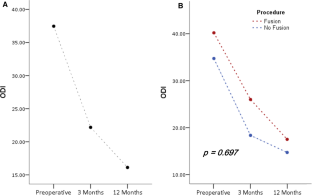 References
1.

Weinstein JN, Lurie JD, Tosteson TD, Tosteson ANA, Blood EA, Abdu WA, Herkowitz H, Hilibrand A, Albert T, Fischgrund J (2008) Surgical versus nonoperative treatment for lumbar disc herniation: four-year results for the Spine Patient Outcomes Research Trial (SPORT). Spine 33:2789–2800. https://doi.org/10.1097/BRS.0b013e31818ed8f4

2.

Weinstein JN, Tosteson TD, Lurie JD, Tosteson A, Blood E, Herkowitz H, Cammisa F, Albert T, Boden SD, Hilibrand A, Goldberg H, Berven S, An H (2010) Surgical versus nonoperative treatment for lumbar spinal stenosis four-year results of the Spine Patient Outcomes Research Trial. Spine 35:1329–1338. https://doi.org/10.1097/BRS.0b013e3181e0f04d

3.

Martin B, Mirza SK, Spina N, Spiker WR, Lawrence B, Brodke DS (2019) Trends in lumbar fusion procedure rates and associated hospital costs for degenerative spinal diseases in the United States, 2004–2015. Spine Publish Ahead of Print. https://doi.org/10.1097/brs.0000000000002822

4.

Eck JC, Sharan A, Ghogawala Z, Resnick DK, Watters WC 3rd, Mummaneni PV, Dailey AT, Choudhri TF, Groff MW, Wang JC, Dhall SS, Kaiser MG (2014) Guideline update for the performance of fusion procedures for degenerative disease of the lumbar spine. Part 7: lumbar fusion for intractable low-back pain without stenosis or spondylolisthesis. J Neurosurg Spine 21:42–47. https://doi.org/10.3171/2014.4.spine14270

5.

Trief PM, Ploutz-Snyder R, Fredrickson BE (2006) Emotional health predicts pain and function after fusion: a prospective multicenter study. Spine 31:823–830. https://doi.org/10.1097/01.brs.0000206362.03950.5b

6.

Daubs MD, Norvell DC, McGuire R, Molinari R, Hermsmeyer JT, Fourney DR, Wolinsky JP, Brodke D (2011) Fusion versus nonoperative care for chronic low back pain: Do psychological factors affect outcomes? Spine 36:S96–S109. https://doi.org/10.1097/BRS.0b013e31822ef6b9

7.

Cobo Soriano J, Sendino Revuelta M, Fabregate Fuente M, Cimarra Díaz I, Martínez Ureña P, Deglané Meneses R (2010) Predictors of outcome after decompressive lumbar surgery and instrumented posterolateral fusion. Eur Spine J 19:1841–1848. https://doi.org/10.1007/s00586-010-1284-2

8.

Chaichana KL, Mukherjee D, Adogwa O, Cheng JS, McGirt MJ (2011) Correlation of preoperative depression and somatic perception scales with postoperative disability and quality of life after lumbar discectomy. J Neurosurg Spine 14:261–267. https://doi.org/10.3171/2010.10.spine10190

9.

Lebow R, Parker SL, Adogwa O, Reig A, Cheng J, Bydon A, McGirt MJ (2012) Microdiscectomy improves pain-associated depression, somatic anxiety, and mental well-being in patients with herniated lumbar disc. Neurosurgery 70:306–311; discussion 311. https://doi.org/10.1227/neu.0b013e3182302ec3

10.

Kemper CJ, Lutz J, Bähr T, Rüddel H, Hock M (2012) Construct validity of the Anxiety Sensitivity Index-3 in clinical samples. Assessment 19:89–100. https://doi.org/10.1177/1073191111429389

11.

Maercker A (2003) Posttraumatische-stress-Skala-10 (PTSS-10). In: Hoyer J, Margraf J (eds) Angstdiagnostik - Grundlagen und Testverfahren. Springer, Berlin, pp 401–403

12.

Auerbach SM (1973) Trait-state anxiety and adjustment of surgery. J Consult Clin Psychol 40:264–271. https://doi.org/10.1037/h0034538

13.

Hautzinger M, Bailer M (1993) Allgemeine Depressions Skala (ADS). Beltz Test, Weinheim

14.

Monticone M, Ambrosini E, Rocca B, Foti C, Ferrante S (2017) Responsiveness and minimal clinically important changes for the Tampa Scale of Kinesiophobia after lumbar fusion during cognitive behavioral rehabilitation. Eur J Phys Rehabil Med 53:351–358. https://doi.org/10.23736/s1973-9087.16.04362-8

15.

Monticone M, Ferrante S, Teli M, Rocca B, Foti C, Lovi A, Brayda Bruno M (2014) Management of catastrophising and kinesiophobia improves rehabilitation after fusion for lumbar spondylolisthesis and stenosis. A randomised controlled trial. Eur Spine J 23:87–95. https://doi.org/10.1007/s00586-013-2889-z

16.

Donnarumma P, Presaghi F, Tarantino R, Fragale M, Rullo M, Delfini R (2017) The impact of pelvic balance, physical activity, and fear-avoidance on the outcome after decompression and instrumented fusion for degenerative lumbar stenosis. Eur Spine J 26:428–433. https://doi.org/10.1007/s00586-016-4644-8

17.

Abbey G, Thompson SBN, Hickish T, Heathcote D (2015) A meta-analysis of prevalence rates and moderating factors for cancer-related post-traumatic stress disorder. Psycho-oncology 24:371–381. https://doi.org/10.1002/pon.3654

18.

Haddad M, Walters P, Phillips R, Tsakok J, Williams P, Mann A, Tylee A (2013) Detecting depression in patients with coronary heart disease: a diagnostic evaluation of the PHQ-9 and HADS-D in primary care, findings from the UPBEAT-UK study. PLoS ONE 8:e78493. https://doi.org/10.1371/journal.pone.0078493

19.

Lehr D, Hillert A, Schmitz E, Sosnowsky N (2008) Screening depressiver Störungen mittels Allgemeiner Depressions-Skala (ADS-K) und State-Trait Depressions Scales (STDS-T): Eine vergleichende Evaluation von Cut-Off-Werten. Diagnostica 54:61–70

20.

Mannion AF, Junge A, Grob D, Dvorak J, Fairbank JCT (2006) Development of a German version of the Oswestry Disability Index. Part 2: sensitivity to change after spinal surgery. Eur Spine J 15:66–73. https://doi.org/10.1007/s00586-004-0816-z

21.

Chotai S, Khan I, Nian H, Archer KR, Harrell FE, Weisenthal BM, Bydon M, Asher AL, Devin CJ (2019) Utility of anxiety/depression domain of EQ-5D to define psychological distress in spine surgery. World Neurosurg. https://doi.org/10.1016/j.wneu.2019.02.211

22.

Parker SL, Mendenhall SK, Shau DN, Adogwa O, Anderson WN, Devin CJ, McGirt MJ (2012) Minimum clinically important difference in pain, disability, and quality of life after neural decompression and fusion for same-level recurrent lumbar stenosis: understanding clinical versus statistical significance. J Neurosurg Spine 16:471–478. https://doi.org/10.3171/2012.1.spine11842

23.

Hagg O, Fritzell P, Nordwall A (2003) The clinical importance of changes in outcome scores after treatment for chronic low back pain. Eur Spine J 12:12–20. https://doi.org/10.1007/s00586-002-0464-0

24.

Graver V, Haaland AK, Magnaes B, Loeb M (1999) Seven-year clinical follow-up after lumbar disc surgery: results and predictors of outcome. Br J Neurosurg 13:178–184

25.

DeVine J, Norvell DC, Ecker E, Fourney DR, Vaccaro A, Wang J, Andersson G (2011) Evaluating the correlation and responsiveness of patient-reported pain with function and quality-of-life outcomes after spine surgery. Spine 36:S69–S74. https://doi.org/10.1097/BRS.0b013e31822ef6de

26.

Carreon LY, Glassman SD, Howard J (2008) Fusion and nonsurgical treatment for symptomatic lumbar degenerative disease: a systematic review of Oswestry Disability Index and MOS Short Form-36 outcomes. Spine J 8:747–755. https://doi.org/10.1016/j.spinee.2007.06.013

27.

Cheng T, Gerdhem P (2018) Outcome of surgery for degenerative lumbar scoliosis: an observational study using the Swedish Spine register. Eur Spine J 27:622–629. https://doi.org/10.1007/s00586-017-5248-7

28.

Gautschi OP, Smoll NR, Joswig H, Corniola MV, Schaller K, Hildebrandt G, Stienen MN (2016) Influence of age on pain intensity, functional impairment and health-related quality of life before and after surgery for lumbar degenerative disc disease. Clin Neurol Neurosurg 150:33–39. https://doi.org/10.1016/j.clineuro.2016.08.024

29.

Sinikallio S, Aalto T, Koivumaa-Honkanen H, Airaksinen O, Herno A, Kroger H, Viinamaki H (2009) Life dissatisfaction is associated with a poorer surgery outcome and depression among lumbar spinal stenosis patients: a 2-year prospective study. Eur Spine J 18:1187–1193. https://doi.org/10.1007/s00586-009-0955-3

30.

Wilhelm M, Reiman M, Goode A, Richardson W, Brown C, Vaughn D, Cook C (2017) Psychological predictors of outcomes with lumbar spinal fusion: a systematic literature review. Physiother Res Int. https://doi.org/10.1002/pri.1648

31.

Lee J, Kim HS, Shim KD, Park YS (2017) The effect of anxiety, depression, and optimism on postoperative satisfaction and clinical outcomes in lumbar spinal stenosis and degenerative spondylolisthesis patients: cohort study. Clin Orthop Surg 9:177–183. https://doi.org/10.4055/cios.2017.9.2.177

32.

Netto MB, Barranco ABS, Oliveira KWK, Petronilho F (2018) Influence of anxiety and depression symptoms on the quality of life in patients undergoing lumbar spine surgery. Revista brasileira de ortopedia 53:38–44. https://doi.org/10.1016/j.rboe.2017.01.009

33.

Wahlman M, Hakkinen A, Dekker J, Marttinen I, Vihtonen K, Neva MH (2014) The prevalence of depressive symptoms before and after surgery and its association with disability in patients undergoing lumbar spinal fusion. Eur Spine J 23:129–134. https://doi.org/10.1007/s00586-013-2896-0
Ethics declarations
Conflict of interest
ES received research grants and is a consultant for Nevro (Redwood City, California, USA) and Icotec (Alstätten, Switzerland). BM received research grants and is a consultant for Brainlab AG (Munich, Germany). BM received honoraria, consulting fees, and research grants from Medtronic (Meerbusch, Germany), Icotec ag (Altstätten, Switzerland), and Relievant Medsystems Inc., (Sunnyvale, CA, USA), honoraria, and research grants from Ulrich Medical (Ulm, Germany), honoraria and consulting fees from Spineart Deutschland GmbH (Frankfurt, Germany) and DePuy Synthes (West Chester, PA, USA), and royalties from Spineart Deutschland GmbH (Frankfurt, Germany). However, all authors declare that they have no conflict of interest regarding the materials used or the results presented in this study.
Additional information
Publisher's Note
Springer Nature remains neutral with regard to jurisdictional claims in published maps and institutional affiliations.
Electronic supplementary material
Below is the link to the electronic supplementary material.
About this article
Cite this article
Wagner, A., Shiban, Y., Wagner, C. et al. Psychological predictors of quality of life and functional outcome in patients undergoing elective surgery for degenerative lumbar spine disease. Eur Spine J 29, 349–359 (2020). https://doi.org/10.1007/s00586-019-06106-x
Received:

Revised:

Accepted:

Published:

Issue Date:
Keywords
Degenerative spine disease

Depression

Anxiety

Quality of life