Abstract
Purpose
Primary osteosarcoma of the spine is a rare osseous tumour. En bloc resection, in contrast to intralesional resection, is the only procedure able to provide Enneking appropriate (EA) margins, which has improved local control and survival of patients with primary osteosarcoma of the spine. The objective of this study is to compare the risk of local recurrence, metastases development and survival in patients with primary osteosarcoma of the spine submitted to Enneking appropriate (EA) and Enneking inappropriate (EI) procedures.
Methods
A systematic search was performed on EBSCO, PubMed and Web of Science, between 1966 and 2018, to identify studies evaluating patients submitted to resection of primary osteosarcoma of the spine. Two reviewers independently assessed all reports. The outcomes were local recurrence, metastases development and survival at 12, 24 and 60 months.
Results
Five studies (108 patients) were included for systematic review. These studies support the conclusion that EA procedure has a lower local recurrence rate (RR 0.33, 95% CI 0.17–0.66), a lower metastases development rate (RR 0.39, 95% CI 0.17–0.89) and a higher survival rate at 24 months (RR 1.78, 95% CI 1.24–2.55) and 60 months (RR 1.97, 95% CI 1.14–3.42) of follow-up; however, at 12 months, there is a non-significant difference.
Conclusions
EA procedure increases the ratio of remission and survival after 24 months of follow-up. Multidisciplinary oncologic groups should weigh the morbidity of an en bloc resection, knowing that in the first year the probability of survival is the same for EA and EI procedures.
Graphic abstract
These slides can be retrieved under Electronic Supplementary Material.

Access options
Buy single article
Instant access to the full article PDF.
US$ 39.95
Tax calculation will be finalised during checkout.
Subscribe to journal
Immediate online access to all issues from 2019. Subscription will auto renew annually.
US$ 119
Tax calculation will be finalised during checkout.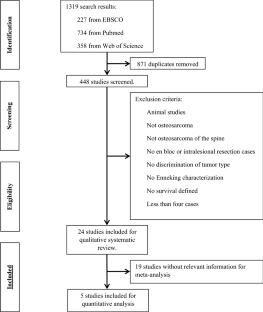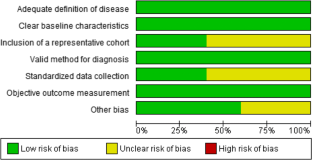 References
1.

Chi JH, Bydon A, Hsieh P, Witham T, Wolinsky JP, Gokaslan ZL (2008) Epidemiology and demographics for primary vertebral tumors. Neurosurg Clin N Am 19(1):111–117

2.

Groves ML, Zadnik PL, Kaloostian P, Sui J, Goodwin CR, Wolinsky J-P, Witham TF, Bydon A, Gokaslan ZL, Sciubba DM (2015) Epidemiologic, functional, and oncologic outcome analysis of spinal sarcomas treated surgically at a single institution over 10 years. Spine J 15(1):110–114

3.

Schoenfeld AJ, Hornicek FJ, Pedlow FX, Kobayashi W, Garcia RT, DeLaney TF, Springfield D, Mankin HJ, Schwab JH (2010) Osteosarcoma of the spine: experience in 26 patients treated at the Massachusetts General Hospital. Spine J 10(8):708–714

4.

Lefebvre G, Renaud A, Rocourt N, Cortet B, Ceugnart L, Cotten A (2013) Primary vertebral osteosarcoma: five cases. Joint Bone Spine. 80(5):534–537

5.

Zils K, Bielack S, Wilhelm M, Werner M, Schwarz R, Windhager R, Hofmann-Wackersreuther G, Andus T, Kager L, Kuehne T, Reichardt P, von Kalle T (2013) Osteosarcoma of the mobile spine. Ann Oncol 24(8):2190–2195

6.

Bhatia R, Beckles V, Fox Z, Tirabosco R, Rezajooi K, Casey AT (2014) Osteosarcoma of the spine: dismal past, any hope for the future? Br J Neurosurg 28(4):495–502

7.

DeLaney TF, Park L, Goldberg SI, Hug EB, Liebsch NJ, Munzenrider JE, Suit HD (2005) Radiotherapy for local control of osteosarcoma. Int J Radiat Oncol Biol Phys 61(2):492–498

8.

Ozaki T, Flege S, Liljenqvist U, Hillmann A, Delling G, Salzer-Kuntschik M, Jurgens H, Kotz R, Winkelmann W, Bielack SS (2002) Osteosarcoma of the spine—experience of the cooperative osteosarcoma study group. Cancer 94(4):1069–1077

9.

Sciubba DM, Okuno SH, Dekutoski MB, Gokaslan ZL (2009) Ewing and osteogenic sarcoma: evidence for multidisciplinary management. Spine 34(22 Suppl):S58–S68

10.

Sundaresan N, Rosen G, Huvos AG, Krol G (1988) Combined treatment of osteosarcoma of the spine. Neurosurgery 23(6):714–719

11.

Netzer C (2018) Treatment options for sarcomas of the spine. A heterogenic disease picture which requires an individual and interdisciplinary treatment concept. Onkologe 24(3):224–230

12.

Ozturk A, Gokaslan Z, Wolinsky J-P (2014) Surgical treatment of sarcomas of the spine. Curr Treat Options Oncol 15(3):482–492

13.

Katonis P, Datsis G, Karantanas A, Kampouroglou A, Lianoudakis S, Licoudis S, Papoutsopoulou E, Alpantaki K (2012) Spinal osteosarcoma. Clin Med Insights Oncol 18(7):199–208

14.

Shives TC, Dahlin DC, Sim FH, Pritchard DJ, Earle JD (1986) Osteosarcoma of the spine. J Bone Joint Surg Am 68(5):660–668

15.

Talac R, Yaszemski MJ, Currier BL, Fuchs B, Dekutoski MB, Kim CW, Sim FH (2002) Relationship between surgical margins and local recurrence in sarcomas of the spine. Clin Orthop Relat Res 397:127–132

16.

Rao G, Suki D, Chakrabarti I, Feiz-Erfan I, Mody MG, McCutcheon IE, Gokaslan Z, Patel S, Rhines LD (2008) Surgical management of primary and metastatic sarcoma of the mobile spine. J Neurosurg Spine 9(2):120–128

17.

Bilsky MH, Boland PJ, Panageas KS, Woodruff JM, Brennan MF, Healey JH (2001) Intralesional resection of primary and metastatic sarcoma involving the spine: outcome analysis of 59 patients. Neurosurgery 49(6):1277–1286

18.

Barwick KW, Huvos AG, Smith J (1980) Primary osteogenic sarcoma of the vertebral column: a clinicopathologic correlation of ten patients. Cancer 46(3):595–604

19.

Enneking WF, Spanier SS, Goodman MA (1980) A system for the surgical staging of musculoskeletal sarcoma. Clin Orthop Relat Res. 153:106–120

20.

Fisher CG, Keynan O, Boyd MC, Dvorak MF (2005) The surgical management of primary tumors of the spine—initial results of an ongoing prospective cohort study. Spine (Phila Pa 1976) 30(16):1899–1908

21.

Halm H, Richter A, Lerner T, Liljenqvist U (2008) En-bloc spondylectomy and reconstruction for primary tumors and solitary metastasis of the spine. Orthopade 37(4):356–366

22.

Yamazaki T, McLoughlin GS, Patel S, Rhines LD, Fourney DR (2009) Feasibility and safety of en bloc resection for primary spine tumors a systematic review by the spine oncology study group. Spine (Phila Pa 1976) 34(22):31–38

23.

Schwab J, Gasbarrini A, Bandiera S, Boriani L, Amendola L, Picci P, Ferrari S, Boriani S (2012) Osteosarcoma of the mobile spine. Spine (Phila Pa 1976) 37(6):E381–E386

24.

Feng D, Yang X, Liu T, Xiao J, Wu Z, Huang Q, Ma J, Huang W, Zheng W, Cui Z, Xu H, Teng Y (2013) Osteosarcoma of the spine: surgical treatment and outcomes. World J Surg Oncol 11(1):89

25.

Lim JBT, Sharma H, MacDuff E, Reece AT (2013) Primary osteosarcoma of the spine a review of 10 cases. Acta Orthop Belg 79(4):457–462

26.

Dekutoski MB, Clarke MJ, Rose P, Luzzati A, Rhines LD, Varga PP, Fisher CG, Chou D, Fehlings MG, Reynolds JJ, Williams R, Quraishi NA, Germscheid NM, Sciubba DM, Gokaslan ZL, Boriani S (2016) Osteosarcoma of the spine: prognostic variables for local recurrence and overall survival, a multicenter ambispective study. J Neurosurg Spine 25(1):59–68

27.

Boriani S, Gasbarrini A, Bandiera S, Ghermandi R, Lador R (2017) En bloc resections in the spine: the experience of 220 patients during 25 years. World Neurosurg 98:217–229

28.

Shankar GM, Clarke MJ, Ailon T, Rhines LD, Patel SR, Sahgal A, Laufer I, Chou D, Bilsky MH, Sciubba DM, Fehlings MG, Fisher CG, Gokaslan ZL, Shin JH (2017) The role of revision surgery and adjuvant therapy following subtotal resection of osteosarcoma of the spine: a systematic review with meta-analysis. J Neurosurg Spine 27(1):97–104

29.

Liberati A, Altman DG, Tetzlaff J, Mulrow C, Gøtzsche PC, Ioannidis JPA, Clarke M, Devereaux PJ, Kleijnen J, Moher D (2009) The PRISMA statement for reporting systematic reviews and meta-analyses of studies that evaluate healthcare interventions: explanation and elaboration. BMJ 339:b2700

30.

Meijerink MR, Puijk RS, van Tilborg AAJM, Henningsen KH, Fernandez LG, Neyt M, Heymans J, Frankema JS, de Jong KP, Richel DJ, Prevoo W, Vlayen J (2018) Radiofrequency and microwave ablation compared to systemic chemotherapy and to partial hepatectomy in the treatment of colorectal liver metastases: a systematic review and meta-analysis. Cardiovasc Intervent Radiol 41(8):1189–1204

31.

Hultcrantz M, Rind D, Akl EA, Treweek S, Mustafa RA, Iorio A, Alper BS, Meerpohl JJ, Murad MH, Ansari MT, Katikireddi SV, Östlund P, Tranæus S, Christensen R, Gartlehner G, Brozek J, Izcovich A, Schünemann H, Guyatt G (2017) The GRADE working group clarifies the construct of certainty of evidence. J Clin Epidemiol 87:4–13

32.

Crowther M, Lim W, Crowther MA (2010) Systematic review and meta-analysis methodology. Blood 116(17):3140–3146

33.

Phan K, Tian DH, Cao C, Black D, Yan TD (2015) Systematic review and meta-analysis: techniques and a guide for the academic surgeon. Ann Cardiothorac Surg 4(2):112–122

34.

Begg CB, Mazumdar M (1994) Operating characteristics of a rank correlation test for publication bias. Biometrics 50(4):1088–1101

35.

Egger M, Davey Smith G, Schneider M, Minder C (1997) Bias in meta-analysis detected by a simple, graphical test. BMJ 315(7109):629–634

36.

Lador R, Gasbarrini A, Gambarotti M, Bandiera S, Ghermandi R, Boriani S (2018) Surgeon's perception of margins in spinal en bloc resection surgeries: how reliable is it? Eur Spine J 27(4):868–873

37.

Abe E, Sato K, Tazawa H, Murai H, Okada K, Shimada Y, Morita H (2000) Total spondylectomy for primary tumor of the thoracolumbar spine. Spinal Cord 38(3):146–152

38.

Liljenqvist U, Lerner T, Halm H, Buerger H, Gosheger G, Winkelmann W (2008) En bloc spondylectomy in malignant tumors of the spine. Eur Spine J 17(4):600–609

39.

Tomita K, Kawahara N, Baba H, Tsuchiya H, Fujita T, Toribatake Y (1997) Total en bloc spondylectomy. A new surgical technique for primary malignant vertebral tumors. Spine (Phila Pa 1976) 22(3):324–333

40.

Sundaresan N, DiGiacinto GV, Krol G, Hughes JE (1989) Spondylectomy for malignant tumors of the spine. J Clin Oncol 7(10):1485–1491
Ethics declarations
Conflict of interest
The authors declare no potential conflicts of interest with respect to the research, authorship, and/or publication of this article.
Additional information
Publisher's Note
Springer Nature remains neutral with regard to jurisdictional claims in published maps and institutional affiliations.
Electronic supplementary material
Below is the link to the electronic supplementary material.
About this article
Cite this article
Pombo, B., Cristina Ferreira, A., Cardoso, P. et al. Clinical effectiveness of Enneking appropriate versus Enneking inappropriate procedure in patients with primary osteosarcoma of the spine: a systematic review with meta-analysis. Eur Spine J 29, 238–247 (2020). https://doi.org/10.1007/s00586-019-06099-7
Received:

Revised:

Accepted:

Published:

Issue Date:
Keywords
Osteosarcoma

Primary spine tumours

Enneking margins

Local recurrence

Metastatic disease

Survival