Abstract
Introduction
Previous studies of 4D rasterstereography show a high intra- and interday reliability. However, only few studies validate rasterstereography to conventional X-ray imaging. We utilized EOS X-ray imaging system (EOS Imaging, Paris, France) for accurate 3D spinal modeling and compared the results to parameters obtained by 4D rasterstereography. The aim of the present study was to validate 4D rasterstereography in patients with degenerative disk disease (DDD).
Materials and method
Thirty-four individuals with DDD (female = 22 and male = 12) were included. EOS X-ray images were analyzed to determine spinal [lumbar lordosis (LL) and thoracic kyphosis (TK)] and pelvic parameters [pelvic obliquity (PO) and pelvic axial rotation (PR)]. Patients received 4D rasterstereographic measurements on the same day as EOS imaging. Parameters obtained by rasterstereography were compared to those obtained by EOS X-ray imaging. We used Bland and Altman's test as well as Pearson test to validate rasterstereography. Additionally, we calculated interrater reliability of EOS X-ray analysis using the intraclass correlation coefficient (ICC).
Results
Our data showed only weak correlation between 4D rasterstereography and EOS X-ray imaging for spinal parameters (LL and TK). Pelvic parameters (PO and PR) showed no correlation. Interrater correlation reliability for EOS analysis was excellent (ICC > 0.8).
Conclusion
Our data suggest that rasterstereographic systems are no reliable substitute for X-ray-based imaging systems in patients with degenerative disk disease. EOS imaging was shown to provide reliable and accurate spinal modeling. Based on our results, rasterstereographic imaging should be used with caution for evaluating spinal and pelvic parameters in patients with DDD.
Graphic abstract
These slides can be retrieved under Electronic Supplementary Material.

This is a preview of subscription content, log in to check access.
Access options
Buy single article
Instant access to the full article PDF.
US$ 39.95
Tax calculation will be finalised during checkout.
Subscribe to journal
Immediate online access to all issues from 2019. Subscription will auto renew annually.
US$ 199
Tax calculation will be finalised during checkout.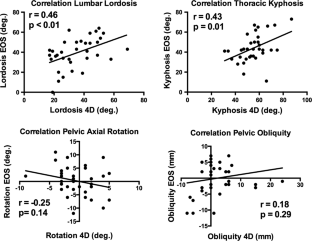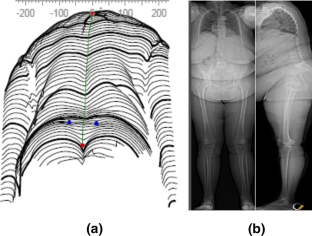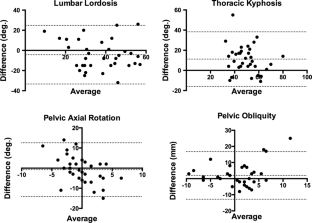 References
1.

Nash CLJ, Gregg EC, Brown RH, Pillai K (1979) Risks of exposure to X-rays in patients undergoing long-term treatment for scoliosis. J Bone Joint Surg Am 61:371–374

2.

Simpson AK, Whang PG, Jonisch A, Haims A, Grauer JN (2008) The radiation exposure associated with cervical and lumbar spine radiographs. J Spinal Disord Tech 21:409–412

3.

Drerup B, Hierholzer E (1987) Automatic localization of anatomical landmarks on the back surface and construction of a body-fixed coordinate system. J Biomech. https://doi.org/10.1016/0021-9290(87)90325-3

4.

Drerup B, Hierholzer E (1994) Back shape measurement using video rasterstereography and three-dimensional reconstruction of spinal shape. Clin Biomech 9:28–36

5.

Hackenberg L, Hierholzer E, Liljenqvist U (2002) Accuracy of rasterstereography versus radiography in idiopathic scoliosis after anterior correction and fusion. Stud Health Technol Inform 91:241–245

6.

Schulte TL, Hierholzer E, Boerke A, Lerner T, Liljenqvist U, Bullmann V, Hackenberg L (2008) Raster stereography versus radiography in the long-term follow-up of idiopathic scoliosis. Clin Spine Surg 21:23–28

7.

Schülein S, Mendoza S, Malzkorn R, Harms J, Skwara A (2012) Rasterstereographic evaluation of inter- and intraobserver-reliability in postsurgical adolescent idiopathic scoliosis patients. J Spinal Disord Tech 26:13–16

8.

Tabard-Fougère A, Bonnefoy-Mazure A, Hanquinet S, Lascombes P, Armand S, Dayer R (2017) Validity and reliability of spine rasterstereography in patients with adolescent idiopathic scoliosis. Spine (Phila Pa 1976) 42:98–105

9.

Hackenberg L, Hierholzer E, Pötzl W, Götze C, Liljenqvist U (2003) Rasterstereographic back shape analysis in idiopathic scoliosis after anterior correction and fusion. Clin Biomech 18:1–8

10.

Padulo J, Ardigò LP (2014) Formetric 4D rasterstereography. Biomed Res Int 2014:3–5

11.

Albertsen IM, Brockmann B, Hollander K, Schröder J, Zech A, Sehner S, Stücker R, Babin K (2018) Spinal posture changes using dynamic rasterstereography during the modified Matthiass test discriminate between postural weak and strong healthy children (10–14 years): a pilot study. Eur J Pediatr 177(9):1327–1334

12.

Scheidt S, Endress S, Gesicki M, Hofmann UK (2018) Using video rasterstereography and treadmill gait analysis as a tool for evaluating postoperative outcome after lumbar spinal fusion. Gait Posture 64:18–24

13.

Dietrich TJ, Pfirrmann CWA, Schwab A, Pankalla K, Buck FM (2013) Comparison of radiation dose, workflow, patient comfort and financial break-even of standard digital radiography and a novel biplanar low-dose X-ray system for upright full-length lower limb and whole spine radiography. Skeletal Radiol 42(7):959–967

14.

Deschênes S, Charron G, Beaudoin G, Labelle H, Dubois J, Miron M-C, Parent S (2010) Diagnostic imaging of spinal deformities: reducing patients radiation dose with a new slot-scanning X-ray imager. Spine (Phila Pa 1976) 35:989–994

15.

Bassani T, Stucovitz E, Galbusera F, Brayda M (2019) Is rasterstereography a valid noninvasive method for the screening of juvenile and adolescent idiopathic scoliosis? Eur Spine J. https://doi.org/10.1007/s00586-018-05876-0

16.

National Institutes of Health (1998) Clinical guidelines on the identification, evaluation, and treatment of overweight and obesity in adults—the evidence report. National Heart, Lung, and Blood Institute, Bethesda

17.

Morgan CJ, Aban I (2015) Methods for evaluating the agreement between diagnostic tests. J Nucl Cardiol 23:511–513

18.

Shrout PE, Fleiss JL (1979) Intraclass correlations: uses in assessing rater reliability. Psychol Bull 86:420–428

19.

Guidetti L, Bonavolont V, Tito A, Reis VM, Gallotta MC, Baldari C (2013) Intra- and interday reliability of spine rasterstereography. Biomed Res Int 2013:1–6

20.

Schröder J (2016) Non-invasive scoliosis-screening—a validity study for early diagnosis by means of raster stereography. Nicht-invasives skoliose-screening. OUP. https://doi.org/10.3238/oup.2015.0588

21.

Mitulescu A, Semaan I, De Guise JA et al (2001) Validation of the non-stereo corresponding points stereoradiographic 3D reconstruction technique. Med Biol Eng Comput 39:152–158

22.

Illés T, Somoskeöy S (2012) The EOS™ imaging system and its uses in daily orthopaedic practice. Int Orthop 36:1325–1331
Acknowledgements
We thank Lorenz Sedlmayr at the Schoen Klinik Ruecken Institut (SKRI) for operating 4D rasterstereography and for helpful technical inputs.
Ethics declarations
Conflict of interest
The authors declare that they have no conflict of interest.
Additional information
Publisher's Note
Springer Nature remains neutral with regard to jurisdictional claims in published maps and institutional affiliations.
Electronic supplementary material
Below is the link to the electronic supplementary material.
About this article
Cite this article
Wanke-Jellinek, L., Heese, O., Krenauer, A. et al. Is there any use? Validity of 4D rasterstereography compared to EOS 3D X-ray imaging in patients with degenerative disk disease. Eur Spine J 28, 2162–2168 (2019). https://doi.org/10.1007/s00586-019-06082-2
Received:

Revised:

Accepted:

Published:

Issue Date:
Keywords
EOS X-ray

Rasterstereography

Degenerative disk disease

DDD

Sagittal balance