Abstract
Objectives
Back pains are the most frequent musculoskeletal disorders among dentists, exposed to many work-related risk factors. We aimed to assess the prevalence and intensity of back pains as well as the impact of some work behaviors among a large sample of dentists.
Materials and methods
Data from 1004 French dentists were collected via an Internet questionnaire. Neck, upper back and lower back pains prevalence, intensity (0–10 scale) and consequences on work were studied, as well as sex, age, years of practice, working position, type of seat, stretching on work days.
Results
Dentists were 77.9% to report chronic back pains, with intensity from 3.9 to 4.3 according to location. Women reported more frequent and intense pains than men in neck and upper back (OR 1.5). Age and years of practice were associated with more intense pains (OR up to 3.9), dentists alternating standing and sitting positions reported more frequent and more intense pains in upper and lower back (OR up to 1.5) than those with a fixed position, be it sitting or standing.
Conclusions
Prevalence and intensity of back pain are important among dentists and increase greatly over working life. Preventive methods such as ergonomics exist and awareness should be raised among dentists and dental student.
Graphic abstract
These slides can be retrieved under Electronic Supplementary Material.

Access options
Buy single article
Instant access to the full article PDF.
US$ 39.95
Tax calculation will be finalised during checkout.
Subscribe to journal
Immediate online access to all issues from 2019. Subscription will auto renew annually.
US$ 119
Tax calculation will be finalised during checkout.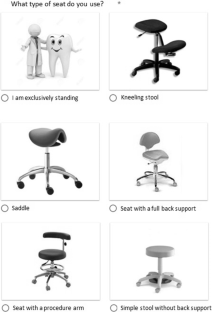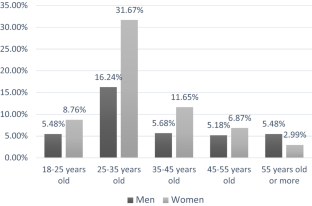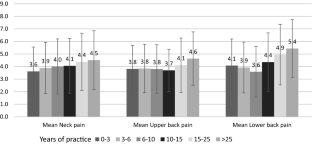 References
1.

Heneweer H et al (2011) Physical activity and low back pain: a systematic review of recent literature. Eur Spine J 20(6):826–845

2.

Puriene A et al (2007) General health of dentists. Literature review. Stomatologija 9(1):10–20

3.

L'Assurance Maladie (2019) Comprendre les troubles musculosquelettiques 2019. Cited 11/02/2019. https://www.ameli.fr/assure/sante/themes/tms/comprendre-troubles-musculosquelettiques

4.

Agency for Healthcare Research and Quality, U.S.D.o.H.a.H.S., Medical Expenditures Panel Survey (MEPS), 1996–2011

5.

Treede RD et al (2015) A classification of chronic pain for ICD-11. Pain 156(6):1003–1007

6.

Moodley R, Naidoo S, van Wyk J (2018) The prevalence of occupational health-related problems in dentistry: a review of the literature. J Occup Health 60(2):111–125

7.

Hayes M, Cockrell D, Smith DR (2009) A systematic review of musculoskeletal disorders among dental professionals. Int J Dent Hyg 7(3):159–165

8.

Gijbels F et al (2006) Potential occupational health problems for dentists in Flanders, Belgium. Clin Oral Invest 10(1):8–16

9.

Alexopoulos EC, Stathi IC, Charizani F (2004) Prevalence of musculoskeletal disorders in dentists. BMC Musculoskelet Disord. 5:16

10.

Ayatollahi J et al (2012) Occupational hazards to dental staff. Dent Res J (Isfahan) 9(1):2–7

11.

Carton M, Santin G, Leclerc A, Gueguen A, Goldberg M, Roquelaure Y et al (2016) Prevalence of musculoskeletal disorders and occupational biomechanical factors: preliminary estimates from the French CONSTANCES cohort. Bull Epidémiol Hebd. 35–36: 630–639.

12.

Gaowgzeh RA et al (2015) Prevalence of and risk factors for low back pain among dentists. J Phys Ther Sci 27(9):2803–2806

13.

Kalluri A, Puranik MP, Uma SR (2018) Musculoskeletal disorders in dental workplace: acomprehensive review. Int J Appl Dental Sci 4(3): 40–145.

14.

Parot-Schinkel E et al (2012) Prevalence of multisite musculoskeletal symptoms: a French cross-sectional working population-based study. BMC Musculoskelet Disord 13:122

15.

De Sio S et al (2018) Ergonomic risk and preventive measures of musculoskeletal disorders in the dentistry environment: an umbrella review. PeerJ 2018. 6:e4154

16.

Park HS et al (2015) Analysis of the risk factors of musculoskeletal disease among dentists induced by work posture. J Phys Ther Sci 27(12):3651–3654

17.

Blanc D (2015) Nous souffrons du dos, des cervicales, des épaules! Mais comment travaillons-nous? Dental Tribune

18.

Ginisty J (2002) Résultats de l'enquête relative aux maladies professionnelles des chirurgiens dentistes. Bull Acad Natle Chir Dent 45(4):107–113

19.

R Core Team (2018) R: A language and environment for statistical computing. R Foundation for Statistical Computing, Vienna, Austria. https://www.R-project.org/

20.

RStudio Team (2016) RStudio: Integrated Development for R. RStudio, Inc., Boston, MA URL. http://www.rstudio.com/

21.

Ordre National des Chirurgiens-Dentistes. Cartographie et données publiques 2018. https://www.ordre-chirurgiens-dentistes.fr/cartographie/. 28 Nov 2018

22.

Plessas A, Bernardes Delgado M (2018) The role of ergonomic saddle seats and magnification loupes in the prevention of musculoskeletal disorders. A systematic review. Int J Dent Hyg 16(4): 430–440.

23.

Offner D et al (2018) L'enseignement de la santé publique en odontologie : les enjeux d'un diplôme d'études spécialisées (DES) Public health education in odontology: the issues of a specialized studies diploma. Ethics Med Public Health 7:7–12
Ethics declarations
Conflict of interest
The authors declare that they have no conflict of interest.
Ethical approval
This article does not contain any studies with human participants or animals performed by any of the authors.
Informed consent
Informed consent was obtained from all individual participants included in the study.
Additional information
Publisher's Note
Springer Nature remains neutral with regard to jurisdictional claims in published maps and institutional affiliations.
Electronic supplementary material
Below is the link to the electronic supplementary material.
About this article
Cite this article
Fernandez de Grado, G., Denni, J., Musset, AM. et al. Back pain prevalence, intensity and associated factors in French dentists: a national study among 1004 professionals. Eur Spine J 28, 2510–2516 (2019). https://doi.org/10.1007/s00586-019-06080-4
Received:

Revised:

Accepted:

Published:

Issue Date:
Keywords
Musculoskeletal disorders

Dentistry

Occupational health

Ergonomics