Abstract
Purpose
The thoracolumbar junction (TLJ) has not been explored in regard to its contribution to global sagittal alignment. This study aims to define novel sagittal parameters of the TLJ and to assess their roles within global sagittal alignment.
Methods
Included for cross-sectional, retrospective analysis were asymptomatic volunteers and symptomatic patients who had undergone operation for adult spinal deformity. Unique sagittal parameters of the TLJ were measured using the midline of the T12–L1 disk space: The TLJ orientation [TLJO; thoracolumbar tilt (TLT) and slope (TLS)]. Thoracic kyphosis (TK; T5–12), C7–S1 sagittal vertical axis (SVA), lumbar lordosis (LL; L1–S1), sacral slope (SS), pelvic tilt (PT), and pelvic incidence (PI) were measured. Continuous variables were compared using the independent t test. Pearson correlations examined relationships between the parameters in each group. The asymptomatic TK was calculated using the measurement of the asymptomatic volunteer's TLJO by linear regression.
Results
One hundred fifteen asymptomatic volunteers and 127 symptomatic patients were included. Only LL among the lumbopelvic parameters correlated with TK (asymptomatic volunteers: r = − 0.42; symptomatic patients: r = − 0.40). All the pelvic parameters have no direct correlation with TK in both groups. TLJO had stronger correlation with TK [asymptomatic volunteers: r = − 0.68 (TLS), r = 0.41 (TLT); symptomatic patients: r = − 0.56 (TLS), r = 0.44 (TLT)] than the lumbopelvic parameters. TLS correlated with LL (asymptomatic volunteers: r = 0.78; symptomatic patients: r = 0.73). Most pelvic parameters correlated with TLJO except for PI. The asymptomatic TK was estimated by the derived formula: 20.847 + TLS × (− 1.198).
Conclusion
The TLJO integrates the status of the lumbopelvic sagittal parameters and simultaneously correlates with thoracic and global sagittal alignment.
Graphic abstract
These slides can be retrieved under Electronic Supplementary Material.

Access options
Buy single article
Instant access to the full article PDF.
US$ 39.95
Tax calculation will be finalised during checkout.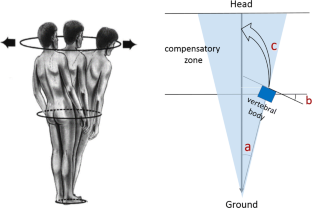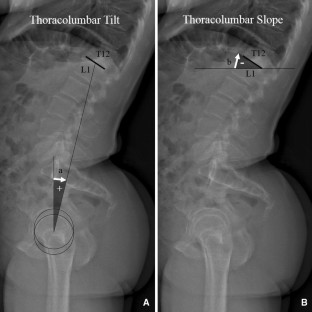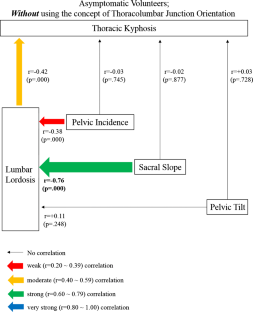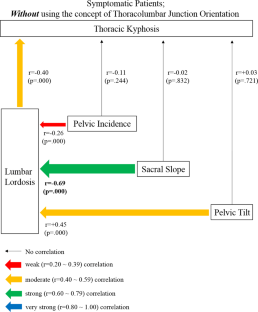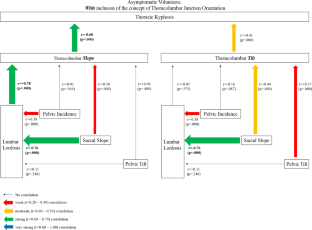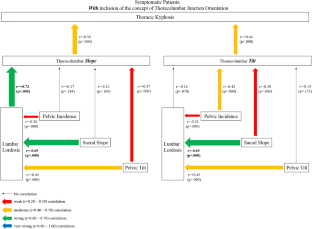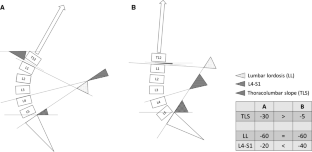 References
1.

Celestre PC, Dimar JR, Glassman SD (2018) Spinopelvic parameters: lumbar lordosis, pelvic incidence, pelvic tilt, and sacral slope—what does a spine surgeon need to know to plan a lumbar deformity correction? Neurosurg Clin N Am 29:323–329. https://doi.org/10.1016/j.nec.2018.03.003

2.

Barrey C, Roussouly P, Perrin G, Le Huec JC (2011) Sagittal balance disorders in severe degenerative spine. Can we identify the compensatory mechanisms? Eur Spine J 20(Suppl 5):626–633. https://doi.org/10.1007/s00586-011-1930-3

3.

Jang JS, Lee SH, Min JH, Maeng DH (2009) Influence of lumbar lordosis restoration on thoracic curve and sagittal position in lumbar degenerative kyphosis patients. Spine 34:280–284. https://doi.org/10.1097/BRS.0b013e318191e792

4.

Lafage V, Ames C, Schwab F, Klineberg E, Akbarnia B, Smith J, Boachie-Adjei O, Burton D, Hart R, Hostin R, Shaffrey C, Wood K, Bess S (2012) Changes in thoracic kyphosis negatively impact sagittal alignment after lumbar pedicle subtraction osteotomy: a comprehensive radiographic analysis. Spine 37:E180–E187. https://doi.org/10.1097/BRS.0b013e318225b926

5.

Dubousset J (1994) Three-dimensional analysis of the scoliotic deformity. The pediatric spine: principles and practice. Raven Press Ltd, New York

6.

Smith HE, Anderson DG, Vaccaro AR, Albert TJ, Hilibrand AS, Harrop JS, Ratliff JK (2010) Anatomy, biomechanics, and classification of thoracolumbar injuries. Semin Spine Surg 22:2–7. https://doi.org/10.1053/j.semss.2009.10.001

7.

Liu CJ, Zhu ZQ, Wang KF, Duan S, Xu S, Liu HY (2017) Radiological analysis of thoracolumbar junctional degenerative kyphosis in patients with lumbar degenerative kyphosis. Chin Med J (Engl) 130:2535–2540. https://doi.org/10.4103/0366-6999.217090

8.

Cho KJ, Suk SI, Park SR, Kim JH, Jung JH (2013) Selection of proximal fusion level for adult degenerative lumbar scoliosis. Eur Spine J 22:394–401. https://doi.org/10.1007/s00586-012-2527-1

9.

Michael F, O'Brien M, Kuklo TR, Blanke KM, Lenke LG (2008) Spinal deformity study group-radiographic measurement manual. Medtronic Sofamor Danek USA, Inc., Memphis

10.

Jang JS, Lee SH, Min JH, Han KM (2007) Lumbar degenerative kyphosis: radiologic analysis and classifications. Spine 32:2694–2699. https://doi.org/10.1097/BRS.0b013e31815a590b

11.

Iyer S, Lenke LG, Nemani VM, Albert TJ, Sides BA, Metz LN, Cunningham ME, Kim HJ (2016) Variations in sagittal alignment parameters based on age: a prospective study of asymptomatic volunteers using full-body radiographs. Spine 41:1826–1836. https://doi.org/10.1097/brs.0000000000001642

12.

Evans JD (1996) Straightforward statistics for the behavioral sciences. Brooks/Cole Publishing, Pacific Grove

13.

Kim YJ, Bridwell KH, Lenke LG, Rhim S, Cheh G (2006) Sagittal thoracic decompensation following long adult lumbar spinal instrumentation and fusion to L5 or S1: causes, prevalence, and risk factor analysis. Spine 31:2359–2366. https://doi.org/10.1097/01.brs.0000238969.59928.73

14.

Newton PO, Yaszay B, Upasani VV, Pawelek JB, Bastrom TP, Lenke LG, Lowe T, Crawford A, Betz R, Lonner B (2010) Preservation of thoracic kyphosis is critical to maintain lumbar lordosis in the surgical treatment of adolescent idiopathic scoliosis. Spine 35:1365–1370. https://doi.org/10.1097/BRS.0b013e3181dccd63

15.

Mac-Thiong JM, Labelle H, Berthonnaud E, Betz RR, Roussouly P (2007) Sagittal spinopelvic balance in normal children and adolescents. Eur Spine J 16:227–234. https://doi.org/10.1007/s00586-005-0013-8

16.

Berthonnaud E, Dimnet J, Roussouly P, Labelle H (2005) Analysis of the sagittal balance of the spine and pelvis using shape and orientation parameters. J Spinal Disord Tech 18:40–47

17.

Vialle R, Levassor N, Rillardon L, Templier A, Skalli W, Guigui P (2005) Radiographic analysis of the sagittal alignment and balance of the spine in asymptomatic subjects. J Bone Jt Surg Am 87:260–267. https://doi.org/10.2106/jbjs.D.02043

18.

Boissiere L, Bourghli A, Vital JM, Gille O, Obeid I (2013) The lumbar lordosis index: a new ratio to detect spinal malalignment with a therapeutic impact for sagittal balance correction decisions in adult scoliosis surgery. Eur Spine J 22:1339–1345. https://doi.org/10.1007/s00586-013-2711-y

19.

Gottfried ON, Daubs MD, Patel AA, Dailey AT, Brodke DS (2009) Spinopelvic parameters in postfusion flatback deformity patients. Spine J 9:639–647. https://doi.org/10.1016/j.spinee.2009.04.008

20.

Roussouly P, Gollogly S, Berthonnaud E, Dimnet J (2005) Classification of the normal variation in the sagittal alignment of the human lumbar spine and pelvis in the standing position. Spine 30:346–353

21.

Roussouly P, Nnadi C (2010) Sagittal plane deformity: an overview of interpretation and management. Eur Spine J 19:1824–1836. https://doi.org/10.1007/s00586-010-1476-9
Ethics declarations
Conflict of interest
None of the authors has any potential conflict of interest.
Additional information
Publisher's Note
Springer Nature remains neutral with regard to jurisdictional claims in published maps and institutional affiliations.
Electronic supplementary material
Below is the link to the electronic supplementary material.
About this article
Cite this article
Moon, H.J., Bridwell, K.H., Theologis, A.A. et al. Thoracolumbar junction orientation: its impact on thoracic kyphosis and sagittal alignment in both asymptomatic volunteers and symptomatic patients. Eur Spine J 28, 1937–1947 (2019). https://doi.org/10.1007/s00586-019-06078-y
Received:

Revised:

Accepted:

Published:

Issue Date:
Keywords
Thoracolumbar junction

Thoracolumbar junction orientation

Thoracic kyphosis

Adult spinal deformity

Sagittal balance