Abstract
Purpose
This study aims to evaluate this new sequential correction technique for preventing postoperative coronal imbalance.
Methods
Adult Spinal deformity (ASD) patients were stratifies into two types: primary thoracolumbar/lumbar (TL/L) curve with compensatory lumbosacral (LS) curve (Type I) and primary LS curve with compensatory TL/L curve (Type II): for Type I patients: correction of major TL/L curve and one- or two-level segmental rod installed at the convexity of the TL/L curve, L4-S1 TLIF to correct fractional curve and a short rod installed on the contralateral side and installation of long rods; for Type II patients: horizontalize L4 and L5, short rod installation at the convexity of the LS curve, distraction of curve with regional rod and installation of long rods. ASD patients were enrolled with inclusion criteria: with pre-op TL/L Cobb angle more than 30°, with pelvic fixation and with UIV over T10. Radiographic parameters were analyzed.
Results
Twenty-one patients were recruited (14 patients Type I and 7 Type II patients). Both Cobb angle and coronal offset were significantly improved after surgery. In Type I patients, Cobb angle was improved from 50.48° to 26.91° and coronal offset from 2.94 to 0.95 cm; in Type II patients, Cobb angle was improved from 61.42° to 28.48° and coronal offset from 2.82 to 1.38 cm. In the 10 patients with baseline coronal imbalance, 9 were corrected to coronal balance after surgery.
Conclusion
The sequential correction technique allows decomposing the complex correction surgery into several steps, and each step focuses only on one task. It can also reduce the difficulty of rod installation due to the separated maneuvers and multi-rod system.
Level of evidence
IV
Graphic abstract
These slides can be retrieved under Electronic Supplementary Material.

Access options
Buy single article
Instant access to the full article PDF.
USD 39.95
Price includes VAT (USA)
Tax calculation will be finalised during checkout.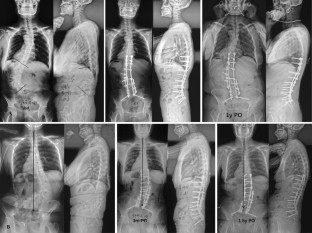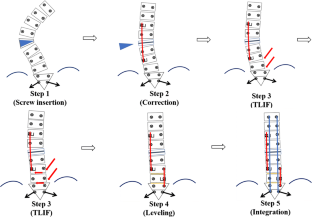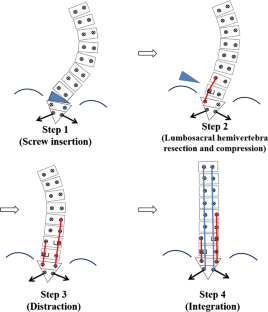 References
1.

Schwab F, Dubey A, Gamez L et al (2005) Adult scoliosis: prevalence, SF-36, and nutritional parameters in an elderly volunteer population. Spine (Phila Pa 1976) 30:1082–1085

2.

Schwab F, Ungar B, Blondel B et al (2012) Scoliosis research society—Schwab adult spinal deformity classification. Spine (Phila Pa 1976) 37:1077–1082. https://doi.org/10.1097/brs.0b013e31823e15e2

3.

Lafage V, Schwab FJ, Patel A et al (2009) Pelvic tilt and truncal inclination: two key radiographic parameters in the setting of adults with spinal deformity. Spine (Phila Pa 1976) 34:E599–E606. https://doi.org/10.1097/brs.0b013e3181aad219

4.

Glassman SD, Berven S, Bridwell K et al (2005) Correlation of radiographic parameters and clinical symptoms in adult scoliosis. Spine (Phila Pa 1976) 30:682–688

5.

Ploumis A, Simpson AK, Cha TD et al (2013) Coronal spinal balance in adult spine deformity patients with long spinal fusions: A minimum 2-5 year follow-up study. J Spinal Disord Tech. https://doi.org/10.1097/bsd.0b013e3182aab2ff

6.

Moal B, Schwab FJ, Ames CP et al (2014) Radiographic outcomes of adult spinal deformity correction: a critical analysis of variability and failures across deformity patterns. Spine Deform 2:219–225. https://doi.org/10.1016/j.jspd.2014.01.003

7.

Bao H, Yan P, Qiu Y et al (2016) Coronal imbalance in degenerative lumbar scoliosis: prevalence and influence on surgical decision-making for spine osteotomy. Bone Jt J 98-B:1227–1233

8.

Cho W, Mason JR, Smith JS et al (2013) Failure of lumbopelvic fixation after long construct fusions in patients with adult spinal deformity: clinical and radiographic risk factors: clinical article. J Neurosurg Spine 19:445–453. https://doi.org/10.3171/2013.6.SPINE121129

9.

Cecchinato R, Berjano P, Aguirre M-FI, Lamartina C (2015) Asymmetrical pedicle subtraction osteotomy in the lumbar spine in combined coronal and sagittal imbalance. Eur Spine J 24:66–71. https://doi.org/10.1007/s00586-014-3669-0

10.

Girod P-P, Hartmann S, Kavakebi P et al (2017) Asymmetric pedicle subtractionosteotomy (aPSO) guided by a 3D-printed model to correct a combined fixed sagittal and coronal imbalance. Neurosurg Rev 40:689–693. https://doi.org/10.1007/s10143-017-0882-4

11.

Wang T, Liu H, Zheng Z et al (2013) Biomechanical effect of 4-rod technique on lumbosacral fixation: an in vitro human cadaveric investigation. Spine (Phila Pa 1976) 38:E925–E929. https://doi.org/10.1097/brs.0b013e3182967968

12.

Luca A, Ottardi C, Lovi A et al (2017) Anterior support reduces the stresses on the posterior instrumentation after pedicle subtraction osteotomy: a finite-element study. Eur Spine J. https://doi.org/10.1007/s00586-017-5084-9

13.

Merrill RK, Kim JS, Leven DM et al (2017) Multi-rod constructs can prevent rod breakage and pseudarthrosis at the lumbosacral junction in adult spinal deformity. Glob Spine J 7:514–520. https://doi.org/10.1177/2192568217699392

14.

Ishida W, Elder BD, Holmes C et al (2017) Comparison Between S2-Alar-Iliac screw fixation and iliac screw fixation in adult deformity surgery: reoperation rates and spinopelvic parameters. Glob Spine J 7:672–680. https://doi.org/10.1177/2192568217700111

15.

Ishida W, Elder BD, Holmes C et al (2016) S2-Alar-Iliac screws are associated with lower rate of symptomatic screw prominence than iliac screws: radiographic analysis of minimal distance from screw head to skin. World Neurosurg 93:253–260. https://doi.org/10.1016/j.wneu.2016.06.042

16.

Hoernschemeyer DG, Pashuck TD, Pfeiffer FM (2017) Analysis of the S2 Alar-Iliac screw as compared with the traditional iliac screw: does it increase stability with sacroiliac fixation of the spine? Spine J 17:875–879. https://doi.org/10.1016/j.spinee.2017.02.001

17.

Cecchinato R, Redaelli A, Martini C et al (2017) Long fusions to S1 with or without pelvic fixation can induce relevant acute variations in pelvic incidence: a retrospective cohort study of adult spine deformity surgery. Eur Spine J 26:436–441. https://doi.org/10.1007/s00586-017-5154-z

18.

Tseng C, Liu Z, Bao H et al (2019) Long fusion to the pelvis with S2-Alar-Iliac screws can induce changes in pelvic incidence in adult spinal deformity patients: analysis of predictive factors in a retrospective cohort. Eur Spine J 28:138–145. https://doi.org/10.1007/s00586-018-5738-2

19.

Lee JH, Na KH, Kim JH et al (2016) Is pelvic incidence a constant, as everyone knows? Changes of pelvic incidence in surgically corrected adult sagittal deformity. Eur Spine J 25:3707–3714. https://doi.org/10.1007/s00586-015-4199-0
Acknowledgements
This work was supported by Jiangsu Provincial Key Medical Center (YXZXA2016009). This work received funding from Youth Fund of Natural Science Foundation of Jiangsu Province (BK20180122). This work received funding from Key Project supported by Medical Science and Technology Development Foundation, Nanjing Department of Health (YKK18092).
Ethics declarations
Conflict of interest
The authors declare that they have no conflict of interest.
Additional information
Publisher's Note
Springer Nature remains neutral with regard to jurisdictional claims in published maps and institutional affiliations.
Electronic supplementary material
Below is the link to the electronic supplementary material.
About this article
Cite this article
Bao, H., Liu, Z., Zhang, Y. et al. Sequential correction technique to avoid postoperative global coronal decompensation in rigid adult spinal deformity: a technical note and preliminary results. Eur Spine J 28, 2179–2186 (2019). https://doi.org/10.1007/s00586-019-06043-9
Received:

Revised:

Accepted:

Published:

Issue Date:
Keywords
Sequential correction technique

Adult spinal deformity

Coronal imbalance

Global coronal malalignment