Abstract
Purpose
Patients with chronic low back pain, who do not respond to conservative treatment methods, generally undergo surgical revision operations, and sometimes an undesirable condition called failed back surgery syndrome (FBSS) may be inevitable. Hereby, dextrose is one of the regenerative methods that has gained popularity in the treatment of many musculoskeletal problems, and we aimed to present and evaluate the outcomes of 5% dextrose for the treatment of FBSS.
Methods
It has been designed as a consecutive case series. A total of 79 patients with FBSS, who had minimum 6 months of symptoms and did not respond to 3 months of conservative methods between May 2014 and March 2016, participated in the study. Prolotherapy injections were applied in posterior and lateral approaches. Visual Analog Scale (VAS) and Oswestry Disability Index (ODI) were used for the pre- and post-treatment evaluations. Patient satisfaction was assessed with using a 5-point Likert scale by phone contacting.
Results
There was statistically significant difference between repeated VAS and ODI measurements.
Conclusions
These results may be the first step giving a lead to an undiscovered field. This treatment method should be kept in mind for FBSS patients before giving a decision of revision surgery.
Graphical abstract
These slides can be retrieved under Electronic Supplementary Material.

This is a preview of subscription content, log in to check access.
Access options
Buy single article
Instant access to the full article PDF.
US$ 39.95
Tax calculation will be finalised during checkout.
Subscribe to journal
Immediate online access to all issues from 2019. Subscription will auto renew annually.
US$ 199
Tax calculation will be finalised during checkout.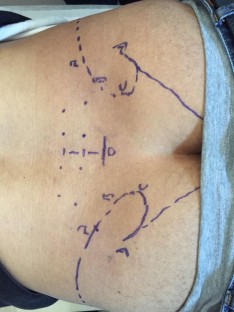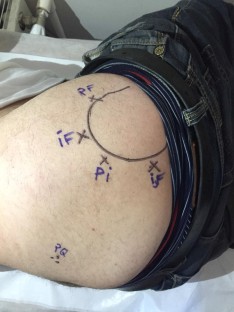 References
1.

Dagenais S, Caro J, Haldeman S (2008) A systematic review of low back pain cost of illness studies in the United States and internationally. Spine J 8(1):8–20. https://doi.org/10.1016/j.spinee.2007.10.005

2.

Schofferman J, Reynolds J, Herzog R et al (2003) Failed back surgery: etiology and diagnostic evaluation. Spine J 3(5):400–403

3.

Chan C-W, Peng P (2011) Failed back surgery syndrome. Pain Med 12:577–606

4.

Hussain A, Erdek M (2014) Interventional pain management for failed back surgery syndrome. Pain Pract 14:64–78

5.

Choi HS, Chi EH, Kim MR et al (2014) Demographic characteristics and medical service use of failed back surgery syndrome patients at an integrated treatment hospital focusing on complementary and alternative medicine: a retrospective review of electronic medical records. Evid Based Complement Altern Med 2014:714389

6.

Shapiro C (2014) The failed back surgery syndrome: pitfalls surrounding evaluation and treatment. Phys Med Rehabil Clin N Am 25(2):319–340

7.

Hazard RG (2006) Failed back surgery syndrome: surgical and nonsurgical approaches. Clin Orthop Relat Res 443:228–232

8.

Weir S, Samnaliev M, Kuo TC et al (2017) The rate of persistent post-operative pain (FBSS) in revision lumbar spinal surgery. Spine J 17(3):S10

9.

Tronnier VM, Eldabe S, Franke J, Huygen F, de Andres Rigoard P, Ares J et al (2018) The appropriate management of persisting pain after spine surgery: a European panel study with recommendations based on the RAND/UCLA method. Eur Spine J 28(1):31–45. https://doi.org/10.1007/s00586-018-5711-0

10.

Seven MM, Ersen O, Akpancar S et al (2017) Effectiveness of prolotherapy in the treatment of chronic rotator cuff lesions. Orthop Traumatol Surg Res 103(3):427–433

11.

Ersen O, Koca K, Akpancar S et al (2017) A randomized-controlled trial of prolotherapy injections in the treatment of plantar fasciitis. Turk J Phys Med Rehab 64(1):i–xi

12.

Akpancar S, Seven MM, Tuzun HY et al (2017) Current concepts of prolotherapy in orthopedic surgery. Arch Trauma Res 6(2):e40447

13.

Rabago D, Slattengren A, Zgierska A (2010) Prolotherapy in primary care practice. Prim Care 37(1):65–80

14.

Reeves KD, Topol GA, Fullerton BD (2008) Evidence-based regenerative injection therapy (prolotherapy) in sports medicine. In: Seidelberg PH, Beutler PL (eds) The sports medicine resource manual. Saunders, Philadelphia, pp 611–619

15.

Di Paolo S, Gesualdo L, Ranieri E, Grandaliano G, Schena FP (1996) High glucose concentration induces the overexpression of transforming growth factor-beta through the activation of a platelet-derived growth factor loop in human mesangial cells. Am J Pathol. 149(6):2095–2106

16.

Murphy M, Godson C, Cannon S, Kato S, Mackenzie HS, Martin F et al (1999) Suppression subtractive hybridization identifies high glucose levels as a stimulus for expression of connective tissue growth factor and other genes in human mesangial cells. J Biol Chem. 274(9):5830–5834

17.

Krump E, Nikitas K, Grinstein S (1997) Induction of tyrosine phosphorylation and Na+/H+ exchanger activation during shrinkage of human neutrophils. J Biol Chem 272(28):17303–17311

18.

Lyftogt J (2008) Pain conundrums: which hypothesis? Central nervous system sensitization versus peripheral nervous system autonomy. Aust Musculoskelet Med 13(2):72

19.

Sanderson LM, Bryant A (2015) Effectiveness and safety of prolotherapy injections for management of lower limb tendinopathy and fasciopathy: a systematic review. J Foot Ankle Res 8:57. https://doi.org/10.1186/s13047-015-0114-5

20.

Maniquis-Smigel L, Dean Reeves K, Jeffrey Rosen H et al (2017) Short term analgesic effects of 5% dextrose epidural injections for chronic low back pain: a randomized controlled trial. Anesthesiol Pain Med 7(1):e42550. https://doi.org/10.5812/aapm.42550

21.

Yelland MJ, Glasziou PP, Bogduk N, et al (2004) Prolotherapy injections, saline injections, and exercises for chronic low-back pain: a randomized trial. Spine (Phila Pa 1976) 29(1):9–16 (discussion 16)

22.

Dagenais S, Yelland MJ, Del Mar C, Schoene ML (2007) Prolotherapy injections for chronic low-back pain. Cochrane Database Syst Rev. 18(2):CD004059.

23.

Guran S, Coban ZD, Karasimav O et al (2018) Dextrose solution used for prolotherapy decreases cell viability and increases gene expressions of angiogenic and apopitotic factors. Gulhane Med J 60:42

24.

Hackett GS, Hemwall GA, Montgomery GA (1993) Ligament and tendon relaxation treated by prolotherapy, 5th edn. Gustav A. Hemwall, Oak Park

25.

Fairbank JCT, Pynsent PB (2000) The oswestry disability index. Spine 25(22):2940–2953

26.

Jamieson S (2004) Likert scales: how to (ab)use them. Med Educ 38(12):1217–1218

27.

Lee JH, Lee SH (2014) Clinical effectiveness of percutaneous adhesiolysis versus transforaminal epidural steroid injection in patients with postlumbar surgery syndrome. Reg Anesth Pain Med 39:214–218

28.

Hollingworth W, Turner JA, Welton NJ et al (2011) Costs and cost effectiveness of spinal cord stimulation (SCS) for failed back surgery syndrome. Spine 36:2076–2083

29.

Lad SP, Babu R, Bagley JH et al (2014) Utilization of spinal cord stimulation in patients with failed back surgery syndrome. Spine 39:E719–E727

30.

North RB, Kidd D, Shipley J et al (2007) Spinal cord stimulation versus reoperation for failed back surgery syndrome: a cost effectiveness and cost utility analysis based on a randomized, controlled trial. Neurosurgery 61:361–368

31.

Manchikanti L, Abdi S, Atluri S et al (2013) An update of comprehensive evidence-based guidelines for interventional techniques in chronic spinal pain. Part II: guidance and recommendations. Pain Physician 16:S49–283

32.

Chun-jing J, Hao-xiong N, Jia-ziang N (2012) The application of percutaneous lysis of epidural adhesions in patients with failed back surgery syndrome. Acta Cir Bras 27:357–362

33.

Manchikanti L, Boswell MV, Datta S et al (2009) Comprehensive review of therapeutic interventions in managing chronic spinal pain. Pain Physician 12:E123–E198

34.

Fritsch EW, Heisel J, Rupp S (1996) The failed back surgery syndrome: reasons, intraoperative findings, and long-term results: a report of 182 operative treatments. Spine (Phila Pa 1976) 21: 626–633

35.

Amirdelfan K, Webster L, Poree L et al (2017) Treatment options for failed back surgery syndrome patients with refractory chronic pain: an evidence based approach. Spine 42:S41–S52

36.

Louw A, Diener I, Landers MR et al (2014) Preoperative pain neuroscience education for lumbar radiculopathy: a multicenter randomized controlled trial with 1-year follow-up. Spine (Phila Pa 1976) 39:1449–1457

37.

Brox JI, Reikeras O, Nygaard O et al (2006) Lumbar instrumented fusion compared with cognitive intervention and exercises in patients with chronic back pain after previous surgery for disc herniation: a prospective randomized controlled study. Pain 122:145–155

38.

Jensen KT, Rabago DP, Best TM et al (2008) Early inflammatory response of knee ligaments to prolotherapy in a rat model. J Orthop Res 26(6):816–823. https://doi.org/10.1002/jor.20600

39.

Thomson S, Jacques L (2009) Demographic characteristics of patients with severe neuropathic pain secondary to failed back surgery syndrome (PROCESS study). Pain Pract 9:206–214

40.

Drucker M, Cardenas E, Arizti P et al (1998) Experimental studies on the effect of lidocaine on wound healing. World J Surg. 22(4):394–397 (discussion 397–8)

41.

Kim MY, Na YM, Moon JH (1997) Comparison on treatment effects of dextrose water, saline, and lidocaine for trigger point injection. J Korean Acad Rehabil Med 21(5):967–973

42.

Rabago D, Kijowski R, Woods M et al (2013) Association between disease-specific quality of life and magnetic resonance imaging outcomes in a clinical trial of prolotherapy for knee osteoarthritis. Arch Phys Med Rehabil 94(11):2075–2082

43.

Panjabi M, Abumi K, Duranceau J et al (1989) Spinal stability and intersegmental muscle forces. A biomechanical model. Spine 14(2):194–200

44.

Clemente CD (1985) Gray's Anatomy, 30th edn. Lea & Febiger, Philadelphia

45.

Yelland M, Glasziou P, Bogduk N, Schluter P, McKernon M (2004) Prolotherapy injections, saline injections, and exercises for chronic low back pain: a randomized trial. Spine 29(1):9–16
Acknowledgements
We all thank Michael Yelland, Associate Professor, MD, and John Lyftogt, MD, for their respected contributions to the designation of this paper.
Ethics declarations
Conflict of interest
İlker Solmaz, Serkan Akpancar, Aydan Örsçelik, Özlem Yener-Karasimav and Deniz Gül declare that they have no conflict of interest.
Additional information
Publisher's Note
Springer Nature remains neutral with regard to jurisdictional claims in published maps and institutional affiliations.
Electronic supplementary material
Below is the link to the electronic supplementary material.
About this article
Cite this article
Solmaz, İ., Akpancar, S., Örsçelik, A. et al. Dextrose injections for failed back surgery syndrome: a consecutive case series. Eur Spine J 28, 1610–1617 (2019). https://doi.org/10.1007/s00586-019-06011-3
Received:

Revised:

Accepted:

Published:

Issue Date:
Keywords
Failed back surgery syndrome

FBSS

Prolotherapy

Dextrose

Injection