Abstract
Purpose
Tarlov cysts (TCs) are dilations of nerve roots arising from pathologically increased hydrostatic pressure (HP) in the spinal canal. There is much controversy regarding whether these cysts are a rare source of pain or often produce symptoms. The aim of this review was to identify the reasons that symptomatic TCs (STCs) are easily overlooked.
Methods
The literature was searched for data regarding pathogenesis and symptomatology.
Results
TCs may be overlooked for the following reasons: (1) STCs are considered clinically irrelevant findings; (2) it is assumed that it is clinically difficult to ascertain that TCs are the cause of pain; (3) MRI or electromyography studies only focus on the L1 to S1 nerves; (4) TCs are usually not reported by radiologists; (5) degenerative alterations of the lumbosacral spine are almost always identified as the cause of a patient's pain; (6) it is not generally known that small TCs can be symptomatic; (7) examinations and treatments usually focus on the cysts as an underlying mechanism; however, essentially, increased HP is the main underlying mechanism for producing symptoms. Consequently, STCs may relapse after surgery; (8) bladder, bowel and sphincter dysfunction are not inquired about during history taking. (9) Unexplained pain is often attributed to depression, whereas depression is more likely the consequence of debilitating neuropathic pain. (10) The recognition of STCs is subject to gender bias, confirmation bias and cognitive dissonance and unconscious bias in publishing.
Conclusion
There are several reasons STCs are underdiagnosed, mostly due to persistent misconceptions and biases.
Graphical abstract
These slides can be retrieved under Electronic Supplementary Material.

This is a preview of subscription content, log in to check access.
Access options
Buy single article
Instant access to the full article PDF.
US$ 39.95
Tax calculation will be finalised during checkout.
Subscribe to journal
Immediate online access to all issues from 2019. Subscription will auto renew annually.
US$ 119
Tax calculation will be finalised during checkout.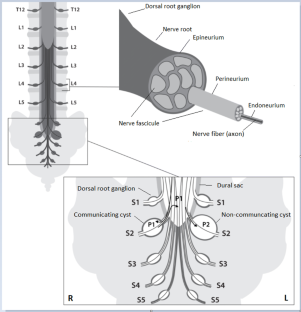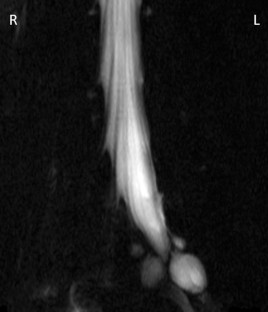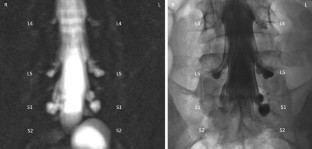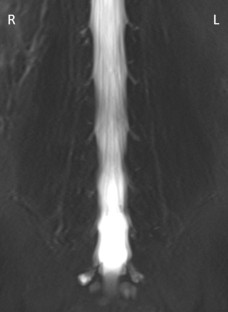 References
1.

Marburg M (1902) Zur pathologie der spinalganglien. Arb Neurol Inst Univ Wien 54:1443–1445

2.

Tarlov IM (1948) Cysts (perineural) of the sacral roots: another cause (removeble) of sciatic pain. J Am Med Assoc 138:740–744. https://doi.org/10.1001/jama.1948.02900100020005

3.

Strully KJ (1956) Meningeal diverticula of sacral nerve roots (perineurial cysts). J Am Med Assoc 161:1147–1152. https://doi.org/10.1001/jama.1956.02970120029009

4.

Padberg G (1959) Perineurale wortelkystes. Ned Tijdschr Geneeskd 103:2054–2057

5.

Van de Kelft E, Van Vyve M (1993) Sacral meningeal cysts and perineal pain. Lancet 341:500–501. https://doi.org/10.1016/0140-6736(93)90260-N

6.

Hiers RH, Long D, North RB, Oaklander AL (2010) Hiding in plain sight: a case of Tarlov perineural cysts. J Pain 11:833–837. https://doi.org/10.1016/j.jpain.2010.07.007

7.

Murphy KJ, Nussbaum DA, Schnupp S, Long D (2011) Tarlov cysts: an overlooked clinical problem. Semin Musculoskelet Radiol 15:163–167. https://doi.org/10.1055/s-0031-1275599

8.

Merean V, Plesca S, Sangheli M, Chetrari L (2012) The role of Tarlov cysts in chronic back pain. Eur J Neurol 19:805

9.

Feigenbaum F, Henderson F (2012) Tarlov cysts. In: Benzel E (ed) Spine surgery. Elsevier, Philadelphia, pp 1135–1140

10.

Oaklander AL (2012) Tarlov cysts. Neurosurg Focus 32:E9. https://doi.org/10.3171/2012.1.FOCUS11374 (author reply E9)

11.

Komisaruk BR, Lee HJ (2012) Prevalence of sacral spinal (Tarlov) cysts in persistent genital arousal disorder. J Sex Med 9:2047–2056. https://doi.org/10.1111/j.1743-6109.2012.02765.x

12.

Jiang W, Qiu Q, Hao J, Zhang X, Shui W, Hu Z (2015) Percutaneous fibrin gel injection under C-arm fluoroscopy guidance: a new minimally invasive choice for symptomatic sacral perineural cysts. PLoS ONE 10:e0118254. https://doi.org/10.1371/journal.pone.0118254

13.

Elkins N, Hunt J, Scott KM (2017) Neurogenic pelvic pain. Phys Med Rehabil Clin N Am 28:551–569. https://doi.org/10.1016/j.pmr.2017.03.007

14.

Nabors MW, Pait TG, Byrd EB, Karim NO, Davis DO, Kobrine AI, Rizzoli HV (1988) Updated assessment and current classification of spinal meningeal cysts. J Neurosurg 68:366–377. https://doi.org/10.3171/jns.1988.68.3.0366

15.

Paulsen RD, Call GA, Murtagh FR (1994) Prevalence and percutaneous drainage of cysts of the sacral nerve root sheath (Tarlov cysts). AJNR Am J Neuroradiol 15:293–297 (discussion 298-299)

16.

Bortoluzzi M, Di Lauro L, Marini G (1982) Benign intracranial hypertension with spinal and radicular pain. Case report. J Neurosurg 57:833–836. https://doi.org/10.3171/jns.1982.57.6.0833

17.

Round R, Keane JR (1988) The minor symptoms of increased intracranial pressure: 101 patients with benign intracranial hypertension. Neurology 38:1461–1464. https://doi.org/10.1212/WNL.38.9.1461

18.

Kincaid O, Rowin J (2006) Intracranial hypertension causing polyradiculopathy and late or absent F-waves. J Neurol Neurosurg Psychiatry 77:1384–1386. https://doi.org/10.1136/jnnp.2006.092387

19.

Wall M, Kupersmith MJ, Kieburtz KD, Corbett JJ, Feldon SE, Friedman DI, Katz DM, Keltner JL, Schron EB, McDermott MP, Nordic Idiopathic Intracranial Hypertension Study Group (2014) The idiopathic intracranial hypertension treatment trial: clinical profile at baseline. JAMA Neurol 71:693–701. https://doi.org/10.1001/jamaneurol.2014.133

20.

Sun JJ, Wang ZY, Teo M, Li ZD, Wu HB, Yen RY, Zheng M, Chang Q, Liu IY (2013) Comparative outcomes of the two types of sacral extradural spinal meningeal cysts using different operation methods: a prospective clinical study. PLoS ONE 8:e83964. https://doi.org/10.1371/journal.pone.0083964

21.

Hulens M, Bruyninckx F, Somers A, Stalmans I, Peersman B, Vansant G, Rasschaert R, De Mulder P, Dankaerts W (2017) Electromyography and a review of the literature provide insights into the role of sacral perineural cysts in unexplained chronic pelvic, perineal and leg pain syndromes. Int J Phys Med Rehabil 5:1000401–1000407. https://doi.org/10.4172/2329-9096.1000407

22.

Higgins JNP, Pickard JD, Lever AML (2017) Chronic fatigue syndrome and idiopathic intracranial hypertension: different manifestations of the same disorder of intracranial pressure? Med Hypotheses 105:6–9. https://doi.org/10.1016/j.mehy.2017.06.014

23.

Shams PN, Goadsby PJ, Crockard HA, Casey AT, Plant GT (2005) Paroxysmal raised intracranial pressure associated with spinal meningeal cysts. J Neurol 252:273–282. https://doi.org/10.1007/s00415-005-0430-y

24.

Haase J (1976) Papilledema associated with a sacral intraspinal cyst. Surg Neurol 6:360–362

25.

Bartels RH, Van Overbeeke JJ (1997) Lumbar cerebrospinal fluid drainage for symptomatic sacral nerve root cysts: an adjuvant diagnostic procedure and/or alternative treatment? Technical case report. Neurosurgery 40:861–864. https://doi.org/10.1097/00006123-199704000-00044 (discussion 864-865)

26.

Takemori T, Kakutani K, Maeno K, Akisue T, Kurosaka M, Nishida K (2014) Symptomatic perineural cyst: report of two cases treated with cyst-subarachnoid shunts. Eur Spine J 23(Suppl 2):267–270. https://doi.org/10.1007/s00586-014-3259-1

27.

Rodrigues T, Rodrigues M, Suriano I, Zymberg S (2018) Idiopathic intracranial hypertension associated with symptomatic perineural cysts: presentation of two cases. World Neurosurg 119:17–19. https://doi.org/10.1016/j.wneu.2018.07.198

28.

Gehlen M, Kurtcuoglu V, Daners MS (2017) Is posture-related craniospinal compliance shift caused by jugular vein collapse? A theoretical analysis. Fluids Barriers CNS 14:5. https://doi.org/10.1186/s12987-017-0053-6

29.

Smith DT (1961) Cystic formations associated with human spinal nerve roots. J Neurosurg 18:654–660. https://doi.org/10.3171/jns.1961.18.5.0654

30.

Kuhn FP, Hammoud S, Lefevre-Colau MM, Poiraudeau S, Feydy A (2017) Prevalence of simple and complex sacral perineural Tarlov cysts in a French cohort of adults and children. J Neuroradiol 44:38–43. https://doi.org/10.1016/j.neurad.2016.09.006

31.

Marino D, Carluccio MA, Di Donato I, Sicurelli F, Chini E, Di Toro Mammarella L, Rossi F, Rubegni A, Federico A (2013) Tarlov cysts: clinical evaluation of an italian cohort of patients. Neurol Sci 34:1679–1682. https://doi.org/10.1007/s10072-013-1321-0

32.

Henderson FC Sr, Austin C, Benzel E et al (2017) Neurological and spinal manifestations of the Ehlers-Danlos syndromes. Am J Med Genet C Semin Med Genet 175:195–211. https://doi.org/10.1002/ajmg.c.31549

33.

Hoshino Y, Edakuni H, Shimada H et al (2005) Sacral arachnoid cyst associated with marfan syndrome. Intern Med 44:271–273. https://doi.org/10.2169/internalmedicine.44.271

34.

Voermans NC, Hosman AJ, Van Alfen N, Bartels RH, De Kleuver M, Op den Akker JW, Van Engelen BG (2010) Radicular dysfunction due to spinal deformities in Marfan syndrome at older age: three case reports. Eur J Med Genet 53:35–39. https://doi.org/10.1016/j.ejmg.2009.10.006

35.

Weerasuriya A, Mizisin AP (2011) The blood-nerve barrier: structure and functional significance. Methods Mol Biol 686:149–173. https://doi.org/10.1007/978-1-60761-938-3_6

36.

Godel T, Pham M, Heiland S, Bendszus M, Baumer P (2016) Human dorsal-root-ganglion perfusion measured in vivo by MRI. Neuroimage 141:81–87. https://doi.org/10.1016/j.neuroimage.2016.07.030

37.

Mizisin AP, Weerasuriya A (2011) Homeostatic regulation of the endoneurial microenvironment during development, aging and in response to trauma, disease and toxic insult. Acta Neuropathol 121:291–312. https://doi.org/10.1007/s00401-010-0783-x

38.

Lowis CT, Zhang M, Amin NF (2016) Fine configuration of thoracic type II meningeal cysts: macro- and microscopic cadaveric study using epoxy sheet plastination. Spine 41:E1195–E1200. https://doi.org/10.1097/brs.0000000000001587

39.

Potts MB, McGrath MH, Chin CT, Garcia RM, Weinstein PR (2016) Microsurgical fenestration and paraspinal muscle pedicle flaps for the treatment of symptomatic sacral Tarlov cysts. World Neurosurg 86:233–242. https://doi.org/10.1016/j.wneu.2015.09.055

40.

Langdown AJ, Grundy JR, Birch NC (2005) The clinical relevance of Tarlov cysts. J Spinal Disord Tech 18:29–33. https://doi.org/10.1097/01.bsd.0000133495.78245.71

41.

Voyadzis JM, Bhargava P, Henderson FC (2001) Tarlov cysts: a study of 10 cases with review of the literature. J Neurosurg 95:25–32. https://doi.org/10.3171/spi.2001.95.1.0025

42.

Murphy K, Oaklander AL, Elias G, Kathuria S, Long DM (2016) Treatment of 213 patients with symptomatic Tarlov cysts by CT-guided percutaneous injection of fibrin sealant. AJNR Am J Neuroradiol 37:373–379. https://doi.org/10.3174/ajnr.A4517

43.

Holt S, Yates PO (1966) Cervical spondylosis and cysts of dorsal root ganglia. Proc R Soc Med 59:1146–1148

44.

Baek WS, Rezania K (2006) Tarlov cysts masquerading as peripheral neuropathy. Arch Neurol 63:1804–1805. https://doi.org/10.1001/archneur.63.12.1804

45.

Cattaneo L, Pavesi G, Mancia D (2001) Sural nerve abnormalities in sacral perineural (Tarlov) cysts. J Neurol 248:623–624. https://doi.org/10.1007/s004150170144

46.

Hulens M, Bruyninckx F, Dankaerts W, Vansant G, De Mulder PA (2016) Electromyographic abnormalities associated with symptomatic sacral Tarlov cysts. Pain Pract 16:E81–E88. https://doi.org/10.1111/papr.12441

47.

Naderi S (2016) Surgical approaches in symptomatic Tarlov cysts. World Neurosurg 86:20–21. https://doi.org/10.1016/j.wneu.2015.10.044

48.

Baker M, Wilson M, Wallach S (2018) Urogenital symptoms in women with Tarlov cysts. J Obstet Gynaecol Res 44:1817–1823. https://doi.org/10.1111/jog.13711

49.

Hulens M, Rasschaert R, Dankaerts W, Stalmans I, Vansant G, Bruyninckx F (2018) Spinal fluid evacuation may provide temporary relief for patients with unexplained widespread pain and fibromyalgia. Med Hypotheses 118:55–58. https://doi.org/10.1016/j.mehy.2018.06.017

50.

Dowsett LE, Clement F, Coward S, Lorenzetti DL, Noseworthy T, Sevick L, Spackman AE (2018) Effectiveness of surgical treatment for Tarlov cysts: a systematic review of published literature. Clin Spine Surg 31:377–384. https://doi.org/10.1097/bsd.0000000000000582

51.

Joo J, Kim J, Lee J (2010) The prevalence of anatomical variations that can cause inadvertent dural puncture when performing caudal block in Koreans: a study using magnetic resonance imaging. Anaesthesia 65:23–26. https://doi.org/10.1111/j.1365-2044.2009.06168.x

52.

Park HJ, Jeon YH, Rho MH, Lee EJ, Park NH, Park SI, Jo JH (2011) Incidental findings of the lumbar spine at MRI during herniated intervertebral disk disease evaluation. AJR Am J Roentgenol 196:1151–1155. https://doi.org/10.2214/AJR.10.5457

53.

Burdan F, Mocarska A, Janczarek M, Klepacz R, Losicki M, Patyra K, Brodzik A, Kiszka J, Chruscicka A, Zelzowska-Cieslinska I, Staroslawska E (2013) Incidence of spinal perineurial (Tarlov) cysts among East-European patients. PLoS ONE 8:e71514. https://doi.org/10.1371/journal.pone.0071514

54.

Acosta FL Jr, Quinones-Hinojosa A, Schmidt MH, Weinstein PR (2003) Diagnosis and management of sacral Tarlov cysts. Case report and review of the literature. Neurosurg Focus 15:E15. https://doi.org/10.3171/foc.2003.15.2.15

55.

Hulens MA, Dankaerts W, Rasschaert R, Bruyninckx F, Willaert ML, Vereecke C, Vansant G (2018) Can patients with symptomatic Tarlov cysts be differentiated from patients with specific low back pain based on comprehensive history taking? Acta Neurochir (Wien) 160:839–844. https://doi.org/10.1007/s00701-018-3494-z

56.

Jensen MC, Brant-Zawadzki MN, Obuchowski N, Modic MT, Malkasian D, Ross JS (1994) Magnetic resonance imaging of the lumbar spine in people without back pain. N Engl J Med 331:69–73. https://doi.org/10.1056/NEJM199407143310201

57.

Weishaupt D, Zanetti M, Boos N, Hodler J (1998) MR imaging of the lumbar spine: disk extrusion and sequestration, nerve root compression, endplate abnormalities and osteoarthritis of the facets joints are rare in asymptomatic volunteers. Radiology 209P:313. https://doi.org/10.1148/radiology.209.3.9844656

58.

Chilet-Rosell E (2014) Gender bias in clinical research, pharmaceutical marketing, and the prescription of drugs. Glob Health Action 7:25484. https://doi.org/10.3402/gha.v7.25484

59.

Manchikanti L, Kaye AD, Boswell MV, Hirsch JA (2015) Medical journal peer review: process and bias. Pain Physician 18:E1–E14

60.

Orr RD (2010) Vertebroplasty, cognitive dissonance, and evidence-based medicine: what do we do when the 'evidence' says we are wrong? Clevel Clin J Med 77:8–11. https://doi.org/10.3949/ccjm.77a.09146

61.

Young SN (2009) Bias in the research literature and conflict of interest: an issue for publishers, editors, reviewers and authors, and it is not just about the money. J Psychiatry Neurosci 34:412–417
Ethics declarations
Conflict of interest
The authors declare that they have no conflict of interest.
Additional information
Publisher's Note
Springer Nature remains neutral with regard to jurisdictional claims in published maps and institutional affiliations.
Electronic supplementary material
Below is the link to the electronic supplementary material.
About this article
Cite this article
Hulens, M., Rasschaert, R., Bruyninckx, F. et al. Symptomatic Tarlov cysts are often overlooked: ten reasons why—a narrative review. Eur Spine J 28, 2237–2248 (2019). https://doi.org/10.1007/s00586-019-05996-1
Received:

Revised:

Accepted:

Published:

Issue Date:
Keywords
Tarlov cysts

Meningeal cysts

Unexplained pain

Chronic pain

Intracranial hypertension