Abstract
Purpose
To implement a straightforward workflow that allows to establish augmented reality (AR) support in spine surgery.
Methods
Intraoperative computed tomography (iCT) applying a 32-slice movable scanner was used for navigation registration in a series of 10 patients who underwent surgery for extra- or intradural spinal lesions. Preoperative multimodal image data were integrated by nonlinear registration with the iCT images. Automatic segmentation was used to delineate the 3-dimensional (3-D) outline of the vertebra, and in addition, the tumor extent, as well as implants, was segmented and visualized.
Results
Automatic patient registration without user interaction resulted in high navigation accuracy with a mean registration error of only about 1 mm. Moreover, the workflow for establishing AR was straightforward and could be easily integrated in the normal surgical procedure. Low-dose iCT protocols resulted in a radiation exposure of 0.35–0.98 mSv for cervical, 2.16–6.92 mSv for thoracic, and 3.55–4.20 mSv for lumbar surgeries, which is a reduction in the effective radiation dose by 70%. The segmented structures were intuitively visualized in the surgical field using the heads-up display of the operating microscope. In parallel, the microscope video was superimposed with the segmented 3-D structures, which were visualized in a semitransparent manner along with various display modes of the image data.
Conclusions
A microscope-based AR environment was successfully implemented for spinal surgery. The application of iCT for registration imaging ensures high navigational accuracy. AR greatly supports the surgeon in understanding the 3-D anatomy thereby facilitating surgery.
Graphical abstract
These slides can be retrieved under Electronic Supplementary Material.

Access options
Buy single article
Instant access to the full article PDF.
US$ 39.95
Tax calculation will be finalised during checkout.
Subscribe to journal
Immediate online access to all issues from 2019. Subscription will auto renew annually.
US$ 119
Tax calculation will be finalised during checkout.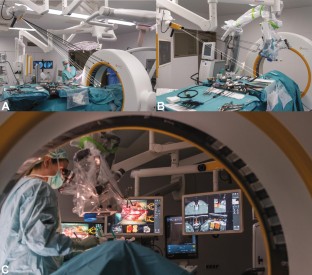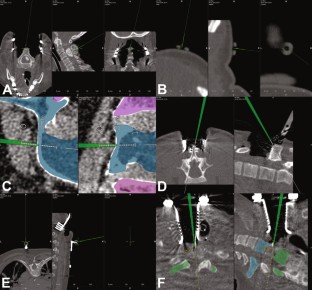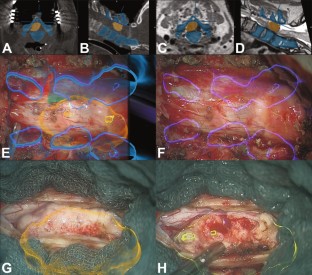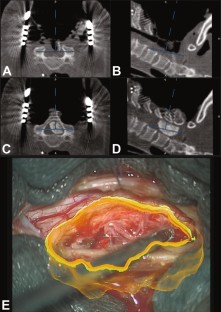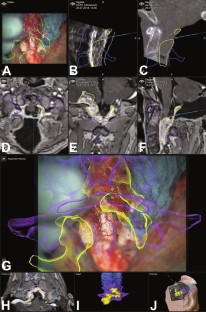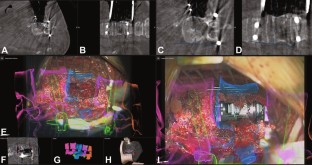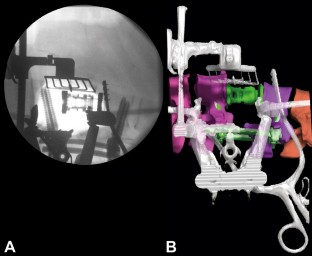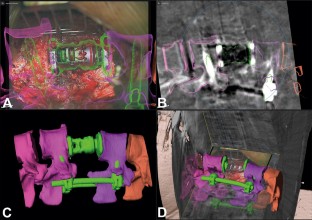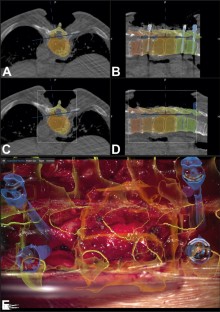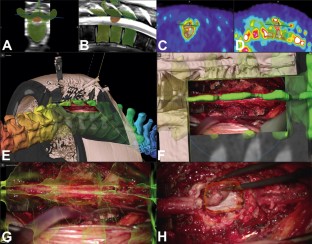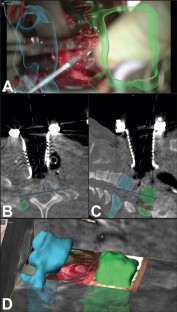 Acknowledgements
We would like to thank J.-W. Bartsch for thoroughly proofreading the manuscript.
Ethics declarations
Conflict of interest
B Carl, M. Bopp, B. Saß and B. Voellger declare that they have no conflict of interest. Ch. Nimsky received speaker fees from Brainlab.
Additional information
Publisher's Note
Springer Nature remains neutral with regard to jurisdictional claims in published maps and institutional affiliations.
Electronic supplementary material
Below is the link to the electronic supplementary material.
About this article
Cite this article
Carl, B., Bopp, M., Saß, B. et al. Implementation of augmented reality support in spine surgery. Eur Spine J 28, 1697–1711 (2019). https://doi.org/10.1007/s00586-019-05969-4
Received:

Revised:

Accepted:

Published:

Issue Date:
Keywords
Augmented reality

Intraoperative computed tomography

Low-dose computed tomography

Navigation registration

Spine tumor surgery