Abstract
Study design
A multicenter cross-sectional study.
Objectives
To clarify the relationship of trunk muscle mass with low back pain, spinal sagittal balance, and quality of life.
Summary of background data
Few reports have investigated the relationship of trunk muscle mass with lumbar spine function and spinal balance, and the clinical significance of trunk muscle mass remains unclear.
Methods
Patients attending spinal outpatient clinics at 10 different medical institutions were enrolled in this study. Patient demographics, trunk muscle mass and appendicular skeletal muscle mass (ASM) measured by bioelectrical impedance analysis (BIA), body mass index (BMI), Charlson Comorbidity Index (CCI), the Oswestry Disability Index (ODI), visual analog scale (VAS) for low back pain, sagittal vertical axis (SVA), and EuroQol 5 Dimension (EQ5D) score were investigated. Multivariate nonlinear regression analysis was used to investigate the association of trunk muscle mass with the ODI, VAS score, SVA, and EQ5D score.
Results
Of 2551 eligible patients, 1738 (mean age 70.2 ± 11.0 years; 781 men and 957 women) were enrolled. Trunk muscle mass was significantly correlated with the ODI, VAS score, SVA, and EQ5D score (P < 0.001) when adjusted for age, sex, BMI, ASM, CCI, and history of lumbar surgery. Patient deterioration was associated with a decrease in trunk muscle mass, and the deterioration accelerated from approximately 23 kg.
Conclusions
Trunk muscle mass was significantly associated with the ODI, VAS score, SVA, and EQ5D score. Trunk muscle mass may assume an important role to elucidate and treat lumbar spinal dysfunction and spinal imbalance.
Graphical abstract
These slides can be retrieved under Electronic Supplementary Material.

This is a preview of subscription content, log in to check access.
Access options
Buy single article
Instant access to the full article PDF.
US$ 39.95
Price includes VAT for USA
Subscribe to journal
Immediate online access to all issues from 2019. Subscription will auto renew annually.
US$ 199
This is the net price. Taxes to be calculated in checkout.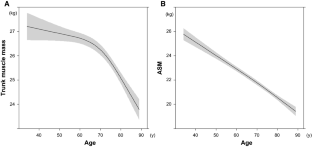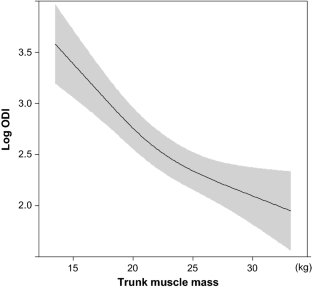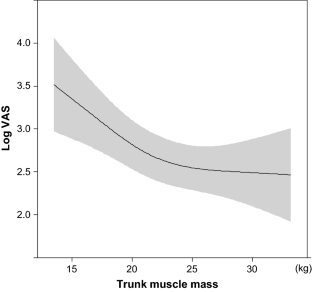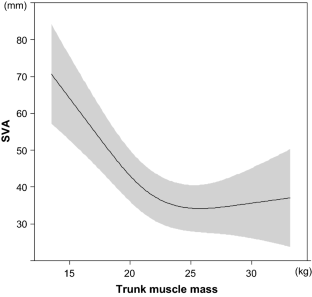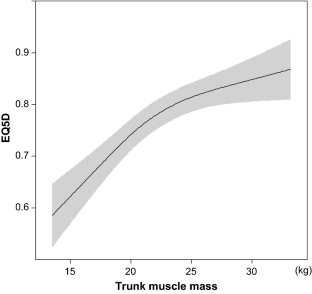 References
1.

Ministry of Health, Labour and Welfare. Overview of vital statistics in 2017. https://www.mhlw.go.jp/toukei/saikin/hw/jinkou/kakutei17/index.html. Accessed 14 Oct 2018

2.

Vos T, Allen C, Arora M et al (2016) Global, regional, and national incidence, prevalence, and years lived with disability for 310 diseases and injuries, 1990–2015: a systematic analysis for the Global Burden of Disease Study 2015. Lancet 388:1545–1602. https://doi.org/10.1016/S0140-6736(16)31678-6

3.

Hurwitz EL, Randhawa K, Yu H et al (2018) The Global Spine Care Initiative: a summary of the global burden of low back and neck pain studies. Eur Spine J. https://doi.org/10.1007/s00586-017-5432-9

4.

Glassman SD, Bridwell K, Dimar JR et al (2005) The impact of positive sagittal balance in adult spinal deformity. Spine (Phila Pa 1976) 30:2024–2029

5.

Hassanzadeh H, Jain A, El Dafrawy MH et al (2013) Three-column osteotomies in the treatment of spinal deformity in adult patients 60 years old and older: outcome and complications. Spine (Phila Pa 1976) 38:726–731. https://doi.org/10.1097/BRS.0b013e31827c2415

6.

Bhagat S, Vozar V, Lutchman L et al (2013) Morbidity and mortality in adult spinal deformity surgery: Norwich Spinal Unit experience. Eur Spine J 22:42–46. https://doi.org/10.1007/s00586-012-2627-y

7.

Soroceanu A, Burton DC, Oren JH et al (2016) Medical complications after adult spinal deformity surgery incidence, risk factors, and clinical impact. Spine (Phila Pa 1976) 41:1718–1723. https://doi.org/10.1097/BRS.0000000000001636

8.

Yagi M, Hosogane N, Watanabe K et al (2015) The paravertebral muscle and psoas for the maintenance of global spinal alignment in patient with degenerative lumbar scoliosis. Spine J 16:451–458. https://doi.org/10.1016/j.spinee.2015.07.001

9.

Hebert JJ, Kjaer P, Fritz JM, Walker BF (2014) The Relationship of lumbar multifidus muscle morphology to previous, current, and future low back pain. Spine (Phila Pa 1976) 39:1417–1425. https://doi.org/10.1097/BRS.0000000000000424

10.

Shahidi B, Parra CL, Berry DB et al (2017) Contribution of lumbar spine pathology and age to paraspinal muscle size and fatty infiltration. Spine (Phila Pa 1976) 42:616–623. https://doi.org/10.1097/BRS.0000000000001848

11.

Hyun S-J, Bae C-W, Lee S-H, Rhim S-C (2013) Fatty Degeneration of Paraspinal Muscle in Patients With the Degenerative Lumbar Kyphosis. J Spinal Disord Tech 29:1. https://doi.org/10.1097/BSD.0b013e3182aa28b0

12.

Menezes-Reis R, Bonugli GP, Salmon CEG et al (2018) Relationship of spinal alignment with muscular volume and fat infiltration of lumbar trunk muscles. PLoS ONE 13:1–16. https://doi.org/10.1371/journal.pone.0200198

13.

Jun HS, Kim JH, Ahn JH et al (2016) The effect of lumbar spinal muscle on spinal sagittal alignment: evaluating muscle quantity and quality. Neurosurgery 79:847–855. https://doi.org/10.1227/NEU.0000000000001269

14.

Teichtahl AJ, Urquhart DM, Wang Y et al (2015) Fat infiltration of paraspinal muscles is associated with low back pain, disability, and structural abnormalities in community-based adults. Spine J 15:1593–1601. https://doi.org/10.1016/J.SPINEE.2015.03.039

15.

Danneels LA, Vanderstraeten GG, Cambier DC et al (2000) CT imaging of trunk muscles in chronic low back pain patients and healthy control subjects. Eur Spine J 9:266–272. https://doi.org/10.1007/s005860000190

16.

Janssen I, Heymsfield SB, Ross R (2002) Low relative skeletal muscle mass (sarcopenia) in older persons is associated with functional impairment and physical disability. J Am Geriatr Soc 50:889–896. https://doi.org/10.1046/j.1532-5415.2002.50216.x

17.

Yoshida D, Shimada H, Park H et al (2014) Development of an equation for estimating appendicular skeletal muscle mass in Japanese older adults using bioelectrical impedance analysis. Geriatr Gerontol Int 14:851–857. https://doi.org/10.1111/ggi.12177

18.

Kim M, Shinkai S, Murayama H, Mori S (2015) Comparison of segmental multifrequency bioelectrical impedance analysis with dual-energy X-ray absorptiometry for the assessment of body composition in a community-dwelling older population. Geriatr Gerontol Int 15:1013–1022. https://doi.org/10.1111/ggi.12384

19.

Fujimoto K, Inage K, Eguchi Y et al (2018) Use of bioelectrical impedance analysis for the measurement of appendicular skeletal muscle mass/whole fat mass and its relevance in assessing osteoporosis among patients with low back pain: a comparative analysis using dual X-ray absorptiometry. Asian Spine J 12:839–845. https://doi.org/10.31616/asj.2018.12.5.839

20.

Chen LK, Liu LK, Woo J et al (2014) Sarcopenia in Asia: consensus report of the Asian working group for sarcopenia. J Am Med Dir Assoc 15:95–101. https://doi.org/10.1016/j.jamda.2013.11.025

21.

Cruz-Jentoft AJ, Baeyens JP, Bauer JM et al (2010) Sarcopenia: European consensus on definition and diagnosis. Age Ageing 39:412–423. https://doi.org/10.1093/ageing/afq034

22.

Shimokata H, Ando F, Yuki A, Otsuka R (2014) Age-related changes in skeletal muscle mass among community-dwelling Japanese: a 12-year longitudinal study. Geriatr Gerontol Int 14(Suppl 1):85–92. https://doi.org/10.1111/ggi.12219

23.

Doherty TJ (2003) Invited review: aging and sarcopenia. J Appl Physiol 95:1717–1727. https://doi.org/10.1152/japplphysiol.00347.2003

24.

Park S, Kim HJ, Ko BG et al (2016) The prevalence and impact of sarcopenia on degenerative lumbar spinal stenosis. Bone Joint J 98-B:1093–1098

25.

Tanishima S, Hagino H, Matsumoto H et al (2017) Association between sarcopenia and low back pain in local residents prospective cohort study from the GAINA study. BMC Musculoskelet Disord 18:1–6. https://doi.org/10.1186/s12891-017-1807-7

26.

Shahtahmassebi B, Hebert JJ, Hecimovich MD, Fairchild TJ (2017) Associations between trunk muscle morphology, strength and function in older adults. Sci Rep 7:1–10. https://doi.org/10.1038/s41598-017-11116-0

27.

Kjaer P, Bendix T, Sorensen JS et al (2007) Are MRI-defined fat infiltrations in the multifidus muscles associated with low back pain? BMC Med 5:2. https://doi.org/10.1186/1741-7015-5-2

28.

Kado DM, Huang MH, Karlamangla AS et al (2013) Factors associated with kyphosis progression in older women: 15 years' experience in the study of osteoporotic fractures. J Bone Miner Res 28:179–187. https://doi.org/10.1002/jbmr.1728

29.

Yamamoto J, Bergstrom J, Davis A et al (2017) Trunk lean mass and its association with 4 different measures of thoracic kyphosis in older community dwelling persons. PLoS ONE 12:1–10. https://doi.org/10.1371/journal.pone.0174710
Acknowledgements
The authors thank Satomi Kawabata, Yoshika Notani, Yuka Tatsumi, and Aiko Nakashima for their help in collecting the data and conducting interviews with the patients.
Funding
This work was financially supported by the Japanese Orthopaedic Association Research Grant.
Ethics declarations
Conflicts of interest
All authors declare that they have no competing interests; each author certifies that no commercial relationships exist that might pose a conflict of interest in connection with this article.
Ethical approval
This study was approved by the local ethics committee of the Faculty of Medicine, Osaka City University (number 3806).
Additional information
Publisher's Note
Springer Nature remains neutral with regard to jurisdictional claims in published maps and institutional affiliations.
Electronic supplementary material
Below is the link to the electronic supplementary material.
About this article
Cite this article
Hori, Y., Hoshino, M., Inage, K. et al. ISSLS PRIZE IN CLINICAL SCIENCE 2019: clinical importance of trunk muscle mass for low back pain, spinal balance, and quality of life—a multicenter cross-sectional study. Eur Spine J 28, 914–921 (2019). https://doi.org/10.1007/s00586-019-05904-7
Received:

Accepted:

Published:

Issue Date:
Keywords
Lumbar spine

Low back pain

Trunk muscles

Kyphosis

Sarcopenia