Abstract
Purpose
C-reactive protein (CRP) has been shown to be a powerful parameter for detecting acute postoperative spinal implant infections (PSII) with a high sensitivity and specificity. However, little data are available on the performance of CRP in the diagnosis of delayed PSII. The aim of the current study was therefore to establish cutoff values for diagnosing delayed infection based on serum CRP.
Methods
All patients who underwent a revision surgery after instrumented spinal fusion from January 2013 through January 2016 were included. Demographic data, laboratory values, type of infection (including microbiological and pathological results), comorbidities and clinical manifestation were collected. The European Bone and Joint Infection Society criteria, proposed to diagnose periprosthetic joint infection, were used to diagnose PSII.
Results
A total of 257 patients were included. PSII was diagnosed in 61 patients, representing 24% of the study cohort. There was a significant difference in serum CRP levels between septic and aseptic cohorts (19.3 vs. 4.8 mg/l, p < 0.001). However, 26 patients (43%) from the PSII group had a normal (< 5 mg/l) serum CRP level prior to revision surgery. According to the ROC curve, a serum CRP threshold of 4.05 mg/l had a sensitivity of 64% and specificity of 68%. The most common isolated microorganism was Propionibacterium spp. followed by coagulase-negative staphylococci.
Conclusion
Serum CRP showed low sensitivity and specificity for diagnosis of delayed PSII, even after applying cutoffs optimized by using receiver operating curve analysis, because of the high incidence of low-virulent pathogens.
Graphical abstract
These slides can be retrieved under Electronic Supplementary Material.

This is a preview of subscription content, log in to check access.
Access options
Buy single article
Instant access to the full article PDF.
US$ 39.95
Price includes VAT for USA
Subscribe to journal
Immediate online access to all issues from 2019. Subscription will auto renew annually.
US$ 199
This is the net price. Taxes to be calculated in checkout.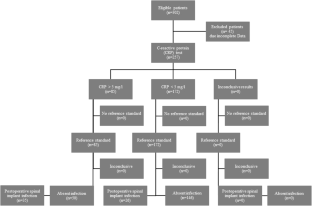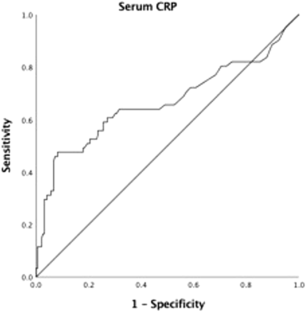 References
1.

Kowalski TJ, Berbari EF, Huddleston PM, Steckelberg JM, Mandrekar JN, Osmon DR (2007) The management and outcome of spinal implant infections: contemporary retrospective cohort study. Clin Infect Dis 44(7):913–920

2.

Piper KE, Fernandez-Sampedro M, Steckelberg KE et al (2010) C-reactive protein, erythrocyte sedimentation rate and orthopedic implant infection. PLoS ONE 5(2):e9358

3.

Kang BU, Lee SH, Ahn Y, Choi WC, Choi YG (2010) Surgical site infection in spinal surgery: detection and management based on serial C-reactive protein measurements. J Neurosurg Spine 13(2):158–164

4.

Mok JM, Pekmezci M, Piper SL et al (2008) Use of C-reactive protein after spinal surgery: comparison with erythrocyte sedimentation rate as predictor of early postoperative infectious complications. Spine 33(4):415–421

5.

Akgun D, Muller M, Perka C, Winkler T (2018) The serum level of C-reactive protein alone cannot be used for the diagnosis of prosthetic joint infections, especially in those caused by organisms of low virulence. Bone Joint J 100-B(11):1482–1486

6.

Hahn F, Zbinden R, Min K (2005) Late implant infections caused by Propionibacterium acnes in scoliosis surgery. Eur Spine J 14(8):783–788

7.

Charlson ME, Pompei P, Ales KL, MacKenzie CR (1987) A new method of classifying prognostic comorbidity in longitudinal studies: development and validation. J Chronic Dis 40(5):373–383

8.

Bossuyt PM, Reitsma JB, Bruns DE et al (2003) Towards complete and accurate reporting of studies of diagnostic accuracy: the STARD initiative. Clin Chem Lab Med 41(1):68–73

9.

von Elm E, Altman DG, Egger M et al (2007) The Strengthening the Reporting of Observational Studies in Epidemiology (STROBE) statement: guidelines for reporting observational studies. Epidemiology 18(6):800–804

10.

Ochsner PEBO, Bodler PM, Broger I, Eich G, Hefti F, Maurer T, Nötzli H, Seiler S, Suva D, Trampuz A, Uckay I, Vogt M, Zimmerli W (2016) Infections of the musculoskeletal system: basic principles, prevention, diagnosis and treatment. Swiss Orthopaedics In-House Publisher, Grandvaux

11.

Krenn V, Morawietz L, Perino G et al (2014) Revised histopathological consensus classification of joint implant related pathology. Pathol Res Pract 210(12):779–786

12.

Kim JI, Suh KT, Kim SJ, Lee JS (2010) Implant removal for the management of infection after instrumented spinal fusion. J Spinal Disord Tech 23(4):258–265

13.

Chen SH, Lee CH, Huang KC, Hsieh PH, Tsai SY (2015) Postoperative wound infection after posterior spinal instrumentation: analysis of long-term treatment outcomes. Eur Spine J 24(3):561–570

14.

Meredith DS, Kepler CK, Huang RC, Brause BD, Boachie-Adjei O (2012) Postoperative infections of the lumbar spine: presentation and management. Int Orthop 36(2):439–444

15.

Hu X, Lieberman IH (2018) Revision adult spinal deformity surgery: does the number of previous operations have a negative impact on outcome? Eur Spine J. https://doi.org/10.1007/s00586-018-5747-1

16.

Tzeng A, Tzeng TH, Vasdev S et al (2015) Treating periprosthetic joint infections as biofilms: key diagnosis and management strategies. Diagn Microbiol Infect Dis 81(3):192–200

17.

Zimmerli W, Moser C (2012) Pathogenesis and treatment concepts of orthopaedic biofilm infections. FEMS Immunol Med Microbiol 65(2):158–168

18.

Bemer P, Corvec S, Tariel S et al (2008) Significance of Propionibacterium acnes-positive samples in spinal instrumentation. Spine 33(26):E971–E976

19.

Collins I, Wilson-MacDonald J, Chami G et al (2008) The diagnosis and management of infection following instrumented spinal fusion. Eur Spine J 17(3):445–450

20.

Lewkonia P, DiPaola C, Street J (2016) Incidence and risk of delayed surgical site infection following instrumented lumbar spine fusion. J Clin Neurosci 23:76–80

21.

Portillo ME, Salvado M, Alier A et al (2013) Prosthesis failure within 2 years of implantation is highly predictive of infection. Clin Orthop Relat Res 471(11):3672–3678

22.

Ben-Galim P, Rand N, Giladi M et al (2006) Association between sciatica and microbial infection: true infection or culture contamination? Spine 31(21):2507–2509
Ethics declarations
Conflict of interest
The authors declare that they have no conflict of interest.
Electronic supplementary material
Below is the link to the electronic supplementary material.
About this article
Cite this article
Akgün, D., Bürger, J., Pumberger, M. et al. C-reactive protein misdiagnoses delayed postoperative spinal implant infections in patients with low-virulent microorganisms. Eur Spine J 28, 2990–2995 (2019). https://doi.org/10.1007/s00586-019-05889-3
Received:

Accepted:

Published:

Issue Date:
Keywords
Infection

Spine surgery

CRP

Diagnostic

Posterior fusion

Revision surgery