Abstract
Introduction
Vertebral involvement is found in a high percentage of multiple myeloma (MM) patients, often requiring multilevel surgical treatment to reduce pain and disability and to receive prompt access to oncological care. We describe the clinical use of washout technique for multilevel vertebroplasty in MM patients with diffuse spinal involvement. The aim of this technique is to reduce the risk of pulmonary fat embolism after cement injection and possibly to increment the amount of cement and treated levels in one surgical stage.
Methods
Three patients were treated with the washout technique prior to multilevel vertebroplasty for thoracolumbar diffuse spinal involvement in multiple myeloma. We describe the surgical technique and review the pertinent literature.
Results
The technique is clinically safe and effective in reducing pain, without significant complications. Two six-level vertebroplasties were performed in one case, allowing a larger amount of cement injected and a prompt start of the oncological treatment.
Conclusions
Multilevel vertebroplasty in MM patients with diffuse spinal involvement carries the advantages of reducing pain, avoid repeated surgeries and faster return to oncological regimen. Cardiovascular complications, including pulmonary embolism, are rare but can have fatal consequences. It is mainly due to bone marrow mobilization during cement injection and the risk increases with the amount of cement injected and the number of treated levels. Despite multilevel treatment at the same stage, we did not observe any significant complication in our series. Further studies are needed to confirm the preliminary results of this technique.
Graphical abstract
These slides can be retrieved under electronic supplementary material.

Access options
Buy single article
Instant access to the full article PDF.
USD 39.95
Price includes VAT (USA)
Tax calculation will be finalised during checkout.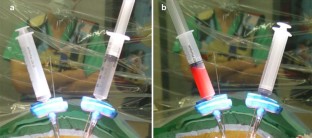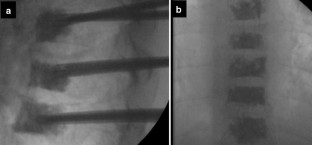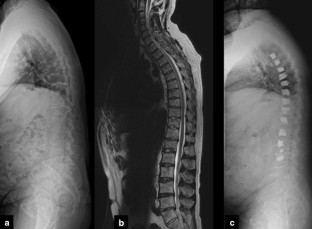 References
1.

Gerszten PC, Welch WC (2000) Current surgical management of metastatic spinal disease. Oncology 14(7):1013–1024. discussion 1024, 1029–1030

2.

Khan O, Brinjikji W, Kallmes DF (2014) Vertebral augmentation in patients with multiple myeloma: a pooled analysis of published case series. Am J Neuroradiol 35(1):207–210

3.

Erdem E, Samant R, Malak S, Culp W, Brown A, Peterson L, Lensing S, Barlogie B (2013) Vertebral augmentation in the treatment of pathologic compression fractures in 792 patients with multiple myeloma. Leukemia 27(12):2391

4.

Aebli N, Krebs J, Schwenke D, Davis G, Theis J-C (2003) Pressurization of vertebral bodies during vertebroplasty causes cardiovascular complications: an experimental study in sheep. Spine 28(14):1513–1519

5.

Hussein M, Vrionis F, Allison R, Berenson J, Berven S, Erdem E, Giralt S, Jagannath S, Kyle R, LeGrand S (2008) The role of vertebral augmentation in multiple myeloma: international Myeloma Working Group Consensus Statement. Leukemia 22(8):1479

6.

Benneker LM, Heini PF, Suhm N, Gisep A (2008) The effect of pulsed jet lavage in vertebroplasty on injection forces of polymethylmethacrylate bone cement, material distribution, and potential fat embolism: a cadaver study. Spine 33(23):E906–E910

7.

Boger A, Benneker LM, Krebs J, Boner V, Heini PF, Gisep A (2009) The effect of pulsed jet lavage in vertebroplasty on injection forces of PMMA bone cement: an animal study. Eur Spine J 18(12):1957

8.

Hoppe S, Elfiky T, Keel MJB, Aghayev E, Ecker TM, Benneker LM (2016) Lavage prior to vertebral augmentation reduces the risk for cement leakage. Eur Spine J 25:3463–3469

9.

Benneker LM, Krebs J, Boner V, Boger A, Hoerstrup S, Heini PF, Gisep A (2010) Cardiovascular changes after PMMA vertebroplasty in sheep: the effect of bone marrow removal using pulsed jet-lavage. Eur Spine J 19(11):1913–1920

10.

Boszczyk BM, Bierschneider M, Hauck S, Beisse R, Potulski M, Jaksche H (2005) Transcostovertebral kyphoplasty of the mid and high thoracic spine. Eur Spine J 14(10):992–999. https://doi.org/10.1007/s00586-005-0943-1

11.

Roodman G (2009) Pathogenesis of myeloma bone disease. Leukemia 23(3):435

12.

Lecouvet FE, Vande Berg BC, Maldague BE, Michaux L, Laterre E, Michaux J-L, Ferrant A, Malghem J (1997) Vertebral compression fractures in multiple myeloma. Part I. Distribution and appearance at MR imaging. Radiology 204(1):195–199

13.

Chen L-H, Hsieh M-K, Niu C-C, Fu T-S, Lai P-L, Chen W-J (2012) Percutaneous vertebroplasty for pathological vertebral compression fractures secondary to multiple myeloma. Arch Orthop Trauma Surg 132(6):759–764

14.

Gangi A, Guth S, Imbert JP, Marin H, Dietemann J-L (2003) Percutaneous vertebroplasty: indications, technique, and results. Radiographics 23(2):e10–e10

15.

Audat ZA, Hajyousef MH, Fawareh MD, Alawneh KM, Odat MA, Barbarawi MM, Alomari AA, Jahmani RA, Khatatbeh MA, Assmairan MA (2016) Comparison if the addition of multilevel vertebral augmentation to conventional therapy will improve the outcome of patients with multiple myeloma. Scoliosis Spinal Disord 29(11):47

16.

Mellor A, Soni N (2001) Fat embolism. Anaesthesia 56(2):145–154

17.

Wiles MD, Nowicki RW, Hancock SM, Boszczyk B (2009) Anaesthesia for vertebroplasty and kyphoplasty. Curr Anaesth Crit Care 20(1):38–41

18.

Syed MI, Jan S, Patel NA, Shaikh A, Marsh RA, Stewart RV (2006) Fatal fat embolism after vertebroplasty: identification of the high-risk patient. AJNR Am J Neuroradiol 27(2):343–345

19.

Heini P, Orler R (2004) Vertebroplasty in severe osteoporosis. Technique and experience with multi-segment injection. Der Orthopade 33(1):22–30

20.

Katonis P, Hadjipavlou A, Souvatzis X, Tzermiadianos M, Alpantaki K, Simmons JW (2012) Respiratory effects, hemodynamic changes and cement leakage during multilevel cement balloon kyphoplasty. Eur Spine J 21(9):1860–1866. https://doi.org/10.1007/s00586-012-2400-2

21.

Mailli L, Filippiadis DK, Brountzos EN, Alexopoulou E, Kelekis N, Kelekis A (2013) Clinical outcome and safety of multilevel vertebroplasty: clinical experience and results. Cardiovasc Intervent Radiol 36(1):183–191. https://doi.org/10.1007/s00270-012-0379-z

22.

Zhang JJ, Zhou Y, Hu HY, Sun YJ, Wang YG, Gu YF, Wu CG, Shen Z, Yao Y (2017) Safety and efficacy of multilevel vertebroplasty for painful osteolytic spinal metastases: a single-centre experience. Eur Radiol 27(8):3436–3442. https://doi.org/10.1007/s00330-016-4683-x

23.

Zhan Y, Jiang J, Liao H, Tan H, Yang K (2017) Risk factors for cement leakage after vertebroplasty or kyphoplasty: a meta-analysis of published evidence. World Neurosurg 101:633–642

24.

Hoppe S, Wangler S, Aghayev E, Gantenbein B, Boger A, Benneker LM (2016) Reduction of cement leakage by sequential PMMA application in a vertebroplasty model. Eur Spine J 25(11):3450–3455

25.

Mohamed R, Silbermann C, Ahmari A, Bohner M, Becker S, Baroud G (2010) Cement filling control and bone marrow removal in vertebral body augmentation by unipedicular aspiration technique: an experimental study using leakage model. Spine 35(3):353–360

26.

La Maida GA, Giarratana LS, Acerbi A, Ferrari V, Mineo GV, Misaggi B (2012) Cement leakage: safety of minimally invasive surgical techniques in the treatment of multiple myeloma vertebral lesions. Eur Spine J 21(1):61–68
Ethics declarations
Conflict of interest
None of the authors has any potential conflict of interest.
Electronic supplementary material
Below is the link to the electronic supplementary material.
About this article
Cite this article
Hershkovich, O., Lucantoni, C., Kapoor, S. et al. Bone marrow washout for multilevel vertebroplasty in multiple myeloma spinal involvement. Technical note.. Eur Spine J 28, 1455–1460 (2019). https://doi.org/10.1007/s00586-018-5804-9
Received:

Accepted:

Published:

Issue Date:
Keywords
Multiple myeloma

Vertebroplasty

Fat pulmonary embolism

Vertebral washout

Lavage