Abstract
Purpose
Scoliosis surgery in Marfan syndrome is common, even in the presence of a funnel chest. However, to date, no case has been reported with acute intra-/postoperative decompensation caused by vena cava compression following posterior spinal derotation and fusion.
Methods
A 15-year-old male patient with Marfan syndrome, a funnel chest and severe scoliosis was treated with surgery for the spinal deformity. Intraoperatively, the patient developed a clinically relevant compression of the inferior vena cava with severe circular depression. Postoperatively, a cava compression syndrome with severe pleural effusion, ascites and enormous swelling of the lower limbs was developed. A conservative treatment of the symptoms, consisting of thoracic drainage and negative fluid balance, failed. Subsequently, the patient was transferred to pediatric intensive care unit for further treatment. Echocardiography and a CT scan demonstrated cava compression syndrome. A rescue Nuss procedure of the funnel chest deformity was performed since conservative treatment failed. The clinical course proceeded without complications and with a decrease in clinical symptoms of inferior inflow congestion. The patient was discharged after almost 3 weeks.
Conclusion
The problem of congenital stenosis of the inferior vena cava in Marfan syndrome has not yet been investigated. In the case of simultaneously existing funnel chest and scoliosis in Marfan syndrome, an interdisciplinary discussion is required to decide whether a repair of the funnel chest should be performed first in order to prevent a clinically relevant compression syndrome. For the detection of a preoperatively relevant stenosis of the inferior vena cava, an MRI or thoracic/abdominal CT should be used preoperatively.
Access options
Buy single article
Instant access to the full article PDF.
USD 39.95
Price excludes VAT (USA)
Tax calculation will be finalised during checkout.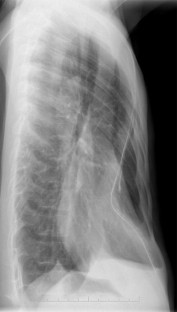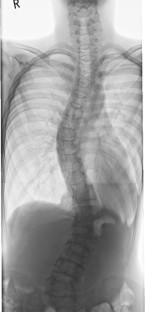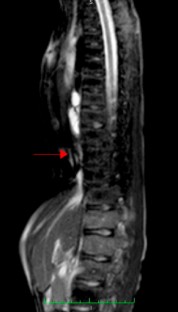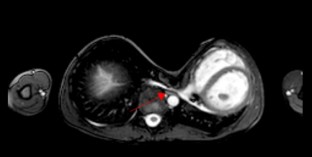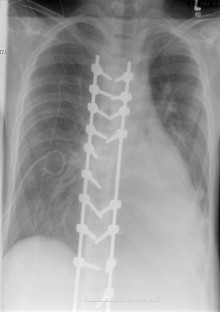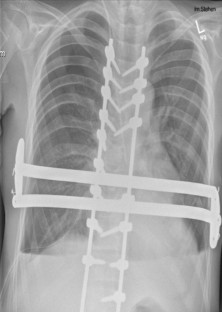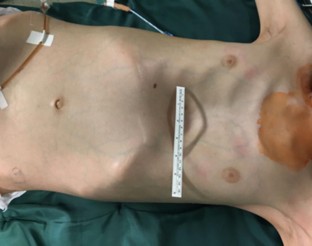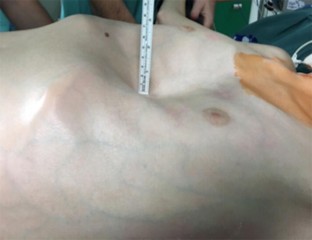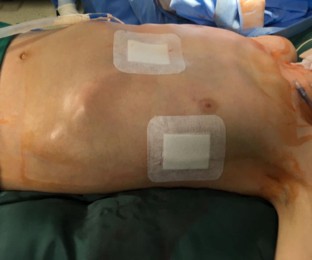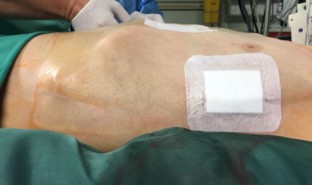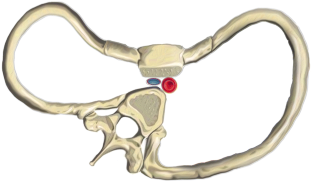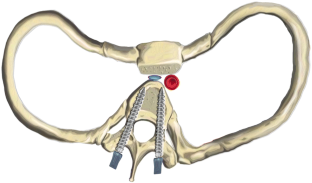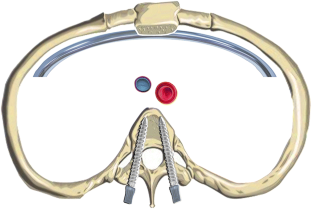 References
Brochhausen C, Turial S, Müller FK et al (2012) Pectus excavatum: history, hypotheses and treatment options. Interact CardioVasc Thorac Surg 14:801–806

Cobben JM, Oostra RJ, van Dijk FS (2014) Pectus excavatum and carinatum. Eur J Med Genet 57:414–417

Nuss D, Kelly RE Jr, Croitoru DP et al (1998) A 10-year review of a minimally invasive technique for the correction of pectus excavatum. J Pediatr Surg 33:545–552

Coln D, Gunning T, Ramsay M et al (2002) Early experience with the Nuss minimally invasive correction of pectus excavatum in adults. World J Surg 26:1217

Park HJ, Lee SY, Lee CS, Youm W, Lee KR (2004) The Nuss procedure for pectus excavatum: evolution of techniques and early results on 322 patients. Ann Thorac Surg 77:289–295

Nuss D, Obermeyer RJ, Kelly RE (2016) Nuss bar procedure: past, present and future. Ann Cardiothorac Surg 5:422–433

Mueller GC, Stark VC, Steiner K, von Kodolitsch Y, Rybczynski M, Weil J, Mir TS (2013) Impact of age and gender on cardiac pathology in children and adolescents with marfan syndrome. Pediatr Cardiol 34(4):991–998

Loeys BL, Dietz HC, Braverman AC et al (2010) The revised Ghent nosology for the Marfan syndrome. J Med Genet 47:476–485

Palladino E, Nsenda J, Siboni R et al (2014) A giant mesenteric desmoid tumor revealed by acute pulmonary embolism due to compression of the inferior vena cava. Am J Case Rep 15:374–377

Serdar A, Ufuk C, Dilek K et al (2013) Neonatal neuroblastoma with inferior vena cava syndrome. APSP J Case Rep 4:10

Krywko DM, Bhimji SS (2017) Aortocaval compression syndrome. StatPearls Publishing, Treasure Islan

Ghazal SN, Ouf SG (2015) Inferior vena cava stenosis: echocardiographic diagnosis in Marfan syndrome. Glob Cardiol Sci Pract 2015:50

Koc Z, Oguzkurt L (2007) Interruption or congenital stenosis of the inferior vena cava: prevalence, imaging, and clinical findings. Eur J Radiol 62:257–266
Ethics declarations
Conflict of interest
None of the authors has any potential conflict of interest.
About this article
Cite this article
Löhnhardt, M., Hättich, A., Andresen, A. et al. Rescue Nuss procedure for inferior vena cava compression syndrome following posterior scoliosis surgery in Marfan syndrome. Eur Spine J 28 (Suppl 2), 31–36 (2019). https://doi.org/10.1007/s00586-018-5772-0
Received:

Revised:

Accepted:

Published:

Issue Date:

DOI: https://doi.org/10.1007/s00586-018-5772-0
Keywords
Marfan syndrome

Funnel chest

Posterior spinal fusion

Nuss procedure

Inferior vena cava syndrome

Inferior inflow congestion