Abstract
Purpose
To clarify the clinical features, surgical strategies, and outcomes of intraosseous schwannoma (IOS) of the mobile spine.
Methods
We retrospectively reviewed patients with primary benign spinal schwannoma who underwent surgery in our orthopedic department.
Results
A total of 101 patients with primary benign schwannoma located in the mobile spine underwent surgery in our orthopedic department from 2005 to 2015. Twenty-five patients presented with aggressive features. Twenty patients were regularly followed up, twelve with lesions in the cervical spine, six with lesions in the thoracic region, and two with lesions in the lumbar spine. Preoperative CT-guided biopsy was performed in fourteen cases; the accuracy of diagnosis was 100%, and IOS is not histologically different from conventional schwannoma. The computed tomography (CT) scan revealed expansile and osteolytic bone destruction in all these cases, with six patients having pathological fracture. On T2-weighted magnetic resonance imaging, the lobulated schwannomas showed heterogeneous signal intensity and significant heterogeneous enhancement on post-contrast images. Gross total resection was performed in seventeen patients and subtotal resection in three. Tumor-involved nerve roots resection were documented to decrease local recurrence in fourteen cases. The visual analog scale score decreased from 5.66 ± 1.79 preoperatively to 1.16 ± 1.77 at the final follow-up. No local recurrence was noticed at the final follow-up.
Conclusion
CT-guided biopsy is effective for the preoperative diagnosis of spinal IOS. Total resection is the optimal treatment for IOS, whereas subtotal resection could be an alternative choice for high-risk cases.
Graphical abstract
These slides can be retrieved under electronic supplementary material.

This is a preview of subscription content, log in to check access.
Access options
Buy single article
Instant access to the full article PDF.
US$ 39.95
Price includes VAT for USA
Subscribe to journal
Immediate online access to all issues from 2019. Subscription will auto renew annually.
US$ 199
This is the net price. Taxes to be calculated in checkout.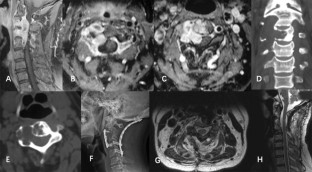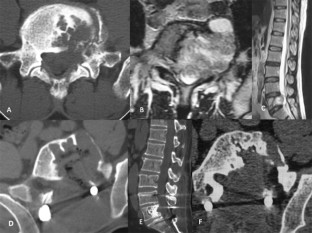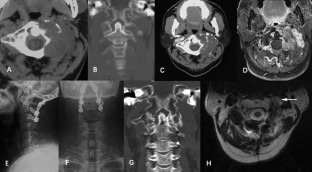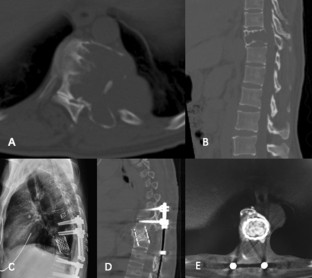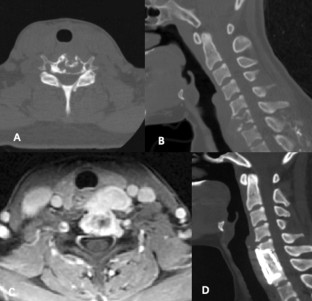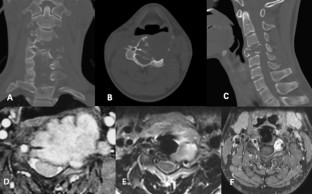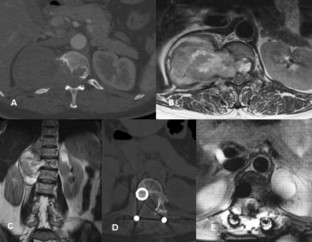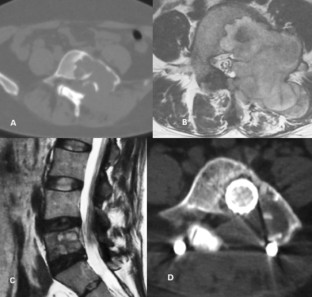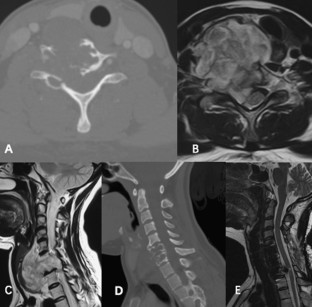 References
1.

Park S, Chung S, Choe G, Kim H (2009) Spinal Intraosseous schwannoma: a case report and review. J Korean Neurosurg Soc 46:403. https://doi.org/10.3340/jkns.2009.46.4.403

2.

Engelhard HH, Villano JL, Porter KR, Stewart AK, Barua M, Barker FG, Newton HB (2010) Clinical presentation, histology, and treatment in 430 patients with primary tumors of the spinal cord, spinal meninges, or cauda equina. J Neurosurg Spine 13:67–77. https://doi.org/10.3171/2010.3.SPINE09430

3.

Sridhar K, Ramamurthi R, Vasudevan MC, Ramamurthi B (2001) Giant invasive spinal schwannomas: definition and surgical management. J Neurosurg 94:210–215

4.

Jiang L, Lv Y, Liu XG, Ma QJ, Wei F, Dang GT, Liu ZJ (2009) Results of surgical treatment of cervical dumbbell tumors: surgical approach and development of an anatomic classification system. Spine (Phila Pa 1976) 34:1307–1314. https://doi.org/10.1097/brs.0b013e3181a27a32

5.

Fawcett KJ, Dahlin DC (1967) Neurilemmoma of bone. Am J Clin Pathol 47:759–766

6.

Peng X, Chen L, Du H, Lai Y, Li F, Zou X (2011) Malignant transformation of benign intraosseous schwannoma in the cervical spine: a case report with an immunohistochemical study. Int Surg 96:337–344

7.

Inaoka T, Takahashi K, Hanaoka H, Aburano R, Tokusashi Y, Matsuno T, Sugimoto H, Furuse M (2001) Paravertebral neurinoma associated with aggressive intravertebral extension. Skeletal Radiol 30:286–289

8.

Song D, Chen Z, Song D, Li Z (2014) Lumbar intraosseous schwannoma: case report and review of the literature. Turk Neurosurg 24:982–986. https://doi.org/10.5137/1019-5149.JTN.10054-13.0

9.

Cohen DM, Dahlin DC, Maccarty CS (1964) Apparently solitary tumors of the vertebral column. Mayo Clin Proc 39:509–528

10.

Dickson JH, Waltz TA, Fechner RE (1971) Intraosseous neurilemoma of the third lumbar vertebra. J Bone Joint Surg Am 53:349–355

11.

Mohanty CB, Rao KV, Sampath S (2012) Pediatric cervical intraosseous schwannoma. Pediatr Neurosurg 48:364–370. https://doi.org/10.1159/000351734

12.

Cetinkal A, Atabey C, Kaya S, Colak A, Topuz AK (2009) Intraosseous schwannoma of thoracic 12 vertebra without spinal canal involvement. Eur Spine J 18(Suppl 2):236–239. https://doi.org/10.1007/s00586-009-0922-z

13.

Nannapaneni R, Sinar EJ (2005) Intraosseous schwannoma of the cervical spine. Br J Neurosurg 19:244–247. https://doi.org/10.1080/02688690500207546

14.

Schreuder HW, Veth RP, Pruszczynski M, Lemmens JA, van Laarhoven EW (2001) Intraosseous schwannoma (neurilemmoma) of the cervical spine. Sarcoma 5:101–103. https://doi.org/10.1155/S1357714X01000196

15.

Conti P, Pansini G, Mouchaty H, Capuano C, Conti R (2004) Spinal neurinomas: retrospective analysis and long-term outcome of 179 consecutively operated cases and review of the literature. Surg Neurol 61(34–43):44

16.

Yu NH, Lee SE, Jahng TA, Chung CK (2012) Giant invasive spinal schwannoma: its clinical features and surgical management. Neurosurgery 71:58–66. https://doi.org/10.1227/NEU.0b013e31824f4f96

17.

Uchiyama T, Sakakibara R, Hattori T, Yamanishi T (2004) Lower urinary tract dysfunctions in patients with spinal cord tumors. Neurourol Urodyn 23:68–75. https://doi.org/10.1002/nau.10070

18.

Agha FP, Lilienfeld RM (1972) Roentgen features of osseous neurilemmoma. Radiology 102:325–326. https://doi.org/10.1148/102.2.325

19.

Matsumoto Y, Harimaya K, Kawaguchi K, Hayashida M, Okada S, Doi T, Iwamoto Y (2016) Dumbbell scoring system: a new method for the differential diagnosis of malignant and benign spinal dumbbell tumors. Spine (Phila Pa 1976) 41:E1230–E1236. https://doi.org/10.1097/brs.0000000000001582

20.

Li B, Yin H, Meng T, Zhou P, Han Z, Jia Q, Cai W, Han S, Wang T, Chen T, Zhou W, Xiao J (2016) Clinical features and prognostic factors of patients with nerve sheath tumors in the cervical spine. Spine (Phila Pa 1976) 41:E1208–E1215. https://doi.org/10.1097/brs.0000000000001595

21.

Ahn D, Park H, Choi D, Kim K, Kim T, Park S (2009) The surgical treatment for spinal intradural extramedullary tumors. Clin Orthop Surg 1:165. https://doi.org/10.4055/cios.2009.1.3.165*

22.

Kim P, Ebersold MJ, Onofrio BM, Quast LM (1989) Surgery of spinal nerve schwannoma. Risk of neurological deficit after resection of involved root. J Neurosurg 71:810–814. https://doi.org/10.3171/jns.1989.71.6.0810

23.

George B, Lot G (1995) Neurinomas of the first two cervical nerve roots: a series of 42 cases. J Neurosurg 82:917–923. https://doi.org/10.3171/jns.1995.82.6.0917

24.

Li P, Zhao F, Zhang J, Wang Z, Wang X, Wang B, Yang Z, Yang J, Gao Z, Liu P (2016) Clinical features of spinal schwannomas in 65 patients with schwannomatosis compared with 831 with solitary schwannomas and 102 with neurofibromatosis Type 2: a retrospective study at a single institution. J Neurosurg Spine 24:145–154. https://doi.org/10.3171/2015.3.SPINE141145

25.

Fehlings MG, Nater A, Zamorano JJ, Tetreault LA, Varga PP, Gokaslan ZL, Boriani S, Fisher CG, Rhines L, Bettegowda C, Kawahara N, Chou D (2016) Risk factors for recurrence of surgically treated conventional spinal schwannomas: analysis of 169 patients from a multicenter international database. Spine (Phila Pa 1976) 41:390–398. https://doi.org/10.1097/brs.0000000000001232

26.

Klekamp J, Samii M (1998) Surgery of spinal nerve sheath tumors with special reference to neurofibromatosis. Neurosurgery 42:279–289 (discussion 289–290)
Acknowledgements
Yong Qiang Wang, Jin Xin Hu, and Shao Min Yang contributed equally to this paper.
Funding
This study was funded by Peking University Third Hospital (Y71508-01).
Ethics declarations
Conflict of interest
There is no other conflict of interest.
Electronic supplementary material
Below is the link to the electronic supplementary material.
About this article
Cite this article
Wang, Y.Q., Hu, J.X., Yang, S.M. et al. Intraosseous schwannoma of the mobile spine: a report of twenty cases. Eur Spine J 27, 3092–3104 (2018). https://doi.org/10.1007/s00586-018-5766-y
Received:

Revised:

Accepted:

Published:

Issue Date:
Keywords
Intraosseous schwannoma

Mobile spine

Surgery

Prognosis

Biopsy