Abstract
Purpose
Degenerative spondylolisthesis (DS) is a degenerative condition of the spine which, unlike others, is more common in a female population. Previous studies have highlighted possible causative factors such as facet tropism and pregnancy as reasons for this. This study sets out to assess the possible link between abdominal musculature and DS.
Method
A prospective cross-sectional cohort study in a single surgeon practice assessed all patients aged over 50 years attending for degenerative lumbar spinal complaints. Patient demographics, as well as the number of pregnancies, children, abdominal surgical procedures, were recorded.
Results
We found 205 patients that met our inclusion criteria (98 Males/107 Females). Women with multiple pregnancies (p = 0.036) and abdominal surgeries (p = 0.021) were more likely to develop DS. Males with ventral hernias were more likely to have developed DS (p = 0.004).
Conclusion
This study highlights the important role that the abdominal musculature plays in stabilization of the spine and highlights its potential role as a factor in the development of DS.
Graphical abstract
These slides can be retrieved under Electronic Supplementary Material.

This is a preview of subscription content, log in to check access.
Access options
Buy single article
Instant access to the full article PDF.
US$ 39.95
Price includes VAT for USA
Subscribe to journal
Immediate online access to all issues from 2019. Subscription will auto renew annually.
US$ 199
This is the net price. Taxes to be calculated in checkout.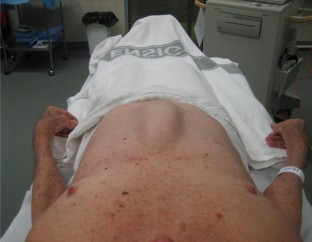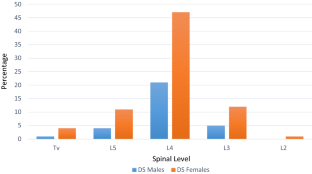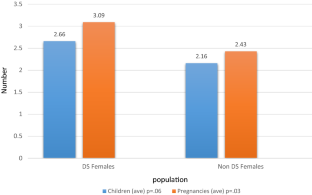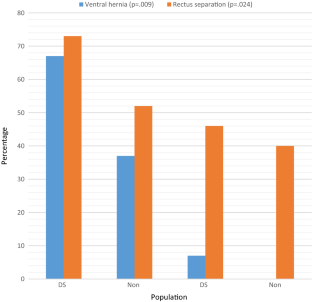 References
1.

Sanderson PL, Fraser RD (1996) The influence of pregnancy on the development of degenerative spondylolisthesis. J Bone Jt Surg Br 78(6):951–954

2.

Imada K, Matsui H, Tsuji H (1995) Oophorectomy predisposes to degenerative spondylolisthesis. J Bone Jt Surg Br 77(1):126–130

3.

Cholewicki J, Lee A, Popovich LW et al (2017) Degenerative spondylolisthesis is related to multiparity and hysterectomy in older women. Spine 42(21):1643–1647

4.

Grobler LJ, Robertson PA, Novotny JE, Pope MH (1993) Etiology of spondylolisthesis. Assessment of the role played by lumbar facet joint morphology. Spine 18(1):80–91

5.

Ferreo E, Ould-Slimane M, Gille O et al (2015) Sagittal spinopelvic alignment in 654 degenerative spondylolisthesis. Eur Spine J 24:1219–1227

6.

Berlemann U, Jeszenszky DJ, Buhler DW, Harms J (1999) The role of lumbar lordosis, vertebral end-plate inclination, disc height, facet orientation in degenerative spondylolisthesis. J Spinal Disord 12(1):68–73

7.

Tomoaki T, Tomoyuki O, Koya K et al (2009) Facet joint orientation difference between cephalad and caudad portions: a possible cause of degenerative spondylolisthesis. Spine 34(21):2259–2262

8.

Enyo Y, Yoshimura N, Yamada H et al (2015) Radiographic natural course of lumbar degenerative spondylolisthesis and its risk factors related to the progression and onset in a 15-year community-based cohort study: the Miyama study. J Orthop Sci 20(6):978–984

9.

Smorgick Y, Mirovsky Y, Rischgrund JS et al (2014) Radiographic predisposing factors for degenerative spondylolisthesis. Orthopaedics 37(3):e260-4

10.

Love TW, Fagan AB, Fraser RD (1999) Degenerative spondylolisthesis. Developmental or acquired? J Bone Jt Surg Br 81-B:670–674

11.

Farfan HF, Cossette JW, Robertson GH, Wells RV, Kraus H (1970) The effects of torsion on the lumbar intervertebral joints: the role of torsion in the production of disc degeneration. J Bone Jt Surg Am 52(3):468–497

12.

Macintosh JE, Pearcy MJ, Bogduk N (1993) The axial torque of the lumbar back muscles: torsion strength of the back muscles. Aust N Z J Surg 63(3):205–212

13.

Meyerding H (1932) Spondylolisthesis: surgical treatment and results. Surg Gynecol Obstet 54:371–377

14.

Jacobsen S, Sonne-Holm S, Rovsing H (2007) Degenerative lumbar spondylolisthesis: an epidemiological perspective: the Copenhagen Osteoarthritis study. Spine 32(1):120–125

15.

Hodges PW, Richardson CA (1996) Inefficient muscular stabilization of the lumbar spine associated with low back pain. A motor control evaluation of transversus abdominis. Spine 21:2640–2650

16.

Stokes IAF, Gardner-Morse MG, Henry SM (2011) Abdominal muscle activation increases lumbar spinal stability. Analysis of contributions of different muscle groups. Clin Biomech 26(8):797–803

17.

Brown SHM, McGill SM (2008) How the inherent stiffness of the in vivo human trunk varies with changing magnitudes of muscular activation? Clin Biomech 23(1):15–22

18.

Lee JH, Hoshino Y, Nakamura K et al (1999) Trunk muscle weakness as a risk factor for low back pain. Spine 24(1):54–57

19.

Beimborn DS, Morrisey MC (1988) A review of the literature related to trunk muscle performance. Spine 13(6):655–660

20.

de Vries Reilingh TS, van Goor H, Charbon JA et al (2007) Repair of giant midline abdominal wall hernias: "components separation technique" versus prosthetic repair interim analysis of a randomized controlled trial. World J Surg 31(4):756–763

21.

Farfan HF (1980) The pathological anatomy of degenerative spondylolisthesis: a cadaver study. Spine 5:412–418

22.

Kelsy JL, Githens PB, White AA 3rd et al (1984) An epidemiological study of lifting and twisting on the job and risk for acute prolapsed lumbar intervertebral disc. J Orthop Res 2:61–66

23.

Veres SP, Robertson PA, Broom ND (2010) The influence of torsion on disc herniation when combined with flexion. Eur Spine J 19(9):1468–1478

24.

Drake JD, Aultman CD, McGill SM et al (2005) The influence of static axial torque in combined loading on intervertebral joint failure mechanics using a porcine model. Clin Biomech 20:1038–1045

25.

Adams MA, Hutton WC (1981) The relevance of torsion to the mechanical derangement of the lumbar spine. Spine 6:241–248

26.

Vleeming A, Schuenke MD, Danneels L, Willard FH (2014) The functional coupling of the deep abdominal and paraspinal muscles: the effects of simulated paraspinal muscle contraction on force transfer to the middle and posterior layer of the thoracolumbar fascia. J Anat 225:447–462

27.

Zhu R, Niu WX, Zeng ZL et al (2017) The Effects of Muscle weakness on degenerative spondylolisthesis: a finite element study. Clin Biomech 41:34–38

28.

Nagaosa Y, Kikuchi S, Hasue M, Sato S (1998) Pathoanatomic mechanisms of degenerative spondylolisthesis. A radiographic study. Spine 23(13):1447–1451

29.

Kim HJ, Chun HJ, Lee HM et al (2013) The biomechanical influence of the facet joint orientation and the facet tropism in the lumbar spine. Spine J 13(10):1301–1308

30.

Dar G, Peled N (2014) The association between sacralization and spondylolisthesis. Anat Sci Int 89(3):156–160

31.

Kong CG, Park JS, Park JB (2008) Sacralization of L5 in radiological studies of degenerative spondylolisthesis at L4–L5. Asian Spine J 2(1):34–37

32.

Lc He, Wang YX, Gong JS et al (2014) Prevalence and risk factors of lumbar spondylolisthesis in elderly Chinese men and women. Eur Radiol 24(2):441–448
Ethics declarations
Conflict of interest
The authors declare that they have no conflict of interest.
Electronic supplementary material
Below is the link to the electronic supplementary material.
About this article
Cite this article
Fraser, R.D., Brooks, F. & Dalzell, K. Degenerative spondylolisthesis: a prospective cross-sectional cohort study on the role of weakened anterior abdominal musculature on causation. Eur Spine J 28, 1406–1412 (2019). https://doi.org/10.1007/s00586-018-5758-y
Received:

Revised:

Accepted:

Published:

Issue Date:
Keywords
Degenerative

Spondylolisthesis

Pregnancy

Abdominal musculature