Abstract
Purpose
The aim of this study was to evaluate factors that distinguish between patients with adult spinal deformity (ASD) with and without an indication for surgery, irrespective of their final treatment.
Methods
Baseline variables (demographics, medical history, outcome measures, coronal, sagittal and neurologic parameters) were evaluated in a multicentre, prospective cohort of patients with ASD. Multivariable analyses were carried out for idiopathic and degenerative patients separately with the dependent variable being "indication for surgery" and baseline parameters as independent variables.
Results
In total, 342 patients with degenerative ASD and 624 patients with idiopathic ASD were included in the multivariable models. In patients with degenerative ASD, the parameters associated with having an indication for surgery were greater self-rated disability on the Oswestry Disability Index [odds ratio (OR) 1.04, 95% confidence interval (CI) 1.02–1.07] and a lower thoracic kyphosis (OR 0.97 95% CI 0.95–0.99), whereas in patients with idiopathic ASD, it was lower (worse) SRS self-image scores (OR 0.45 95% CI 0.32–0.64), a higher value for the major Cobb angle (OR 1.03 95% CI 1.01–1.05), lower age (OR 0.96 95% CI 0.95–0.98), prior decompression (OR 3.76 95% CI 1.00–14.08), prior infiltration (OR 2.23 95% CI 1.12–4.43), and the presence of rotatory subluxation (OR 1.98 95% CI 1.11–3.54) and sagittal subluxation (OR 4.38 95% CI 1.61–11.95).
Conclusion
Specific sets of variables were found to be associated with an indication for surgery in patients with ASD. These should be investigated in relation to patient outcomes for their potential to guide the future development of decision aids in the treatment of ASD.
Graphical abstract
These slides can be retrieved under Electronic Supplementary Material.

This is a preview of subscription content, log in to check access.
Access options
Buy single article
Instant access to the full article PDF.
US$ 39.95
Price includes VAT for USA
Subscribe to journal
Immediate online access to all issues from 2019. Subscription will auto renew annually.
US$ 199
This is the net price. Taxes to be calculated in checkout.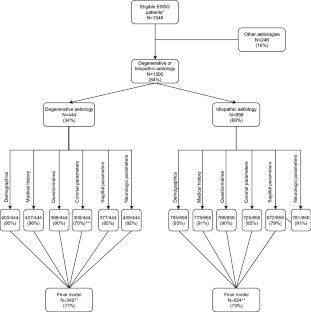 References
1.

Birknes JK, White AP, Albert TJ, Shaffrey CI, Harrop JS (2008) Adult degenerative scoliosis: a review. Neurosurgery 63(3 Suppl):94–103. https://doi.org/10.1227/01.neu.0000325485.49323.b2

2.

Baldus C, Bridwell KH, Harrast J, Edwards C 2nd, Glassman S, Horton W, Lenke LG, Lowe T, Mardjetko S, Ondra S, Schwab F, Shaffrey C (2008) Age-gender matched comparison of SRS instrument scores between adult deformity and normal adults: are all SRS domains disease specific? Spine 33(20):2214–2218. https://doi.org/10.1097/BRS.0b013e31817c0466

3.

Baldus C, Bridwell K, Harrast J, Shaffrey C, Ondra S, Lenke L, Schwab F, Mardjetko S, Glassman S, Edwards C 2nd, Lowe T, Horton W, Polly D Jr (2011) The Scoliosis Research Society Health-Related Quality of Life (SRS-30) age-gender normative data: an analysis of 1346 adult subjects unaffected by scoliosis. Spine 36(14):1154–1162. https://doi.org/10.1097/BRS.0b013e3181fc8f98

4.

Berven S, Deviren V, Demir-Deviren S, Hu SS, Bradford DS (2003) Studies in the modified Scoliosis Research Society Outcomes Instrument in adults: validation, reliability, and discriminatory capacity. Spine 28(18):2164–2169. https://doi.org/10.1097/01.brs.0000084666.53553.d6 (discussion 2169)

5.

Dickson JH, Mirkovic S, Noble PC, Nalty T, Erwin WD (1995) Results of operative treatment of idiopathic scoliosis in adults. J Bone Joint Surg Am 77(4):513–523

6.

Pellise F, Vila-Casademunt A, Ferrer M, Domingo-Sabat M, Bago J, Perez-Grueso FJ, Alanay A, Mannion AF, Acaroglu E (2015) Impact on health related quality of life of adult spinal deformity (ASD) compared with other chronic conditions. Eur Spine J 24(1):3–11. https://doi.org/10.1007/s00586-014-3542-1

7.

Glassman SD, Schwab FJ, Bridwell KH, Ondra SL, Berven S, Lenke LG (2007) The selection of operative versus nonoperative treatment in patients with adult scoliosis. Spine 32(1):93–97. https://doi.org/10.1097/01.brs.0000251022.18847.77

8.

Smith JS, Fu KM, Urban P, Shaffrey CI (2008) Neurological symptoms and deficits in adults with scoliosis who present to a surgical clinic: incidence and association with the choice of operative versus nonoperative management. J Neurosurg Spine 9(4):326–331. https://doi.org/10.3171/spi.2008.9.10.326

9.

Bess S, Boachie-Adjei O, Burton D, Cunningham M, Shaffrey C, Shelokov A, Hostin R, Schwab F, Wood K, Akbarnia B (2009) Pain and disability determine treatment modality for older patients with adult scoliosis, while deformity guides treatment for younger patients. Spine 34(20):2186–2190. https://doi.org/10.1097/BRS.0b013e3181b05146

10.

Pekmezci M, Berven SH, Hu SS, Deviren V (2009) The factors that play a role in the decision-making process of adult deformity patients. Spine 34(8):813–817. https://doi.org/10.1097/BRS.0b013e3181851ba6

11.

Fu KM, Bess S, Shaffrey CI, Smith JS, Lafage V, Schwab F, Burton DC, Akbarnia BA, Ames CP, Boachie-Adjei O, Deverin V, Hart RA, Hostin R, Klineberg E, Gupta M, Kebaish K, Mundis G, Mummaneni PV (2014) Patients with adult spinal deformity treated operatively report greater baseline pain and disability than patients treated nonoperatively; however, deformities differ between age groups. Spine 39(17):1401–1407. https://doi.org/10.1097/brs.0000000000000414

12.

Fu KM, Smith JS, Sansur CA, Shaffrey CI (2010) Standardized measures of health status and disability and the decision to pursue operative treatment in elderly patients with degenerative scoliosis. Neurosurgery 66(1):42–47. https://doi.org/10.1227/01.neu.0000361999.29279.e6 (discussion 47)

13.

Pizones J, Perez Martin-Buitrago M, Perez-Grueso FJ, Vila-Casademunt A, Alanay A, Obeid I, Kleinstuck F, Acaroglu ER, Pellise F (2017) Function and clinical symptoms are the main factors that motivate thoracolumbar adult scoliosis patients to pursue surgery. Spine 42(1):E31-e36. https://doi.org/10.1097/brs.0000000000001694

14.

Fujishiro T, Boissiere L, Cawley DT, Larrieu D, Gille O, Vital JM, Pellise F, Perez-Grueso FJS, Kleinstuck F, Acaroglu E, Alanay A, Obeid I (2018) Decision-making factors in the treatment of adult spinal deformity. Eur Spine J. https://doi.org/10.1007/s00586-018-5572-6

15.

Maruyama T, Takeshita K (2009) Surgery for idiopathic scoliosis: currently applied techniques. Clin Med Pediatrics 3:39–44

16.

Datta S, Everett CR, Trescot AM, Schultz DM, Adlaka R, Abdi S, Atluri SL, Smith HS, Shah RV (2007) An updated systematic review of the diagnostic utility of selective nerve root blocks. Pain Phys 10(1):113–128

17.

Manchikanti L, Kaye AD, Boswell MV, Bakshi S, Gharibo CG, Grami V, Grider JS, Gupta S, Jha SS, Mann DP, Nampiaparampil DE, Sharma ML, Shroyer LN, Singh V, Soin A, Vallejo R, Wargo BW, Hirsch JA (2015) A systematic review and best evidence synthesis of the effectiveness of therapeutic facet joint interventions in managing chronic spinal pain. Pain Phys 18(4):E535–E582

18.

Schwab F, Dubey A, Gamez L, El Fegoun AB, Hwang K, Pagala M, Farcy JP (2005) Adult scoliosis: prevalence, SF-36, and nutritional parameters in an elderly volunteer population. Spine 30(9):1082–1085

19.

Ames CP, Scheer JK, Lafage V, Smith JS, Bess S, Berven SH, Mundis GM, Sethi RK, Deinlein DA, Coe JD, Hey LA, Daubs MD (2016) Adult spinal deformity: epidemiology, health impact, evaluation, and management. Spine Deform 4(4):310–322. https://doi.org/10.1016/j.jspd.2015.12.009
Acknowledgements
The European Spine Study Group is sponsored by a Johnson and Johnson DePuy-Synthes Spine research grant.
Ethics declarations
Conflict of interest
None of the authors has any potential conflict of interest.
Electronic supplementary material
Below is the link to the electronic supplementary material.
About this article
Cite this article
Richner-Wunderlin, S., Mannion, A.F., Vila-Casademunt, A. et al. Factors associated with having an indication for surgery in adult spinal deformity: an international european multicentre study. Eur Spine J 28, 127–137 (2019). https://doi.org/10.1007/s00586-018-5754-2
Received:

Revised:

Accepted:

Published:

Issue Date:
Keywords
Adult spinal deformity

Indication for surgery

Decision-making

Multivariable analyses

Prognostic factors