Abstract
Background
We present a rare case of Paget's disease (PD) with involvement of the lumbar spine over a period of 19 years. We discuss the diagnostic process to rule out alternative diagnoses and medical and surgical treatment strategies.
Case description
A 58-year-old man first diagnosed with PD in 1998 with solid involvement of the 4th lumbar vertebra has been undergoing periodic examinations over a period of 18 years. Since then, the patient has been treated conservatively with bisphosphonates. When conservative treatment options have been exhausted, surgery was indicated due to a progressively reduced ability to walk. Surgery with undercutting decompression via laminotomy was performed. PD was confirmed by biopsy. Bisphosphonate treatment was continued pre- and postoperatively. Follow-up examinations showed an improvement in clinical outcome measures.
Conclusions
Conservative treatment remains the gold standard for PD with spinal involvement. This patient had been asymptomatic on bisphosphonate therapy for almost 17 years, but presented with new onset back pain. In such cases, fracture and rare conversion into sarcoma must be ruled out, and biopsy should be performed even in the absence of signs of malignancy. Currently, there are no clear treatment recommendations available in the literature regarding cases of PD with expansive growth and involvement of the spinal canal causing neurologic deficits. Furthermore, laminectomy has been shown to cause complications in up to 27% of cases with the risk of early postoperative death. In contrast, extended laminotomy and undercutting decompression should be considered.
This is a preview of subscription content, log in to check access.
Access options
Buy single article
Instant access to the full article PDF.
US$ 39.95
Price includes VAT for USA
Subscribe to journal
Immediate online access to all issues from 2019. Subscription will auto renew annually.
US$ 199
This is the net price. Taxes to be calculated in checkout.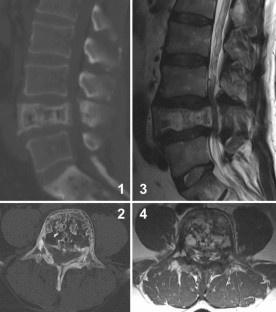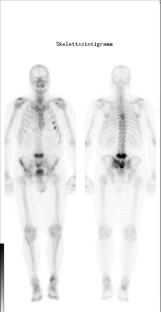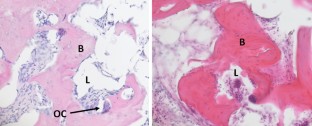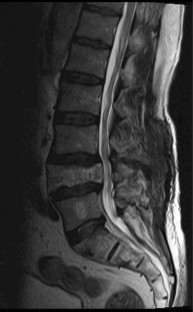 References
1.

Corral-Gudino L, Tan AJ, Del Pino-Montes J et al (2017) Bisphosphonates for Paget's disease of bone in adults. Cochrane Database Syst Rev 12:CD004956

2.

Dell'Atti C, Cassar-Pullicino VN, Lalam RK et al (2007) The spine in Paget's disease. Skelet Radiol 36:609–626

3.

Hadjipavlou AG, Gaitanis LN, Katonis PG et al (2001) Paget's disease of the spine and its management. Eur Spine J 10:370–384

4.

Jorge-Mora A, Amhaz-Escanlar S, Lois-Iglesias A et al (2016) Surgical treatment in spine Paget's disease: a systematic review. Eur J Orthop Surg Traumatol 26:27–30

5.

Morales H (2015) MR imaging findings of Paget's disease of the spine. Clin Neuroradiol 25:225–232

6.

Pestka JM, Seitz S, Zustin J et al (2012) Paget disease of the spine: an evaluation of 101 patients with a histomorphometric analysis of 29 cases. Eur Spine J 21:999–1006

7.

Poor G, Donath J, Fornet B et al (2006) Epidemiology of Paget's disease in Europe: the prevalence is decreasing. J Bone Miner Res 21:1545–1549

8.

Ralston SH (2013) Clinical practice. Paget's disease of bone. N Engl J Med 368:644–650

9.

Sofka CM, Ciavarra G, Saboeiro G et al (2006) Paget's disease of the spine and secondary osteosarcoma. HSS J 2:188–190
Ethics declarations
Conflict of interest
The authors declare that they have no conflict of interest.
Informed consent
All authors confirmed consent for publication.
About this article
Cite this article
Hofmann, A., Opitz, S., Heyde, C.E. et al. Paget's disease of the lumbar spine: decompressive surgery following 17 years of bisphosphonate treatment. Eur Spine J 27, 3066–3070 (2018). https://doi.org/10.1007/s00586-018-5751-5
Received:

Accepted:

Published:

Issue Date:
Keywords
Paget's disease

Bisphosphonates

Lumbar stenosis

Neurogenic claudication

Spinal decompression