Abstract
Purpose
Various techniques for anterior column reconstruction have been described after en bloc resection of spinal tumors. Limited evidence exists regarding one being superior to another. The purpose of this study is to evaluate 3D-printed vertebral bodies for spinal reconstruction after en bloc resection in the thoracolumbar spine.
Methods
Prospective observational study on custom-made 3D-printed titanium reconstruction of vertebral bodies after en bloc resection for spinal tumor was conducted between November 2015 and June 2017. 3D-printed vertebral bodies were monitored for mechanical complications such as (1) migration, (2) subsidence into the adjacent vertebral bodies, and/or (3) breakage. Complications and related details were recorded.
Results
Thirteen patients (7 females and 6 males) were enrolled, and reconstruction of the anterior column was performed using custom-made 3D-printed titanium prosthesis after en bloc resection for spinal tumor (8 primary bone tumors and 5 solitary metastases). Subsidence into the adjacent vertebral bodies occurred in all patients at both proximal and distal bone–implant interfaces; however, it was clinically irrelevant (asymptomatic, and no consequences on posterior instrumentation), in 11 out of 12 patients (92%). In 1 patient (#4), severity of the subsidence led to revision of the construct. At an average 10-month follow-up (range 2–16), 1 implant was removed due to local recurrence of the disease and 1 was revisioned due to progressive distal junctional kyphosis.
Conclusion
Preliminary results from this series suggest that 3D printing can be effectively used to produce custom-made prosthesis for anterior column reconstruction.
Graphical abstract
These slides can be retrieved under Electronic Supplementary Material.

This is a preview of subscription content, log in to check access.
Access options
Buy single article
Instant access to the full article PDF.
US$ 39.95
Price includes VAT for USA
Subscribe to journal
Immediate online access to all issues from 2019. Subscription will auto renew annually.
US$ 199
This is the net price. Taxes to be calculated in checkout.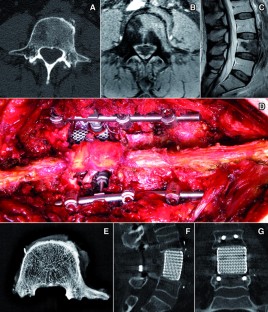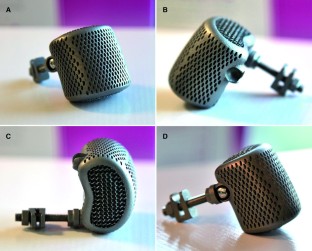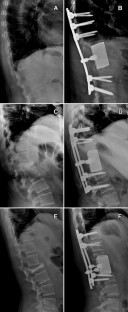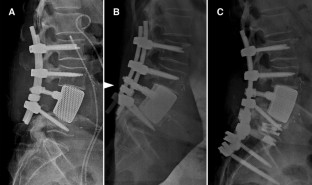 References
1.

Lewandrowski KU, Hecht AC, DeLaney TF, Chapman PA, Hornicek FJ, Pedlow FX (2004) Anterior spinal arthrodesis with structural cortical allografts and instrumentation for spine tumor surgery. Spine (Phila Pa 1976) 29(10):1150–1158

2.

Bridwell KH, Lenke LG, McEnery KW, Baldus C, Blanke K (1995) Anterior fresh frozen structural allografts in the thoracic and lumbar spine. Do they work if combined with posterior fusion and instrumentation in adult patients with kyphosis or anterior column defects? Spine (Phila Pa 1976) 20(12):1410–1418

3.

Dvorak MF, Kwon BK, Fisher CG, Eiserloh HL 3rd, Boyd M, Wing PC (2003) Effectiveness of titanium mesh cylindrical cages in anterior column reconstruction after thoracic and lumbar vertebral body resection. Spine (Phila Pa 1976) 28(9):902–908

4.

Boriani S, Biagini R, Bandiera S, Gasbarrini A, De Iure F (2002) Reconstruction of the anterior column of the thoracic and lumbar spine with a carbon fiber stackable cage system. Orthopedics 25(1):37–42

5.

Viswanathan A, Abd-El-Barr MM, Doppenberg E et al (2012) Initial experience with the use of an expandable titanium cage as a vertebral body replacement in patients with tumors of the spinal column: a report of 95 patients. Eur Spine J 21(1):84–92

6.

Glennie RA, Rampersaud YR, Boriani S et al (2016) A systematic review with consensus expert opinion of best reconstructive techniques after osseous en bloc spinal column tumor resection. Spine (Phila Pa 1976) 41(Suppl 20):S205–S211

7.

Dahlin DC, Unni KK (1986) Bone tumors: general aspects and data on 8542 cases, 4th edn. Charles C Thomas, Springfield (IL)

8.

Aaron AD (1994) The management of cancer metastatic to bone. JAMA 272(15):1206–1209

9.

Tomita K, Toribatake Y, Kawahara N, Ohnari H, Kose H (1994) Total en bloc spondylectomy and circumspinal decompression for solitary spinal metastasis. Paraplegia 32(1):36–46

10.

Xu N, Wei F, Liu X et al (2016) Reconstruction of the upper cervical spine using a personalized 3D-printed vertebral body in an adolescent with Ewing Sarcoma. Spine (Phila Pa 1976) 41(1):E50–E54

11.

Mobbs RJ, Coughlan M, Thompson R, Sutterlin CE 3rd, Phan K (2017) The utility of 3D printing for surgical planning and patient-specific implant design for complex spinal pathologies: case report. J Neurosurg Spine 26(4):513–518

12.

Gasbarrini A, Boriani S, Capanna R et al (2014) Management of patients with metastasis to the vertebrae: recommendations from the Italian Orthopaedic Society (SIOT) Bone Metastasis Study Group. Expert Rev Anticancer Ther 14(2):143–150

13.

Gasbarrini A, Li H, Cappuccio M et al (2010) Efficacy evaluation of a new treatment algorithm for spinal metastases. Spine (Phila Pa 1976) 35(15):1466–1470

14.

Cappuccio M, Gasbarrini A, Van Urk P, Bandiera S, Boriani S (2008) Spinal metastasis: a retrospective study validating the treatment algorithm. Eur Rev Med Pharmacol Sci. 12(3):155–160

15.

Charest-Morin R, Fisher CG, Varga PP et al (2017) En bloc resection versus intralesional surgery in the treatment of giant cell tumor of the spine. Spine (Phila Pa 1976) 42(18):1383–1390

16.

Versteeg AL, Dea N, Boriani S, Varga PP, Luzzati A, Fehlings MG et al (2017) Surgical management of spinal osteoblastomas. J Neurosurg Spine 7:1–7

17.

Dekutoski MB, Clarke MJ, Rose P et al (2016) Osteosarcoma of the spine: prognostic variables for local recurrence and overall survival, a multicenter ambispective study. J Neurosurg Spine 25(1):59–68

18.

Fisher CG, Versteeg AL, Dea N et al (2016) Surgical management of spinal chondrosarcomas. Spine (Phila Pa 1976) 41(8):678–685

19.

Gokaslan ZL, Zadnik PL, Sciubba DM et al (2016) Mobile spine chordoma: results of 166 patients from the AOSpine Knowledge Forum Tumor database. J Neurosurg Spine. 24(4):644–651

20.

Enneking WF, Spanier SS, Goodman MA (1980) A system for the surgical staging of musculoskeletal sarcoma. Clin Orthop Relat Res 153:106–120

21.

Boriani S, Weinstein JN, Biagini R (1997) Primary bone tumors of the spine. Terminology and surgical staging. Spine (Phila Pa 1976) 22(9):1036–1044

22.

Hart RA, Boriani S, Biagini R, Currier B, Weinstein JN (1997) A system for surgical staging and management of spine tumors: a clinical outcome study of giant cell tumors of the spine. Spine (Phila Pa 1976) 22(15):1773–1782

23.

Boriani S, Fischer CG (2015) Evaluation and decision making. In: Gokaslan ZL, Fisher CG, Boriani S (eds) AOSpine masters series (Vol2)—primary spinal tumors. Thiemem, New York

24.

Li JP, Li SH, Van Blitterswijk CA, de Groot K (2005) A novel porous Ti6Al4 V: characterization and cell attachment. J Biomed Mater Res A. 73(2):223–233

25.

Palmquist A, Snis A, Emanuelsson L, Browne M, Thomsen P (2013) Long-term biocompatibility and osseointegration of electron beam melted, free-form-fabricated solid and porous titanium alloy: experimental studies in sheep. J Biomater Appl 27(8):1003–1016

26.

Herrera A, Yánez A, Martel O, Afonso H, Monopoli D (2014) Computational study and experimental validation of porous structures fabricated by electron beam melting: a challenge to avoid stress shielding. Mater Sci Eng 45:89–93

27.

McDonnell MF, Glassman SD, Dimar JR 2nd, Puno RM, Johnson JR (1996) Perioperative complications of anterior procedures on the spine. J Bone Joint Surg Am 78(6):839–847

28.

Gasbarrini A, Simoes CE, Amendola L et al (2012) Influence of a thread wire saw guide and spinal cord protector device in "en bloc" vertebrectomies. J Spinal Disord Tech. 25(2):E7–E12

29.

Salem KM, Fisher CG (2016) Anterior column reconstruction with PMMA: an effective long-term alternative in spinal oncologic surgery. Eur Spine J 25(12):3916–3922
Acknowledgements
Authors acknowledge the invaluable contribution of Cristiana Griffoni and Carlo Piovani for patient storage and data collection.
Ethics declarations
Conflict of interest
None.
Electronic supplementary material
Below is the link to the electronic supplementary material.
About this article
Cite this article
Girolami, M., Boriani, S., Bandiera, S. et al. Biomimetic 3D-printed custom-made prosthesis for anterior column reconstruction in the thoracolumbar spine: a tailored option following en bloc resection for spinal tumors. Eur Spine J 27, 3073–3083 (2018). https://doi.org/10.1007/s00586-018-5708-8
Received:

Accepted:

Published:

Issue Date:
Keywords
En bloc resection

Metastases

Primary bone tumor

Spinal reconstruction

Spine surgery

Spinal tumors

3D printing