Abstract
Purpose
Traditional open approach is an efficient way to treat lumbar spinal stenosis (SS) combined with disk herniation (DH); however, risk factors such as advanced age, osteoporosis etc. are associated with the complications after the surgery. This study aims to analyze the early clinical and radiological outcomes of treatment on SS&DH by using newly developed minimal invasive TESSYS-ISEE technique.
Methods
Patients with limp and unilateral lower limb radiculopathy underwent minimal invasive surgery by using TESSYS-ISEE technique. The visual analogue scale score (VAS) and Oswestry Disability Index (ODI) were evaluated before operation and 1, 3, 6 and 12 months after surgery. The clinical global outcomes were also evaluated using modified MacNab criteria after surgery.
Results
A total of 32 cases underwent operation by using TESSYS-ISEE technique from December 2016 to December 2017. The mean age for the study group was 53.9 ± 11.14 years and the ratio between male and female was 1.29:1; Mean follow-up of the study was 7.78 ± 3.48 months and mean estimated blood loss was 11.41 ± 4.79 mL per-level. VAS leg score improved from 8.44 ± 0.98 to 2.18 ± 0.75 (P < 0.001), VAS back score improved from 4.44 ± 0.95 to 1.57 ± 0.54 (P < 0.001), and ODI improved from 73.88 ± 5.95 to 29.04 ± 7.48 (P < 0.001). The success rate was 90.7%. There were no serious complications during follow-up. Two patients experienced dysesthesia and one patient required revision surgery.
Conclusions
It is safe and minimal-invasively to treat SS&DH by using TESSYS-ISEE technique. However, potential complications still require careful consideration and further evaluation.
Graphical abstract
These slides can be retrieved under Electronic Supplementary material.

This is a preview of subscription content, log in to check access.
Access options
Buy single article
Instant access to the full article PDF.
US$ 39.95
Price includes VAT for USA
Subscribe to journal
Immediate online access to all issues from 2019. Subscription will auto renew annually.
US$ 199
This is the net price. Taxes to be calculated in checkout.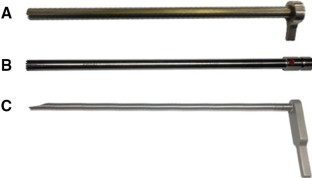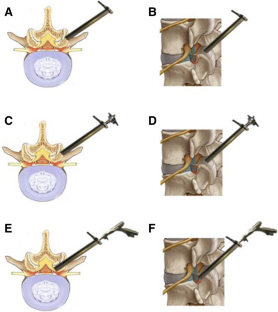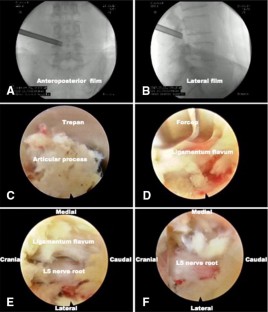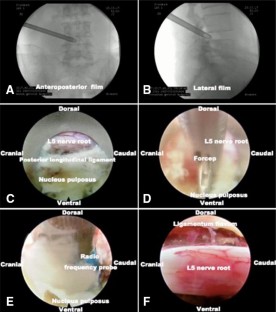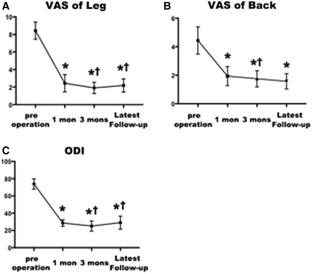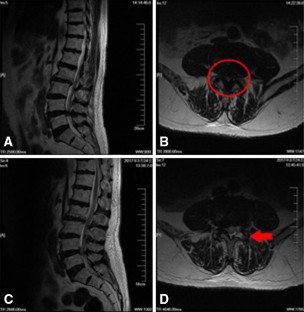 References
1.

Genevay S, Atlas SJ (2010) Lumbar spinal stenosis. Best Pract Res Clin Rheumatol 24:253–265

2.

Phillips FM, Slosar PJ, Youssef JA, Andersson G, Papatheofanis F (2013) Lumbar spine fusion for chronic low back pain due to degenerative disc disease: a systematic review. Spine 38:E409–E422

3.

Foley KT (1997) Microendoscopic discectomy. Tech Neurosurg 3:301–307

4.

Xu Bs TQ, Xia Q, Ji N, Yc Hu (2010) Bilateral decompression via unilateral fenestration using mobile microendoscopic discectomy technique for lumbar spinal stenosis. Orthop Surg 2:106–110

5.

Yeung AT, Tsou PM (2002) Posterolateral endoscopic excision for lumbar disc herniation: surgical technique, outcome, and complications in 307 consecutive cases. Spine 27:722–731

6.

Yoon SM, Ahn S-S, Kim KH, Kim YD, Cho JH, Kim D-H (2012) Comparative study of the outcomes of percutaneous endoscopic lumbar discectomy and microscopic lumbar discectomy using the tubular retractor system based on the VAS, ODI, and SF-36. Korean J Spine 9:215–222

7.

Kim HS, Paudel B, Jang JS, Oh SH, Lee S, Park JE, Jang IT (2017) Percutaneous full endoscopic bilateral lumbar decompression of spinal stenosis through uniportal-contralateral approach: techniques and preliminary results. World Neurosurg 103:201–209

8.

Kim HS, Patel R, Paudel B, Jang J-S, Jang I-T, Oh S-H, Park JE, Lee S (2017) Early outcomes of endoscopic contralateral foraminal and lateral recess decompression via an interlaminar approach in patients with unilateral radiculopathy from unilateral foraminal stenosis. World Neurosurg 108:763–773

9.

Schizas CTN, Burn A, Tansey R, Wardlaw D, Smith FW, Kulik G (2010) Qualitative grading of severity of lumbar spinal stenosis based on the morphology of the dural sac on magnetic resonance images. Spine 35:1919–1924

10.

Wiltse LL, Newman PH, Macnab I (1976) Classification of spondylolisis and spondylolisthesis. Clin Orthop 117:23–29

11.

George Sapkas M, Mavrogenis AF, Konstantinos AS, Konstantinos S, Zinon TK, Panayiotis JP (2012) Outcome of a dynamic neutralization system for the spine. Orthopedics 35:e1497–e1502

12.

Macnab I (1971) Negative disc exploration: an analysis of the causes of nerve-root involvement in sixty-eight patients. JBJS 53:891–903

13.

Simmons ED Jr, Kowalski JM, Simmons EH (1993) The results of surgical treatment for adult scoliosis. Spine 18:718–724

14.

Daffner SD, Vaccaro AR (2003) Adult degenerative lumbar scoliosis. Am J Orthop (Belle Mead, NJ) 32:77–82; discussion 82

15.

Hasegawa K, Homma T (2003) One-stage three-dimensional correction and fusion: a multilevel posterior lumbar interbody fusion procedure for degenerative lumbar kyphoscoliosis: technical note. J Neurosurg Spine 99:125–131

16.

Pritchett JW, Bortel DT (1993) Degenerative symptomatic lumbar scoliosis. Spine 18:700–703

17.

Zander TRA, Klöckner C, Bergmann G (2003) Influence of graded facetectomy and laminectomy on spinal biomechanics. Eur Spine J 12:427–434

18.

Yagi MOE, Ninomiya K, Kihara M (2009) Postoperative outcome after modified unilateral-approach microendoscopic midline decompression for degenerative spinal stenosis. J Neurosurg Spine 10:293–299

19.

Castro-Menéndez MB-RJ, Casal-Moro R, Hernández-Blanco M, Jorge-Barreiro F (2009) Treatment of lateral recess stenosis by means of microendoscopic decompressive laminotomy results at one year. Revista española de cirugía ortopédica y traumatología (English edition) 53:242–249

20.

Manfrè L, Cartolari R, Trasimeni G, Cristaudo C (2007) Spinal instability—axial loaded imaging of the spine. In: Van Goethem JWM, van den Hauwe L, Parizel PM (eds) Spinal imaging. Medical radiology (Diagnostic imaging). Springer, Berlin, Heidelberg, pp 211–233

21.

Epstein JACR, Ferrar J, Hyman RA, Khan A (1981) Conjoined lumbosacral nerve roots: management of herniated discs and lateral recess stenosis in patients with this anomaly. J Neurosurg 55:585–589

22.

Postacchini FCG, Perugia D, Gumina S (1993) The surgical treatment of central lumbar stenosis. Multiple laminotomy compared with total laminectomy. Bone Joint J 75:386–392

23.

Ruetten SKM, Godolias G (2005) An extreme lateral access for the surgery of lumbar disc herniations inside the spinal canal using the full-endoscopic uniportal transforaminal approach-technique and prospective results of 463 patients. Spine 30:2570–2578

24.

Ruetten SKM, Merk H, Godolias G (2008) Full-endoscopic interlaminar and transforaminal lumbar discectomy versus conventional microsurgical technique: a prospective, randomized, controlled study. Spine 33:931–939

25.

Ruetten SKM, Godolias G (2006) A new full-endoscopic technique for the interlaminar operation of lumbar disc herniations using 6-mm endoscopes: prospective 2-year results of 331 patients. min-Minimally Invasive. Neurosurgery 49:80–87

26.

Choi KCKJRK et al (2013) Percutaneous endoscopic lumbar discectomy for L5-S1 disc herniation: transforaminal versus interlaminar approach. Pain Phys 16:547–556

27.

Hamanishi C, Matukura N, Fujita M, Tomihara M, Tanaka S (1994) Cross-sectional area of the stenotic lumbar dural tube measured from the transverse views of magnetic resonance imaging. J Spinal Disord Tech 7:388–393

28.

Weiner BK, Walker MA, Patel NM (2007) Outcomes of decompression for lumbar spinal canal stenosis based upon preoperative radiographic severity. J Orthop Surg Res 2:3

29.

Ahn Y (2012) Transforaminal percutaneous endoscopic lumbar discectomy: technical tips to prevent complications. Expert Rev Med Devices 9:361–366

30.

Parker SL, Adogwa O, Paul AR, Anderson WN, Aaronson O, Cheng JS, McGirt MJ (2011) Utility of minimum clinically important difference in assessing pain, disability, and health state after transforaminal lumbar interbody fusion for degenerative lumbar spondylolisthesis. J Neurosurg Spine 14:598–604

31.

Komp M, Hahn P, Merk H, Godolias G, Ruetten S (2011) Bilateral operation of lumbar degenerative central spinal stenosis in full-endoscopic interlaminar technique with unilateral approach: prospective 2-year results of 74 patients. Clin Spine Surg 24:281–287
Acknowledgements
This work is supported by the Natural Science Foundation of China (Grant No 81401802) and the funds from National Health and Family Planning Commission of Wuhan Municipality and China Postdoctoral Science Foundation (Grant No 2016M593043).
Ethics declarations
Conflict of interest
No conflict of interest was declared.
Additional information
Dr. Chengjie Xiong and Dr. Tao Li contributed equally to this work
Electronic supplementary material
Below is the link to the electronic supplementary material.
Supplementary material 2 (MP4 381411 kb)
About this article
Cite this article
Xiong, C., Li, T., Kang, H. et al. Early outcomes of 270-degree spinal canal decompression by using TESSYS-ISEE technique in patients with lumbar spinal stenosis combined with disk herniation. Eur Spine J 28, 78–86 (2019). https://doi.org/10.1007/s00586-018-5655-4
Received:

Revised:

Accepted:

Published:

Issue Date:
Keywords
Endoscopy

Disk herniation

Lateral recess stenosis

Central stenosis

Nerve root decompression