Abstract
Purpose
The global appearance of scoliosis in the horizontal plane is not really known. Therefore, the aims of this study were to analyze scoliosis in the horizontal plane using vertebral vectors in two patients classified with the same Lenke group, and to highlight the importance of the information obtained from these vertebral vector-based top-view images in clinical practice.
Methods
Two identical cases of scoliosis were selected, based on preoperative full-body standing anteroposterior and lateral radiographs obtained by the EOS™ 2D/3D system. Three-dimensional (3D) surface reconstructions of the spinal curves were performed by using sterEOS™ 3D software before and after surgery. In both patients, we also determined the vertebral vectors and horizontal plane coordinates for analyzing the curves mathematically before and after surgery.
Results
Despite the identical appearance of spinal curves in the frontal and sagittal planes, the horizontal views seemed to be significantly different. The vertebral vectors in the horizontal plane provided different types of parameters regarding scoliosis and the impact of surgical treatment: reducing lateral deviations, achieving harmony of the curves in the sagittal plane, and reducing rotations in the horizontal plane.
Conclusions
Vertebral vectors allow the evolution of scoliosis curve projections in the horizontal plane before and after surgical treatment, along with representation of the entire spine. The top view in the horizontal plane is essential to completely evaluate the scoliosis curves, because, despite the similar representations in the frontal and sagittal planes, the occurrence of scoliosis in the horizontal plane can be completely different.
Graphical abstract
These slides can be retrieved under Electronic Supplementary Material.

Access options
Buy single article
Instant access to the full article PDF.
USD 39.95
Price excludes VAT (USA)
Tax calculation will be finalised during checkout.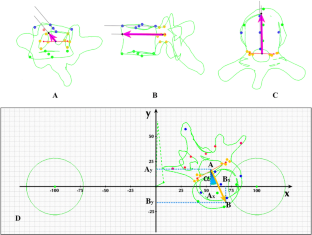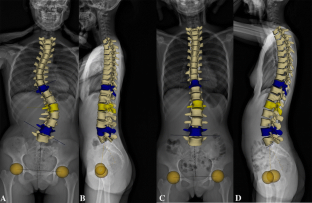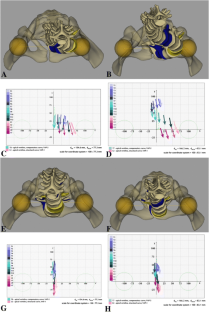 References
Graf H, Hecquet J, Dubousset J (1983) 3-Dimensional approach to spinal deformities. Application to the study of the prognosis of pediatric scoliosis. Rev Chir Orthop Reparatrice Appar Mot 69:407–416

De Smet AA, Tarlton MA, Cook LT, Berridge AS, Asher MA (1983) The top view for analysis of scoliosis progression. Radiology 2:369–372. https://doi.org/10.1148/radiology.147.2.6340156

Howell FR, Dickson RA (1989) The deformity of idiopathic scoliosis made visible by computer graphics. J Bone Jt Surg Br 71:399–403

Vrtovec T, Franjo Pernus F, Likar B (2009) A review of methods for quantitative evaluation of axial vertebral rotation. Eur Spine J 18:1079–1090. https://doi.org/10.1007/s00586-009-0914-z

Drerup B (1984) Improvements in measuring vertebral rotation from the projections of the pedicles. J Biomech 18:369–378

Gardner-Morse M, Stokes IA (1994) Three-dimensional simulations of the scoliosis derotation maneuver with Cotrel-Dubousset instrumentation. J Biomech 27:177–181

Kojima T, Kurokawa T (1992) Rotation vector, a new method for representation of three-dimensional deformity in scoliosis. Spine (Phila Pa 1976) 17:1296–1303

Stokes IA, Gardner-Morse M (1993) Three-dimensional simulation of Harrington distraction instrumentation for surgical correction of scoliosis. Spine (Phila Pa 1976) 18:2457–2464

Stagnara P, Queneau P (1953) Scolioses évolutives en période de croissance: aspects cliniques, radiologiques, propositions thérapeutiques. Rev Chir Orthop 39:378–449

Stokes IA (1994) Three-dimensional terminology of spinal deformity. A report presented to the Scoliosis Research Society by the Scoliosis Research Society Working Group on 3-D terminology of spinal deformity. Spine (Phila Pa 1976) 19:236–248

Yazici M, Acaroglu ER, Alanay A, Deviren V, Cila A, Surat A (2001) Measurement of vertebral rotation in standing versus supine position in adolescent idiopathic scoliosis. J Pediatr Orthop 21:252–256

Lenke LG, Betz RR, Harms J, Bridwell KH, Clements DH, Lowe TG, Blanke K (2001) Adolescent idiopathic scoliosis. A new classification to determine extent of spinal arthrodesis. J Bone Jt Surg Am 83-A:1169–1181

Illés T, Tunyogi-Csapó M, Sz Somoskeőy (2011) Breakthrough in three-dimensional scoliosis diagnosis: significance of horizontal plane view and vertebra vectors. Eur Spine J 20:135–143. https://doi.org/10.1007/s00586-010-1566-8

Dubousset J, Charpak G, Dorion I, Skalli W, Lavaste F, Deguise J, Kalifa G, Ferey S (2005) A new 2D and 3D imaging approach to musculoskeletal physiology and pathology with low-dose radiation and the standing position: the EOS system. Bull Acad Natl Med 189:287–297

Le Bras A, Laporte S, Mitton D, de Guise JA, Skalli W (2002) 3D detailed reconstruction of vertebrae with low dose digital stereoradiography. Stud Health Technol Inform 91:286–290

Laporte S, Skalli W, de Guise JA, Lavaste F, Mitton D (2003) A biplanar reconstruction method based on 2D and 3D contours: application to the distal femur. Comput Methods Biomech Biomed Engin 6:1–6. https://doi.org/10.1080/1025584031000065956

Atmaca H, Inanmaz ME, Bal E, Caliskan I, Kose KC (2014) Axial plane analysis of Lenke 1A adolescent idiopathic scoliosis as an aid to identify curve characteristics. Spine J 14:2425–2433. https://doi.org/10.1016/j.spinee.2014.02.015

Thong W, Parent S, Wu J, Aubin C-E, Labelle H, Kadoury S (2016) Three-dimensional morphology study of surgical adolescent idiopathic scoliosis patient from encoded geometric models. Eur Spine J 25:3104–3113. https://doi.org/10.1007/s00586-016-4426-3

Seoud L, Cheriet F, Labelle H, Parent S (2015) Changes in trunk appearance after scoliosis spinal surgery and their relation to changes in spinal measurements. Spine Deform 3:595–603. https://doi.org/10.1016/j.jspd.2015.05.001

Illés TS, Somoskeőy S (2013) Comparison of scoliosis measurements based on three-dimensional vertebra vectors and conventional two-dimensional measurements: advantages in evaluation of prognosis and surgical results. Eur Spine J 22:1255–1263. https://doi.org/10.1007/s00586-012-2651-y

Illés ST, Burkus M, Somoskeőy S, Lauer F, Lavaste F, Dubousset JF (2017) The horizontal plane appearances of scoliosis: what information can be obtained from top-view images? Int Orthop 41:2303–2311. https://doi.org/10.1007/s00264-017-3548-5
Acknowledgements
We acknowledge Editage for language editing.
Funding
There is no funding source.
Ethics declarations
Conflict of interest
The authors declare that they have no conflict of interest.
Ethical standards
All procedures performed in studies involving human participants were in accordance with the ethical standards of the institutional and/or national research committee and with the 1964 Helsinki declaration and its later amendments or comparable ethical standards.
Informal consent
For this type of study, formal consent is not required.
Electronic supplementary material
Below is the link to the electronic supplementary material.
About this article
Cite this article
Illés, T.S., Burkus, M., Somoskeőy, S. et al. Axial plane dissimilarities of two identical Lenke-type 6C scoliosis cases visualized and analyzed by vertebral vectors. Eur Spine J 27, 2120–2129 (2018). https://doi.org/10.1007/s00586-018-5577-1
Received:

Accepted:

Published:

Issue Date:

DOI: https://doi.org/10.1007/s00586-018-5577-1
Keywords
Scoliosis

Vertebral vector

Horizontal plane

Top view

EOS™ 2D/3D