Abstract
Purpose
Retro-odontoid pseudotumor is common in elderly people and is a cause of cervical myelopathy. The goal of the study was to investigate surgical procedures, outcomes, and post-operative spontaneous regression of posterior cervical retro-odontoid pseudotumors.
Methods
The subjects were 29 patients who underwent surgery for myelopathy due to a retro-odontoid pseudotumor around the craniocervical region at 9 facilities and were followed-up for an average of 54 months (range 12–96 months). Data were collected in a multicenter review of a retrospective database. Comparisons were performed between cases treated with and without fusion.
Results
The JOA recovery rate at final follow-up did not differ significantly between the fusion (n = 17, including all 15 patients with atlantoaxial subluxation) and non-fusion (n = 12) groups. However, pseudotumor regression was significantly more frequent in the fusion group (100% vs. 42%, p < 0.01). In all patients, regression cases had significantly higher rates of contrast enhancement of the pseudotumor on pre-operative T1 gadolinium-enhanced MRI (68% vs. 14%, p = 0.013) and of JOA recovery (50% vs. 30%, p < 0.01).
Conclusions
Regression of pseudotumor occurred in all cases treated with fusion surgery. There was a significant difference in pseudotumor regression with or without fusion, and regression was significantly related to gadolinium enhancement on MRI. Therefore, it is preferable to use fusion surgery for a retro-odontoid pseudotumor that shows contrast enhancement, even if there is no apparent instability pre-operatively.
Graphical abstract
These slides can be retrieved under Electronic Supplementary Material.

This is a preview of subscription content, log in to check access.
Access options
Buy single article
Instant access to the full article PDF.
US$ 39.95
Price includes VAT for USA
Subscribe to journal
Immediate online access to all issues from 2019. Subscription will auto renew annually.
US$ 199
This is the net price. Taxes to be calculated in checkout.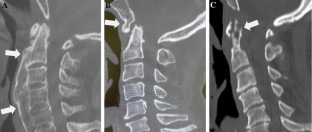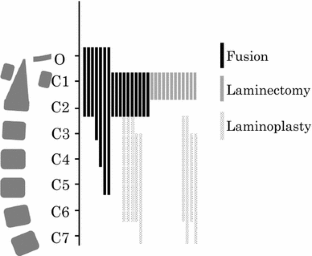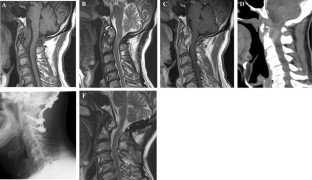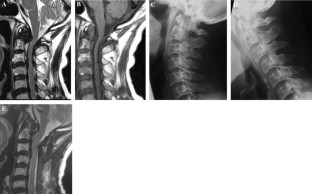 References
1.

Yamaguchi I, Shibuya S, Arima N et al (2006) Remarkable reduction or disappearance of retroodontoid pseudotumors after occipitocervical fusion. Report of three cases. J Neurosurg Spine 5:156–160

2.

Kakutani K, Doita M, Yoshikawa M et al (2013) C1 laminectomy for retro-odontoid pseudotumor without atlantoaxial subluxation: review of seven consecutive cases. Eur Spine J 22:1119–1126

3.

Sze G, Brant-Zawadzki MN, Wilson CR et al (1986) Pseudotumor of the craniovertebral junction associated with chronic subluxation: MR imaging studies. Radiology 161:391–394

4.

Isono M, Ishii K, Kamida T et al (2001) Retro-odontoid soft tissue mass associated with atlantoaxial subluxation in an elderly patient: a case report. Surg Neurol 55:223–227

5.

Tanaka S, Nakada M, Hayashi Y et al (2010) Retro-odontoid pseudotumor without atlantoaxial subluxation. J Clin Neurosci 17:649–652

6.

Crockard HA, Sett P, Geddes JF et al (1991) Damaged ligaments at the craniocervical junction presenting as an extradural tumour: a differential diagnosis in the elderly. J Neurol Neurosurg Psychiatry 54:817–821

7.

Chikuda H, Seichi A, Takeshita K et al (2009) Radiographic analysis of the cervical spine in patients with retro-odontoid pseudotumors. Spine 34:E110–E114

8.

Kosaka E, Ishihara H, Osada R et al (2002) Periodontoid pannus migration into the spinal canal with reduction of rheumatoid atlantoaxial subluxation: a case report. J Orthop Sci 7:703–706

9.

Rousselin B, Helenon O, Zingraff J et al (1990) Pseudotumor of the craniocervical junction during long-term hemodialysis. Arthritis Rheum 33:1567–1573

10.

Oohori Y, Seichi A, Kawaguchi H et al (2004) Retroodontoid pseudotumor resected by a high cervical lateral approach in a rheumatoid arthritis patient: a case report. J Orthop Sci 9:90–93

11.

Fransen P, Pizzolato GP, Otten P et al (1997) Synovial cyst and degeneration of the transverse ligament: an unusual cause of high cervical myelopathy. J Neurosurg 86:1027–1030

12.

Grob D, Würsch R, Grauer W et al (1997) Atlantoaxial fusion and retrodental pannus in rheumatoid arthritis. Spine 22:1580–1583

13.

Yoshida K, Hanyu T, Takahashi HE (1999) Progression of rheumatoid arthritis of the cervical spine: radiographic and clinical evaluation. J Orthop Sci 4:399–406

14.

Takami T, Goto T, Tsuyuguchi N et al (2007) Posterior C1–2 fixation with cancellous screw and rod system for retro-odontoid pseudotumor associated with chronic atlantoaxial subluxation. Neurol Med Chir (Tokyo) 47:189–193

15.

Tominaga F, Shirasawa K, Yamashita A et al (2015) Operation for retro-odontoid pseudotumor. Seikei-geka 66:311–314 [in Japanese]

16.

Yonezawa I, Okuda T, Won J et al (2013) Retrodental mass in rheumatoid arthritis. J Spinal Disord Tech 26:E65–E69

17.

Igarashi T, Hayashi M, Shibuya J et al (2015) Retroodontoid pseudotumor increased after cervical spinal decompression: a case report. Tohokuseisaishi 57:114–118

18.

White AA, Panjabi MM (1990) Clinical biomechanism of the spine, 2nd edn. Lippincott Williams & Wilkins, Philadelphia

19.

Japanese Orthopaedic Association (1994) Scoring system for cervical myelopathy. J Jpn Orthop Assoc 68:490–530 [in Japanese]

20.

Arnett FC, Edworthy SM, Bloch DA et al (1988) The American Rheumatism Association 1987 revised criteria for the classification of rheumatoid arthritis. Arthritis Rheum 31:315–324

21.

Shah A, Jain S, Kaswa A et al (2016) Immediate postoperative disappearance of retro-odontoid "pseudotumor". World Neurosurg 91:419–423

22.

Bydon M, Macki M, Qadi M et al (2015) Regression of an atlantoaxial rheumatoid pannus following posterior instrumented fusion. Clin Neurol Neurosurg 137:28–33

23.

Finn M, Fassett DR, Apfelbaum RI (2007) Surgical treatment of nonrheumatoid atlantoaxial degenerative arthritis producing pain and myelopathy. Spine 32:3067–3073

24.

Marks RJ, Forrester PC, Calder I et al (1986) Anaesthesia for transoral craniocervical surgery. Anaesthesia 41:1049–1052

25.

Sukoff MH, Kadin MM, Moran T (1972) Transoral decompression for myelopathy caused by rheumatoid arthritis of the cervical spine. J Neurosurg 37:493–497

26.

Arima H, Murata H, Hasegawa T et al (2013) Treatment of retro-odontoid pseudotumor. Report of five cases. Rinsyo Seikei-geka 48:81–85 [in Japanese]

27.

Barbagallo GM, Certo F, Visocchi M et al (2013) Disappearance of degenerative, non-inflammatory, retro-odontoid pseudotumor following posterior C1–C2 fixation: case series and review of the literature. Eur Spine J 22(Suppl 6):879–888

28.

Sono T, Onishi E, Matsushita M (2014) Radiographic risk factors and surgical outcomes for retroodontoid pseudotumors. J Spinal Disord Tech 27:E193–E198

29.

Takemoto M, Neo M, Fujibayashi S et al (2016) Clinical and radiographic outcomes of c1 laminectomy without fusion in patients with cervical myelopathy that is associated with a retro-odontoid pseudotumor. Clin Spine Surg 29:E514–E521

30.

Wakatsuki T, Matsusaki M, Tanaka N et al (2016) Myelopathy recurrence by retro-odontoid cyst after atlas laminectomy for retro-odontoid pseudotumor: report of a case. Seikei-geka 67:243–246 [in Japanese]

31.

Suetsuna F, Narita H, Ono A et al (2006) Regression of retroodontoid pseudotumors following C-1 laminoplasty. Report of three cases. J Neurosurg Spine 5:455–460

32.

Bouvet JP, le Parc JM, Michalski B et al (1985) Acute neck pain due to calcifications surrounding the odontoid process: the Crowned Dens Syndrome. Arthritis Rheum 28:1417–1420

33.

Wu DW, Reginato AJ, Torriani M et al (2005) The Crowned Dens Syndrome as a cause of neck pain: report of two new cases and review of the literature. Arthritis Rheum 53:133–137
Funding
Funding was from institutional sources only.
Ethics declarations
Conflict of interest
None of the authors have a conflict of interest.
Electronic supplementary material
Below is the link to the electronic supplementary material.
About this article
Cite this article
Kobayashi, K., Imagama, S., Ando, K. et al. Post-operative regression of retro-odontoid pseudotumors treated with and without fusion. Eur Spine J 27, 3105–3112 (2018). https://doi.org/10.1007/s00586-018-5573-5
Received:

Revised:

Accepted:

Published:

Issue Date:
Keywords
Retro-odontoid pseudotumor

Atlantoaxial instability

Occipitocervical fusion

Posterior decompression

Spinal fusion

Gadolinium-enhanced MRI