Abstract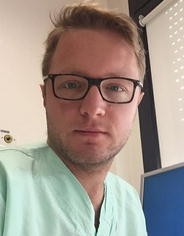 Purpose
Chordoma is a low-grade malignant tumor with recurrence and metastasis tendency that originates from embryonic notochordal remnants. The sacrococcygeal region is the most commonly involved site. The aim of this paper is to report the results of the use of cryosurgery in the excision of a giant recurrent sacral chordoma and review of pertinent literature.
Methods
A 64 years old female patient with a locally recurrent sacral chordoma came to our attention after ten interventions performed at another institute. A surgical treatment was performed using argon cryosurgery.
Results
In this case, it was not possible to perform a marginal or wide excision, but it was intralesional with the removal of three major blocks. The fragments sent for the histological analysis measured total 35 × 30 × 8 cm with a weight of 4.260 g.
Conclusions
Given the gelatinous structure of the tumor and the possibility of contamination of operatory field, cryosurgery may be indicated when previous surgeries and the dimensions of tumor mass do not allow a resection with negative margins improving radiotherapy efficacy in the local control of tumor.
This is a preview of subscription content, log in to check access.
Access options
Buy single article
Instant access to the full article PDF.
US$ 39.95
Price includes VAT for USA
Subscribe to journal
Immediate online access to all issues from 2019. Subscription will auto renew annually.
US$ 199
This is the net price. Taxes to be calculated in checkout.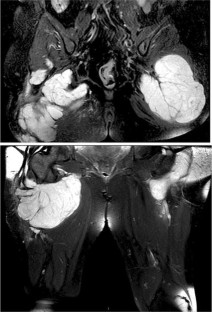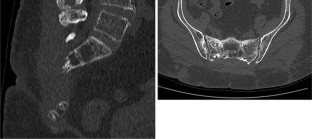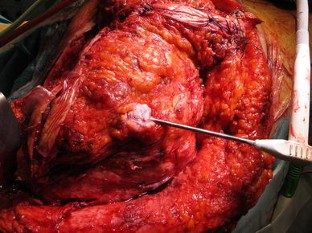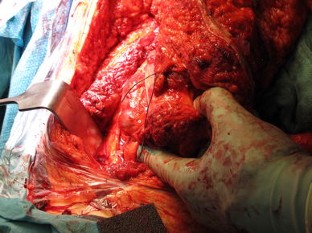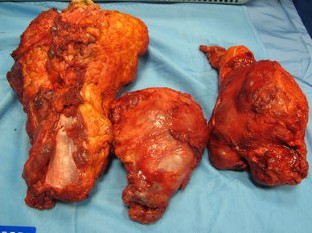 References
1.

McMaster ML, Goldstein AM, Bromley CM et al (2001) Chordoma: incidence and survival patterns in the United States, 1973–1995. Cancer Causes Control 12:1–11

2.

Ropper AE, Cahill KS, Hanna JW et al (2012) Primary vertebral tumors: a review of epidemiologic, histological and imaging findings, part II: locally aggressive and malignant tumors. Neurosurgery 70:211–219

3.

Sciubba DM, Chi JH, Rhines LD et al (2008) Chordoma of the spinal column. Neurosurg Clin N Am 19:5–15

4.

Hsieh PC, Xu R, Sciubba DM, McGirt MJ, Nelson C, Witham TF et al (2009) Long-term clinical outcomes following en bloc resections for sacral chordomas and chondrosarcomas: a series of twenty consecutive patients. Spine (Phila Pa 1976) 34(20):2233–2239

5.

Yang Y, Niu X, Li Y, Liu W, Xu H (2017) Recurrence and survival factors analysis of 171 cases of sacral chordoma in a single institute. Eur Spine J 7:1910–1916

6.

York JE, Kaczaraj A, Abi-Said D, Fuller GN, Skibber JM, Janjan NA, Gokaslan ZL (1999) Sacral chordoma: 40-year experience at a major cancer center. Neurosurgery 44(1):74–79 (discussion 79–80)

7.

Samson IR, Springfield DS, Suit HD (1993) Operative treatment of sacrococcygeal chordoma. J Bone Joint Surg (Am) 75(10):1476–1484

8.

Baratti D, Gronchi A, Pennacchioli E et al (2003) Chordoma: natural history and results in 28 patients treated at a single institution. Ann Surg Oncol 10:291–296

9.

Bergh P, Kindblom LG, Gunterberg B et al (2000) Prognostic factors in chordoma of the sacrum and mobile spine: a study of 39 patients. Cancer 88:2122–2134

10.

Fuchs B, Dickey ID, Yaszemski MJ et al (2005) Operative management of sacral chordoma. J Bone Joint Surg Am 87:2211–2216

11.

Gunterberg B, Romanus B, Sterner B (1976) Pelvic strength after major amputation of the sacrum. An experimental study. Acta Orthop Scand 47:635–642

12.

Hulen CA, Temple HT, Fox WP et al (2006) Oncologic and functional outcome following sacrectomy for sacral chordoma. J Bone Joint Surg Am 88:1532–1539

13.

Osaka S, Kodoh O, Sugita H et al (2006) Clinical significance of a wide excision policy for sacrococcygeal chordoma. J Cancer Res Clin Oncol 132:213–218

14.

Yonemoto T, Tatezaki S, Takenouchi T et al (1999) The surgical management of sacrococcygeal chordoma. Cancer 85:878–883

15.

Chen KW, Yang HL, Lu J et al (2010) Prognostic factors of sacral chordoma after surgical therapy: a study of 36 patients. Spinal Cord 48:166–171

16.

Hanna A, Aston S, Briggs R et al (2008) Sacral chordoma can local recurrence after sacrectomy be predicted? Clin Orthop Relat Res 466:2217–2223

17.

Ailon T, Torabi R, Fisher CG, Rhines LD, Clarke MJ, Bettegowda C, Boriani S, Yamada YJ, Kawahara N, Varga PP, Shin JH, Saghal A, Gokaslan ZL (2016) Management of locally recurrent chordoma of the mobile spine and sacrum. A systematic review. Spine 41(20S):S193–S198

18.

Zoccali C, Skoch J, Patel AS, Walter CM, Maykowski P, Baaj AA (2016) Residual neurological function after sacral root resection during en-bloc sacrectomy: a systematic review. Eur Spine J 25:3925–3931

19.

Cahan WG (1964) Criosurgery of the uterus: description of technique and potential application. Am J Obstet Gynecol 88:410–414

20.

Cahan WG (1965) Cryosurgery of malignant and benign tumors. Fed Proc 24:S241–S248

21.

Marcove RC, Miller TR, Cahan WC (1968) The treatment of primary and metastatic bone tumors by repetitive freezing. Bull N Y Acad Med 44:532–544

22.

Marcove RC (1982) A 17-year review of cryosurgery in the treatment of bone tumors. Clin Orthop 163:231–234

23.

De Vries J, Oldhoff J, Hadders HN (1989) Cryosurgical treatment of sacrococcygeal chordoma. Report of four cases. Cancer 58(10):2348–2354

24.

Schwab JH, Healey JH, Rose P, Casas-Ganem J, Boland PJ (2009) The surgical management of sacral chordomas. Spine (Phila Pa 1976) 34(24):2700–2704. https://doi.org/10.1097/brs.0b013e3181bad11d

25.

Kurup AN, Woodrum DA, Morris JM, Atwell TD, Schmit GD, Welch TJ, Yaszemski MJ, Callstrom MR (2012) Cryoablation of recurrent sacrococcygeal tumors. J Vasc Interv Radiol 23(8):1070–1075

26.

Stacchiotti S et al (2017) Best practices for the management of local-regional recurrent chordoma: a position paper by the Chordoma Global Consensus Group. Ann Oncol 28:1230–1242
Acknowledgements
The authors thank Carlo Piovani and Cristiana Griffoni for their helpful collaboration in imaging storage and data management.
Funding
No funds were received in support of this study.
Ethics declarations
Conflict of interest
The authors declare that they have no competing interests.
About this article
Cite this article
Pipola, V., Girolami, M., Ghermandi, R. et al. Cryosurgery in the excision of a giant local recurrent sacral chordoma: a case report and literature review. Eur Spine J 27, 3059–3063 (2018). https://doi.org/10.1007/s00586-017-5438-3
Received:

Revised:

Accepted:

Published:

Issue Date:
Keywords
Local recurrent chordoma

Sacral chordoma

Cryosurgery

Cryotherapy