Abstract
Purpose
To develop and test a standardised method of interpreting spinal imaging findings in a manner designed to reassure patients with low back pain and promote engagement in an active recovery.
Methods
A five-phase development and testing process involved collaborative working party contributions, informal and formal appraisal of the intervention content by clinicians and consumers, a two-stage online evaluation of the take-home patient resource, and onsite testing.
Results
A total of 12 health professionals and 77 consumers were included in formal evaluative processes at various stages of the development and testing process. Consumers assessed the revised iteration of the take-home resource to be clearer and easier to understand than the original version. We integrated all feedback and evaluation outcomes to develop the final intervention content, which was approved by experienced clinicians and considered safe. We devised a framework to guide delivery of the low-cost clinical intervention and a 10–15-min timeframe was demonstrated to be realistic.
Conclusions
We have developed, modified, and tested a pragmatic framework for a brief, psychoeducational intervention. We have established face validity and acceptability from key stakeholders and engaged clinicians and are ready to proceed with a pilot feasibility trial.
This is a preview of subscription content, log in to check access.
Access options
Buy single article
Instant access to the full article PDF.
US$ 39.95
Price includes VAT for USA
Subscribe to journal
Immediate online access to all issues from 2019. Subscription will auto renew annually.
US$ 199
This is the net price. Taxes to be calculated in checkout.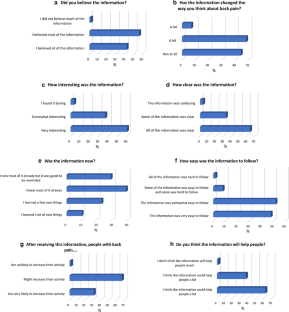 References
1.

(NICE) NIFHACE (2016) Low back pain and management in over 16 s: assessment and management. NICE. https://www.nice.org.uk/guidance/ng59/chapter/Recommendations. Accessed 25 May 2017

2.

(2015) Toward Optimized Practice (TOP) Low Back Pain Working Group. 2015 December. Evidence-informed primary care management of low back pain: clinical practice guideline. Edmonton, AB: Toward Optimized Practice. Available from: http://www.topalbertadoctors.org/cpgs/885801. Accessed 28 June 2017

3.

Stochkendahl MJ, Kjaer P, Hartvigsen J, Kongsted A, Aaboe J, Andersen M, Andersen MØ, Fournier G, Højgaard B, Jensen MB, Jensen LD, Karbo T, Kirkeskov L, Melbye M, MorselCarlsen L, Nordsteen J, Palsson TS, Rasti Z, Silbye PF, Steiness MZ, Tarp S, Vaagholt M (2017) National Clinical Guidelines for non-surgical treatment of patients with recent onset low back pain or lumbar radiculopathy. Eur Spine J. https://doi.org/10.1007/s00586-017-5099-2

4.

Qaseem A, Wilt TJ, McLean RM, Forciea MA (2017) Noninvasive treatments for acute, subacute, and chronic low back pain: a clinical practice Guideline from the American College of physicians noninvasive treatments for acute, subacute, and chronic low back pain. Ann Intern Med 166:514–530

5.

Pincus T, McCracken LM (2013) Psychological factors and treatment opportunities in low back pain. Best Pract Res Clin Rheumatol 27:625–635

6.

Hasenbring MI, Pincus T (2015) Effective reassurance in primary care of low back pain: what messages from clinicians are most beneficial at early stages? Clin J Pain 31:133–136

7.

Chou R (2015) Reassuring patients about low back pain. JAMA Intern Med 175:743–744

8.

Traeger AC, Hübscher M, Henschke N, Moseley GL, Lee H, McAuley JH (2015) Effect of primary care-based education on reassurance in patients with acute low back pain: systematic review and meta-analysis. JAMA Intern Med 175:733–743

9.

Rolfe A, Burton C (2013) Reassurance after diagnostic testing with a low pretest probability of serious disease: systematic review and meta-analysis. JAMA Intern Med 173:407–416

10.

Howard L, Wessely S, Leese M, Page L, McCrone P, Husain K, Tong J, Dowson A (2005) Are investigations anxiolytic or anxiogenic? A randomised controlled trial of neuroimaging to provide reassurance in chronic daily headache. J Neurol Neurosurg Psychiatry 76:1558–1564

11.

Kendrick D, Fielding K, Bentley E, Kerslake R, Miller P, Pringle M (2001) Radiography of the lumbar spine in primary care patients with low back pain: randomised controlled trial. BMJ 322:400–405

12.

Modic MT, Obuchowski NA, Ross JS, Brant-Zawadzki MN, Grooff PN, Mazanec DJ, Benzel EC (2005) Acute low back pain and radiculopathy: MR imaging findings and their prognostic role and effect on outcome 1. Radiology 237:597–604

13.

Graves JM, Fulton-Kehoe D, Jarvik JG, Franklin GM (2012) Early imaging for acute low back pain: 1-year health and disability outcomes among Washington State workers. Spine 37:1617–1627

14.

Webster BS, Cifuentes M (2010) Relationship of early magnetic resonance imaging for work-related acute low back pain with disability and medical utilization outcomes. J Occup Environ Med 52:900–907

15.

Brinjikji W, Luetmer P, Comstock B, Bresnahan B, Chen L, Deyo R, Halabi S, Turner J, Avins A, James K (2014) Systematic literature review of imaging features of spinal degeneration in asymptomatic populations. Am J Neuroradiol 36:811–816

16.

Carragee E, Alamin T, Cheng I, Franklin T, van den Haak E, Hurwitz E (2006) Are first-time episodes of serious LBP associated with new MRI findings? Spine J 6:624–635

17.

Jensen TS, Karppinen J, Sorensen JS, Niinimäki J, Leboeuf-Yde C (2008) Vertebral endplate signal changes (Modic change): a systematic literature review of prevalence and association with non-specific low back pain. Eur Spine J 17:1407–1422

18.

Borenstein DG, O'Mara JW Jr, Boden SD, Lauerman WC, Jacobson A, Platenberg C, Schellinger D, Wiesel SW (2001) The value of magnetic resonance imaging of the lumbar spine to predict low-back pain in asymptomatic subjects: a 7-year follow-up study. J Bone Jt Surg Ser A 83:1306–1311

19.

Steffens D, Hancock MJ, Maher CG, Williams C, Jensen TS, Latimer J (2014) Does magnetic resonance imaging predict future low back pain? A systematic review. Eur J Pain 18:755–765

20.

Suri P, Boyko EJ, Goldberg J, Forsberg CW, Jarvik JG (2014) Longitudinal associations between incident lumbar spine MRI findings and chronic low back pain or radicular symptoms: retrospective analysis of data from the longitudinal assessment of imaging and disability of the back (LAIDBACK). BMC Musculoskelet Disord 15:152

21.

O'Connell NE, Cook CE, Wand BM, Ward SP (2016) Clinical guidelines for low back pain: a critical review of consensus and inconsistencies across three major guidelines. Best Pract Res Clin Rheumatol 30:968–980

22.

Karran EL, Moseley GL (2015) UNPUBLISHED data, Doctoral Thesis in Preparation. University of South Australia

23.

Rainville J, Carlson N, Polatin P, Gatchel RJ, Indahl A (2000) Exploration of physicians' recommendations for activities in chronic low back pain. Spine 25:2210–2220

24.

Buchbinder R, Staples M, Jolley D (2009) Doctors with a special interest in back pain have poorer knowledge about how to treat back pain. Spine 34:1218–1226

25.

Darlow B, Fullen BM, Dean S, Hurley DA, Baxter GD, Dowell A (2012) The association between health care professional attitudes and beliefs and the attitudes and beliefs, clinical management, and outcomes of patients with low back pain: a systematic review. Eur J Pain 16:3–17

26.

Dole JA, Sinatra GM (1998) Reconceptalizing change in the cognitive construction of knowledge. Educ Psychol 33:109–128

27.

Griffin TD, Ohlsson S (2001) Beliefs versus knowledge: a necessary distinction for explaining, predicting, and assessing conceptual change. In: Proceedings of the 23rd annual conference of the Cognitive Science Society, pp 1–4

28.

Guzzetti BJ, Snyder TE, Glass GV, Gamas WS (1993) Promoting conceptual change in science: a comparative meta-analysis of instructional interventions from reading education and science education. Read Res Q 28:117–159

29.

McGregor A, Burton AK, Sell P, Waddell G (2007) The development of an evidence-based patient booklet for patients undergoing lumbar discectomy and un-instrumented decompression. Eur Spine J 16:339–346

30.

SurveyMonkey Inc. San Mateo, California, USA

31.

Gidwani R, Sinnott P, Avoundjian T, Lo J, Asch SM, Barnett PG (2015) Inappropriate ordering of lumbar spine magnetic resonance imaging: are providers choosing wisely? Am J Manag Care 22:e68–e76

32.

Williams CM, Maher CG, Hancock MJ, McAuley JH, McLachlan AJ, Britt H, Fahridin S, Harrison C, Latimer J (2010) Low back pain and best practice care: a survey of general practice physicians. Arch Intern Med 170:271–277
Acknowledgements
Emma Karran is supported by the Royal Adelaide Hospital Clinical Research Grants (received 2014 & 2015) and the Royal Adelaide Hospital Research foundation Dawes Scholarship. G. Lorimer Moseley is supported by the NHMRC (Principal Research Fellowship ID: 1061279). GLM has received support from: Pfizer Australia, Kaiser Permanente, Results Physiotherapy, Agile Physiotherapy, Workers' Compensation Boards in Australia, Europe and North America, the International Olympic Committee and Port Adelaide Football Club. He receives speaker fees for lectures on pain and rehabilitation. He receives royalties for books on pain and rehabilitation. The authors wish to acknowledge valuable contributions and cooperation of all who assisted with the stages described in this manuscript. In particular: Gavin Shepherd, Dave Moen, Yvonne Markey, Chronic Pain Australia, The Australian Pain Management Association, Spinal Clinic staff at the Royal Adelaide Hospital, patients and survey respondents.
Ethics declarations
Conflict of interest
All the other authors declare no conflicts of interest.
Electronic supplementary material
Below is the link to the electronic supplementary material.
About this article
Cite this article
Karran, E.L., Yau, Y., Hillier, S.L. et al. The reassuring potential of spinal imaging results: development and testing of a brief, psycho-education intervention for patients attending secondary care. Eur Spine J 27, 101–108 (2018). https://doi.org/10.1007/s00586-017-5389-8
Received:

Revised:

Accepted:

Published:

Issue Date:
Keywords
Low back pain

Reassurance

Spinal imaging

Education

Intervention