Abstract
Purpose
U-shaped sacral fractures are extremely rare injuries that usually occur as a result of falls from considerable heights. Almost all treatment methods described to date aim solely at stabilizing the fracture but do not contribute to supporting the reduction of such fractures. Using existing implants the purpose of this study is to present a surgical technique that facilitates both the reduction and the stabilization of these injuries. The presented technique was evaluated in a series of three cases.
Methods
Polyaxial pedicle screws were placed through vertebral bodies L4 and L5. Two long pedicle screws were implanted in the posterior iliac spine. The lumbar pedicle screws were held with two longitudinal rods, and the pelvic screws with one transverse connecting rod. The lumbar longitudinal and pelvic transverse rods were connected via two hinge-like connecting elements. First, distraction was performed between lumbar pedicle screws L5 and the sacral transverse rod. Lordosis was then restored via the hinge joint, thereby eliminating kyphosis. After tightening all moving elements, the fracture was reduced and stabilized.
Results
Computed tomography documented anatomical reduction and fracture healing was achieved in all cases. Two of three patients could be fully mobilized immediately; mobilization of the third patient was delayed due to multiple injuries. Two patients showed neurological symptoms. In one case, complete remission was achieved within 3 weeks, while in the other patient a clear improvement was observed. In all cases, the implant was removed after 8–12 months. There were no post-operative complications, such as infections, wound-healing disorders, neurological deterioration, implant failure, or premature loosening.
Conclusions
The surgical procedure was successful, since it considerably facilitated reduction, thereby shortening surgery time. The stabilization was sufficient to fully mobilize the patients. The procedure is based on existing implant components and is thus routinely available.
This is a preview of subscription content, log in to check access.
Access options
Buy single article
Instant access to the full article PDF.
US$ 39.95
Price includes VAT for USA
Subscribe to journal
Immediate online access to all issues from 2019. Subscription will auto renew annually.
US$ 199
This is the net price. Taxes to be calculated in checkout.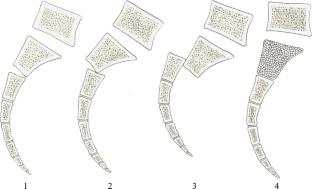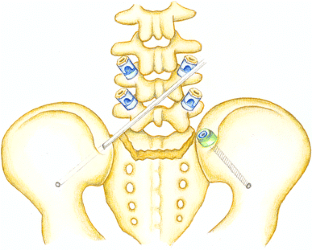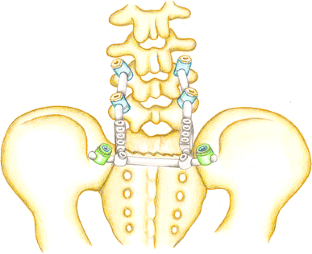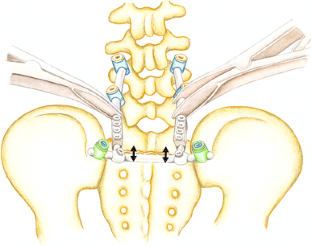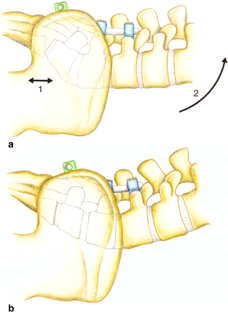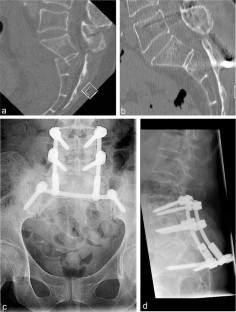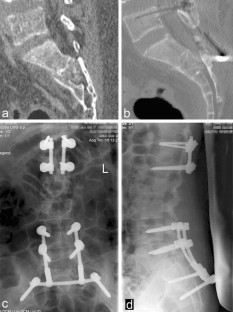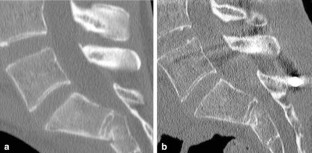 References
1.

Aebi M, Webb J (1998) Manual of internal fixation. Springer, New York

2.

Allen BL Jr, Ferguson RL (1982) The Galveston technique for L rod instrumentation of the scoliotic spine. Spine 7:276–284

3.

Bellabarba C, Schildhauer TA, Vaccaro AR, Chapman JR (2006) Complications associated with surgical stabilization of high-grade sacral fracture dislocations with spino-pelvic instability. Spine 31:S80–S88 (discussion S104)

4.

Carl A, Delman A, Engler G (1985) Displaced transverse sacral fractures. A case report, review of the literature, and the CT scan as an aid in management. Clin Orthop Relat Res 194:195–198

5.

Cecchinato R, Redaelli A, Martini C, Morselli C, Villafane JH, Lamartina C, Berjano P (2017) Long fusions to S1 with or without pelvic fixation can induce relevant acute variations in pelvic incidence: a retrospective cohort study of adult spine deformity surgery. Eur Spine J. https://doi.org/10.1007/s00586-017-5154-z

6.

Denis F, Davis S, Comfort T (1988) Sacral fractures: an important problem. Retrospective analysis of 236 cases. Clin Orthop Relat Res 227:67–81

7.

Garcia A, Rey del Castillo J, Marco-Martinez F, Gimeno MD, Lopez-Duran L, Martinez J (1994) Bilateral sacroiliac dislocation with intrapelvic intrusion of the lumbosacral spine. A case report. Int Orthop 18:177–179

8.

Gibbons KJ, Soloniuk DS, Razack N (1990) Neurological injury and patterns of sacral fractures. J Neurosurg 72:889–893

9.

He S, Zhang H, Zhao Q, He B, Guo H, Hao D (2014) Posterior approach in treating sacral fracture combined with lumbopelvic dissociation. Orthopedics 37:e1027–e1032

10.

Hessmann M, Degreif J, Mayer A, Atahi S, Rommens PM (2000) Transverse sacral fracture with intrapelvic intrusion of the lumbosacral spine: case report and review of the literature. J Trauma 49:754–757

11.

Hsieh PC, Ondra SL, Wienecke RJ, O'Shaughnessy BA, Koski TR (2007) A novel approach to sagittal balance restoration following iatrogenic sacral fracture and resulting sacral kyphotic deformity. Technical note. J Neurosurg Spine 6:368–372

12.

Kellam JF, McMurtry RY, Paley D, Tile M (1987) The unstable pelvic fracture. Operative treatment. Orthop Clin N Am 18:25–41

13.

König MA, Seidel U, Heini P, Orler R, Quraishi NA, Boszczyk AA, Boszczyk BM (2013) Minimal-invasive percutaneous reduction and transsacral screw fixation for U-shaped fractures. J Spinal Disord Tech 26:48–54

14.

Magerl F, Aebi M, Gertzbein SD, Harms J, Nazarian S (1994) A comprehensive classification of thoracic and lumbar injuries. Eur Spine J 3:184–201

15.

Mansouri N, Graillon T, Farah K, Pesenti S, Blondel B, Fuentes S (2016) Impact of surgical correction of a U-shaped sacral fracture on sagittal spino-pelvic alignment: regarding one case. Neurochirurgie 62:344–348

16.

Marsh JL, Slongo TF, Agel J, Broderick JS, Creevey W, DeCoster TA, Prokuski L, Sirkin MS, Ziran B, Henley B, Audige L (2007) Fracture and dislocation classification compendium—2007: Orthopaedic Trauma Association classification, database and outcomes committee. J Orthop Trauma 21:S1–133

17.

Nork SE, Jones CB, Harding SP, Mirza SK, Routt ML Jr (2001) Percutaneous stabilization of U-shaped sacral fractures using iliosacral screws: technique and early results. J Orthop Trauma 15:238–246

18.

Nothofer W, Thonke N, Neugebauer R (2004) Therapy of unstable sacrum fractures in pelvic ring fractures with dorsal sacrum distraction osteosynthesis. Unfallchirurg 107:118–127

19.

Pascal-Moussellard H, Hirsch C, Bonaccorsi R (2016) Osteosynthesis in sacral fracture and lumbosacral dislocation. Orthop Traumatol Surg Res 102:S45–S57

20.

Patterson FP, Morton KS (1972) Neurological complications of fractures and dislocations of the pelvis. J Trauma 12:1013–1023

21.

Phelan ST, Jones DA, Bishay M (1991) Conservative management of transverse fractures of the sacrum with neurological features. A report of four cases. J Bone Joint Surg Br 73:969–971

22.

Rhee WT, You SH, Jang YG, Lee SY (2007) Lumbo-sacro-pelvic fixation using iliac screws for the complex lumbo-sacral fractures. J Korean Neurosurg Soc 42:495–498

23.

Roy-Camille R, Saillant G, Gagna G, Mazel C (1985) Transverse fracture of the upper sacrum. Suicidal jumper's fracture. Spine 10:838–845

24.

Sabiston CP, Wing PC (1986) Sacral fractures: classification and neurologic implications. J Trauma 26:1113–1115

25.

Sabourin M, Lazennec JY, Catonne Y, Pascal-Moussellard H, Rousseau MA (2010) Shortening osteotomy and sacro-sacral fixation for U-shaped sacral fractures. J Spinal Disord Tech 23:457–460

26.

Schildhauer TA, McCulloch P, Chapman JR, Mann FA (2002) Anatomic and radiographic considerations for placement of transiliac screws in lumbopelvic fixations. J Spinal Disord Tech 15:199–205 (discussion 205)

27.

Strange-Vognsen HH, Lebech A (1991) An unusual type of fracture in the upper sacrum. J Orthop Trauma 5:200–203

28.

Zheng ZM, Yu BS, Chen H, Aladin DM, Zhang KB, Zhang JF, Liu H, Luk KD, Lu WW (2009) Effect of iliac screw insertion depth on the stability and strength of lumbo-iliac fixation constructs: an anatomical and biomechanical study. Spine 34:E565–E572
Ethics declarations
Conflict of interest
This study has received no financial sponsorship. The authors have received nothing of value.
Electronic supplementary material
About this article
Cite this article
Piltz, S., Rubenbauer, B., Böcker, W. et al. Reduction and fixation of displaced U-shaped sacral fractures using lumbopelvic fixation: technical recommendations. Eur Spine J 27, 3025–3033 (2018). https://doi.org/10.1007/s00586-017-5368-0
Received:

Accepted:

Published:

Issue Date:
Keywords
U-shaped fracture

Sacral fracture

Jumper's fracture

Stabilization

Reduction

Lumbosacral spine