Abstract
Purpose
To investigate and compare the occurrence of inflammatory processes in the sites of disc degeneration in the lumbar and cervical spine by a gene array and subsequent qPCR and to investigate the mechanistic involvement of transient receptor potential channels TRPC6 and TRPV4.
Methods
The gene expression of inflammatory cytokines and TRP channels was measured in human disc samples obtained from patients undergoing discectomy at the cervical (n = 24) or lumbar (n = 27) spine for degenerative disc disease (DDD) and disc herniation (DH) and analyzed for differences with regard to spinal level, IVD degeneration grade, Modic grade, age, sex, disc region and surgical extent.
Results
Aside from genes with known implication in DDD and DH, four previously unreported genes from the interferon and TRP families (IFNA1, IFNA8, IFNB1, TRPC6) could be detected. A correlation between gene expression and age (IL-15) and IVD degeneration grade (IFNA1, IL-6, IL-15, TRPC6), but not Modic grade, was identified. Significant differences were detected between cervical and lumbar discs (IL-15), nucleus and annulus (IL-6, TNF-α, TRPC6), single-level and multi-level surgery (IL-6, IL-8) as well as DDD and DH (IL-8), while sex had no effect. Multiple gene-gene pair correlations, either between different cytokines or between cytokines and TRP channels, exist in the disc.
Conclusion
This study supports the relevance of IL-6 and IL-8 in disc diseases, but furthermore points toward a possible pathological role of IL-15 and type I interferons, as well as a mechanistic role of TRPC6. With limited differences in the inflammatory profile of cervical and lumbar discs, novel anti-inflammatory or TRP-modulatory strategies for the treatment of disc pathologies may be applicable independent of the spinal region.
Access options
Buy single article
Instant access to the full article PDF.
USD 39.95
Price includes VAT (USA)
Tax calculation will be finalised during checkout.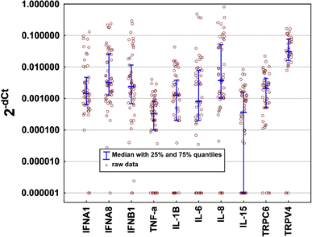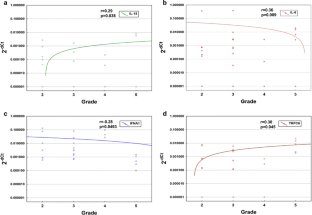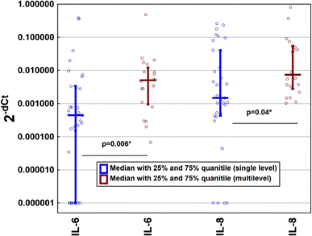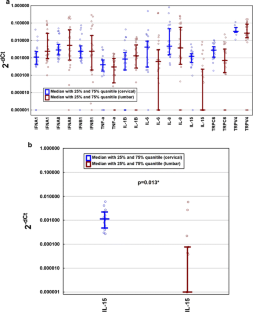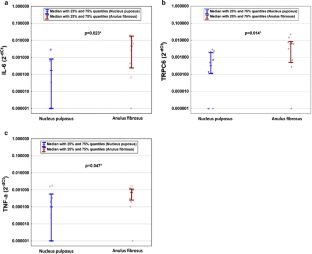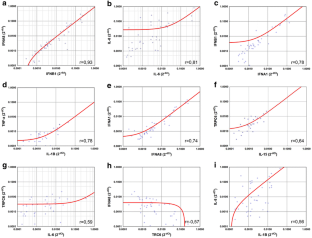 References
1.

Urban JP, Roberts S (2003) Degeneration of the intervertebral disc. Arthritis Res Ther 5(3):120–130

2.

Modic MT, Ross JS (2007) Lumbar degenerative disk disease. Radiology 245(1):43–61

3.

Franceschi C, Bonafe M (2003) Centenarians as a model for healthy aging. Biochem Soc Trans 31:457–461

4.

Choi YS (2009) Pathophysiology of degenerative disc disease. Asian Spine J 3(1):39–44

5.

Wang J et al (2011) TNF-alpha and IL-1beta promote a disintegrin-like and metalloprotease with thrombospondin type I motif-5-mediated aggrecan degradation through syndecan-4 in intervertebral disc. J Biol Chem 286(46):39738–39749

6.

Melrose J et al (2002) Increased nerve and blood vessel ingrowth associated with proteoglycan depletion in an ovine anular lesion model of experimental disc degeneration. Spine (Phila Pa 1976) 27(12):1278–1285

7.

Freemont AJ et al (2002) Nerve growth factor expression and innervation of the painful intervertebral disc. J Pathol 197(3):286–292

8.

Cheung KM et al (2009) Prevalence and pattern of lumbar magnetic resonance imaging changes in a population study of one thousand forty-three individuals. Spine (Phila Pa 1976) 34(9):934–940

9.

Walker BF (2000) The prevalence of low back pain: a systematic review of the literature from 1966 to 1998. J Spinal Disord 13(3):205–217

10.

Crockett MT et al (2017) Modic type 1 vertebral endplate changes: injury, inflammation, or infection? Am J Roentgenol 209(1):167–170

11.

Dudli S, Haschtmann D, Ferguson SJ (2012) Fracture of the vertebral endplates, but not equienergetic impact load, promotes disc degeneration in vitro. J Orthop Res 30(5):809–816

12.

Kanna RM et al (2017) Prevalence, patterns, and genetic association analysis of Modic vertebral endplate changes. Asian Spine J 11(4):594–600

13.

Risbud MV, Shapiro IM (2014) Role of cytokines in intervertebral disc degeneration: pain and disc content. Nat Rev Rheumatol 10(1):44–56

14.

Gruber HE et al (2012) Interleukin 1-beta upregulates brain-derived neurotrophic factor, neurotrophin 3 and neuropilin 2 gene expression and NGF production in annulus cells. Biotech Histochem 87(8):506–511

15.

Shen C et al (2011) Autophagy in rat annulus fibrosus cells: evidence and possible implications. Arthritis Res Ther 13(4):R132

16.

Broeckx S et al (2014) Regenerative therapies for equine degenerative joint disease: a preliminary study. PLoS One 9(1):e85917

17.

Navone SE et al (2017) Inflammatory mediators and signalling pathways controlling intervertebral disc degeneration. Histol Histopathol 32(6):523–542

18.

Wuertz K, Haglund L (2013) Inflammatory mediators in intervertebral disk degeneration and discogenic pain. Global Spine J 3(3):175–184

19.

Johnson ZI et al (2015) Disc in flames: roles of TNF-alpha and IL-1beta in intervertebral disc degeneration. Eur Cell Mater 30:104–116 (discussion 116-117)

20.

Krupkova O, Zvick J, Wuertz-Kozak K (2017) The role of transient receptor potential channels in joint diseases. Eur Cell Mater 34:180–201

21.

Schumacher MA (2010) Transient receptor potential channels in pain and inflammation: therapeutic opportunities. Pain Pract 10(3):185–200

22.

Zhang YJ et al (2016) Intervertebral disc cells produce interleukins found in patients with back pain. Am J Phys Med Rehabil 95(6):407–415

23.

Phan MN et al (2009) Functional characterization of TRPV4 as an osmotically sensitive ion channel in porcine articular chondrocytes. Arthritis Rheum 60(10):3028–3037

24.

Walter BA et al (2016) Reduced tissue osmolarity increases TRPV4 expression and pro-inflammatory cytokines in intervertebral disc cells. Eur Cell Mater 32:123–136

25.

Zhou YQ et al (2016) Interleukin-6: an emerging regulator of pathological pain. J Neuroinflamm 13:141

26.

Qazi BS, Tang K, Qazi A (2011) Recent advances in underlying pathologies provide insight into interleukin-8 expression-mediated inflammation and angiogenesis. Int J Inflam 2011:908468

27.

Poveda L et al (2009) Peroxynitrite induces gene expression in intervertebral disc cells. Spine 34(11):1127–1133

28.

Brisby H et al (2002) Proinflammatory cytokines in cerebrospinal fluid and serum in patients with disc herniation and sciatica. Eur Spine J 11(1):62–66

29.

Pedersen LM et al (2015) Serum levels of the pro-inflammatory interleukins 6 (IL-6) and -8 (IL-8) in patients with lumbar radicular pain due to disc herniation: a 12-month prospective study. Brain Behav Immun 46(Suppl C):132–136

30.

Lee S et al (2009) Comparison of growth factor and cytokine expression in patients with degenerated disc disease and herniated nucleus pulposus. Clin Biochem 42(15):1504–1511

31.

Shamji MF et al (2010) Proinflammatory cytokine expression profile in degenerated and herniated human intervertebral disc tissues. Arthritis Rheum 62(7):1974–1982

32.

Hirano T et al (1986) Complementary-DNA for a novel human interleukin (Bsf-2) that induces lymphocytes-b to produce immunoglobulin. Nature 324(6092):73–76

33.

Scheller J, Garbers C, Rose-John S (2014) Interleukin-6: from basic biology to selective blockade of pro-inflammatory activities. Semin Immunol 26(1):2–12

34.

Dubovy P et al (2013) Bilateral elevation of interleukin-6 protein and mRNA in both lumbar and cervical dorsal root ganglia following unilateral chronic compression injury of the sciatic nerve. J Neuroinflamm 10(1):824

35.

Arruda JL et al (2000) Intrathecal anti-IL-6 antibody and IgG attenuates peripheral nerve injury-induced mechanical allodynia in the rat: possible immune modulation in neuropathic pain. Brain Res 879(1–2):216–225

36.

Weber KT et al (2016) Serum levels of the proinflammatory cytokine interleukin-6 vary based on diagnoses in individuals with lumbar intervertebral disc diseases. Arthritis Res Ther 18:3

37.

Ohtori S et al (2012) Efficacy of epidural administration of anti-interleukin-6 receptor antibody onto spinal nerve for treatment of sciatica. Eur Spine J 21(10):2079–2084

38.

Sherwood J et al (2015) TRPC6 plays a role in CXCR2-mediated chondrocyte phenotypic stability. Osteoarthritis Cartil 23:A152–A153

39.

Franco-Obregon A, Kobayashi H, Greutert H, Wernas T, Egli M, Sekiguchi M, Boos N, Hausmann O, Ferguson S, Wuertz-Kozak K (2017) The balance of transient receptor potential channel TRPC6 to TRPC1 determines ageing and mechanotransduction in intervertebral disc cells. In: Personalised Therapies for Regenerative Medicine TERMIS-EU 2017 Conference, Davos, Switzerland

40.

Kurahara LH et al (2016) Significant contribution of TRPC6 channel-mediated Ca2+ influx to the pathogenesis of Crohn's disease fibrotic stenosis. J Smooth Muscle Res 52:78–92

41.

Tauseef M et al (2012) TLR4 activation of TRPC6-dependent calcium signaling mediates endotoxin-induced lung vascular permeability and inflammation. J Exp Med 209(11):1953–1968

42.

Seguin CA et al (2005) Tumor necrosis factor alpha modulates matrix production and catabolism in nucleus pulposus tissue. Spine 30(17):1940–1948

43.

Purmessur D et al (2013) A role for TNF alpha in intervertebral disc degeneration: a non-recoverable catabolic shift. Biochem Biophys Res Commun 433(1):151–156

44.

Kang R et al (2015) Intervertebral disc degenerative changes after intradiscal injection of TNF-alpha in a porcine model. Eur Spine J 24(9):2010–2016

45.

Bachmeier BE et al (2007) Analysis of tissue distribution of TNF-alpha, TNF-alpha-receptors, and the activating TNF-alpha-converting enzyme suggests activation of the TNF-alpha system in the aging intervertebral disc. Ann N Y Acad Sci 1096:44–54

46.

Sutovsky J et al (2017) Cytokine and chemokine profile changes in patients with lower segment lumbar degenerative spondylolisthesis. Int J Surg 43:163–170

47.

Wang C et al (2017) Tumor necrosis factor-alpha: a key contributor to intervertebral disc degeneration. Acta Biochim Biophys Sin (Shanghai) 49(1):1–13

48.

Le Maitre CL, Hoyland JA, Freemont AJ (2007) Catabolic cytokine expression in degenerate and herniated human intervertebral discs: iL-1beta and TNF-alpha expression profile. Arthritis Res Ther 9(4):R77

49.

Leung L, Cahill CM (2010) TNF-α and neuropathic pain—a review. J Neuroinflamm 7:27

50.

Murata Y et al (2004) Selective inhibition of tumor necrosis factor-alpha prevents nucleus pulposus-induced histologic changes in the dorsal root ganglion. Spine 29(22):2477–2484

51.

Le Maitre CL, Freemont AJ, Hoyland JA (2005) The role of interleukin-1 in the pathogenesis of human intervertebral disc degeneration. Arthritis Res Ther 7(4):R732–R745

52.

Millward-Sadler SJ et al (2009) Regulation of catabolic gene expression in normal and degenerate human intervertebral disc cells: implications for the pathogenesis of intervertebral disc degeneration. Arthritis Res Ther 11(3):R65

53.

Gorth DJ et al (2012) IL-1ra delivered from poly(lactic-co-glycolic acid) microspheres attenuates IL-1 beta-mediated degradation of nucleus pulposus in vitro. Arthritis Res Ther 14(4):R179

54.

Wu CC et al (2011) Regenerative potentials of platelet-rich plasma enhanced by collagen in retrieving pro-inflammatory cytokine-inhibited chondrogenesis. Biomaterials 32(25):5847–5854

55.

Armitage RJ et al (1995) Il-15 has stimulatory activity for the induction of B-Cell proliferation and differentiation. J Immunol 154(2):483–490

56.

Kennedy MK et al (2000) Reversible defects in natural killer and memory CD8 T cell lineages in interleukin 15-deficient mice. J Exp Med 191(5):771–780

57.

Cooper MA et al (2002) In vivo evidence for a dependence on interleukin 15 for survival of natural killer cells. Blood 100(10):3633–3638

58.

Tinhofer I et al (2000) Expression of functional interleukin-15 receptor and autocrine production of interleukin-15 as mechanisms of tumor propagation in multiple myeloma. Blood 95(2):610–618

59.

Chen J et al (2012) Increased serum soluble IL-15R alpha levels in T-cell large granular lymphocyte leukemia. Blood 119(1):137–143

60.

Huang PL et al (2015) Skeletal muscle interleukin 15 promotes CD8(+) T-cell function and autoimmune myositis. Skelet Muscle 5(1):33

61.

Croce M et al (2012) Immunotherapeutic applications of IL-15. Immunotherapy 4(9):957–969

62.

Mishra A, Sullivan L, Caligiuri MA (2014) Molecular pathways: interleukin-15 signaling in health and in cancer. Clin Cancer Res 20(8):2044–2050

63.

Nielsen AR et al (2007) Expression of interleukin-15 in human skeletal muscle—effect of exercise and muscle fibre type composition. J Physiol 584(Pt 1):305–312

64.

Quinn LS, Anderson BG (2011) Interleukin-15, IL-15 receptor-alpha, and obesity: concordance of laboratory animal and human genetic studies. J Obes 2011:456347

65.

Scanzello CR et al (2009) Local cytokine profiles in knee osteoarthritis: elevated synovial fluid interleukin-15 differentiates early from end-stage disease. Osteoarthritis Cartil 17(8):1040–1048

66.

Tao Y et al (2015) Expression and correlation of matrix metalloproteinase-7 and interleukin-15 in human osteoarthritis. Int J Clin Exp Pathol 8(8):9112–9118

67.

Cuellar JM et al (2010) Cytokine evaluation in individuals with low back pain using discographic lavage. Spine J 10(3):212–218

68.

Ambjorn M et al (2013) IFNB1/interferon-beta-induced autophagy in MCF-7 breast cancer cells counteracts its proapoptotic function. Autophagy 9(3):287–302

69.

Gruber HE et al (2015) Autophagy in the degenerating human intervertebral disc in vivo molecular and morphological evidence, and induction of autophagy in cultured annulus cells exposed to proinflammatory cytokines-implications for disc degeneration. Spine 40(11):773–782

70.

Kazezian Z et al (2017) Injectable hyaluronic acid down-regulates interferon signaling molecules, IGFBP3 and IFIT3 in the bovine intervertebral disc. Acta Biomater 52:118–129
Ethics declarations
Funding
The study was financially supported by the Swiss Neuro Foundation (Bern/Switzerland), the Swiss National Science Foundation (SNF PP00P2_163678/1) as well as the Spine Society of Europe (Eurospine 2016_4).
Conflict of interest
All authors declare that they have no conflict of interest.
Ethical approval
All procedures performed in studies involving human participants were in accordance with the ethical standards of the institutional and/or national research committee and with the 1964 Helsinki Declaration and its later amendments or comparable ethical standards.
Electronic supplementary material
Below is the link to the electronic supplementary material.
About this article
Cite this article
Sadowska, A., Touli, E., Hitzl, W. et al. Inflammaging in cervical and lumbar degenerated intervertebral discs: analysis of proinflammatory cytokine and TRP channel expression. Eur Spine J 27, 564–577 (2018). https://doi.org/10.1007/s00586-017-5360-8
Received:

Revised:

Accepted:

Published:

Issue Date:
Keywords
Cervical and lumbar discs

Degenerative disc disease (DDD) and disc herniation (DH)

Inflammaging

Inflammation

Intervertebral disc

Transient receptor potential (TRP) channel