Abstract
Purpose
If surgery for thoracolumbar incomplete cranial burst fractures (Magerl A3.1.1) is necessary, the ideal stabilization strategy still remains undetermined. To justify posterior–anterior stabilization, which generates higher costs and potentially higher morbidity vs. posterior-only stabilization, clinical trials with sufficient power and adequate methodology are required. This prospective randomized single-centre pilot trial was designed to enable sufficient sample-size calculation for a randomized multicentre clinical trial (RASPUTHINE).
Methods
Patients with a traumatic thoracolumbar (Th11–L2) incomplete burst fracture (Magerl A3.1.1) were randomly assigned either to the interventional group (posterior–anterior) or to the control group (posterior-only). Primary endpoint of the study was the clinical outcome measured using the Oswestry Disability Index (ODI) at 24 months. Radiological outcome was assessed as secondary endpoint by evaluation of mono- and bisegmental kyphotic angulation and monosegmental fusion.
Results
21 patients were randomly assigned to interventional group (n = 9) or control group (n = 12). One posterior-only treated patient showed a severe initial loss of correction resulting in a crossover to additional anterior bisegmental fusion. The ODI measures at the primary study endpoint showed less but insignificant (p = 0.67) disability for the interventional group over the control group (13.3 vs. 19.3%). Comparison of preoperative bisegmental kyphosis in supine position with the bisegmental kyphosis at 24-month FU in upright position showed a worsened kyphosis for the control group (10.7° → 15.6°), whereas an improved kyphosis (11° → 8.3°) was detectable for the interventional group.
Conclusion
The results of this pilot RCT showed less disability for the posterior–anterior group linked with a significant better restoration of the sagittal profile in comparison with the posterior-only group. To detect a clinically significant difference using the ODI and assuming a 20% loss of FU rate, a total of 266 patients have to be studied in the multicentre trial.
This is a preview of subscription content, log in to check access.
Access options
Buy single article
Instant access to the full article PDF.
US$ 39.95
Price includes VAT for USA
Subscribe to journal
Immediate online access to all issues from 2019. Subscription will auto renew annually.
US$ 199
This is the net price. Taxes to be calculated in checkout.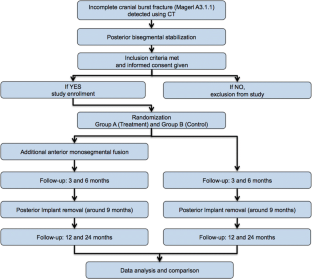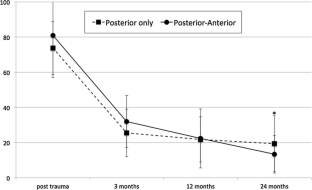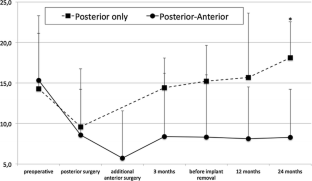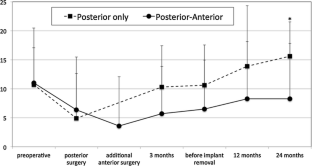 References
1.

Alpantaki K, Bano A, Pasku D et al (2010) Thoracolumbar burst fractures: a systematic review of management. Orthopedics 33:422–429. doi:10.3928/01477447-20100429-24

2.

Dai L-Y, Jiang S-D, Wang X-Y, Jiang L-S (2007) A review of the management of thoracolumbar burst fractures. Surg Neurol 67:221–231. doi:10.1016/j.surneu.2006.08.081 (discussion 231)

3.

Verlaan JJ, Diekerhof CH, Buskens E et al (2004) Surgical treatment of traumatic fractures of the thoracic and lumbar spine: a systematic review of the literature on techniques, complications, and outcome. Spine (Phila Pa 1976) 29:803–814

4.

Yue JJ, Sossan A, Selgrath C et al (2002) The treatment of unstable thoracic spine fractures with transpedicular screw instrumentation: a 3-year consecutive series. Spine 27:2782–2787. doi:10.1097/01.BRS.0000035727.46428.BE

5.

Been HD, Bouma GJ (1999) Comparison of two types of surgery for thoraco-lumbar burst fractures: combined anterior and posterior stabilisation vs. posterior instrumentation only. Acta Neurochir (Wien) 141:349–357

6.

Knop C, Blauth M, Bastian L et al (1997) Fractures of the thoracolumbar spine. Late results of dorsal instrumentation and its consequences. Unfallchirurg 100:630–639

7.

Lakshmanan P, Jones A, Mehta J et al (2009) Recurrence of kyphosis and its functional implications after surgical stabilization of dorsolumbar unstable burst fractures. Spine J 9:1003–1009. doi:10.1016/j.spinee.2009.08.457

8.

Wang X-Y, Dai L-Y, Xu H-Z, Chi Y-L (2008) Kyphosis recurrence after posterior short-segment fixation in thoracolumbar burst fractures. J Neurosurg Spine 8:246–254. doi:10.3171/SPI/2008/8/3/246

9.

Knop C, Blauth M, Bühren V et al (2000) Surgical treatment of injuries of the thoracolumbar transition. 2: operation and roentgenologic findings. Unfallchirurg 103:1032–1047

10.

Reinhold M, Knop C, Beisse R et al (2010) Operative treatment of 733 patients with acute thoracolumbar spinal injuries: comprehensive results from the second, prospective, internet-based multicenter study of the Spine Study Group of the German Association of Trauma Surgery. Eur Spine J 19:1657–1676. doi:10.1007/s00586-010-1451-5

11.

Knop C, Kranabetter T, Reinhold M, Blauth M (2009) Combined posterior–anterior stabilisation of thoracolumbar injuries utilising a vertebral body replacing implant. Eur Spine J 18:949–963. doi:10.1007/s00586-009-0970-4

12.

Korovessis P, Baikousis A, Zacharatos S et al (2006) Combined anterior plus posterior stabilization versus posterior short-segment instrumentation and fusion for mid-lumbar (L2–L4) burst fractures. Spine 31:859–868. doi:10.1097/01.brs.0000209251.65417.16

13.

Schnake KJ, Stavridis SI, Kandziora F (2014) Five-year clinical and radiological results of combined anteroposterior stabilization of thoracolumbar fractures. J Neurosurg Spine 20:497–504. doi:10.3171/2014.1.SPINE13246

14.

Danisa OA, Shaffrey CI, Jane JA et al (2009) Surgical approaches for the correction of unstable thoracolumbar burst fractures: a retrospective analysis of treatment outcomes. Eur Spine J 83:977–983. doi:10.3171/jns.1995.83.6.0977

15.

Briem D, Lehmann W, Ruecker AH et al (2004) Factors influencing the quality of life after burst fractures of the thoracolumbar transition. Arch Orthop Trauma Surg 124:461–468. doi:10.1007/s00402-004-0710-5

16.

Schnee CL, Ansell LV (1997) Selection criteria and outcome of operative approaches for thoracolumbar burst fractures with and without neurological deficit. J Neurosurg 86:48–55. doi:10.3171/jns.1997.86.1.0048

17.

Oprel PP, Tuinebreijer WE, Patka P, den Hartog D (2009) Combined anterior-posterior surgery versus posterior surgery for thoracolumbar burst fractures: a systematic review of the literature. Open Orthop J 4:93–100. doi:10.2174/1874325001004010093

18.

Zhu Q, Shi F, Cai W et al (2015) Comparison of anterior versus posterior approach in the treatment of thoracolumbar fractures: a systematic review. Int Surg 100:1124–1133. doi:10.9738/INTSURG-D-14-00135.1

19.

Kandziora F, Pingel A, Hoffmann C (2014) Incomplete cranial burst fracture of L1 treated by mini-open thoracoscopically-assisted anterior vertebral column reconstruction. Eur Spine J 23:2018–2019. doi:10.1007/s00586-014-3494-5

20.

Osthus H, Cziske R, Jacobi E (2006) Cross-cultural adaptation of a German version of the Oswestry Disability Index and evaluation of its measurement properties. Spine 31:E448–E453. doi:10.1097/01.brs.0000222054.89431.42

21.

Keynan O, Fisher CG, Vaccaro A et al (2006) Radiographic measurement parameters in thoracolumbar fractures: a systematic review and consensus statement of the spine trauma study group. Spine (Phila Pa 1976) 31:E156–E165. doi:10.1097/01.brs.0000201261.94907.0d

22.

Sadiqi S, Verlaan J-J, Lehr AM et al (2017) Measurement of kyphosis and vertebral body height loss in traumatic spine fractures: an international study. Eur Spine J 26:1483–1491. doi:10.1007/s00586-016-4716-9

23.

Wood KB, Buttermann GR, Phukan R et al (2015) Operative compared with nonoperative treatment of a thoracolumbar burst fracture without neurological deficit: a prospective randomized study with follow-up at sixteen to twenty-two years. J Bone Joint Surg Am 97:3–9. doi:10.2106/JBJS.N.00226

24.

Siebenga J, Leferink VJM, Segers MJM et al (2006) Treatment of traumatic thoracolumbar spine fractures: a multicenter prospective randomized study of operative versus nonsurgical treatment. Spine 31:2881–2890. doi:10.1097/01.brs.0000247804.91869.1e

25.

Scheer JK, Bakhsheshian J, Fakurnejad S et al (2015) Evidence-based medicine of traumatic thoracolumbar burst fractures: a systematic review of operative management across 20 years. Global Spine J 5:73–82. doi:10.1055/s-0034-1396047

26.

Wood KB, Bohn D, Mehbod A (2005) Anterior versus posterior treatment of stable thoracolumbar burst fractures without neurologic deficit: a prospective, randomized study. J Spinal Disord Tech 18(Suppl):S15–S23
Ethics declarations
Conflict of interest
The authors declare that they have no competing interests.
About this article
Cite this article
Scholz, M., Kandziora, F., Tschauder, T. et al. Prospective randomized controlled comparison of posterior vs. posterior–anterior stabilization of thoracolumbar incomplete cranial burst fractures in neurological intact patients: the RASPUTHINE pilot study. Eur Spine J 27, 3016–3024 (2018). https://doi.org/10.1007/s00586-017-5356-4
Received:

Revised:

Accepted:

Published:

Issue Date:
Keywords
Thoracolumbar fracture

Incomplete burst fracture

Randomized trial

Sample-size calculation

Posterior–anterior stabilization