Abstract
Objective
To investigate the effect of lumbosacral orthoses (LSOs) on postural control in individuals with or without non-specific low back pain (NSLBP).
Methods
Individuals with NSLBP (n = 28) and healthy controls (n = 28) were enrolled to assess the postural control with or without LSOs. Postural control was tested using the Balance Master® NeuroCom system by the modified clinical test of sensory interaction and balance.
Results
Relative to controls, patients with NSLBP had deficits in postural control with greater center of pressure (COP) sway velocity when standing on firm surface (with eyes open: p = 0.002; with eyes closed: p = 0.002) and standing on foam surface (with eyes open: p = 0.024; with eyes closed: p < 0.001). In the braced condition, the COP sway decreased in all subjects with or without NSLBP when standing on foam surface. There was no significant difference in the effect of LSOs on postural control between NSLBP group and healthy controls.
Conclusion
Individuals with NSLBP have poorer postural control than controls. LSOs seem to improve postural control when standing on unstable surfaces in subjects with or without NSLBP. The effect of LSOs on postural control may not depend on the level of baseline.
This is a preview of subscription content, log in to check access.
Access options
Buy single article
Instant access to the full article PDF.
US$ 39.95
Price includes VAT for USA
Subscribe to journal
Immediate online access to all issues from 2019. Subscription will auto renew annually.
US$ 199
This is the net price. Taxes to be calculated in checkout.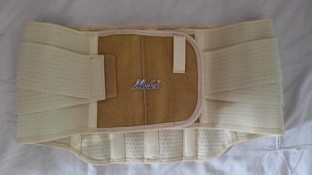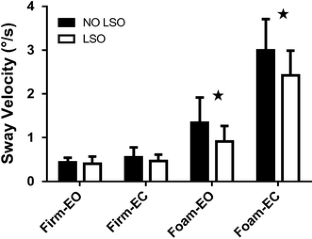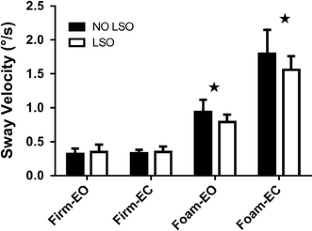 References
1.

Woolf AD, Pfleger B (2003) Burden of major musculoskeletal conditions. Bull World Health Organ 81:646–656

2.

Wassell JT, Gardner LI, Landsittel DP et al (2000) A prospective study of back belts for prevention of back pain and injury. JAMA 284:2727–2732

3.

van Duijvenbode ICD, Jellema P, van Poppel MNM, van Tulder MW (2008) Lumbar supports for prevention and treatment of low back pain. Cochrane database Syst Rev 2:CD001823. doi:10.1002/14651858.CD001823.pub3

4.

Calmels P, Queneau P, Hamonet C et al (2009) Effectiveness of a lumbar belt in subacute low back pain: an open, multicentric, and randomized clinical study. Spine (Phila Pa 1976) 34:215–220. doi:10.1097/BRS.0b013e31819577dc

5.

Jegede KA, Miller CP, Bible JE et al (2011) The effects of three different types of orthoses on the range of motion of the lumbar spine during 15 activities of daily living. Spine (Phila Pa) 36:2346–2353. doi:10.1097/BRS.0b013e31820921a5

6.

Cholewicki J, Shah KR, McGill KC (2006) The effects of a 3-week use of lumbosacral orthoses on proprioception in the lumbar spine. J Orthop Sport Phys Ther 36:225–231

7.

Cholewicki J, Reeves NP, Everding VQ, Morrisette DC (2007) Lumbosacral orthoses reduce trunk muscle activity in a postural control task. J Biomech 40:1731–1736 (Epub 2006 Oct 18)

8.

Cholewicki J, McGill KC, Shah KR, Lee AS (2010) The effects of a three-week use of lumbosacral orthoses on trunk muscle activity and on the muscular response to trunk perturbations. BMC Musculoskelet Disord 11:154. doi:10.1186/1471-2474-11-154

9.

Cholewicki J (2004) The effects of lumbosacral orthoses on spine stability: what changes in EMG can be expected? J Orthop Res 22:1150–1155

10.

Kawchuk GN, Edgecombe TL, Wong AYL et al (2015) A non-randomized clinical trial to assess the impact of nonrigid, inelastic corsets on spine function in low back pain participants and asymptomatic controls. Spine J 15:2222–2227. doi:10.1016/j.spinee.2015.06.047

11.

Chow DHK, Leung DSS, Holmes AD (2007) The effects of load carriage and bracing on the balance of schoolgirls with adolescent idiopathic scoliosis. Eur Spine J 16:1351–1358. doi:10.1007/s00586-007-0333-y

12.

Pfeifer M, Begerow B, Minne HW (2004) Effects of a new spinal orthosis on posture, trunk strength, and quality of life in women with postmenopausal osteoporosis: a randomized trial. Am J Phys Med Rehabil/Assoc Acad Physiatr 83:177–186

13.

De Gauzy JS, Domenech P, Dupui P et al (2002) Effect of bracing on postural balance in idiopathic scoliosis. Stud Health Technol Inform 88:239–240

14.

Ruhe A, Fejer R, Walker B (2011) Center of pressure excursion as a measure of balance performance in patients with non-specific low back pain compared to healthy controls: a systematic review of the literature. Eur Spine J 20:358–368. doi:10.1007/s00586-010-1543-2 (Epub 2010)

15.

Fan M, Lyu J, He P (2014) Chinese guidelines for data processing and analysis concerning the International Physical Activity Questionnaire. Zhonghua Liu Xing Bing Xue Za Zhi 35:961

16.

Craig CL, Marshall AL, Sjöström M et al (2003) International physical activity questionnaire: 12-country reliability and validity. Med Sci Sport Exerc 35:1381

17.

Caffaro RR, Franca FJ, Burke TN et al (2014) Postural control in individuals with and without non-specific chronic low back pain: a preliminary case-control study. Eur Spine J 23:807–813. doi:10.1007/s00586-014-3243-9 (Epub 2014)

18.

Morasso PG, Schieppati M (1999) Can muscle stiffness alone stabilize upright standing? J Neurophysiol 82:1622–1626

19.

Schieppati M, Giordano A, Nardone A (2002) Variability in a dynamic postural task attests ample flexibility in balance control mechanisms. Exp Brain Res 144:200–210 (Epub 2002 Mar 23)

20.

Kiemel T, Elahi AJ, Jeka JJ (2008) Identification of the plant for upright stance in humans: multiple movement patterns from a single neural strategy. J Neurophysiol 100:3394–3406. doi:10.1152/jn.01272.2007 (Epub 2008 Oct)

21.

Brumagne S, Cordo P, Verschueren S (2004) Proprioceptive weighting changes in persons with low back pain and elderly persons during upright standing. Neurosci Lett 366:63–66

22.

Carver S, Kiemel T, Jeka JJ (2006) Modeling the dynamics of sensory reweighting. Biol Cybern 95:123–134 (Epub 2006 Apr 26)

23.

Mannion AF, Weber BR, Dvorak J et al (1997) Fibre type characteristics of the lumbar paraspinal muscles in normal healthy subjects and in patients with low back pain. J Orthop Res 15:881–887

24.

Crossman K, Mahon M, Watson PJ et al (2004) Chronic low back pain-associated paraspinal muscle dysfunction is not the result of a constitutionally determined "adverse" fiber-type composition. Spine (Phila Pa) 29:628–634

25.

Teichtahl AJ, Urquhart DM, Wang Y et al (2015) Fat infiltration of paraspinal muscles is associated with low back pain, disability, and structural abnormalities in community-based adults. Spine J 15:1593–1601. doi:10.1016/j.spinee.2015.03.039

26.

MacDonald D, Moseley GL, Hodges PW (2009) Why do some patients keep hurting their back? Evidence of ongoing back muscle dysfunction during remission from recurrent back pain. Pain 142:183–188. doi:10.1016/j.pain.2008.12.002 (Epub 2009)

27.

Hodges PW (2001) Changes in motor planning of feedforward postural responses of the trunk muscles in low back pain. Exp Brain Res 141:261–266

28.

Hodges PW, Richardson CA (1996) Inefficient muscular stabilization of the lumbar spine associated with low back pain. A motor control evaluation of transversus abdominis. Spine (Phila Pa) 21:2640–2650

29.

Airaksinen O, Brox JI, Cedraschi C et al (2006) Chapter 4. European guidelines for the management of chronic nonspecific low back pain. Eur Spine J 15:S192–S300

30.

Brumagne S, Cordo P, Lysens R et al (2000) The role of paraspinal muscle spindles in lumbosacral position sense in individuals with and without low back pain. Spine (Phila Pa) 25:989–994

31.

Kiers H, van Dieen JH, Brumagne S, Vanhees L (2015) Postural sway and integration of proprioceptive signals in subjects with LBP. Hum Mov Sci 39:109–120. doi:10.1016/j.humov.2014.05.011 (Epub 2014 Nov 29)

32.

Claeys K, Brumagne S, Dankaerts W et al (2011) Decreased variability in postural control strategies in young people with non-specific low back pain is associated with altered proprioceptive reweighting. Eur J Appl Physiol 111:115–123. doi:10.1007/s00421-010-1637- (Epub 2010)

33.

Descarreaux M, Blouin JS, Teasdale N (2005) Repositioning accuracy and movement parameters in low back pain subjects and healthy control subjects. Eur Spine J 14:185–191 (Epub 2004 Nov 30)

34.

Dolan KJ, Green A (2006) Lumbar spine reposition sense: the effect of a "slouched" posture. Man Ther 11:202–207 (Epub 2006 Apr 18)

35.

Luoto S, Taimela S, Hurri H et al (1996) Psychomotor speed and postural control in chronic low back pain patients. A controlled follow-up study. Spine (Phila Pa) 21:2621–2627

36.

Taimela S, Osterman K, Alaranta H et al (1993) Long psychomotor reaction time in patients with chronic low-back pain: preliminary report. Arch Phys Med Rehabil 74:1161–1164

37.

Etemadi Y, Salavati M, Arab AM, Ghanavati T (2016) Balance recovery reactions in individuals with recurrent nonspecific low back pain: effect of attention. Gait Posture 44:123–127. doi:10.1016/j.gaitpost.2015.11.017

38.

Moseley GL, Hodges PW (2005) Are the changes in postural control associated with low back pain caused by pain interference? Clin J Pain 21:323–329

39.

Rossi A, Decchi B, Ginanneschi F (1999) Presynaptic excitability changes of group Ia fibres to muscle nociceptive stimulation in humans. Brain Res 818:12–22

40.

Capra NF, Ro JY (2000) Experimental muscle pain produces central modulation of proprioceptive signals arising from jaw muscle spindles. Pain 86:151–162

41.

della Volpe R, Popa T, Ginanneschi F et al (2006) Changes in coordination of postural control during dynamic stance in chronic low back pain patients. Gait Posture 24:349–355 (Epub 2005 Nov 28)

42.

Newcomer K, Laskowski ER, Yu B et al (2001) The effects of a lumbar support on repositioning error in subjects with low back pain. Arch Phys Med Rehabil 82:906–910. doi:10.1053/apmr.2001.23281

43.

van Poppel MN, de Looze MP, Koes BW et al (2000) Mechanisms of action of lumbar supports: a systematic review. Spine (Phila Pa) 25:2103–2113

44.

Mok NW, Hodges PW (2013) Movement of the lumbar spine is critical for maintenance of postural recovery following support surface perturbation. Exp Brain Res 231:305–313. doi:10.1007/s00221-013-3692-0

45.

Munoz F, Salmochi JF, Faouën P, Rougier P (2010) Low back pain sufferers: is standing postural balance facilitated by a lordotic lumbar brace? Orthop Traumatol Surg Res 96:362–366. doi:10.1016/j.otsr.2010.01.003

46.

Mathias M, Rougier PR (2010) In healthy subjects, the sitting position can be used to validate the postural effects induced by wearing a lumbar lordosis brace. Ann Phys Rehabil Med 53:511–519. doi:10.1016/j.rehab.2010.07.034

47.

Grangeon M, Gauthier C, Duclos C et al (2015) Unsupported eyes closed sitting and quiet standing share postural control strategies in healthy individuals. Mot Control 19:10–24. doi:10.1123/mc.2013-0091

48.

Serra-Ano P, Lopez-Bueno L, Garcia-Masso X et al (2015) Postural control mechanisms in healthy adults in sitting and standing positions. Percept Mot Skills 121:119–134. doi:10.2466/26.25.PMS.121c10x4

49.

Sung PS, Danial P (2017) Analysis of relative kinematic index with normalized standing time between subjects with and without recurrent low back pain. Eur spine J Off Publ Eur Spine Soc Eur Spinal Deform Soc Eur Sect Cerv Spine Res Soc 26:518–527. doi:10.1007/s00586-016-4727-6

50.

Munoz F, Rouboa AI, Rougier PR (2013) The balance control effects on sitting posture induced by lumbosacral orthosis wear vary depending on the level of stability. Appl Ergon 44:511–516. doi:10.1016/j.apergo.2012.11.002

51.

Ruhe A, Fejer R, Walker B (2011) Is there a relationship between pain intensity and postural sway in patients with non-specific low back pain? BMC Musculoskelet Disord 12:162. doi:10.1186/1471-2474-12-162

52.

Rostami M, Noormohammadpour P, Sadeghian AH et al (2014) The effect of lumbar support on the ultrasound measurements of trunk muscles: a single-blinded randomized controlled trial. PM R 6:302–308. doi:10.1016/j.pmrj.2013.09.014 (quiz 308)

53.

Kang J-I, Kwon H-M, Jeong D-K et al (2016) The effects on postural control and low back pain according to the types of orthoses in chronic low back pain patients. J Phys Ther Sci 28:3074–3077. doi:10.1589/jpts.28.3074
Ethics declarations
Funding
This study was funded by The National Natural Science Foundation of China (81572168).
Conflict of interest
The authors declare that they have no competing interests.
Ethical approval
All procedures performed in studies involving human participants were in accordance with the ethical standards of the institutional and/or national research committee and with the 1964 Helsinki declaration and its later amendments or comparable ethical standards.
Informed consent
Informed consent was obtained from all individual participant included in the study.
About this article
Cite this article
Mi, J., Ye, J., Zhao, X. et al. Effects of lumbosacral orthoses on postural control in individuals with or without non-specific low back pain. Eur Spine J 27, 180–186 (2018). https://doi.org/10.1007/s00586-017-5355-5
Received:

Revised:

Accepted:

Published:

Issue Date:
Keywords
Lumbosacral orthoses

Postural control

Non-specific low back pain