Abstract
Purpose
Lumbar spinal stenosis (LSS) is a disabling condition associated with narrowing of the spinal canal or vertebral foramina. Paraspinal muscle atrophy and fatty infiltration have been reported in patients with chronic LBP and disc herniation. However, very few imaging studies have examined paraspinal muscle morphology and composition in patients with LSS. The purpose of this study was to investigate the association of paraspinal muscle size, composition and asymmetry with functional status in patients with LSS.
Methods
Thirty-six patients diagnosed with LSS at L4–L5 with neurogenic claudication were included. Paraspinal muscle measurements were obtained from axial T2-weighted MR images, bilaterally, at the level of the superior and inferior vertebral endplates of L5. Muscle measurements of interest included: total cross-sectional area (CSA), functional CSA (FCSA), the ratio of FCSA to CSA (FCSA/CSA) as an indicator of muscle composition, and relative % asymmetry in muscle CSA. The association between muscle parameters and other patient characteristics with function as indicated from Oswestry Disability Index (ODI) scores and pain interference status was investigated.
Results
Greater multifidus muscle fatty infiltration (e.g., lower FCSA/CSA) and lower psoas relative CSA were associated with lower function (higher ODI and pain interference scores) in univariable and multivariable analyses. There was no association between the different muscle parameters and stenosis severity or back or leg pain duration or severity.
Conclusions
Our findings suggest an association of multifidus muscle fatty infiltration and psoas muscle size with functional status in patients diagnosed with LSS. Future prospective studies are needed to evaluate whether such muscle parameters are associated with prognosis and functional recovery following surgical treatment.
Access options
Buy single article
Instant access to the full article PDF.
US$ 39.95
Tax calculation will be finalised during checkout.
Subscribe to journal
Immediate online access to all issues from 2019. Subscription will auto renew annually.
US$ 119
Tax calculation will be finalised during checkout.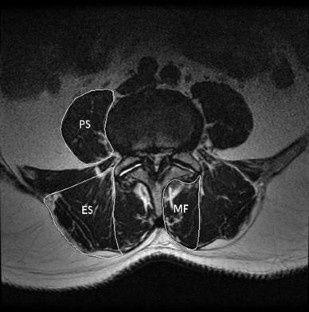 References
1.

Deyo RA (1994) Magnetic resonance imaging of the lumbar spine—terrific test or tar baby? New Engl J Med 331(2):115–116

2.

Backstrom KM, Whitman JM, Flynn TW (2011) Lumbar spinal stenosis-diagnosis and management of the aging spine. Man Ther 16(4):308–317

3.

Ozcan-Eksi EE, Yagci I, Erkal H et al (2016) Paraspinal muscle denervation and balance impairment in lumbar spinal stenosis. Muscle Nerve 53(3):422–430

4.

Yarjanian JA, Fetzer A, Yamakawa KS et al (2013) Correlation of paraspinal atrophy and denervation in back pain and spinal stenosis relative to asymptomatic controls. PM R 5(1):39–44

5.

Leinonen V, Määttä S, Taimela S et al (2002) Impaired lumbar movement perception in association with postural stability and motor- and somatosensory-evoked potentials in lumbar spinal stenosis. Spine 27(9):975–983

6.

Leinonen V, Määttä S, Taimela S et al (2003) Paraspinal muscle denervation, paradoxically good lumbar endurance, and an abnormal flexion-extension cycle in lumbar spinal stenosis. Spine 28(4):324–331

7.

Kääriäinen T, Leinonen V, Taimela S et al (2013) Lumbar paraspinal and biceps brachii muscle function and movement perception in lumbar spinal stenosis. Eur Spine J 22(4):788–793

8.

Tomkins-Lane CC, Battié MC (2013) Predictors of objectively measured walking capacity in people with degenerative lumbar spinal stenosis. J Back Musculoskelet Rehabil 26(4):345–352

9.

Barker KL, Shamley DR, Jackson D (2004) Changes in the cross-sectional area of multifidus and psoas in patients with unilateral back pain: the relationship to pain and disability. Spine 29(22):E515–E519

10.

Ploumis A, Michailidis N, Christodoulou P et al (2011) Ipsilateral atrophy of paraspinal and psoas muscle in unilateral back pain patients with monosegmental degenerative disc disease. Br J Radiol 84(1004):709–713

11.

Hyun JK, Lee JY, Lee SJ et al (2007) Asymmetric atrophy of multifidus muscle in patients with unilateral lumbosacral radiculopathy. Spine 32(21):E598–E602

12.

Kulig K, Scheid AR, Beauregard R et al (2009) Multifidus morphology in persons scheduled for single-level lumbar microdiscectomy: qualitative and quantitative assessment with anatomical correlates. Am J Phys Med Rehabil 88(5):355–361

13.

Kim WH, Lee S, Lee DY (2011) Changes in the cross-sectional area of multifdus and psoas in unilateral sciatica caused by lumbar disc herniation. J Korean Neurosurg Soc 50(3):201–204

14.

Battié MC, Niemelainen R, Gibbons LE et al (2012) Is level- and side-specific multifidus asymmetry a marker for lumbar disc pathology? Spine J 12(10):923–939

15.

Chen YY, Pao JL, Liaw CK et al (2014) Image changes of paraspinal muscles and clinical correlations in patients with unilateral lumbar spinal stenosis. Eur Spine J 23(5):999–1006

16.

Battié MC, Lazáry Á, Fairbank J et al (2014) Disc degeneration-related clinical phenotypes. Eur Spine J 23(Suppl 3):S305–S314

17.

Ranson CA, Burnett AF, Kerslake R et al (2006) An investigation into the use of MR imaging to determine the functional cross sectional area of lumbar paraspinal muscles. Eur Spine J 15(6):764–773

18.

Fortin M, Battié MC (2012) Quantitative paraspinal muscle measurements: inter-software reliability and agreement using OsiriX and ImageJ. Phys Ther 92(6):853–864

19.

Fairbank J, Pynsent P (2000) The oswestry disability index. Spine 25(22):2940–2953

20.

McGill S (2002) Low back disorders: evidence-based prevention and rehabilitation. Human Kinetics, Champaign, p 295

21.

Wilke HJ, Wolf S, Claes LE et al (1995) Stability increase of the lumbar spine with different muscle groups: a biomechanical in vitro study. Spine 20(2):192–198

22.

Kay AG (2001) An extensive literature review of the lumbar multifidus: biomechanics. J Man Manip Ther 9(1):17–39

23.

Wilke HJ, Wolf S, Claes LE et al (1996) Influence of varying muscle forces on lumbar intradiscal pressure: an in vitro study. J Biomech 29(4):549–555

24.

Hicks GE, Simonsick EM, Harris TB et al (2005) Trunk muscle composition as a predictor of reduced functional capacity in the health, aging and body composition study: the moderating role of back pain. J Gerontol Ser A Biol Sci Med Sci 60(11):1420–1424

25.

Visser M, Kritchevsky SB, Goodpaster BH et al (2002) Leg muscle mass and composition in relation to lower extremity performance in men and women aged 70 to 79: the health, aging and body composition study. J Am Geriatr Soc 50(5):897–904

26.

Prasarn M, Kostantinos V, Coyne E et al (2015) Does lumbar paraspinal muscle fatty degeneration correlate with aerobic index and oswestry disability index? Surg Neurol Intl 6(5):S240–S243

27.

Hodges P, Holm AK, Hansson T et al (2006) Rapid atrophy of the lumbar multifidus follows experimental disc or nerve root injury. Spine 31(25):2926–2933

28.

Manini TM, Clark BC, Nalls MA et al (2007) Reduced physical activity increases intermuscular adipose tissue in healthy young adults. Am J Clin Nutr 85(2):377–384

29.

Mooney V, Gulick J, Perlman M et al (1997) Relationships between myoelectric activity, strength, and MRI of lumbar extensor muscles in back pain patients and normal subjects. J Spinal Disord 10(4):348–356

30.

Willemink MJ, Van Es HW, Helmhout PH et al (2012) The effects of dynamic isolated lumbar extensor training on lumbar multifidus functional cross-sectional area and functional status of patients with chronic nonspecific low back pain. Spine 37(26):E1651–E1658

31.

Fortin M, Videman T, Gibbons LE et al (2014) Paraspinal muscle morphology and composition: a 15-yr longitudinal magnetic resonance imaging study. Med Sci Sports Exerc 46(5):893–901

32.

Crawford RJ, Filli L, Elliott JM et al (2016) Age- and level-dependence of fatty infiltration in lumbar paravertebral muscles of healthy volunteers. AJNR Am J Neuroradiol 37(4):742–748

33.

Lee SH, Park SW, Kim YB et al (2017) The fatty degeneration of lumbar paraspinal muscles on computed tomography scan according to age and disc level. Spine J 17(1):81–87

34.

Kim YU, Kong YG, Lee J et al (2015) Clinical symptoms of lumbar spinal stenosis associated with morphological parameters on magnetic resonance images. Eur Spine J 24(10):2236–2243

35.

Penning L (2000) Psoas muscle and lumbar spine stability: a concept uniting existing controversies. Critical review and hypothesis. Eur Spine J 9(6):577–585

36.

Andersson GBJ, Ortengren R, Herberts P (1977) Quantitative electromyographic studies of back muscle activity related to posture and loading. Orthop Clin North Am 8(1):85–96

37.

Nachemson A (1966) Electromyographic studies on the vertebral portion of the psoas muscle; with special reference to its stabilizing function of the lumbar spine. Acta Orthop Scand 37(2):177–190

38.

Dangaria TR, Naesh O (1998) Changes in cross-sectional area of psoas major muscle in unilateral sciatica caused by disc herniation. Spine 23(8):928–931

39.

Fischer MA, Nanz D, Reiner CS et al (2010) Diagnostic performance and accuracy of 3-D spoiled gradient-dual-echo MRI with water- and fat-signal separation in liver-fat quantification: comparison to liver biopsy. Invest Radiol 45:465–470

40.

Hayashi N, Miyati T, Minami T et al (2013) Quantitative analysis of hepatic fat fraction by singlebreath-holding MR spectroscopy with T2 correction: phantom and clinical study with histologic assessment. Radiol Phys Technol 6:219–225

41.

Yoo YH, Kim HS, Lee YH et al (2015) Comparison of multi-echo dixon methods with volume interpolated breath-hold gradient echo magnetic resonance imaging in fat-signal fraction quantification of paravertebral muscle. Korean J Radiol 16(5):1086–1095

42.

Fisher MA, Nanz D, Shimakawa A et al (2013) Quantification of muscle fat in patients with low back pain: comparison of multi-echo MR imaging with single-voxel MR spectroscopy. Radiology 266(2):555–563

43.

Gaeta M, Scribano E, Mileto A et al (2011) Muscle fat fraction in neuromuscular disorders: dual-echo dual-flip-angle spoiled gradient-recalled MR imaging technique for quantification: a feasibility study. Radiology 259(2):487–494
Acknowledgements
We thank Laura Gibbons for her help with data requests. Support was received from the Seventh Framework Programme (Health-2007-2013, Grant agreement no: 201626; GENODISC) and the Canada Research Chairs Program.
Ethics declarations
Conflict of interest
The authors declare that they have no conflict of interest.
About this article
Cite this article
Fortin, M., Lazáry, À., Varga, P.P. et al. Association between paraspinal muscle morphology, clinical symptoms and functional status in patients with lumbar spinal stenosis. Eur Spine J 26, 2543–2551 (2017). https://doi.org/10.1007/s00586-017-5228-y
Received:

Revised:

Accepted:

Published:

Issue Date:
Keywords
Multifidus

Erector spinae

Psoas

Fatty infiltration

Cross-sectional area

Magnetic resonance imaging

Rehabilitation