Abstract
Study design
A cross-sectional study.
Objective
To investigate the correlation of cervical spine alignment changes with aging in asymptomatic population.
Background
Previous studies demonstrated the influence of lumbar and thoracic spine on cervical spine alignment, but few has reported the cervical spine alignment change along with aging in asymptomatic population.
Methods
Asymptomatic population were divided into four groups according to different ages (Group A: ≤20 years; Group B: 21–40 years; Group C: 41–60 years; Group D: ≥61 years). Each group was composed of 30 subjects. The following parameters were measured: C0–1 Cobb angle, C1–2 Cobb angle, C2–7 Cobb angle, C1–7 sagittal vertical axis (C1–7 SVA), C2–7 SVA, central of gravity to C7 sagittal vertical axis (CG–C7 SVA), Thoracic Inlet Angle (TIA), Neck Tilt (NT), cervical tilt, cranial tilt, T1 slope (TS), TS-CL, and ANOVA statistical method was used to analyze the differences among four groups, and then, linear regression analysis was performed to analyze correlation of the cervical spine alignment with the aging.
Results
C1–7 SVA, C2–7 SVA, CG–C7 SVA, TIA, NT, TS, and cranial tilt were found statistically different among four groups (P < 0.01). From Group A to Group D, the mean C1–7 SVA were 30.7, 26.0, 21.8, and 36.9 mm, the mean C2–7 SVA were 18.7, 14.7, 11.9, and 24.7 mm, and the mean CG–C7 SVA were 19.6, 16.6, 9.4, and 26.7 mm. The mean TIA were 62.4°, 65.0°, 71.8°, and 76.9°, the mean NT were 39.4°, 43.8°, 46.3°, and 48.2°, the mean TS were 23.0°, 21.1°, 25.5°, and 28.7°, and the mean cranial tilt were 5.7°, 4.8°, 3.0°, and 9.5°. Further linear regression indicated that TIA (r = 0.472; P < 0.0001), NT (r = 0.337; P = 0.0006), and TS (r = 0.299; P = 0.0025) were positively correlated with aging.
Conclusion
A gradual increase of TIA, NT, and TS, accompanied with an increased CL, is found along with aging in asymptomatic population, among which TIA, NT, and TS are significantly correlated with physiological nature of aging.
Access options
Buy single article
Instant access to the full article PDF.
US$ 39.95
Tax calculation will be finalised during checkout.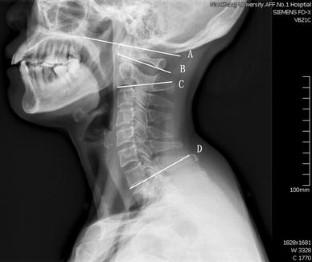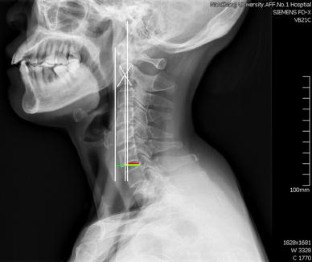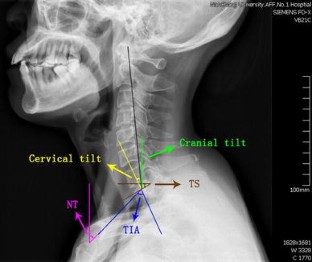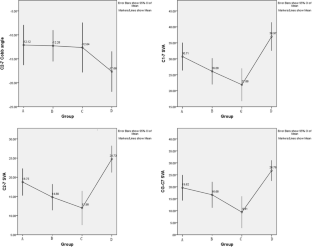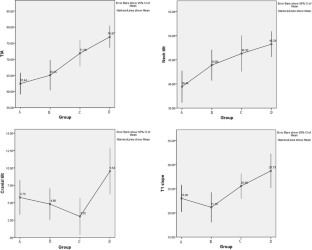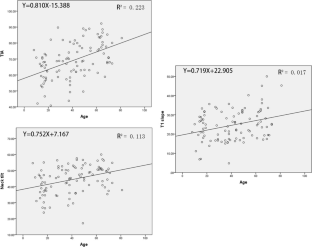 References
1.

Lee JS, Youn MS, Shin JK, Goh TS, Kang SS (2015) Relationship between cervical sagittal alignment and quality of life in ankylosing spondylitis. Eur Spine J 24(6):1199–1203

2.

Protopsaltis TS, Scheer JK, Terran JS, Smith JS, Hamilton DK, Kim HJ, Mundis GM Jr, Hart RA, McCarthy IM, Klineberg E, Lafage V, Bess S, Schwab F, Shaffrey CI, Ames CP, International Spine Study Group (2015) How the neck affects the back: changes in regional cervical sagittal alignment correlate to HRQOL improvement in adult thoracolumbar deformity patients at 2-year follow-up. J Neurosurg Spine 23(2):153–158

3.

Youn MS, Shin JK, Goh TS, Kang SS, Jeon WK, Lee JS (2016) Relationship between cervical sagittal alignment and health-related quality of life in adolescent idiopathic scoliosis. Eur Spine J 25(10):3114–3119

4.

Diebo BG, Varghese JJ, Lafage R, Schwab FJ, Lafage V (2015) Sagittal alignment of the spine: what do you need to know? Clin Neurol Neurosurg 139:295–301

5.

Smith JS, Lafage V, Schwab FJ, Shaffrey CI, Protopsaltis T, Klineberg E, Gupta M, Scheer JK, Fu KM, Mundis G, Hostin R, Deviren V, Hart R, Burton DC, Bess S, Ames CP, International Spine Study Group (2014) Prevalence and type of cervical deformity among 470 adults with thoracolumbar deformity. Spine (Phila Pa 1976) 39(17):E1001–E1009

6.

Lee SH, Kim KT, Seo EM, Suk KS, Kwack YH, Son ES (2012) The influence of thoracic inlet alignment on the craniocervical sagittal balance in asymptomatic adults. J Spinal Disord Tech 25(2):E41–E47

7.

Lee SH, Son ES, Seo EM, Suk KS, Kim KT (2015) Factors determining cervical spine sagittal balance in asymptomatic adults: correlation with spinopelvic balance and thoracic inlet alignment. Spine J 15(4):705–712

8.

Amabile C, Le Huec JC, Skalli W (2016) Invariance of head-pelvis alignment and compensatory mechanisms for asymptomatic adults older than 49 years. Eur Spine J. doi:10.1007/s00586-016-4830-8

9.

Yukawa Y, Kato F, Suda K, Yamagata M, Ueta T, Yoshida M (2016) Normative data for parameters of sagittal spinal alignment in healthy subjects: an analysis of gender specific differences and changes with aging in 626 asymptomatic individuals. Eur Spine J. doi:10.1007/s00586-016-4807-7

10.

Yokoyama K, Kawanishi M, Yamada M, Tanaka H, Ito Y, Kawabata S, Kuroiwa T (2017) Age-related variations in global spinal alignment and sagittal balance in asymptomatic Japanese adults. Neurol Res 39(5):414–418. doi:10.1080/01616412.2017.1296654

11.

Ailon T, Shaffrey C, Lenke LG, Harrop JS, Smith JS (2015) Progressive spinal kyphosis in the aging population. Neurosurgery 77(Suppl 4):S164–S172. doi:10.1227/NEU.0000000000000944

12.

Goh S, Tan C, Price RI, Edmondston SJ, Song S, Davis S, Singer KP (2000) Influence of age and gender on thoracic vertebral body shape and disc degeneration: an MR investigation of 169 cases. J Anat 197(Pt 4):647–657

13.

Matsumoto M, Okada E, Ichihara D, Watanabe K, Chiba K, Toyama Y, Fujiwara H, Momoshima S, Nishiwaki Y, Hashimoto T, Takahata T (2010) Age-related changes of thoracic and cervical intervertebral discs in asymptomatic subjects. Spine 35(14):1359–1364

14.

Weiler C, Schietzsch M, Kirchner T, Nerlich AG, Boos N, Wuertz K (2012) Age-related changes in human cervical, thoracal and lumbar intervertebral disc exhibit a strong intra-individual correlation. Eur Spine J. 21(Suppl 6):S810–S818

15.

Brandner ME (1970) Normal values of the vertebral body and intervertebral disk index during growth. Am J Roentgenol Radium Ther Nucl Med 110(3):618–627

16.

Bastir M, García Martínez D, Recheis W, Barash A, Coquerelle M, Rios L, Peña-Melián A, García Río F, O'Higgins P (2013) Differential growth and development of the upper and lower human thorax. PLoS One 8(9):e75128

17.

García-Martínez D, Recheis W, Bastir M (2016) Ontogeny of 3D rib curvature and its importance for the understanding of human thorax development. Am J Phys Anthropol 159(3):423–431

18.

Donk RD, Fehlings MG, Verhagen WI, Arnts H, Groenewoud H, Verbeek AL, Bartels RH (2017) An assessment of the most reliable method to estimate the sagittal alignment of the cervical spine: analysis of a prospective cohort of 138 cases. J Neurosurg Spine 26(5):572–576. doi:10.3171/2016.10.SPINE16632
Acknowledgements
Funding was provided by 5511 innovation-driven program of Jiangxi Province Department of Science and Technology (Grant No. 20165BCB18017), National Natural Science Foundation of China (CN) (Grant No. 81460405), Key Program of Jaingxi Provincial Department of Science and Technology (Grant No. 20152ACB21024), and Research Program of Health and Family Planning Commission of Jiangxi Province (Grant Nos. 20155087, 20155110).
Ethics declarations
Conflict of interest
We declare that we do not have any commercial or associative interest that represents a conflict of interest in connection with the work submitted.
About this article
Cite this article
Chen, Y., Luo, J., Pan, Z. et al. The change of cervical spine alignment along with aging in asymptomatic population: a preliminary analysis. Eur Spine J 26, 2363–2371 (2017). https://doi.org/10.1007/s00586-017-5209-1
Received:

Accepted:

Published:

Issue Date:
Keywords
Cervical spine alignment

Radiology

Aging

Asymptomatic population