Abstract
Purpose
A long debate exists about the connection between anorexia nervosa (AN) and scoliosis due to conflicting evidence. No study so far has evaluated the prevalence of scoliosis in patients with AN. The aim of the study is to evaluate the prevalence of idiopathic scoliosis in patients with AN.
Methods
Design: cross-sectional study. Study group: convenience sample of all patients matching the inclusion criteria. Control group: female participants coming from an epidemiological screening for scoliosis. Inclusion criteria: patients had a diagnosis of AN during adolescence according to the DSM-IV-TR criteria. We applied a two-level screening using a Bunnell scoliometer and a radiograph. We calculated the odds ratio compared with participants coming from a school screening.
Results
Seventy-seven females with AN were compared to 816 females screened for scoliosis. The prevalence of scoliosis in the AN group was 16.9% (OR 5.77, 95% CI 3.12–10.67) with respect to the control group. If we consider as positive only those who received a scoliosis diagnosis during adolescence, the OR would be 3.15 (95% CI 1.55–6.42).
Discussion
This is the first study performed on patients with AN showing a sixfold greater odds of presenting with scoliosis. A cause–effect relationship cannot be determined due to the design.
Access options
Buy single article
Instant access to the full article PDF.
USD 39.95
Price excludes VAT (USA)
Tax calculation will be finalised during checkout.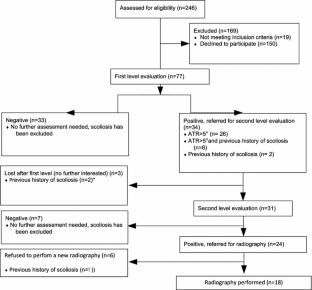 References
Hresko MT (2013) Clinical practice. Idiopathic scoliosis in adolescents. N Engl J Med 368:834–841. doi:10.1056/NEJMcp1209063

Walters EE, Kendler KS (1995) Anorexia nervosa and anorexic-like syndromes in a population-based female twin sample. Am J Psychiatry 152:64–71

Weinstein SL, Dolan LA, Spratt KF et al (2003) Health and function of patients with untreated idiopathic scoliosis: a 50-year natural history study. J Am Med Assoc 289:559–567

Smith FM, Latchford G, Hall RM et al (2002) Indications of disordered eating behaviour in adolescent patients with idiopathic scoliosis. J Bone Joint Surg Br 84:392–394

Misra M, Klibanski A (2011) Bone health in anorexia nervosa. Curr Opin Endocrinol Diabetes Obes 18:376–382. doi:10.1097/MED.0b013e32834b4bdc

Pourabbas Tahvildari B, Erfani M-A, Nouraei H, Sadeghian M (2014) Evaluation of bone mineral status in adolescent idiopathic scoliosis. Clin Orthop Surg 6:180–184. doi:10.4055/cios.2014.6.2.180

Alborghetti A, Scimeca G, Costanzo G, Boca S (2007) The prevalence of eating disorders in adolescents with idiopathic scoliosis. Eat Disord 16:85–93. doi:10.1080/10640260701773660

Zaina F, Donzelli S, Lusini M et al (2013) Adolescent idiopathic scoliosis and eating disorders: is there a relation? Results of a cross-sectional study. Res Dev Disabil 34:1119–1124. doi:10.1016/j.ridd.2013.01.001

American Psychiatric Association (2000) Diagnostic and statistical manual of mental disorders, 4th edn. American Psychiatric Association, Washington, DC

Grivas TB, Wade MH, Negrini S et al (2007) SOSORT consensus paper: school screening for scoliosis. Where are we today? Scoliosis 2:17. doi:10.1186/1748-7161-2-17

Zaina F, Atanasio S, Negrini S (2008) Clinical evaluation of scoliosis during growth: description and reliability. Stud Health Technol Inform 135:125–138

Bunnell WP (1993) Outcome of spinal screening. Spine 18:1572–1580

Negrini S, Aulisa AG, Aulisa L et al (2012) 2011 SOSORT guidelines: orthopaedic and rehabilitation treatment of idiopathic scoliosis during growth. Scoliosis 7:3. doi:10.1186/1748-7161-7-3

Ascani E, Salsano V, Giglio G (1977) The incidence and early detection of spinal deformities. A study based on the screening of 16,104 schoolchildren. Ital J Orthop Traumatol 3:111–117

Weinstein SL, Ponseti IV (1983) Curve progression in idiopathic scoliosis. J Bone Joint Surg Am 65:447–455

Hebebrand J, Muller TD, Holtkamp K, Herpertz-Dahlmann B (2006) The role of leptin in anorexia nervosa: clinical implications. Mol Psychiatry 12:23–35. doi:10.1038/sj.mp.4001909

Tam EMS, Yu FWP, Hung VWY et al (2014) Are volumetric bone mineral density and bone micro-architecture associated with leptin and soluble leptin receptor levels in adolescent idiopathic scoliosis? A case–control study. PLoS One. doi:10.1371/journal.pone.0087939

Machida M, Dubousset J, Yamada T, Kimura J (2009) Serum melatonin levels in adolescent idiopathic scoliosis prediction and prevention for curve progression–a prospective study. J Pineal Res 46:344–348. doi:10.1111/j.1600-079X.2009.00669.x

Ostrowska Z, Ziora K, Oświęcimska J et al (2013) Assessment of the relationship between melatonin, hormones of the pituitary-ovarian, -thyroid and -adrenocortical axes, and osteoprotegerin and its ligand sRANKL in girls with anorexia nervosa. Postȩpy Hig Med Dośw Online 67:433–441. doi:10.5604/17322693.1050027

Szalay EA, Bosch P, Schwend RM et al (2008) Adolescents with idiopathic scoliosis are not osteoporotic. Spine 33:802–806. doi:10.1097/BRS.0b013e318169578f

Eriksen SA, Prietzel H, Ibsen JR et al (2014) Bone and vitamin D status in patients with anorexia nervosa. Dan Med J 61:A4940
Acknowledgements
The authors are indebted to the all the staff, including MDs, nurses, psychologists, and nutritionists, involved in the management of AN in the Division of Eating Disorders at the Istituto Auxologico Italiano. This research was partially supported by funds of the Istituto Auxologico Italiano and of the Italian Ministry for University and Research, Rome, Italy (FIRB Grant: RBFR12DELS_004).
Ethics declarations
Conflict of interest
The authors declare that they have no competing interests.
About this article
Cite this article
Zaina, F., Pesenti, F., Persani, L. et al. Prevalence of idiopathic scoliosis in anorexia nervosa patients: results from a cross-sectional study. Eur Spine J 27, 293–297 (2018). https://doi.org/10.1007/s00586-017-5181-9
Received:

Revised:

Accepted:

Published:

Issue Date:

DOI: https://doi.org/10.1007/s00586-017-5181-9
Keywords
Scoliosis

Anorexia

Adolescent

Idiopathic