Abstract
Purpose
To analyse pre-operative and post-operative changes of cervical sagittal alignment (CSA) in Scheuermann's kyphosis (SK) patients.
Methods
64 SK and 33 control patients were retrospectively reviewed. Whole spine X-rays obtained at pre-op, 3 months post-op and at latest follow-up were reviewed and ten separate CSA radiological parameters were measured. Patients were divided in three groups: thoracic SK (TK group, apex T6–T9, n = 40), thoracolumbar SK (TLK group, apex T10–T12, n = 24), and controls.
Results
Pre-operative C2–C7 lordosis was 21.1° ± 8.1°(TK), 6.1° ± 5.0°(TLK), and 11.4° ± 8.3° in control group and correlated significantly with T1 slope in both SK groups (r = 0.640, r = 0.772). Pre-operative T1 slope was dependent on deformity type, thoracic kyphosis (TK, β = 0.445), and lumbar lordosis (LL, β = −0.354). At final follow-up C2–C7 lordosis decreased to 15.7° ± 5.5° in TK, and increased to 12.1° ± 4.1° in TLK group. C2–C7 lordosis changes linearly correlated with T1 slope changes post-operatively (r = 0.721). Post-operative T1 slope showed linear correlation with post-operative changes in TK (β = 0.728) and pelvic tilt (PT, β = 0.539) in TK, and LL (β = −0.669), thoracolumbar kyphosis (TLK, β = −0.434), and PT (β = 0.760) in TLK group.
Conclusions
Our study suggests that SK is not a homogenous group of patients. Two patterns of pre- and post-operative CSA are demonstrated in TK and TLK groups. T1 slope is the most important parameter in determining pre-operative CSA and correlates with other regional anatomical parameters (TK and LL). Post-operative CSA adaptations also correlate with T1 slope post-operative changes. However, post-surgical T1 slope correlates with different parameters in the two SK groups (TK and PT in TK group; TLK, LL, and PT in TLK group).
Access options
Buy single article
Instant access to the full article PDF.
USD 39.95
Price excludes VAT (USA)
Tax calculation will be finalised during checkout.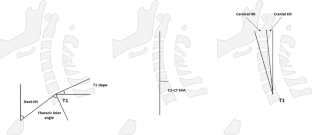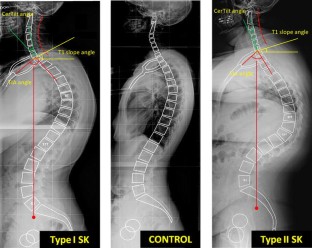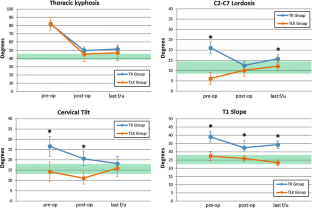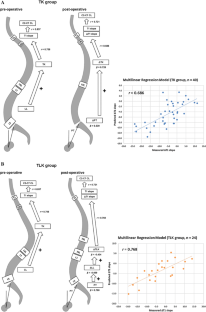 References
Damborg F, Engell V, Andersen M et al (2006) Prevalence, concordance, and heritability of Scheuermann kyphosis based on a study of twins. J Bone Jt Surg Am 88:2133–2136. doi:10.2106/JBJS.E.01302

Lowe TG (1990) Scheuermann disease. J Bone Jt Surg Am 72:940–945

Legaye J, Duval-Beaupère G, Hecquet J, Marty C (1998) Pelvic incidence: a fundamental pelvic parameter for three-dimensional regulation of spinal sagittal curves. Eur Spine J 7:99–103

Ames CP, Smith JS, Scheer JK et al (2012) Impact of spinopelvic alignment on decision making in deformity surgery in adults: a review. J Neurosurg Spine 16:547–564. doi:10.3171/2012.2.SPINE11320

Loder RT (2001) The sagittal profile of the cervical and lumbosacral spine in Scheuermann Thoracic Kyphosis. J Spinal Disord 14:226–231. doi:10.1097/00002517-200106000-00007

Jiang L, Qiu Y, Xu L et al (2014) Sagittal spinopelvic alignment in adolescents associated with Scheuermann's kyphosis: a comparison with normal population. Eur Spine J 23:1420–1426. doi:10.1007/s00586-014-3266-2

Janusz P, Tyrakowski M, Kotwicki T, Siemionow K (2015) Cervical Sagittal Alignment in Scheuermann Disease. Spine (Phila Pa 1976) 40:E1226–E1232. doi:10.1097/BRS.0000000000001129

Sørensen KH, Cour AI (1964) Scheuermann's Juvenile Kyphosis. Copenhagen

Bradford DS (1977) Juvenile kyphosis. Clin Orthop Relat Res 128:45–55

Lonner BS, Newton P, Betz R et al (2007) Operative management of Scheuermann's kyphosis in 78 patients: radiographic outcomes, complications, and technique. Spine (Phila Pa 1976) 32:2644–2652. doi:10.1097/BRS.0b013e31815a5238

Cho K-J, Lenke LG, Bridwell KH et al (2009) Selection of the optimal distal fusion level in posterior instrumentation and fusion for thoracic hyperkyphosis. Spine (Phila Pa 1976) 34:765–770. doi:10.1097/BRS.0b013e31819e28ed

Janusz P, Tyrakowski M, Yu H, Siemionow K (2016) Reliability of cervical lordosis measurement techniques on long-cassette radiographs. Eur Spine J 25:3596–3601. doi:10.1007/s00586-015-4345-8

Cecchinato R, Langella F, Bassani R et al (2014) Variations of cervical lordosis and head alignment after pedicle subtraction osteotomy surgery for sagittal imbalance. Eur Spine J 23(Suppl 6):644–649. doi:10.1007/s00586-014-3546-x

Ha Y, Schwab F, Lafage V et al (2014) Reciprocal changes in cervical spine alignment after corrective thoracolumbar deformity surgery. Eur Spine J 23:552–559. doi:10.1007/s00586-013-2953-8

Nasto LA, Perez-Romera AB, Shalabi ST et al (2016) Correlation between preoperative spinopelvic alignment and risk of proximal junctional kyphosis after posterior-only surgical correction of Scheuermann kyphosis. Spine J 16:S26–S33. doi:10.1016/j.spinee.2015.12.100
Ethics declarations
Conflict of interest
All authors declared that they have no potential conflict of interest.
About this article
Cite this article
Nasto, L.A., Shalabi, S.T., Perez-Romera, A.B. et al. Analysis of cervical sagittal alignment change following correction of thoracic and thoracolumbar Scheuermann's kyphosis. Eur Spine J 26, 2187–2197 (2017). https://doi.org/10.1007/s00586-017-5069-8
Received:

Revised:

Accepted:

Published:

Issue Date:

DOI: https://doi.org/10.1007/s00586-017-5069-8
Keywords