Abstract
Purpose
Magnetic resonance imaging (MRI) of the spine is a sensitive investigation, which not only provides detailed images of the spinal column but also adjacent spinal regions and para-vertebral organ systems. Such incidental findings (IF) can be asymptomatic but significant. The efficacy of whole spine T2 sagittal screening in providing additional information has been demonstrated in several spinal diseases but its routine use in patients with spinal degenerative diseases has not been studied.
Methodology
A review of 1486 consecutive T2w whole spine screening MRI performed for cervical, thoracic or lumbar spinal imaging for degenerative diseases, was performed to document the incidence and significance of asymptomatic IF in the spinal and extra-spinal regions.
Results
236 (15.88%) patients had IF with a M:F ratio of 102:134 and the mean age being 50.3 years. Of these, spinal IF was observed in 122 (51.7%—Group A) while extra-spinal IF was present in 114 (48.3%—Group B). In Group A, 84 patients had IF in the vertebral column and 38 patients had IF in the spinal cord. IF within the spine included vertebral haemangioma (n = 60, 4.5%), diffuse vertebral marrow changes (n = 18, 1.2%), vertebral metastasis (n = 2), incidental cord myelopathy (n = 21), intradural tumour (n = 7), and others. 33 patients required surgical intervention of the IF (2.2%). In Group B, pelvic IF were most prevalent (n = 79, 5.3%) followed by retro-peritoneal abdominal IF in 22 (1.48%) and intra-cranial IF in 9 (0.60%). 32 (2.1%) of these pathologies required further specialist medical or surgical evaluation.
Conclusion
Routine T2 whole spine screening MRI identified 15.8% IF of the spinal and extra-spinal regions. 65 patients (4.3%) required either spine surgical intervention or other specialist care. Considering the potential advantages in identifying significant IF and the minimal extra time spent to perform whole spine screening, its application can be considered to be incorporated in routine imaging of spinal degenerative diseases.
Access options
Buy single article
Instant access to the full article PDF.
US$ 39.95
Tax calculation will be finalised during checkout.
Subscribe to journal
Immediate online access to all issues from 2019. Subscription will auto renew annually.
US$ 119
Tax calculation will be finalised during checkout.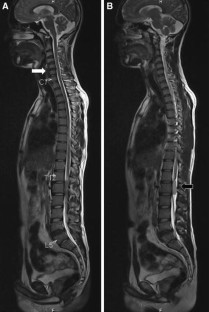 References
1.

Schaefer DM, Flanders A, Northrup BE, Doan HT, Osterholm JL (1989) Magnetic resonance imaging of acute cervical spine trauma. Correlation with severity of neurologic injury. Spine (Phila Pa 1976) 14(10):1090–1095

2.

Flanders AE, Spettell CM, Friedman DP, Marino RJ, Herbison GJ (1999) The relationship between the functional abilities of patients with cervical spinal cord injury and the severity of damage revealed by MR imaging. AJNR Am J Neuroradiol 20:926–934

3.

Yamashita Y, Takahashi M, Matsuno Y et al (1990) Chronic injuries of the spinal cord: assessment with MR imaging. Radiology 175:849–854

4.

Schmitz A, Jaeger UE, Koenig R, Kandyba J, Wagner UA, Giesecke J et al (2001) A new MRI technique for imaging scoliosis in the sagittal plane. Eur Spine J 10:114–117

5.

Althoff CE, Appel H, Rudwaleit M, Sieper J, Eshed I, Hermann KG (2007) Whole-body MRI as a new screening tool for detecting axial and peripheral manifestations of spondyloarthritis. Ann Rheum Dis 66:983–985

6.

Green RA, Saifuddin A (2004) Whole spine MRI in the assessment of acute vertebral body trauma. Skeletal Radiol 33:129–135

7.

Kaila R, Malhi AM, Mahmood B, Saifuddin A (2007) The incidence of multiple level noncontiguous vertebral tuberculosis detected using whole spine MRI. J Spinal Disord Tech 20:78–81

8.

Schmitz A, Kandyba J, Koenig R, Jaeger UE, Gieseke J, Schmitt O (2001) A new method of MR total spine imaging for showing the brace effect in scoliosis. J Orthop Sci 6:316–319

9.

Boden SD, Davis DO, Dina TS, Patronas NJ, Wiesel SW (1990) Abnormal magnetic-resonance scans of the lumbar spine in asymptomatic subjects. A prospective investigation. J Bone Jt Surg Am 72:403–408

10.

Park JY, Chin DK, Kim KS, Cho YE (2008) Thoracic ligament ossification in patients with cervical ossification of the posterior longitudinal ligaments: tandem ossification in the cervical and thoracic spine. Spine (Phila Pa 1976) 33:E407–E410

11.

Lee HM, Kim HS, Kim DJ, Suk KS, Park JO, Kim NH (2000) Reliability of magnetic resonance imaging in detecting posterior ligament complex injury in thoracolumbar spinal fractures. Spine (Phila Pa 1976) 25(16):2079–2084

12.

Oner FC, vd Rijt RH, Ramos LM, Groen GJ, Dhert WJ, Verbout AJ (1999) Correlation of MR images of disc injuries with anatomic sections in experimental thoracolumbar spine fractures. Eur Spine J 8(3):194–198

13.

Wagner SC, Morrison WB, Carrino JA, Schweitzer ME, Nothnagel H (2002) Picture archiving and communication system: effect on reporting of incidental findings. Radiology 225:500–505

14.

Park HJ, Jeon YH, Rho MH, Lee EJ, Park NH, Park SI, Jo JH (2011) Incidental findings of the lumbar spine at MRI during herniated intervertebral disk disease evaluation. AJR Am J Roentgenol 196(5):1151–1155

15.

Kanna RM, Gaike CV, Mahesh A, Shetty AP, Rajasekaran S (2016) Multilevel non-contiguous spinal injuries: incidence and patterns based on whole spine MRI. Eur Spine J 25(4):1163–1169

16.

Han IH, Suh SH, Kuh SU, Chin DK, Kim KS (2010) Types and prevalence of coexisting spine lesions on whole spine sagittal MR images in surgical degenerative spinal diseases. Yonsei Med J 51(3):414–420

17.

Bednarik J, Kadanka Z, Dusek L, Novotny O, Surelova D, Urbanek I et al (2004) Presymptomatic spondylotic cervical cord compression. Spine (Phila Pa 1976) 29:2260–2269

18.

Palsdottir HB, Hardarson S, Petursdottir V et al (2012) Incidental detection of renal cell carcinoma is an independent prognostic marker: results of a long-term, whole population study. J Urol 187:48–53
Ethics declarations
Conflict of interest
There are no conflicts of interest.
About this article
Cite this article
Kanna, R.M., Kamal, Y., Mahesh, A. et al. The impact of routine whole spine MRI screening in the evaluation of spinal degenerative diseases. Eur Spine J 26, 1993–1998 (2017). https://doi.org/10.1007/s00586-017-4944-7
Received:

Revised:

Accepted:

Published:

Issue Date:
Keywords
Whole spine

Magnetic resonance imaging

Screening

Incidental findings