Abstract
Purpose
To evaluate the association in ASD patients between spinopelvic sagittal parameters and health-related quality of life (HRQL), adjusted for demographic and surgical variables.
Methods
We constructed multiple linear regression models to investigate pre-operative (PreOp) and 6-month post-operative (PostOp) HRQL as assessed by the Oswestry Disability Index (ODI), with sagittal parameters as independent variables adjusted for potential confounders, such as age, sex, body mass index, past spine surgery, types of surgical treatment, and complications.
Results
A total of 204 patients (164 women, 40 men, mean age 53.1 years) were included in this study. In multivariate models for PreOp ODI, no significant association was observed between PreOp HRQL and sagittal parameters when adjusted for covariates. Interestingly, age, sex, American Society of Anesthesiologists score, and body mass index were still significantly associated with PreOp HRQL. In contrast to PreOp analysis, there was a significant association between PostOp worse HRQL (higher ODI) and positive T1 sagittal tilt (T1ST: the angle between a line drawn from the center of the femoral head axis to the midpoint of the T1 vertebral body and a vertical line). Sagittal vertical axis had a weaker association with HRQL than T1ST. PostOp ASD patients lose flexibility in the fused spinal segment, and might be predisposed to symptoms related to spinal sagittal malalignment due to limited compensatory ability to maintain a balanced standing posture. Interestingly, in patients with sagittal imbalance, low pelvic tilt (PT) of <20 was significantly associated with PostOp worse HRQL; this suggests that lack of pelvic compensatory ability can cause significant disability after ASD surgery.
Conclusions
Pre-operatively, the impact of sagittal parameters on HRQL was not as strong as reported in the previous studies that used univariate analysis. Not only sagittal parameters, but also the pre-operative patient's general condition should be carefully reviewed when considering indication for ASD surgery. In contrast, although this is a short-term follow-up study, PostOp HRQL was significantly associated with sagittal parameters. When ASD surgery has been indicated, restoration of spinal sagittal alignment is certainly important for PostOp HRQL.
We're sorry, something doesn't seem to be working properly.
Please try refreshing the page. If that doesn't work, please contact support so we can address the problem.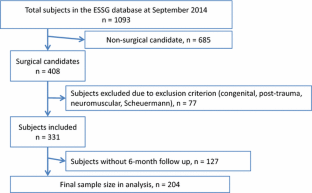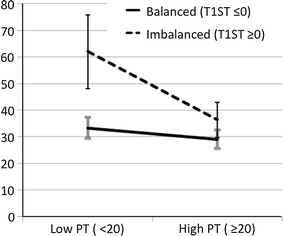 References
1.

Glassman SD, Berven S, Bridwell K, Horton W, Dimar JR (2005) Correlation of radiographic parameters and clinical symptoms in adult scoliosis. Spine 30:682–688

2.

Glassman SD, Bridwell K, Dimar JR, Horton W, Berven S, Schwab F (2005) The impact of positive sagittal balance in adult spinal deformity. Spine 30:2024–2029

3.

Schwab FJ, Blondel B, Bess S, Hostin R, Shaffrey CI, Smith JS, Boachie-Adjei O, Burton DC, Akbarnia BA et al (2013) Radiographical spinopelvic parameters and disability in the setting of adult spinal deformity: a prospective multicenter analysis. Spine 38:E803–E812. doi:10.1097/BRS.0b013e318292b7b9

4.

Lafage V, Schwab F, Patel A, Hawkinson N, Farcy JP (2009) Pelvic tilt and truncal inclination: two key radiographic parameters in the setting of adults with spinal deformity. Spine 34:E599–E606. doi:10.1097/BRS.0b013e3181aad219

5.

Fu KM, Bess S, Shaffrey CI, Smith JS, Lafage V, Schwab F, Burton DC, Akbarnia BA, Ames CP et al (2014) Patients with adult spinal deformity treated operatively report greater baseline pain and disability than patients treated nonoperatively; however, deformities differ between age groups. Spine 39:1401–1407. doi:10.1097/BRS.0000000000000414

6.

Protopsaltis T, Schwab F, Bronsard N, Smith JS, Klineberg E, Mundis G, Ryan DJ, Hostin R, Hart R et al (2014) TheT1 pelvic angle, a novel radiographic measure of global sagittal deformity, accounts for both spinal inclination and pelvic tilt and correlates with health-related quality of life. J Bone Joint Surg Am 96:1631–1640. doi:10.2106/JBJS.M.01459

7.

Bess S, Boachie-Adjei O, Burton D, Cunningham M, Shaffrey C, Shelokov A, Hostin R, Schwab F, Wood K et al (2009) Pain and disability determine treatment modality for older patients with adult scoliosis, while deformity guides treatment for younger patients. Spine 34:2186–2190. doi:10.1097/BRS.0b013e3181b05146

8.

Schwab F, Lafage V, Boyce R, Skalli W, Farcy JP (2006) Gravity line analysis in adult volunteers: age-related correlation with spinal parameters, pelvic parameters, and foot position. Spine 31:E959–E967. doi:10.1097/01.brs.0000248126.96737.0f

9.

Sánchez-Mariscal F, Gomez-Rice A, Izquierdo E, Pizones J, Zúñiga L, Alvarez-González P (2012) Correlation of radiographic and functional measurements in patients who underwent primary scoliosis surgery in adult age. Spine 37:592–598. doi:10.1097/BRS.0b013e318227336a

10.

Mac-Thiong JM, Transfeldt EE, Mehbod AA, Perra JH, Denis F, Garvey TA, Lonstein JE, Wu C, Dorman CW et al (2009) Can c7 plumbline and gravity line predict health related quality of life in adult scoliosis? Spine 34:E519–E527. doi:10.1097/BRS.0b013e3181a9c7ad

11.

Baldus C, Bridwell K, Harrast J, Shaffrey C, Ondra S, Lenke L, Schwab F, Mardjetko S, Glassman S et al (2011) The Scoliosis Research Society Health-Related Quality of Life (SRS-30) age-gender normative data: an analysis of 1346 adult subjects unaffected by scoliosis. Spine 36:1154–1162. doi:10.1097/BRS.0b013e3181fc8f98

12.

Araújo F, Lucas R, Alegrete N, Azevedo A, Barros H (2014) Sagittal standing posture, back pain, and quality of life among adults from the general population: a sex-specific association. Spine 39:E782–E794. doi:10.1097/BRS.0000000000000347

13.

Schuller S, Charles YP, Steib JP (2011) Sagittal spinopelvic alignment and body mass index in patients with degenerative spondylolisthesis. Eur Spine J 20:713–719. doi:10.1007/s00586-010-1640-2

14.

Mendoza-Lattes S, Ries Z, Gao Y, Weinstein SL (2011) Proximal junctional kyphosis in adult reconstructive spine surgery results from incomplete restoration of the lumbar lordosis relative to the magnitude of the thoracic kyphosis. Iowa Orthop J 31:199–206

15.

Yagi M, Akilah KB, Boachie-Adjei O (2011) Incidence, risk factors and classification of proximal junctional kyphosis: surgical outcomes review of adult idiopathic scoliosis. Spine 36:E60–E68. doi:10.1097/BRS.0b013e3181eeaee2

16.

Pellisé F, Vila-Casademunt A, Ferrer M, Domingo-Sàbat M, Bagó J, Pérez-Grueso FJ, Alanay A, Mannion AF, Acaroglu E et al (2015) Impact on health related quality of life of adult spinal deformity (ASD) compared with other chronic conditions. Eur Spine J 24:3–11. doi:10.1007/s00586-014-3542-1

17.

Schwab F, Ungar B, Blondel B, Buchowski J, Coe J, Deinlein D, DeWald C, Mehdian H, Shaffrey C et al (2012) Scoliosis Research Society-Schwab adult spinal deformity classification: a validation study. Spine 37:1077–1082. doi:10.1097/BRS.0b013e31823e15e2

18.

Terran J, Schwab F, Shaffrey CI, Smith JS, Devos P, Ames CP, Fu KM, Burton D, Hostin R et al (2013) The SRS-Schwab adult spinal deformity classification: assessment and clinical correlations based on a prospective operative and nonoperative cohort. Neurosurgery 73:559–568. doi:10.1227/NEU.0000000000000012

19.

Scheer JK, Smith JS, Clark AJ, Lafage V, Kim HJ, Rolston JD, Eastlack R, Hart RA, Protopsaltis TS et al (2015) Comprehensive study of back and leg pain improvements after adult spinal deformity surgery: analysis of 421 patients with 2-year follow-up and of the impact of the surgery on treatment satisfaction. J Neurosurg Spine 22:1–14. doi:10.3171/2014.10.SPINE14475

20.

Gottfried ON, Daubs MD, Patel AA, Dailey AT, Brodke DS (2009) Spinopelvic parameters in postfusion flatback deformity patients. Spine J 9:639–647. doi:10.1016/j.spinee.2009.04.008

21.

Ayhan S, Aykac B, Yuksel S, Guler UO, Pellise F, Alanay A, Perez-Grueso FJ, Acaroglu E, ESSG European Spine Study Group (2015) Safety and efficacy of osteotomies in adult spinal deformity: what happens in the first year? Eur Spine J. doi:10.1007/s00586-015-3981-3

22.

Scheer JK, Mundis GM, Klineberg E, Hart RA, Deviren V, Burton DC, Protopsaltis TS, Gupta M, Rolston JD et al (2015) Recovery following adult spinal deformity surgery: the effect of complications and reoperation in 149 patients with 2-year follow-up. Eur Spine J. doi:10.1007/s00586-015-3787-3

23.

Glassman SD, Hamill CL, Bridwell KH, Schwab FJ, Dimar JR, Lowe TG (2007) The impact of perioperative complications on clinical outcome in adult deformity surgery. Spine 32:2764–2770. doi:10.1097/BRS.0b013e31815a7644

24.

Horton WC, Brown CW, Bridwell KH, Glassman SD, Suk SI, Cha CW (2005) Is there an optimal patient stance for obtaining a lateral 36″ radiograph? A critical comparison of three techniques. Spine 30:427–433

25.

Vialle R, Levassor N, Rillardon L, Templier A, Skalli W, Guigui P (2005) Radiographic analysis of the sagittal alignment and balance of the spine in asymptomatic subjects. J Bone Joint Surg Am 87:260–267. doi:10.2106/JBJS.D.02043

26.

Schwab F, Patel A, Ungar B, Farcy JP, Lafage V (2010) Adult spinal deformity-postoperative standing imbalance: how much can you tolerate? An overview of key parameters in assessing alignment and planning corrective surgery. Spine 35:2224–2231. doi:10.1097/BRS.0b013e3181ee6bd4

27.

Schwab F, Lafage V, Patel A, Farcy JP (2009) Sagittal plane considerations and the pelvis in the adult patient. Spine 34:1828–1833. doi:10.1097/BRS.0b013e3181a13c08

28.

Gelb DE, Lenke LG, Bridwell KH, Blanke K, McEnery KW (1995) An analysis of sagittal spinal alignment in 100 asymptomatic middle and older aged volunteers. Spine (Phila Pa 1976) 20:1351–1358

29.

Mac-Thiong JM, Roussouly P, Berthonnaud E, Guigui P (2011) Age- and sex-related variations in sagittal sacropelvic morphology and balance in asymptomatic adults. Eur Spine J 20(Suppl 5):572–577. doi:10.1007/s00586-011-1923-2

30.

Obeid I, Hauger O, Aunoble S, Bourghli A, Pellet N, Vital JM (2011) Global analysis of sagittal spinal alignment in major deformities: correlation between lack of lumbar lordosis and flexion of the knee. Eur Spine J 20(Suppl 5):681–685. doi:10.1007/s00586-011-1936-x

31.

Barrey C, Roussouly P, Le Huec JC, D'Acunzi G, Perrin G (2013) Compensatory mechanisms contributing to keep the sagittal balance of the spine. Eur Spine J 22(Suppl 6):S834–S841. doi:10.1007/s00586-013-3030-z

32.

Duval-Beaupère G, Robain G (1987) Visualization on full spine radiographs of the anatomical connections of the centres of the segmental body mass supported by each vertebra and measured in vivo. Int Orthop 11:261–269

33.

Duval-Beaupère DG, Schmidt C, Cosson P (1992) A barycentremetric study of the sagittal shape of spine and pelvis: the conditions required for an economic standing position. Ann Biomed Eng 20:451–462. doi:10.1007/BF02368136

34.

Legaye J, Duval-Beaupere G (2008) Gravitational forces and sagittal shape of the spine. Clinical estimation of their relations. Int Orthop 32:809–816. doi:10.1007/s00264-007-0421-y

35.

Ferrero E, Vira S, Ames CP, Kebaish K, Obeid I, O'Brien MF, Gupta MC, Boachie-Adjei O, Smith JS et al (2015) Analysis of an unexplored group of sagittal deformity patients: low pelvic tilt despite positive sagittal malalignment. Eur Spine J. doi:10.1007/s00586-015-4048-1

36.

Lamartina C, Berjano P (2014) Classification of sagittal imbalance based on spinal alignment and compensatory mechanisms. Eur Spine J 23:1177–1189. doi:10.1007/s00586-014-3227-9

37.

Jackson RP, McManus AC (1994) Radiographic analysis of sagittal plane alignment and balance in standing volunteers and patients with low back pain matched for age, sex, and size. A prospective controlled clinical study. Spine (Phila Pa 1976) 19:1611–1618

38.

Lafage V, Schwab F, Skalli W, Hawkinson N, Gagey PM, Ondra S, Farcy JP (2008) Standing balance and sagittal plane spinal deformity: analysis of spinopelvic and gravity line parameters. Spine 33:1572–1578. doi:10.1097/BRS.0b013e31817886a2
Acknowledgements
Grants/research support: Pellise F: Depuy Synthes, K2M; Perez-Grueso F.S: Depuy Synthes, K2M; Acaroglu E: Fondation Cotrel, Depuy Synthes, Medtronic, Consultant: Medtronic, AOSpine; Alanay A; Depuy Synthes Consultant: Depuy Spine, Stryker, Medtronic; Obeid I: Depuy Synthes; ESSG: Depuy Synthes.
Ethics declarations
Conflict of interest
None.
Ethical approval
Protocol for ESSG database has been approved by the local ethical committee.
Informed consent
Informed consent was obtained from each patient.
Additional information
On behalf of European Spine Study Group, ESSG.
Electronic supplementary material
Below is the link to the electronic supplementary material.
About this article
Cite this article
Takemoto, M., Boissière, L., Vital, JM. et al. Are sagittal spinopelvic radiographic parameters significantly associated with quality of life of adult spinal deformity patients? Multivariate linear regression analyses for pre-operative and short-term post-operative health-related quality of life. Eur Spine J 26, 2176–2186 (2017). https://doi.org/10.1007/s00586-016-4872-y
Received:

Revised:

Accepted:

Published:

Issue Date:
Keywords
Adult spinal deformity

Sagittal vertical axis

T1 sagittal tilt

Pelvic tilt

Pelvic incidence