Abstract
Purpose
To report the incidence of cancer in a cohort of adolescent idiopathic scoliosis (AIS) patients treated 25 years previously.
Methods
215 consecutive AIS patients treated between 1983 and 1990 were identified and requested to return for clinical and radiographic examination. The incidence of cancer was determined through chart review and follow-up interviews. Using the original radiographic log file that included patient position, mAs, kV and the total number of X-rays taken, a radiation physicist calculated the total radiation dose during treatment and follow-up adjusted for BMI and sex.
Results
From the original cohort of 215 consecutive AIS patients, radiation information was available in 211 of the patients, and medical charts were available in 209 AIS patients. 170 (83 %) of the 205 AIS patients participated in the follow-up study with questionnaires. The calculated mean total radiation exposure was 0.8–1.4 mSV per examination and 2.4–5.6 mSv/year. An average of 16 radiographs were taken during the treatment period. Nine AIS patients developed cancer, mostly breast (3) and endometrial (4). The AIS patients had a relative risk of 4.8 (CI 2.3–5.8, p < 0.000) for developing cancer compared to the normal Danish population.
Conclusions
The overall cancer rate in this AIS cohort was 4.3 % which is five times higher than compared to the age-matched Danish population, and endometrial and breast cancer was most frequent. The radiation dose applied to the patients in this study, is comparable to modern equipment. This is to our knowledge the first study to report increased rates of endometrial cancers in a cohort of AIS patients, and future attention is needed to reduce the radiation dose distributed to the AIS patients both pre-operatively and during surgery.
This is a preview of subscription content, log in to check access.
Access options
Buy single article
Instant access to the full article PDF.
US$ 39.95
Price includes VAT for USA
Subscribe to journal
Immediate online access to all issues from 2019. Subscription will auto renew annually.
US$ 199
This is the net price. Taxes to be calculated in checkout.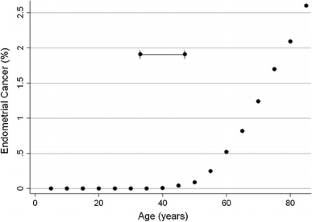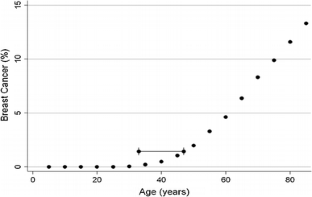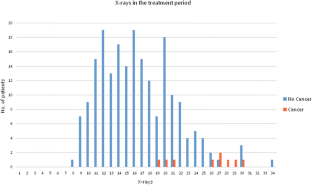 References
1.

Barton S, Najita JS, Ginsburg ES, Leisenring WM, Stovall M et al (2013) Infertility, infertility treatment, and achievement of pregnancy in female survivors of childhood cancer: a report from the childhood cancer survivor study cohort. Lancet Oncol 14(9):873–881

2.

Gao W, Liang JX, Yan Q (2015) Exposure to radiation therapy is associated with female reproductive health among childhood cancer survivors: a meta-analysis study. J Assist Reprod Genet. doi:10.1007/s10815-015-0490-6

3.

Winther JF, Boice JD, Svendsen AL, Frederiksen K, Stovall M, Olsen JH (2008) Spontaneous abortion in a Danish population-based cohort of childhood cancer survivors. J Clin Onchol 26(26):4340–4346

4.

UNSCEAR (2000) UNSCEAR 2000: the united nations scientific committee on the effects of atomic radiation. Health Phys 79:314

5.

National Academy of Science (2006) Health risks from exposure to low levels of ionizing radiation: BEIR VII. National Academy Press, Washington

6.

Ronckers CM, Land CE, Miller JS, Stovall M, Lonstein JE, Doody MM (2010) Cancer mortality among women frequently exposed to radiographic examinations for spinal disorders. Radiat Res 174(1):83–90

7.

Doody MM, Lonstein JE, Stovall M, Hacker DG, Luckyanov N, Land CE (2000) Breast cancer mortality after diagnostic radiography: findings from the US scoliosis cohort study. Spine 25(16):2052–2063 (Phila Pa 1976)

8.

Himmetoglu S, Guven MF, Bilsel N, Dincer Y (2015) DNA damage in children with scoliosis following X-ray exposure. Minerva Pediatr 67(3):245–249

9.

Simony A, Carreon LY, Christensen SB, Andersen MO (2015) Radiological outcome in adolescent idiopathic scoliosis patients more than 22 years after treatment. Spine Deform 5:436–439

10.

Simony A, Hansen EJ, Carreon LY, Christensen SB, Andersen MO (2015) Health-related quality-of-life in adolescent idiopathic scoliosis patients 25 years after treatment. Scoliosis 10:22. doi:10.1186/s13013-015-0045-8 (eCollection 2015)

11.

Engholm G, Ferlay J, Christensen N, Bray F, Gjerstorff ML, Klint A et al (2010) NORDCAN—a nordic tool for cancer information, planning, quality control and research. Acta Oncol 49(5):725–736

12.

WHO European Tobacco Control Status Report (2014) http://www.euro.who.int/__data/assets/pdf_file/0009/248418/European-Tobacco-Control-Status-Report-2014-Eng.pdf?ua=1. Accessed 01 June 2016

13.

Ron E, Lubin JH, Shore RE, Mabuchi K, Modan B, Pottern LM et al (1995) Thyroid cancer after exposure to external radiation: a pooled analysis of seven studies. Radiat Res 141:259–277

14.

Ronckers CM, Erdmann CE, Land CE (2005) Radiation and breast cancer. A review of current evidence. Breast Cancer Res 7:21–32

15.

Levy AR, Goldberg MS, Mayo NE, Hanley JA, Poitras B (1996) Reducing the lifetime risk of cancer from spinal radiographs among people with adolescent idiopathic scoliosis. Spine 21(13):1540–1547 (Phila Pa 1976, discussion 1548)

16.

Hoffman DA, Lonstein JE, Morin MM, Visscher W, Harris BS 3rd, Boice JD Jr (1989) Breast cancer in woman with scoliosis exposed to multiple diagnostic X rays. J Natl Cancer Inst 81(17):1307–1312

17.

Amant F, Moerman P, Neven P, Timmerman D, Van Limbergen E, Vergote I (2005) Endometrical cancer. Lancet 366(9484):491–505

18.

Yang HP, Cook LS, Weiderpass E (2015) Infertility and incident endometrial cancer risk: a polled analysis from the epidemiology of endometrial cancer consortium (E2C2). Br J Cancer 112(5):925–933

19.

Remedio D, Cavanagh P, Ashford N, Grenier P, Bezzi M et al (2014). Protection radiation n. 178 referral guidelines for medical imaging availability and use in the european union. http://www.eurosafeimaging.org/wp/wp-content/uploads/2015/05/Radiation-Protection-178.pdf. Accessed 21 Nov 2015

20.

Hatakeyama J, Wald JH, Printsev I, Ho HY, Carraway KL (2014) Vangl1 and Vangl2: planar cell polarity components with a developing role in cancer. Endocr Relat Cancer 21(5):R345–R356. doi:10.1530/ERC-14-0141

21.

Anastas JN, Biechele TL, Robitaille M, Muster J, Allison KH, Angers S, Moon RT (2012) A protein complex of SCRIB, NOS1AP and VANGL1 regulates cell polarity and migration, and is associated with breast cancer progression. Oncogene 31:3696–3708. doi:10.1038/onc.2011.528

22.

Ilharreborde B, Steffen JS, Nectoux E, Vital JM, Mazda K, Skalli W, Obeid I (2011) Angle measurement reproducibility using the EOS three dimensional reconstruction in adolescent idiopathic scoliosis treated by posterior instrumentation. Spine 36(20):E1306–E1313. doi:10.1097/BRS.0b013e3182293548 (Phila Pa 1976)

23.

McArthus N, Conlan DP, Crawford JR (2015) Radiation exposure during scoliosis surgery: a prospective study. Spine J 15(3 Suppl):S33–S36. doi:10.1016/j.spinee.2014.12.149

24.

Luo TD, Stans AA, Schueler BA, Larson AN (2015) Cumulative radiation with EOS imaging compared with standard spine radiographs. Spine Deform 3:144–150

25.

Presciutti SM, Karukanda T, Lee M (2014) Management decisions for adolescent idiopathic scoliosis significantly affects patients radiation exposure. Spine J 14(9):1984–1990

26.

Ilharreborde B, Ferrero E, Alison M, Mazda K (2016) EOS microdose protocol for the radiological follow-up of adolescent idiopathic scoliosis. Eur Spine J 25(2):526–531
Ethics declarations
Conflict of interest
None of the authors has any potential conflict of interest.
This study was approved by the Ethical Committee of Southern Denmark, Datatilsynet, and was conducted at the Center for Spine Surgery and Research, Lillebaelt Hospital, Ostre Hougvej 55, 5000 Middelfart, Denmark.
About this article
Cite this article
Simony, A., Hansen, E.J., Christensen, S.B. et al. Incidence of cancer in adolescent idiopathic scoliosis patients treated 25 years previously. Eur Spine J 25, 3366–3370 (2016). https://doi.org/10.1007/s00586-016-4747-2
Received:

Revised:

Accepted:

Published:

Issue Date:
Keywords
Adolescent idiopathic scoliosis

Long-term follow-up

Incidence of cancer

Radiation dose