Access options
Buy single article
Instant access to the full article PDF.
US$ 39.95
Tax calculation will be finalised during checkout.
Subscribe to journal
Immediate online access to all issues from 2019. Subscription will auto renew annually.
US$ 119
Tax calculation will be finalised during checkout.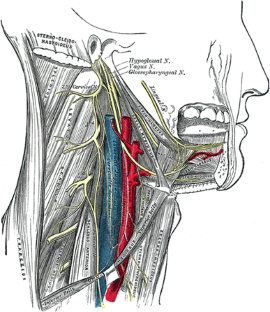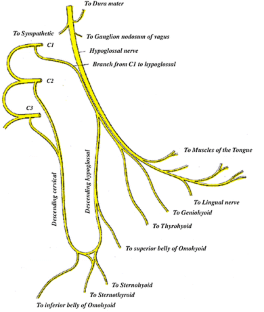 References
1.

Kaiser R, Mehdian H (2014) Permanent twelfth nerve palsy secondary to C0 and C1 fracture in patient with craniocervical pneumatisation. Eur Spine J. doi:10.1007/s00586-014-3360-5

2.

Gray H (1918) Anatomy of the human body, 20th edn. Fig 794 & 795. Lea & Febiger, Philadelphia. http://www.bartleby.com/107/. Accessed 12 June 2016

3.

Rontal E, Rontal M (1982) Lesions of the hypoglossal nerve—diagnosis, treatment and rehabilitation. The Laryngoscope 92:927–937

4.

Stino AM, Smith BE, Temkit M, Nagi Reddy S (2016) Hypoglossal nerve palsy: 245 cases. Muscle Nerve. doi:10.1002/mus.25197[Epub ahead of print]

5.

Keane JR (1996) Twelfth-nerve palsy: analysis of 100 cases. Arch Neurol 53:561–566

6.

Walker KH (1990) Clinical methods: the history, physical, and laboratory investigations, 3rd edn. Chapter 65—cranial nerve XII: the hypoglossal nerve. Butterworths, Atlanta. http://www.ncbi.nlm.nih.gov/books/NBK388/. Accessed 12th June 2016

7.

Briner HR, Linder TE, Pauw B, Fisch U (1999) Long-term results of surgery for temporal bone paragangliomas. Laryngoscope 109:577–583

8.

Alves P (2010) Imaging the hypoglossal nerve. Eur J Radiol 74:368–377

9.

Rubio-Nazabal E et al (2002) Isolated bilateral paralysis of the hypoglossal nerve after transoral intubation for general anesthesia. Anesthesiology 96:245–247

10.

Nagai K, Sakuramoto C, Goto F (1994) Unilateral hypoglossal nerve paralysis following the use of the laryngeal mask airway. Anaesthesia 49:603–604

11.

Fritz MA et al (2014) Iatrogenic hypoglossal nerve palsy. Pract Neurol Expert Opin 2014:13–16
Ethics declarations
Conflict of interest
None.
About this article
Cite this article
Constable, J., Bathala, S. & McGlashan, J. Expert's Comment concerning Grand Rounds Case entitled "Permanent twelfth nerve palsy secondary to C0 and C1 fracture in patient with craniocervical pneumatisation" (R. Kaiser and H. Mehdian, Eur Spine J; 2014: DOI 10.1007/s00586-014-3360-5). Eur Spine J 30, 385–388 (2021). https://doi.org/10.1007/s00586-016-4705-z