Abstract
Purpose
Bibliometrics is increasingly used to assess the quantity and quality of scientific research output in many research fields worldwide. However, the bibliometric studies in the field of spine surgery are scarce. This study aimed to evaluate the worldwide research productivity in the field of spine surgery using bibliometric methods and to provide an insight into the spine research for surgeons and researchers.
Methods
Articles published between 2004 and 2013 were retrieved using the Scopus database in 5 spine journals, including Spine, European Spine Journal, The Spine Journal, Journal of Neurosurgery: Spine, and Journal of Spinal Disorders and Techniques. The number of articles, trend of publications, countries' contribution and h-index, authorship, subspecialty, funding source, journal pattern, institutions, and top cited articles were analyzed.
Results
A total of 13,115 publications were identified in the database of Scopus from 2004 to 2013. The time trend of the number of articles showed a significant increase of 1.9-fold between 2004 and 2013 (p = 0.000). The largest number of articles in the field of spine surgery was from United States (39.17 %), followed by Japan (10.74 %) and China (8.62 %). United States also have the highest h-index (106), followed by Canada (60) and United Kingdom (54). China (p = 0.000) and South Korea (p = 0.000) have a significantly increasing trend of contribution proportion to the world spine production over time in years, but h-index was still low (39 and 38, respectively). Spine published the highest number of articles (45.44 %), followed by European Spine Journal (21.43 %) and Journal of Neurosurgery: Spine (13.32 %). The most productive institutions were University of California, San Francisco (1.98 %), followed by Thomas Jefferson University (1.61 %) and University of Toronto (1.41 %).
Conclusions
There has a rapid increase of scientific research productivity in the field of spine surgery during the past 10 years. United States has special contributions to the body of spine publications. China and South Korea have increasing contributions to the field of spine surgery.
Access options
Buy single article
Instant access to the full article PDF.
USD 39.95
Price excludes VAT (USA)
Tax calculation will be finalised during checkout.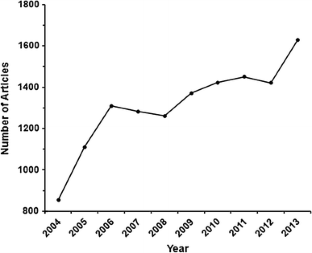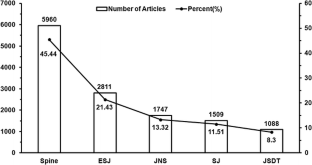 Similar content being viewed by others
References
Morandi G, Guido D, Tagliabue A (2015) A bibliometric study of scientific literature on the dietary therapies for epilepsy in Scopus. Nutr Neurosci 18(5):201–209

Zyoud SH, Al-Jabi SW, Sweileh WM (2014) Worldwide research productivity in the field of electronic cigarette: a bibliometric analysis. BMC Public Health 14:667

Hui Z, Yi Z, Peng J (2013) Bibliometric analysis of the orthopedic literature. Orthopedics 36(10):e1225–e1232

Michalopoulos A, Falagas ME (2005) A bibliometric analysis of global research production in respiratory medicine. Chest 128(6):3993–3998

Hauptman JS, Chow DS, Martin NA, Itagaki MW (2011) Research productivity in neurosurgery: trends in globalization, scientific focus, and funding. J Neurosurg 115(6):1262–1272

Vergidis PI, Karavasiou AI, Paraschakis K, Bliziotis IA, Falagas ME (2005) Bibliometric analysis of global trends for research productivity in microbiology. Eur J Clin Microbiol Infect Dis 24(5):342–346

Zhang WJ, Ding W, Jiang H, Zhang YF, Zhang JL (2013) National representation in the plastic and reconstructive surgery literature: a bibliometric analysis of highly cited journals. Ann Plast Surg 70(2):231–234

Li Q, Jiang Y, Zhang M (2012) National representation in the emergency medicine literature: a bibliometric analysis of highly cited journals. Am J Emerg Med 30(8):1530–1534

Cheng T, Zhang G (2013) Worldwide research productivity in the field of rheumatology from 1996 to 2010: a bibliometric analysis. Rheumatol (Oxford) 52(9):1630–1634

Zyoud SH, Al-Jabi SW, Sweileh WM (2014) Worldwide research productivity of paracetamol (acetaminophen) poisoning: a bibliometric analysis (2003–2012). Hum Exp Toxicol 34(1):12–23

Thornton K, Lee DJ, Yuan JC, Knoernschild KL, Campbell SD, Sukotjo C (2012) An analysis of prosthodontic research productivity: geographic, economic, and collaborative perspective. J Prosthodont 21(1):73–78

Chen HL, Cai DY, Shen WQ, Liu P (2010) Bibliometric analysis of pressure ulcer research: 1990–2009. J Wound Ostomy Continence Nurs 37(6):627–632

Jamshidi AR, Gharibdoost F, Nadji A, Nikou M, Habibi G, Mardani A, Ghaemi M (2013) Presentation of psoriatic arthritis in the literature: a twenty-year bibliometric evaluation. Rheumatol Int 33(2):361–367

Fernandes CH, Meirelles LM, Raduan Neto J, dos Santos JB, Faloppa F, Albertoni WM (2012) Characteristics of global publications about wrist arthroscopy: a bibliometric analysis. Hand Surg 17(3):311–315

Mao Z, Wang G, Mei X, Chen S, Liu X, Zeng X, Long A, Zhang L, Tang P (2014) Systematic reviews on reports of hip fractures in Web of Science: a bibliometric analysis of publication activity. Chin Med J (Engl) 127(13):2518–2522

Zyoud SH, Al-Jabi SW, Sweileh WM (2014) Bibliometric analysis of scientific publications on waterpipe (narghile, shisha, hookah) tobacco smoking during the period 2003–2012. Tob Induc Dis 12(1):7

Scopus: facts and figures http://www.elsevier.com/online-tools/scopus

Falagas ME, Pitsouni EI, Malietzis GA, Pappas G (2008) Comparison of PubMed, Scopus, Web of Science, and Google Scholar: strengths and weaknesses. FASEB J 22(2):338–342

Camp M, Escott BG (2013) Authorship proliferation in the orthopaedic literature. J Bone Joint Surg Am 95(7):e44

Lynch JR, Cunningham MR, Warme WJ, Schaad DC, Wolf FM, Leopold SS (2007) Commercially funded and United States-based research is more likely to be published; good-quality studies with negative outcomes are not. J Bone Joint Surg Am 89(5):1010–1018

Pagel PS, Hudetz JA (2012) Recent trends in publication of basic science and clinical research by United States investigators in anesthesia journals. BMC Anesthesiol 12:5

Nie YX, Guo J, Knight DJ, Porter DE (2011) Orthopaedics in China. J Bone Joint Surg Br 93(9):1145–1148

Wang C, Liu Q (2013) A turning point for clinical research in China? Lancet 382(9895):835–836

King JT Jr (2000) How many neurosurgeons does it take to write a research articles? Authorship proliferation in neurosurgical research. Neurosurgery 47(2):435–440

Modi P, Hassan A, Teng CJ, Chitwood WR Jr (2008) "How many cardiac surgeons does it take to write a research article?" Seventy years of authorship proliferation and internationalization in the cardiothoracic surgical literature. J Thorac Cardiovasc Surg 136(1):4–6

Jia Z, Wu Y, Tang Y, Ji W, Li W, Zhao X, Li H, He Q, Ruan D (2015) Equal contributions and credit: an emerging trend in the characterization of authorship in major spine journals during a 10-year period. Eur Spine J 4 Nov 2015 [Epub ahead of print]

Amiri AR, Kanesalingam K, Cro S, Casey AT (2014) Does source of funding and conflict of interest influence the outcome and quality of spinal research? Spine J 14(2):308–314

Errico T (2010) The promethean role of industry in spine surgery research. J Spinal Disord Tech 23(8):491–492
Acknowledgments
We thank our colleagues for their help in this study.
Ethics declarations
Conflict of interest
None of the authors has any potential conflict of interest.
Source of funding
No funds were received in support of this work.
About this article
Cite this article
Wei, M., Wang, W. & Zhuang, Y. Worldwide research productivity in the field of spine surgery: a 10-year bibliometric analysis. Eur Spine J 25, 976–982 (2016). https://doi.org/10.1007/s00586-016-4442-3
Received:

Revised:

Accepted:

Published:

Issue Date:

DOI: https://doi.org/10.1007/s00586-016-4442-3
Keywords