Abstract
Purpose
To investigate the prevalence of thoracic scoliosis and determine the effect of both age and gender on coronal curve magnitude among asymptomatic adults aged 25–64 years old, using standing posterior-anterior chest radiographs.
Methods
This was a retrospective, cross-sectional study evaluating 500 randomly selected digital posterior-anterior chest radiographs taken at a single institution on an outpatient basis between January 2010 and December 2011. Males (n = 184) and females (n = 316) ranged in age from 25 to 64 years. Patients with symptoms of back pain; including a history of back pain, spinal instrumentation, or known pre-existing spinal disease were excluded. Radiographs were evaluated using Centricity PACS Web Diagnostic 2.1 system (General Electric Co. Fairfield, CT). Coronal Cobb angle measurements of the thoracic spine were quantified by the authors, with scoliosis defined as coronal curves greater than 10°. Curvatures were subdivided into groups: a control group with coronal curves less than 10°, curves measuring 10° to 19°, 20° to 29°, and greater than 30°. The effect of age and gender on curve magnitude was examined using Pearson correlation analysis and linear regression analysis.
Results
There was a 13.4 % (67 patients) prevalence of thoracic scoliosis. The prevalence among asymptomatic males was 10.9 %, while the prevalence among asymptomatic females was 14.9 %. 11.6 % demonstrated a coronal curvature between 10° and 19° (58 patients), 1.6 % between 20° and 29° (8 patients), and 0.2 % greater than 30° (1 patient). Age and gender were not found to be significant independent predictors of curve severity.
Conclusions
We found a 13.4 % prevalence of thoracic scoliosis among asymptomatic adults aged 25–64 years on routine outpatient chest radiographs. 11.6 % of patients demonstrated a coronal curvature between 10° and 19°. Unlike prior studies evaluating asymptomatic thoracic curves in elderly patients, age and gender did not significantly affect curve magnitude in our younger cohort. These data may provide a reference point to help clinicians counsel asymptomatic patients diagnosed with thoracic scoliosis on routine chest radiographs.
Access options
Buy single article
Instant access to the full article PDF.
US$ 39.95
Tax calculation will be finalised during checkout.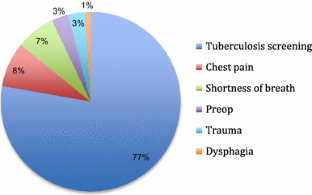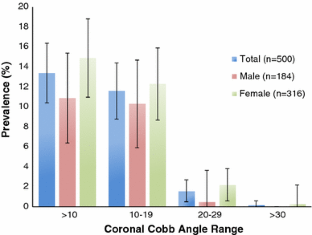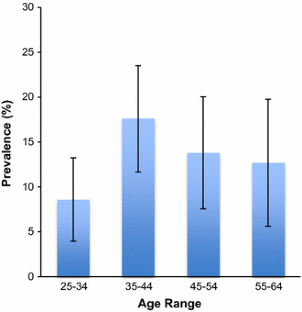 References
1.

Urrutia J, Espinosa J, Diaz-Ledezma C et al (2011) The impact of lumbar scoliosis on pain, function and health-related quality of life in postmenopausal women. Eur Spine J 20:2223–2227. doi:10.1007/s00586-011-1829-z

2.

Schwab F, Dubey A, Gamez L et al (2005) Adult scoliosis: prevalence, SF-36, and nutritional parameters in an elderly volunteer population. Spine 30:1082–1085. doi:10.1097/01.brs.0000160842.43482.cd

3.

Konieczny MR, Senyurt H, Krauspe R (2013) Epidemiology of adolescent idiopathic scoliosis. J Child Orthop 7:3–9. doi:10.1007/s11832-012-0457-4

4.

Kostuik JP, Bentivoglio J (1981) The incidence of low-back pain in adult scoliosis. Spine 6:268–273

5.

Urrutia J, Diaz-Ledezma C, Espinosa J et al (2011) Lumbar scoliosis in postmenopausal women: prevalence and relationship with bone density, age, and body mass index. Spine 36:737–740. doi:10.1097/BRS.0b013e3181db7456

6.

Kebaish KM, Neubauer PR, Voros GD et al (2011) Scoliosis in adults aged forty years and older: prevalence and relationship to age, race, and gender. Spine 36:731–736. doi:10.1097/BRS.0b013e3181e9f120

7.

Hong JY, Suh SW, Modi HN et al (2010) The prevalence and radiological findings in 1347 elderly patients with scoliosis. J Bone Joint Surg Br 92:980–983. doi:10.1302/0301-620X.92B7.23331

8.

NHANES I (2012) Centers for disease control and prevention. http://www.cdc.gov/nchs/nhanes/nhanesi.htm. Accessed 21 Apr 2015

9.

Urrutia J, Zamora T, Klaber I (2014) Thoracic scoliosis prevalence in patients 50 years or older and its relationship with age, sex, and thoracic kyphosis. Spine 39:149–152. doi:10.1097/BRS.0000000000000095

10.

Carter OD, Haynes SG (1987) Prevalence rates for scoliosis in US adults: results from the first National Health and Nutrition Examination Survey. Int J Epidemiol 16:537–544

11.

Suh SW, Modi HN, Yang JH et al (2011) Idiopathic scoliosis in Korean schoolchildren: a prospective screening study of over 1 million children. Eur Spine J 20:1087–1094. doi:10.1007/s00586-011-1695-8

12.

Lonstein JE, Bjorklund S, Wanninger MH et al (1982) Voluntary school screening for scoliosis in Minnesota. J Bone Joint Surg Am 64:481–488

13.

Rogala EJ, Drummond DS, Gurr J (1978) Scoliosis: incidence and natural history. A prospective epidemiological study. J Bone Joint Surg Am 60:173–176

14.

Robin GC, Span Y, Steinberg R et al (1982) Scoliosis in the elderly: a follow-up study. Spine 7:355–359

15.

Weinstein SL, Dolan LA, Spratt KF et al (2003) Health and function of patients with untreated idiopathic scoliosis: a 50-year natural history study. JAMA 289:559–567. doi:10.1001/jama.289.5.559

16.

Benoist M (2003) Natural history of the aging spine. Eur Spine J 12(Suppl 2):S86–S89. doi:10.1007/s00586-003-0593-0

17.

Carman DL, Browne RH, Birch JG (1990) Measurement of scoliosis and kyphosis radiographs. Intraobserver and interobserver variation. J Bone Joint Surg Am 72:328–333

18.

Morrissy RT, Goldsmith GS, Hall EC et al (1990) Measurement of the Cobb angle on radiographs of patients who have scoliosis. Evaluation of intrinsic error. J Bone Joint Surg Am 72:320–327

19.

Zmurko MG, Mooney JF 3rd, Podeszwa DA et al (2003) Inter- and intraobserver variance of Cobb angle measurements with digital radiographs. J Surg Orthop Adv 12:208–213

20.

Gstoettner M, Sekyra K, Walochnik N et al (2007) Inter- and intraobserver reliability assessment of the Cobb angle: manual versus digital measurement tools. Eur Spine J 16:1587–1592. doi:10.1007/s00586-007-0401-3
Ethics declarations
Conflict of interest
The authors declare no conflicts of interest pertaining to the manuscript, including financial, consultant, institutional, and other relationships that might lead to bias or conflict of interest. Institutional Review Board approval was obtained to conduct this study.
About this article
Cite this article
Chen, J.B., Kim, A.D., Allan-Blitz, L. et al. Prevalence of thoracic scoliosis in adults 25 to 64 years of age detected during routine chest radiographs. Eur Spine J 25, 3082–3087 (2016). https://doi.org/10.1007/s00586-015-4215-4
Received:

Revised:

Accepted:

Published:

Issue Date:
Keywords
Adult scoliosis

Thoracic scoliosis

Prevalence of scoliosis

Idiopathic scoliosis

Spinal deformities