Abstract
Purpose
With the dramatic growth of mobile phone usage, concerns have been raised with regard to the adverse health effects of mobile phone on spinal posture. The aim of this study was to determine the head and cervical postures by photogrammetry when viewing the mobile phone screen, compared with those in neutral standing posture.
Methods
A total of 186 subjects (81 females and 105 males) aged from 17 to 31 years old participated in this study. Subjects were instructed to stand neutrally and using mobile phone as in daily life. Using a photographic method, the sagittal head and cervical postures were assessed by head tilt angle, neck tilt angle, forward head shift and gaze angle.
Results
The photographic method showed a high intra-rater and inter-rater reliability in measuring the sagittal posture of cervical spine and gaze angle (ICCs ranged from 0.80 to 0.99). When looking at mobile phone, the head tilt angle significantly increased (from 74.55° to 95.22°, p = 0.000) and the neck angle decreased (from 54.68° to 38.77°, p = 0.000). The forward head posture was also confirmed by the significantly increased head shift (from 10.90 to 13.85 cm, p = 0.000). The posture assumed in mobile phone use was significantly correlated with neutral posture (p < 0.05). Males displayed a more forward head posture than females (p < 0.05). The head tilt angle was positively correlated with the gaze angle (r = 0.616, p = 0.000), while the neck tilt angle was negatively correlated with the gaze angle (r = −0.628, p = 0.000).
Conclusions
Photogrammetry is a reliable, quantitative method to evaluate the head and cervical posture during mobile phone use. Compared to neutral standing, subjects display a more forward head posture when viewing the mobile phone screen, which is correlated with neutral posture, gaze angle and gender. Future studies will be needed to investigate a dose–response relationship between mobile phone use and assumed posture.
Access options
Buy single article
Instant access to the full article PDF.
US$ 39.95
Tax calculation will be finalised during checkout.
Subscribe to journal
Immediate online access to all issues from 2019. Subscription will auto renew annually.
US$ 119
Tax calculation will be finalised during checkout.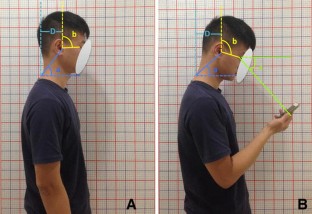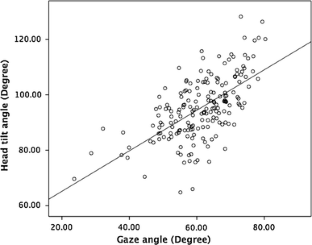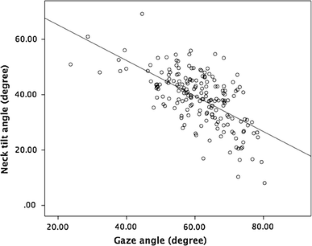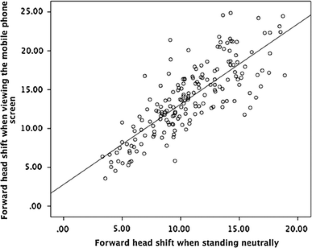 References
1.

Kendall HO, Kendall FP (1952) Posture and pain. Krieger Pub Co

2.

Burgess-Limerick R, Plooy A, Ankrum DR (1998) The effect of imposed and self-selected computer monitor height on posture and gaze angle. Clin Biomech 13:584–592. doi:10.1016/S0268-0033(98)00021-7

3.

McEvoy MP, Grimmer K (2005) Reliability of upright posture measurements in primary school children. BMC Musculoskelet Disord 6:35. doi:10.1186/1471-2474-6-35

4.

Harrison A, Barry-greb T (1996) Clinical measurement of head and shoulder posture variables. J Orthop Sports Phys Ther 23(6):353–361

5.

Dolphens M, Cagnie B, Coorevits P, Vleeming A, Palmans T, Danneels L (2014) Posture class prediction of pre-peak height velocity subjects according to gross body segment orientations using linear discriminant analysis. Eu Spine J Off Publ Eur Spine Soc Eur Spinal Deform Soc Eur Sect Cerv Spine Res Soc 23:530–535. doi:10.1007/s00586-013-3058-0

6.

Straker LM, O'Sullivan PB, Smith A, Perry M (2007) Computer use and habitual spinal posture in Australian adolescents. Publ Health Rep (Washington, DC: 1974) 22:634–643

7.

Brink Y, Louw Q, Grimmer K, Jordaan E (2014) The spinal posture of computing adolescents in a real-life setting. BMC Musculoskelet Disord 15:212. doi:10.1186/1471-2474-15-212

8.

Ankrum DR, Nemeth KJ (2000) Head and neck posture at computer workstations—what's neutral? In: Proceedings of the human factors and ergonomics society annual meeting. SAGE Publications, vol 44. pp 5-565–5-568. doi:10.1177/154193120004403046

9.

Annetts S, Coales P, Colville R, Mistry D, Moles K, Thomas B, van Deursen R (2012) A pilot investigation into the effects of different office chairs on spinal angles. Eu Spine J Off Publ Eur Spine Soc Eur Spinal Deform Soc Eur Sect Cerv Spine Res Soc 21(Suppl 2):S165–S170. doi:10.1007/s00586-012-2189-z

10.

Jiang XX, Hardy LL, Ding D, Baur LA, Shi HJ (2014) Recreational screen-time among Chinese adolescents: a cross-sectional study. J Epidemiol Jpn Epidemiol Assoc 24:397–403

11.

Cho S-H, Choi M-H, Goo B-O (2014) Effect of smart phone use on dynamic postural balance. J Phys Ther Sci 26:1013–1015. doi:10.1589/jpts.26.1013

12.

Hansraj KK (2014) Assessment of stresses in the cervical spine caused by posture and position of the head. Surg Tech Int 25:277–279

13.

Raine S, Twomey L (1994) Posture of the head, shoulders and thoracic spine in comfortable erect standing. Aust J Physiother 40:25–32. doi:10.1016/S0004-9514(14)60451-7

14.

Lau KT, Cheung KY, Chan KB, Chan MH, Lo KY, Chiu TTW (2010) Relationships between sagittal postures of thoracic and cervical spine, presence of neck pain, neck pain severity and disability. Manual Ther 15:457–462. doi:10.1016/j.math.2010.03.009

15.

Szeto GPY, Straker L, Raine S (2002) A field comparison of neck and shoulder postures in symptomatic and asymptomatic office workers. Appl Ergon 33:75–84

16.

Brink Y, Louw Q, Grimmer K, Schreve K, Westhuizen GVD (2013) Development of a cost effective three-dimensional posture analysis tool: validity and reliability. BMC Musculoskelet Disord 14(1):335. doi:10.1186/1471-2474-14-335

17.

Zheng F, Gao P, He M, Li M, Wang C, Zeng Q, Zhou Z, Yu Z, Zhang L (2014) Association between mobile phone use and inattention in 7102 Chinese adolescents: a population-based cross-sectional study. BMC Publ Health 14:1022

18.

Hakala PT, Rimpela AH, Saarni LA, Salminen JJ (2006) Frequent computer-related activities increase the risk of neck-shoulder and low back pain in adolescents. Eur J Pub Health 16:536–541. doi:10.1093/eurpub/ckl025

19.

Kim MS (2015) Influence of neck pain on cervical movement in the sagittal plane during smartphone use. J Phys Ther Sci 27:15–17. doi:10.1589/jpts.27.15

20.

Lee S, Kang H, Shin G (2015) Head flexion angle while using a smartphone. Ergonomics 58:220–226. doi:10.1080/00140139.2014.967311

21.

Ruivo RM, Pezarat-Correia P, Carita AI (2014) Cervical and shoulder postural assessment of adolescents between 15 and 17 years old and association with upper quadrant pain. Braz J Phys Ther 18:364–371

22.

Kuo YL, Tully EA, Galea MP (2009) Video analysis of sagittal spinal posture in healthy young and older adults. J Manipulative Physiol Ther 32:210–215. doi:10.1016/j.jmpt.2009.02.002

23.

Salahzadeh Z, Maroufi N, Ahmadi A, Behtash H, Razmjoo A, Gohari M, Parnianpour M (2014) Assessment of forward head posture in females: observational and photogrammetry methods. J Back Musculoskelet Rehabil 27:131–139. doi:10.3233/BMR-130426

24.

Fjellvang H, Solow B (1986) Craniocervical postural relations and craniofacial morphology in 30 blind subjects. Am J Orthod Dentofac Orthop Off Publ Am Assoc Orthod Const Soc Am Board Orthod 90:327–334

25.

O'Sullivan PB, Smith AJ, Beales DJ, Straker LM (2011) Association of biopsychosocial factors with degree of slump in sitting posture and self-report of back pain in adolescents: a cross-sectional study. Phys Ther 91:470–483. doi:10.2522/ptj.20100160

26.

Silva AG, Punt TD, Sharples P, Vilas-Boas JP, Johnson MI (2009) Head posture and neck pain of chronic nontraumatic origin: a comparison between patients and pain-free persons. Arch Phys Med Rehabil 90:669–674

27.

Yip CHT, Chiu TTW, Poon ATK (2008) The relationship between head posture and severity and disability of patients with neck pain. Manual Ther 13:148–154

28.

Shan Z, Deng G, Li J, Li Y, Zhang Y, Zhao Q (2013) Correlational analysis of neck/shoulder pain and low back pain with the use of digital products, physical activity and psychological status among adolescents in Shanghai. PLoS One 8:e78109
Acknowledgments
The authors would like to thank all volunteers and students who participated in this study.
Ethics declarations
Conflict of interest
The authors declare that they have no competing interests.
Ethical approval
All procedures performed in studies involving human participants were in accordance with the ethical standards of the institutional and/or national research committee and with the 1964 Helsinki declaration and its later amendments or comparable ethical standards.
Additional information
X. Guan and G. Fan contributed equally to this work.
About this article
Cite this article
Guan, X., Fan, G., Wu, X. et al. Photographic measurement of head and cervical posture when viewing mobile phone: a pilot study. Eur Spine J 24, 2892–2898 (2015). https://doi.org/10.1007/s00586-015-4143-3
Received:

Revised:

Accepted:

Published:

Issue Date:
Keywords
Mobile phone

Forward head posture

Cervical spine

Photogrammetry