Abstract
Purpose
To evaluate the association between cigarette smoking and lumbar disc herniation (LDH).
Methods
Cohort or case–control studies were identified by searches of several data bases, including Pubmed, Embase, Web of Science, and BIOSIS, for entries made up to December 2014. Data extraction was performed by two independent investigators. The data synthesis was performed using the random effects model. Subgroup analysis, sensitivity analyses, and assessment for publication bias were also performed.
Results
This systematic review included 12 studies—six each of cohort and case–control studies. The combined reported values showed that the relative risk of the association between smoking and LDH was 1.27 [95 % confidence interval (CI), 1.15–1.40] overall, 1.48 (95 % CI, 1.27–1.73) for case–control studies, and 1.17 (95 % CI, 1.05–1.30) for cohort studies.
Conclusion
This systematic review demonstrates that smoking promotes the development of LDH.
This is a preview of subscription content, log in to check access.
Access options
Buy single article
Instant access to the full article PDF.
US$ 39.95
Price includes VAT for USA
Subscribe to journal
Immediate online access to all issues from 2019. Subscription will auto renew annually.
US$ 199
This is the net price. Taxes to be calculated in checkout.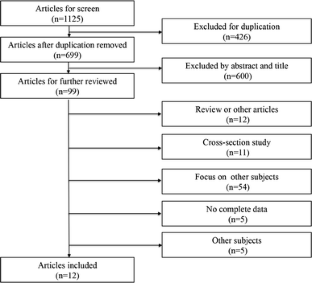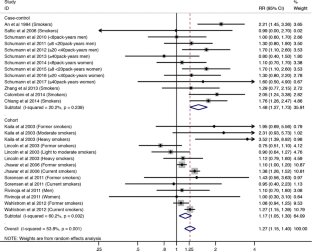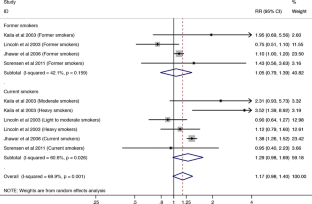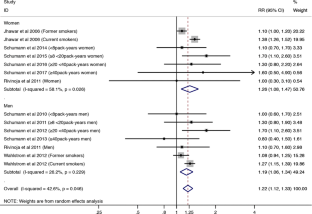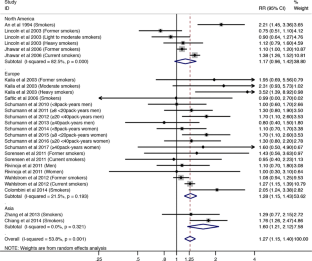 References
1.

Rostron B (2013) Smoking-attributable mortality by cause in the United States: revising the CDC's data and estimates. Nicotine Tob Res 15:238–246

2.

Schroeder SA (2014) Even more illness caused by smoking than previously estimated. JAMA Intern Med 174:1928–1929

3.

Jamal A, Agaku IT, O'Connor E, King BA, Kenemer JB, Neff L (2014) Current cigarette smoking among adults—United States, 2005–2013. MMWR Morb Mortal Wkly Rep 63:1108–1112

4.

Rostron BL, Chang CM, Pechacek TF (2014) Estimation of cigarette smoking-attributable morbidity in the United States. JAMA Intern Med 174:1922–1928

5.

Hadjipavlou AG, Tzermiadianos MN, Bogduk N, Zindrick MR (2008) The pathophysiology of disc degeneration. J Bone Joint Surg Br 90B:1261–1270

6.

Nasto LA, Ngo K, Leme AS, Robinson AR, Dong Q, Roughley P, Usas A, Sowa GA, Pola E, Kang J, Niedernhofer LJ, Shapiro S, Vo NV (2014) Investigating the role of DNA damage in tobacco smoking-induced spine degeneration. Spine J 14:416–423

7.

Leboeuf-Yde C (1999) Smoking and low back pain. A systematic literature review of 41 journal articles reporting 47 epidemiologic studies. Spine (Phila Pa 1976) 24:1463–1470

8.

Zhang YG, Zhang F, Sun Z, Guo W, Liu J, Liu M, Guo X (2013) A controlled case study of the relationship between environmental risk factors and apoptotic gene polymorphism and lumbar disc herniation. Am J Pathol 182:56–63

9.

Wahlstrom J, Burstrom L, Nilsson T, Jarvholm B (2012) Risk factors for hospitalization due to lumbar disc disease. Spine (Phila Pa 1976) 37:1334–1339

10.

Sorensen IG, Jacobsen P, Gyntelberg F, Suadicani P (2011) Occupational and other predictors of herniated lumbar disc disease—a 33-year follow-up in the copenhagen male study. Spine 36:1541–1546

11.

Schumann B, Bolm-Audorff U, Bergmann A, Ellegast R, Elsner G, Grifka J, Haerting J, Jager M, Michaelis M, Seidler A (2010) Lifestyle factors and lumbar disc disease: results of a German multi-center case-control study (EPILIFT). Arthritis Res Ther 12:R193

12.

Saftic R, Grgic M, Ebling B (2006) Case-control study of risk factors for lumbar intervertebral disc herniation in Croatian Island populations. Croat Med J 47:593–600

13.

Rivinoja AE, Paananen MV, Taimela SP, Solovieva S, Okuloff A, Zitting P, Jarvelin MR, Leino-Arjas P, Karppinen JI (2011) Sports, smoking, and overweight during adolescence as predictors of sciatica in adulthood: a 28-year follow-up study of a birth cohort. Am J Epidemiol 173:890–897

14.

Lincoln AE, Smith GS, Amoroso PJ, Bell NS (2003) The effect of cigarette smoking on musculoskeletal-related disability. Am J Ind Med 43:337–349

15.

Kaila-Kangas L, Leino-Arjas P, Riihimaki H, Luukkonen R, Kirjonen J (2003) Smoking and overweight as predictors of hospitalization for back disorders. Spine (Phila Pa 1976) 28:1860–1868

16.

Jhawar BS, Fuchs CS, Colditz GA, Stampfer MJ (2006) Cardiovascular risk factors for physician-diagnosed lumbar disc herniation. Spine J 6:684–691

17.

Colombini A, Brayda-Bruno M, Lombardi G, Croiset SJ, Vrech V, Maione V, Banfi G, Cauci S (2014) FokI Polymorphism in the vitamin D receptor gene (VDR) and its association with lumbar spine pathologies in the italian population: a case-control study. PLoS One 9:e97027

18.

Chiang SL, Lin CH, Tsai SH, Chang ST, Lin SP, Ni SM, Wei SH, Wu YT, Lin FH, Chen LC (2014) Cigarette smoking dose as a predictor of need for surgical intervention in patients with lumbar disk herniation. J Med Sci (Taiwan) 34:23–29

19.

An HS, Silveri CP, Simpson JM, File P, Simmons C, Simeone FA, Balderston RA (1994) Comparison of smoking habits between patients with surgically confirmed herniated lumbar and cervical disc disease and controls. J Spinal Disord 7:369–373

20.

Zhang YG, Sun Z, Zhang Z, Liu J, Guo X (2009) Risk factors for lumbar intervertebral disc herniation in Chinese population: a case-control study. Spine (Phila Pa 1976) 34:E918–E922

21.

Younes M, Bejia I, Aguir Z, Letaief M, Hassen-Zrour S, Touzi M, Bergaoui N (2006) Prevalence and risk factors of disk-related sciatica in an urban population in Tunisia. Joint Bone Spine 73:538–542

22.

Higgins JP, Thompson SG, Deeks JJ, Altman DG (2003) Measuring inconsistency in meta-analyses. BMJ 327:557–560

23.

Egger M, Davey Smith G, Schneider M, Minder C (1997) Bias in meta-analysis detected by a simple, graphical test. BMJ 315:629–634

24.

Ramstrom L, Wikmans T (2014) Mortality attributable to tobacco among men in Sweden and other European countries: an analysis of data in a WHO report. Tob Induc Dis 12:4

25.

Lawrence RC, Felson DT, Helmick CG, Arnold LM, Choi H, Deyo RA, Gabriel S, Hirsch R, Hochberg MC, Hunder GG, Jordan JM, Katz JN, Kremers HM, Wolfe F, Natl Arthritis Data W (2008) Estimates of the prevalence of arthritis and other rheumatic conditions in the United States. Arthritis Rheum 58:26–35

26.

Freburger JK, Holmes GM, Agans RP, Jackman AM, Darter JD, Wallace AS, Castel LD, Kalsbeek WD, Carey TS (2009) The rising prevalence of chronic low back pain. Arch Inter Med 169:251–258

27.

Frymoyer JW (1988) Back pain and sciatica. N Engl J Med 318:291–300

28.

Kanayama M, Togawa D, Takahashi C, Terai T, Hashimoto T (2009) Cross-sectional magnetic resonance imaging study of lumbar disc degeneration in 200 healthy individuals: clinical article. J Neurosurg Spine 11:501–507

29.

Karahan A, Kav S, Abbasoglu A, Dogan N (2009) Low back pain: prevalence and associated risk factors among hospital staff. J Adv Nurs 65:516–524

30.

Leboeuf-Yde C, Yashin A, Lauritzen T (1996) Does smoking cause low back pain? Results from a population-based study. J Manip Physiol Ther 19:99–108

31.

Jones G, White C, Sambrook P, Eisman J (1998) Allelic variation in the vitamin D receptor, lifestyle factors and lumbar spinal degenerative disease. Ann Rheum Dis 57:94–99

32.

Hangai M, Kaneoka K, Kuno S, Hinotsu S, Sakane M, Mamizuka N, Sakai S, Ochiai N (2008) Factors associated with lumbar intervertebral disc degeneration in the elderly. Spine J 8:732–740

33.

Heliovaara M (1989) Risk factors for low back pain and sciatica. Ann Med 21:257–264

34.

Karunanayake AL, Pathmeswaran A, Kasturiratne A, Wijeyaratne LS (2013) Risk factors for chronic low back pain in a sample of suburban Sri Lankan adult males. Int J Rheum Dis 16:203–210

35.

Lindal E, Stefansson JG (1996) Connection between smoking and back pain–findings from an Icelandic general population study. Scand J Rehabil Med 28:33–38

36.

Manninen P, Riihimaki H, Heliovaara M (1995) Incidence and risk factors of low-back pain in middle-aged farmers. Occup Med 45:141–146

37.

Mikkonen P, Leino-Arjas P, Remes J, Zitting P, Taimela S, Karppinen J (2008) Is smoking a risk factor for low back pain in adolescents? A prospective cohort study. Spine 33:527–532

38.

Miranda H, Viikari-Juntura E, Punnett L, Riihimaki H (2008) Occupational loading, health behavior and sleep disturbance as predictors of low-back pain. Scand J Work Environ Health 34:411–419

39.

Zirbel SA, Stolworthy DK, Howell LL, Bowden AE (2013) Intervertebral disc degeneration alters lumbar spine segmental stiffness in all modes of loading under a compressive follower load. Spine J 13:1134–1147

40.

Iwahashi M, Matsuzaki H, Tokuhashi Y, Wakabayashi K, Uematsu Y (2002) Mechanism of intervertebral disc degeneration caused by nicotine in rabbits to explicate intervertebral disc disorders caused by smoking. Spine (Phila Pa 1976) 27:1396–1401

41.

Nemoto Y, Matsuzaki H, Tokuhasi Y, Okawa A, Uematu Y, Nishimura T, Oda H (2006) Histological changes in intervertebral discs after smoking and cessation: experimental study using a rat passive smoking model. J Orthop Sci 11:191–197

42.

Higgins JPT GS (2011) Cochrane handbook for systematic reviews of interventions version 5.1.0

43.

Stang A (2010) Critical evaluation of the Newcastle-Ottawa scale for the assessment of the quality of nonrandomized studies in meta-analyses. Eur J Epidemiol 25:603–605

44.

Zhang J, Yu KF (1998) What's the relative risk? A method of correcting the odds ratio in cohort studies of common outcomes. JAMA 280:1690–1691

45.

Walker BF (2000) The prevalence of low back pain: a systematic review of the literature from 1966 to 1998. J Spinal Disord 13:205–217
Acknowledgments
No funds were received in support of this work. No benefits have been or will be received from a commercial party related to the subject of this manuscript.
Ethics declarations
Conflict of interest
The authors report no conflict of interest in this study.
About this article
Cite this article
Huang, W., Qian, Y., Zheng, K. et al. Is smoking a risk factor for lumbar disc herniation?. Eur Spine J 25, 168–176 (2016). https://doi.org/10.1007/s00586-015-4103-y
Received:

Revised:

Accepted:

Published:

Issue Date:
Keywords
Smoking

Lumbar disc herniation

Systematic

Review

Meta-analysis

Risk factors