Abstract
Purpose
To assess the changes in gait pattern and clinical symptoms of patients with chronic non-specific low back pain (CNSLBP) following a home-based biomechanical treatment (HBBT).
Methods
This was a retrospective analysis of 60 CNSLBP patients. All patients underwent a gait evaluation and completed self-assessment questionnaires at pre-treatment and after 3 and 6 months of a HBBT (AposTherapy). Twenty-four healthy, aged-matched individuals served as a reference group.
Results
Significant differences were found in all gait parameters and clinical symptoms between patients with CNSLBP and healthy people before treatment. Significant improvements were found in all gait parameters and clinical measures following 6 months of therapy including an increase in gait velocity (10.6 %), step length (5.6 %), cadence (5 %), and quality of life and a decrease in pain (13.3 %). There were no significant differences between groups in the gait parameters following 6 months of treatment.
Conclusions
Significant differences exist between patients with CNSLBP and healthy controls in terms of gait pattern and self-assessed health status. The examined HBBT led to significant improvements in gait pattern, reduction in pain, improved function and increased quality of life. However, future studies should validate these results while comparing this treatment to other treatment modalities.
Access options
Buy single article
Instant access to the full article PDF.
US$ 39.95
Tax calculation will be finalised during checkout.
Subscribe to journal
Immediate online access to all issues from 2019. Subscription will auto renew annually.
US$ 119
Tax calculation will be finalised during checkout.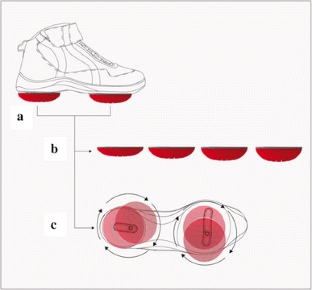 References
1.

MacDonald MJ, Sorock GS, Volinn E, Hashemi L, Clancy EA, Webster B (1997) A descriptive study of recurrent low back pain claims. J Occup Environ Med 39:35–43

2.

Deyo RA, Rainville J, Kent DL (1992) What can the history and physical examination tell us about low back pain? JAMA 268:760–765

3.

Bureau of Labor Statistics, US Department of Labor (2005) Nonfatal occupational injuries and illnesses requiring days away from work. http://www.bls.gov/news.release/pdf/osh2.pdf. Accessed 16 Dec 2014

4.

Khodadadeh S, Einstein SM (1993) Gait analysis of patients with low back pain before and after surgery. Spine 18:1451–1455

5.

Lee CE, Simmonds MJ, Etnyre BR, Morris GS (2007) Influence of pain distribution on gait characteristics in patients with low back pain. Part 1: vertical ground reaction force. Spine 32:1329–1336

6.

Murray MP, Kory RC, Clarkson BH, Sepic SB (1966) Comparison of free and fast speed walking pattern of normal men. Am J Phys Med 45:8–23

7.

Winter DA (1984) Kinematic and kinetic pattern in human gait: variability and compensating effects. Hum Mov Sci 3:51–76

8.

Vogt L, Pfeifer K, Portscher M, Banzer W (2001) Influences of nonspecific low back pain on three-dimensional lumbar spine kinematics in locomotion. Spine 26:1910–1919

9.

Harding VR, Williams AC, Richardson PH, Nicholas MK, Jackson JL, Richardson IH, Pither CE (1994) The development of a battery of measures for assessing physical functioning of chronic pain patients. Pain 58:367–375

10.

Hammill RR, Beazell JR, Hart JM (2008) Neuromuscular consequences of low back pain and core dysfunction. Clin Sports Med 27:449–662

11.

Lamoth CJ, Meijer OG, Wuisman PI, van Dieen JH, Levin MF, Beek PJ (2002) Pelvis-thorax coordination in the transverse plane during walking in persons with nonspecific low back pain. Spine 27:E92–E99

12.

Haim A, Rubin G, Rozen N, Goryachev Y, Wolf A (2012) Reduction in knee adduction moment via non-invasive biomechanical training: a longitudinal gait analysis study. J Biomech 45:41–45

13.

Elbaz A, Beer Y, Rath E, Morag G, Segal G, Debbi EM, Wasser D, Mor A, Debi R (2013) A unique foot-worn device for patients with degenerative meniscal tear. Knee Surg Sports Traumatol Arthrosc 21(2):380–387

14.

Bar-Ziv Y, Debbi EM, Ran Y, Benedict S, Halperin N, Beer Y (2013) Long-term effects of AposTherapy in patients with osteoarthritis of the knee: a two-year follow-up. Arthritis 689236. doi:10.1155/2013/689236

15.

Segal G, Bar-Ziv Y, Velkes S, Benkovich V, Stanger G, Debbi EM, Debi R, Mor A, Elbaz A (2013) Non-invasive biomechanical device and treatment for patients following total hip arthroplasty: results of a 6-month pilot investigation. J Orthop Surg Res. 21(8):13

16.

Khoury M, Wolf A, Debbi EM, Herman A, Haim A (2013) Foot center of pressure trajectory alteration by biomechanical manipulation of shoe design. Foot Ankle Int 34:593–598

17.

Debbi EM, Wolf A, Haim A (2012) Detecting and quantifying global instability during dynamic task using kinetic and kinematic gait parameters. J Biomech 45(8):1366–1371

18.

Elbaz A, Mirovsky Y, Mor A, Enosh S, Debbi E, Segal G, Barzilay Y, Debi R (2009) A novel biomechanical device improves gait pattern in patient with chronic nonspecific low back pain. Spine 34:E507–E512

19.

Werneke MW, Hart DL (2004) Categorizing patients with occupational low back pain by use of the Quebec Task Force Classification System versus pain pattern classification procedures: discriminant and predictive validity. Phys Ther 84:243–254

20.

Guzmán J, Esmail R, Karjalainen K, Malmivaara A, Irvin E, Bombardier C (2001) Multidisciplinary rehabilitation for chronic low back pain: systematic review. BMJ 322(7301):1511–1516

21.

Airaksinen O, Brox JI, Cedraschi C, Hildebrandt J, Klaber-Moffett J, Kovacs F et al (2006) Chapter 4. European guidelines for the management of chronic nonspecific low back pain. Eur Spine J 15(Suppl 2):S192–S300

22.

Shakoor N, Dua A, Thorp LE, Mikolaitis RA, Wimmer MA, Foucher KC, Fogg LF, Block JA (2011) Asymmetric loading and bone mineral density at the asymptomatic knees of patients with unilateral hip osteoarthritis. Arthritis Rheum 163(12):3853–3858

23.

Davidson M, Keating JL (2002) A Comparison of five low back disability questionnaires: reliability and responsiveness. Phys Ther 82:8–24

24.

Vianin M (2008) Psychometric properties and clinical usefulness of the Oswestry Disability Index. J Chiropr Med 7:161–163
Conflict of interest
Avi Elbaz and Amit Mor hold shares in AposTherapy. Ganit Segal is a salaried employee of AposTherapy. Yair Barzilay, Raphael Lotan, Gilad Regev, Yiftah Beer and Baron S Lonner are co-researchers in a number of studies. They do not receive and are not entitled to any financial compensation from AposTherapy.
About this article
Cite this article
Barzilay, Y., Segal, G., Lotan, R. et al. Patients with chronic non-specific low back pain who reported reduction in pain and improvement in function also demonstrated an improvement in gait pattern. Eur Spine J 25, 2761–2766 (2016). https://doi.org/10.1007/s00586-015-4004-0
Received:

Revised:

Accepted:

Published:

Issue Date:
Keywords
Gait

Non-specific low back pain

Biomechanical treatment

Physical function

Pain