Abstract
Objective
To determine the efficacy of fluoroscopic guided transforaminal steroid versus interlaminar epidural steroid versus caudal steroid.
Material and method
A total of 90 patients were studied who had complains of low back pain with radiculopathy and MRI evidence of disc prolapse. Out of this group, patients were randomly assigned to three groups each having 30 patients. First group received transforaminal steroid injection, second group received caudal steroid injection, and third group received epidural steroid. All patients were followed up for 12 months, and the results were compared using change in Visual Analogue Scale score and Oswestry Disability Index (OSD).
Results
The change in pain scores was statistically different at 1- and 6-month interval such that a higher change was observed by transforaminal route as compared to the other two. There was no difference in change of scores between interlaminar and caudal routes. For OSD, a greater change was seen in transforminal at all times as compared to the other two. There was no difference in change of scores between interlaminar and caudal routes at any time of assessment.
Conclusion
In current study, transforaminal steroid injection group has better symptomatic improvement for both short and long term as compared to interlaminar and caudal steroid injection group.
This is a preview of subscription content,
to check access.
Access this article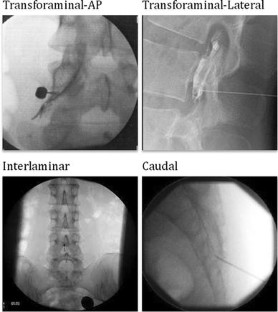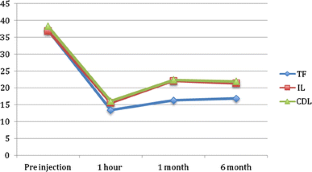 Similar content being viewed by others
References
Van Tulder MW, Bouter LM et al (1997) Management of chronic non specific low back pain in primary care: a descriptive study. Spine 22:76–82

Guild DG (2012) Mechanical therapy for low back pain. Prime Care 39(3):511–516. doi:10.1016/j.pop.2012.06.006

Lee HM, Weinstein JN, Meller ST, Hayashi N, Spratt KF, Gebhart GF (1998) The role of steroids and their effects on phospholipase A2. An animal model of radiculopathy. Spine (Phila Pa 1976) 23:1191–1196

Harrast MA (2008) Epidural steroid injections for lumbar spinal stenosis. Curr Rev Musculoskelet Med 1:32–38

Cuellar JM, Golish SR, Reuter MW, Cuellar VG, Angst MS, Carragee EJ, Yeomans DC, Scuderi GJ (2010) Cytokine evaluation in individuals with low back pain using discographic lavage. Spine J 10:212–218

Scuderi GJ, Cuellar JM, Cuellar VG, Yeomans DC, Carragee EJ, Angst MS (2009) Epidural interferon gamma-immunoreactivity: a biomarker for lumbar nerve root irritation. Spine (Phila Pa 1976) 34(21):2311–2317

Singh V, Manchikanti L (2002) Role of caudal epidural injections in the management of chronic low back pain. Pain Physician 5:133–148

Ackerman WE 3rd, Ahmad M (2007) The efficacy of lumbar epidural steroid injections in patients with lumbar disc herniations. Anesth Analg 104:1217–1222

Buenaventura RM, Datta S, Abdi S, Smith HS (2009) Systematic review of therapeutic lumbar transforaminal epidural steroid injections. Pain Physician 12:233–251

White AH, Derby R, Wynne G (1980) Epidural injections in the diagnosis and treatment of low back pain. Spine 5:78–86

Lutz GE, Vad VB, Wisneski RJ (1998) Fluoroscopic transforaminal lumbar epidural steroids: an outcome study. Arch Phys Med Rehabil 79:1362–1366

Manchikanti L, Buenaventura RM, Manchikanti KN, Ruan X, Gupta S, Smith HS, Christo PJ, Ward SP (2012) Effectiveness of therapeutic lumbar transforaminal epidural steroid injections in managing lumbar spinal. Pain Physician 15:E199–E245 (ISSN 2150-1149)

Benny B, Azari P (2011) The efficacy of lumbosacral transforaminal epidural steroid injections: a comprehensive literature review. J Back Musculoskelet Rehabil 24(2):67–76. doi:10.3233/BMR20110279

Riew KD, Yin Y, Gilula L, Bridwell KH, Lenke LG, Lauryssen C, Goette K (2000) The effect of nerve root injections on the need for operative treatment of lumbar radicular pain. A prospective randomized, controlled, double-blind study. J Bone joint Surg Am 82-A:1589–1593

Wildermuth S, Zanetti M, Duewell S et al (1998) Lumbar spine: quantitative and qualitative assessment of positional (upright flexion and extension) MR imaging and myelography. Radiology 207:391–398

Bogduk N, April C, Derby R (1995) Epidural spinal injections. In: White AH, Schollerman J (eds) Spinal care: diagnosis and treatment. Mosby, St Louis, pp 322–343

Lee JW, Kim SH, Lee IS, Choi JY, Hong SH, Kang HS (2006) Therapeutic effect and outcome predictors of sciatica treated using transforaminal epidural steroid injection. AJR Am J Roentgenol 187:1427–1431

Chang George C, Chien Nebojsa Nick, Knezevic Zack McCormick, Chu Samuel K, Trescot Andrea M, Candido Kenneth D (2014) Transforaminal versus interlaminar approaches to epidural steroid injections: a systematic review of comparative studies for lumbosacral radicular pain. Pain Physician 17:E509–E524 (ISSN 2150-1149)

Ploumis A, Christodoulou P, Wood KB, Varvarousis D, Sarni JL, Beris A (2014) Caudal vs. transforaminal epidural steroid injections as short-term (6 months) pain relief in lumbar spinal stenosis patients with sciatica. Pain Med 15(3):379–385. doi:10.1111/pme.12318
Acknowledgments
No funding or grant was taken for the above project.
Conflict of interest
None of the authors have any potential conflict of interest.
About this article
Cite this article
Kamble, P.C., Sharma, A., Singh, V. et al. Outcome of single level disc prolapse treated with transforaminal steroid versus epidural steroid versus caudal steroids. Eur Spine J 25, 217–221 (2016). https://doi.org/10.1007/s00586-015-3996-9
Received:

Revised:

Accepted:

Published:

Issue Date:

DOI: https://doi.org/10.1007/s00586-015-3996-9
Keywords