Abstract
Purpose
The hypothesis that spondylolysis (SL) and/or isthmic spondylolisthesis (IS) cause low back pain (LBP) is widely accepted representing surgical indication in symptomatic cases. If SL/IS cause LBP, individuals with these conditions should be more prone to LBP than those without SL/IS. Therefore, the goal of the study was to assess whether the published primary data demonstrate an association between SL/IS and LBP in the general adult population.
Methods
Systematic review of published observational studies to identify any association between SL/IS and LBP in adults. The methodological quality of the cohort and case–control studies was evaluated using the Newcastle-Ottawa scale.
Results
Fifteen studies met inclusion criteria (one cohort, seven case–control, seven cross-sectional). Neither the cohort study nor the two highest-quality case–control studies detected an association between SL/IS and LBP; the same is true for the remaining studies.
Conclusions
There is no strong or consistent association between SL/IS and LBP in epidemiological studies of the general adult population that would support a hypothesis of causation. It is possible that SL/IS coexist with LBP, and observed effects of surgery and other treatment modalities are primarily due to benign natural history and nonspecific treatment effects. We conclude that traditional surgical practice for the adult general population, in which SL/IS is assumed to be the cause of non-radicular LBP whenever the two coexist, should be reconsidered in light of epidemiological data accumulated in recent decades.
Access options
Buy single article
Instant access to the full article PDF.
US$ 39.95
Tax calculation will be finalised during checkout.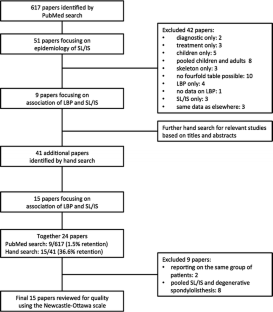 References
1.

Wiltse LL, Newman PH, Macnab I (1976) Classification of spondylolisis and spondylolisthesis. Clin Orthop Relat Res 117:23–29

2.

Winn RH (2004) Youmans neurological surgery. Saunders, Philadelphia, p 4551

3.

Borenstein DG (2004) Low back and neck pain: comprehensive diagnosis and management. Saunders, Philadelphia, pp 289–290

4.

Herkowitz HN, Garfin SR, Eismont FJ, Bell GR, Balderston RA (2006) Rothman-Simeone the spine. Saunders, Philadelphia, p 1038

5.

Hill AB (1965) The environment and disease: association or causation? Proc R Soc Med 58:295–300

6.

Wells GA, Shea B, O'Connell D et al (2014) The Newcastle-Ottawa Scale (NOS) for assessing the quality of nonrandomized studies in meta-analyses. http://www.ohri.ca/programs/clinical_epidemiology/oxford.asp. Accessed 6 Oct 2014

7.

Weil Y, Weil D, Donchin M, Mann G, Hasharoni A (2004) Correlation between pre-employment screening X-ray finding of spondylolysis and sickness absenteeism due to low back pain among policemen of the Israeli police force. Spine 29(19):2168–2172

8.

Libson E, Bloom RA, Dinari G (1982) Symptomatic and asymptomatic spondylolysis and spondylolisthesis in young adults. Int Orthop 6(4):259–261

9.

Horal J (1969) The clinical appearance of low back disorders in the city of Gothenburg, Sweden. Comparisons of incapacitated probands with matched controls. Acta Orthop Scand Suppl 118:1–109

10.

Magora A, Schwartz A (1980) Relation between low back pain and X-ray changes. 4. Lysis and olisthesis. Scand J Rehabil Med 12(2):47–52

11.

Torgerson WR, Dotter WE (1976) Comparative roentgenographic study of the asymptomatic and symptomatic lumbar spine. J Bone Joint Surg Am 58(6):850–853

12.

Bigos SJ, Hansson T, Castillo RN, Beecher PJ, Wortley MD (1992) The value of preemployment roentgenographs for predicting acute back injury claims and chronic back pain disability. Clin Orthop Relat Res 283:124–129

13.

La Rocca H, Macnab I (1969) Value of the pre-employment radiographic assessment of the lumbar spine. Can Med Assoc J 101(7):49–54

14.

Fullenlove TM, Williams AJ (1957) Comparative roentgen findings in symptomatic and asymptomatic backs. Radiology 68(4):572–574

15.

Sairanen E, Brüshaber L, Kaskinen M (1981) Felling work, low back pain and osteoarthritis. Scand J Work Environ Health 7(1):18–30

16.

Barton PN (1948) The significance of anatomical defects in the lower spine. Ind Med Surg 17(2):37–40

17.

Hult L (1954) The Munkfors investigation; a study of the frequency and causes of the stiff neck-brachialgia and lumbago-sciatica syndromes, as well as observations on certain signs and symptoms from the dorsal spine and the joints of the extremities in industrial and forest workers. Acta Orthop Scand Suppl 16:1–76

18.

Takatalo J, Karppinen J, Niinimaki J, Taimela S, Mutanen P et al (2012) Association of Modic changes, Schmorl's nodes, spondylolytic defects, high intensity zone lesions, disc herniations, and radial tears with low back symptom severity among young Finish adults. Spine 37(14):1231–1239

19.

Ko SB, Lee SW (2011) Prevalence of spondylolysis and its relationship with low back pain in selected population. Clin Orthop Surg 3(10):34–38

20.

Kalichman L, Kim DH, Guermazi A, Berkin V, Hunter DJ (2009) Spondylolysis and spondylolisthesis: prevalence and association with low back pain in the adult community-based population. Spine 34(2):199–205

21.

Virta L, Rönnemaa T (1993) The association of mild-moderate isthmic lumbar spondylolisthesis and low back pain in middle-aged patients is weak and it only occurs in women. Spine 18(11):1496–1503

22.

Beutler WJ, Fredrickson BE, Murtland A, Sweeney CA, Grant WD et al (2003) The natural history of spondylolysis and spondylolisthesis: 45-year follow-up evaluation. Spine 28(10):1027–1035

23.

Ekman P, Moller H, Hedlund R (2005) The long-term effect of posterolateral fusion in adult isthmic spondylolisthesis: a randomized controlled study. Spine J 5(1):36–44

24.

Miller F (2012) The enduring legacy of sham-controlled trials of internal mammary artery ligation. Prog Cardiovasc Dis 55:245–250

25.

Sihvonen R, Paavola M, Malmivaara A, Itala A, Joukainen A et al (2013) Arthroscopic partial meniscectomy versus sham surgery for a degenerative meniscal tear. N Engl J Med 369(26):2515–2524

26.

Möller H, Hedlund R (2000) Surgery versus conservative management in adult isthmic spondylolisthesis––a prospective randomized study: part 1. Spine 25(13):1711–1715

27.

Prasad V, Gall V, Cifu A (2011) The frequency of medical reversal. Arch Intern Med 171:1675–1676

28.

Prasad V, Cifu A, Ioannidis JP (2012) Reversals of established medical practices: evidence to abandon ship. JAMA 307:37–38

29.

Meyerding HW (1931) Spondylolisthesis. J Bone Joint Surg Am 13(1):39–48

30.

Wartolowska K, Judge A, Hopewell S, Collins G, Dean B, Rombach I et al (2014) Use of placebo controls in the evaluation of surgery: systematic review. BMJ 21(348):g3253
Electronic supplementary material
Below is the link to the electronic supplementary material.
About this article
Cite this article
Andrade, N.S., Ashton, C.M., Wray, N.P. et al. Systematic review of observational studies reveals no association between low back pain and lumbar spondylolysis with or without isthmic spondylolisthesis. Eur Spine J 24, 1289–1295 (2015). https://doi.org/10.1007/s00586-015-3910-5
Received:

Revised:

Accepted:

Published:

Issue Date:
Keywords
Spondylolysis

Isthmic spondylolisthesis

Low back pain

Lumbar fusion

Causality

Association

Adults

Observational studies

Review